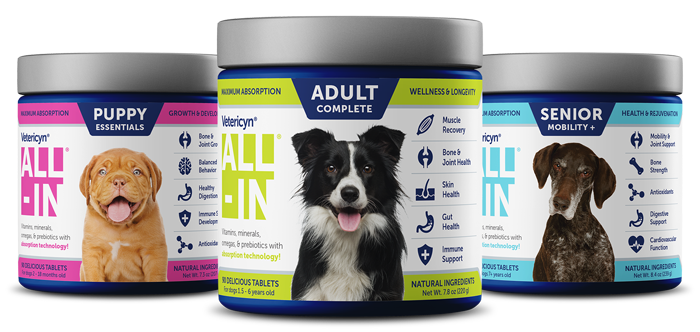 ALL-IN is the all-in-one dog supplement powered by a nutrient-rich, grass-fed, organ meat complex. It's packed with vitamins, minerals, pre– and probiotics, and omegas–all in just the right amounts. Plus, it contains human-grade digestive enzymes clinically proven to enhance absorption in your dog. Go ALL-IN® for health like this!
PUPPY, ADULT, &
SENIOR FORMULAS
SAFE, NATURAL
INGREDIENTS
NO ADDED COLORS
OR FLAVORS
COMPLETE SOURCE OF
VITAMINS & MINERALS
Puppy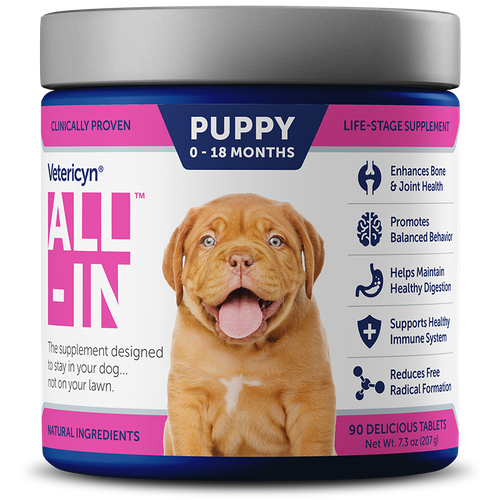 GROWTH & DEVELOPMENT FOR YOUR PUPPY
Promotes antioxidant function & cellular health

Provides factors for bone development & building of connective tissue

Maintains a healthy intestinal tract

Enhances immune system response

Promotes optimum bladder health & function

Helps reduce hyperactivity & promotes relaxation
Adult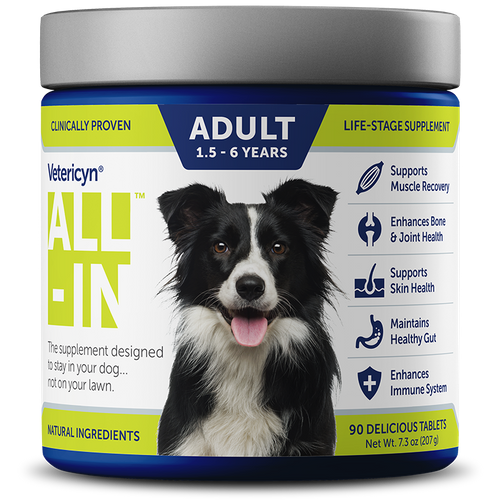 WELLNESS, ENDURANCE, AND LONGEVITY FOR YOUR ADULT DOG
Supports performance, stamina, & endurance

Maintains strong bones & joint mobility

Soothes skin-related issues associated with seasonal allergies

Scavenges free radicals & promotes cellular health

Promotes the body's resistance to pathogens

Contains prebiotics for healthy digestive function
Senior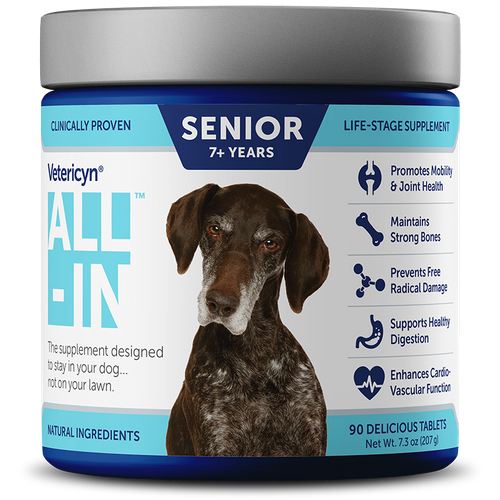 MOBILITY AND REJUVENATION FOR YOUR SENIOR DOG
Provides bone & joint reinforcing factors

Enhances the body's normal repair of connective tissues & joints

Promotes a healthy immune system

Supports cellular health in aging dogs

Helps keep your senior calm & relaxed

Contains prebiotics for healthy digestive function
LIFELONG HEALTH FOR YOUR LIFELONG FRIEND.
ALL-IN® is the only supplement for dogs that combines age-specific, customized ingredients with a focus on gut health for optimal absorption. Natural, safe, and free of artificial fillers or colors, this is the all-in-one nutritional supplement designed to keep your dog healthy at every stage of their life.

Everything your dog needs… in just the right amount.
ALL-IN® contains a perfectly balanced blend of vitamins, minerals, omegas, pre-and probiotics, and antioxidants. And it's customized for your dog's life stage.

Ingredients tailored to every life stage.
Glucosamine, Chondroitin, Fish Oil (Omega 3), Collagen, Biotin, Calcium, and much more! Our ingredients were hand-picked by our formulation scientists based on their efficacy and scientific proof to help puppies, adult, and senior dogs.
A healthier gut for a healthier pup.
ALL-IN® features prebiotics, probiotics, BioPerine®, and DigeSEBTM Digestive Enzymes for optimal gut health. This human-grade blend helps maximize nutrient absorption and bioavailability and even helps enhance absorption of other foods you feed your dog!
Daily Serving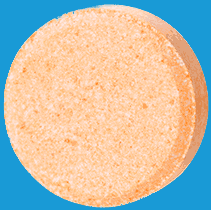 Chewable tablets that taste great! Nutrients are best absorbed with food. May be fed whole as a treat or crumbled over food. For sensitive stomachs, start with half the dose and increase after a few days.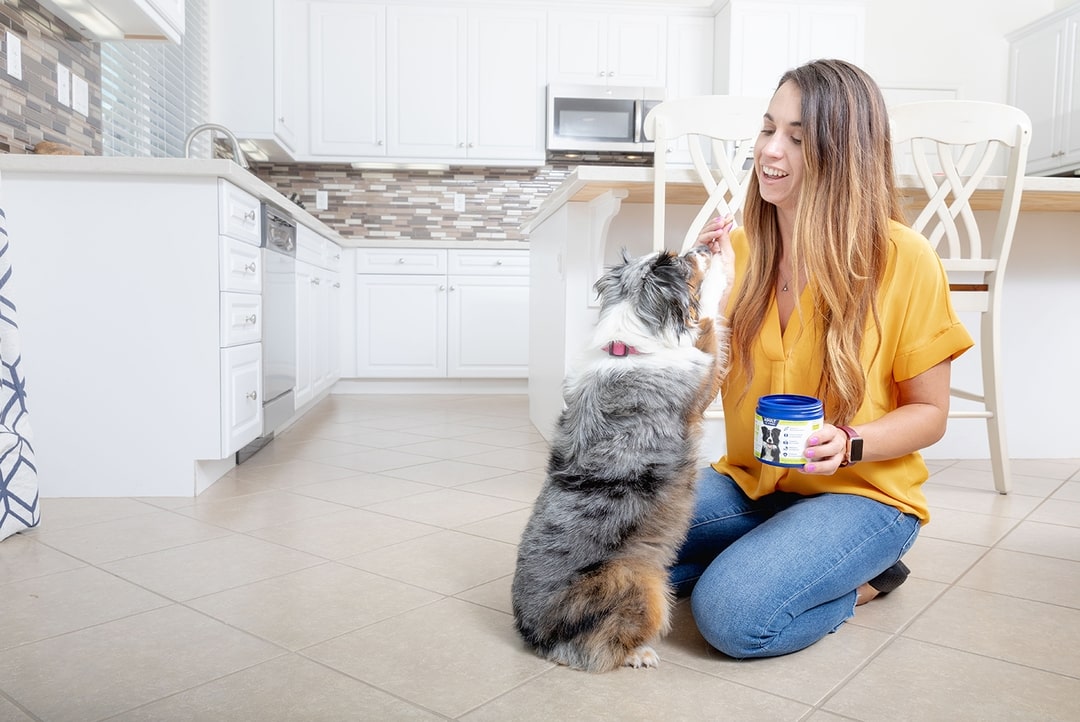 THE SCIENCE BEHIND IT ALL
INGREDIENTS
See the complete list of ingredients and the benefits they have for your dog.