Complete nutrition designed to be absorbed in your dog… not on your lawn.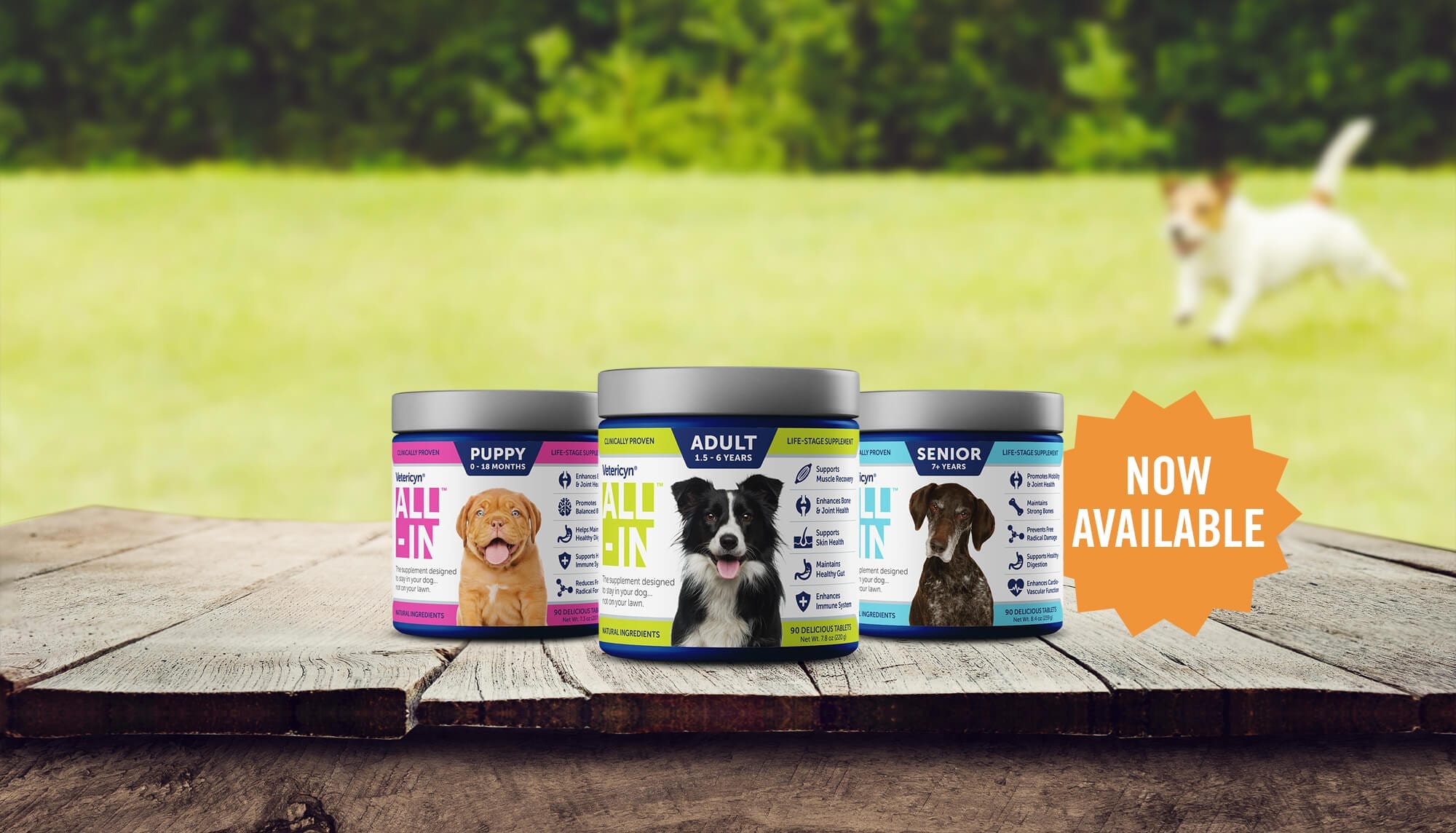 Vetericyn ALL-IN™ Life-Stage Supplement
Most pet supplements rely on a "more is better" approach but this means a lot of the ingredients never get absorbed! We don't believe pet owners should worry about overloading their pet with supplements or spending money on silver bullet solutions that never get digested. That's why we created Vetericyn ALL-IN™. It's the only supplement for dogs that combines age-specific, patented complexes with a delivery system that transports vital ingredients and unlocks your dog's cells so they get used by the body in the right amounts. The result is an all-in-one nutritional supplement that helps dog owners keep their pet healthy and happy.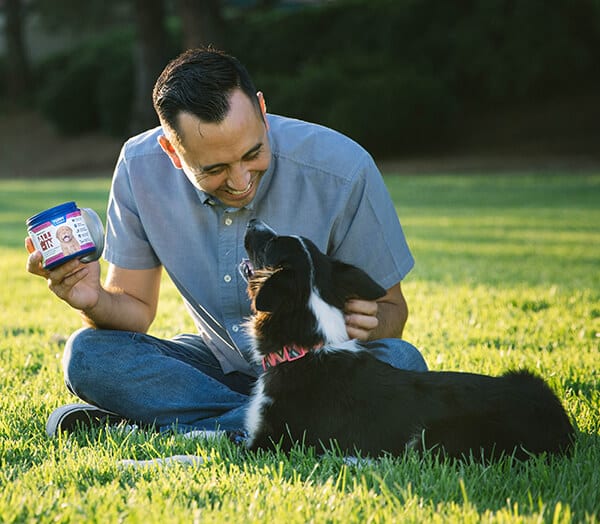 MOST INGREDIENTS IN DOG SUPPLEMENTS ARE 'LOCKED' OUT OF YOUR DOG'S SYSTEM. ALL-IN IS DESIGNED WITH ITS OWN ACCESS KEY SO THEY GET ABSORBED.
ALL-IN's bio-active complexes are powered by a one-of-a-kind protein-based delivery system that 'unlocks' your dog's ability to absorb the ingredients in the supplement. It's so powerful that it even helps optimize the absorption of other kinds of foods in your dog's diet. This multi-patented technology is not found in any other pet supplement which begs the question: are those other animal supplements actually helping your dog's wellbeing…or just fertilizing your lawn?
ONLY 2.5-12% OF GLUCOSAMINE ACTUALLY GETS ABSORBED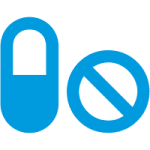 Oral absorption of glucosamine is limited to just 2.5% to 12% in dogs due to its large molecular size.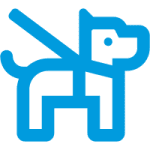 This means 88% to 97.5% of glucosamine isn't absorbed and is excreted by the body.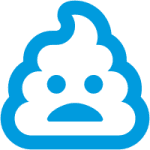 In other words, it just ends up on the lawn.
Papich M (2016) Saunders Handbook of Veterinary Drugs: Small and Large Animals. 4th Edition: 357-358.
A specific formula for every stage of your dog's life
Because the nutritional requirements of dogs change with age, we created three life-stage formulas of ALL-IN: puppy, adult, and senior. Each life-stage formula is designed to support the key biological needs of dogs in that age group. From a focus on growth and development as a puppy, to performance and recovery during adulthood, to restoration and rejuvenation for the aging system of older dogs, ALL-IN provides a powerful way to help your furry friend be their happiest and healthiest throughout their life.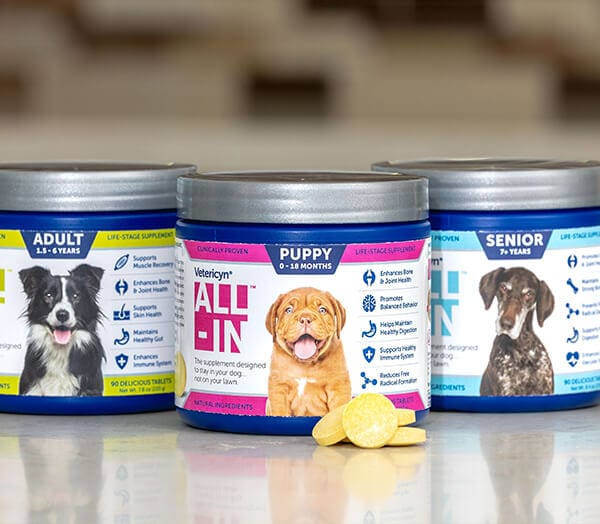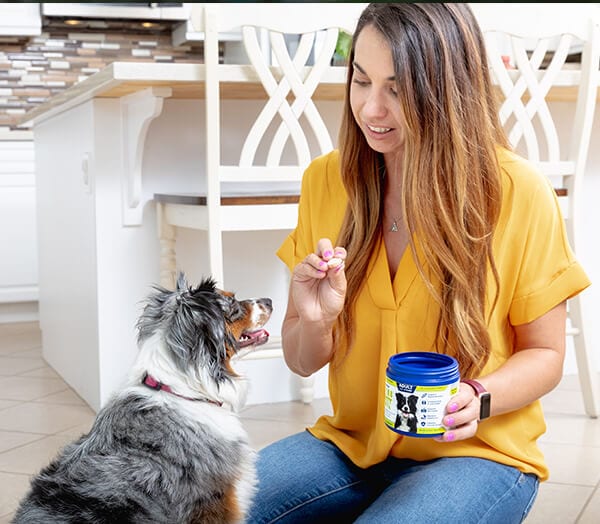 More than a dog supplement or multivitamin. Complete and balanced bio-replenishment
Just like us, your dog's body needs nutritional replenishment on a daily basis and supplements are a great way to ensure proper nutrition. Unfortunately, this often means feeding your dog multiple pills or worrying about milligram percentages because we've been led to believe that more is better. The truth is, when it comes to supplements for dogs, more is not better. In fact, overloading your dog's body with too many animal supplements or excessive ingredients is ineffective and could even be toxic to their system. It's also a waste of your money.
ALL-IN takes a better approach. It contains the essential nutrients your dog needs at their particular life stage to promote digestive, cellular, bone, mental, and immune health. And ALL-IN delivers those nutrients in just the right amounts. So instead of crowding your cupboard with a bunch of supplement jars and feeding your dog vitamins that may not be absorbed, you can replenish your dog's vital systems with the perfect amount of nutrition that targets the areas essential to their health. It's everything your dog's diet needs for complete and balanced nutrition–all in one delicious tablet.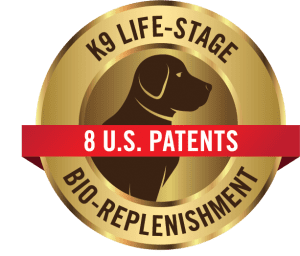 The only pet supplement backed by 8 patents.
Developed by a world-renowned scientist and pioneer in molecular medicine.
A.S. Narain Naidu, PhD (Medicine), FACN, FLS is a medical microbiologist / immunologist with over 35 years of research expertise on bioactive molecules and their benefits to health. Born out of a passion to rescue a dog with a broken leg, Dr. Naidu developed a breakthrough technology for bone and joint health. He then teamed with us to expand that technology to all of the key areas a dog needs to thrive. The result is ALL-IN – our ground-breaking, life-stage dog supplement that combines total nutrition with a delivery system that gets nutrients into the cells. ALL-IN combines decades of knowledge, clinical evidence, and a passion for innovation into a health supplement that delivers the right nutrients, in the right amount, in your dog…not on your lawn.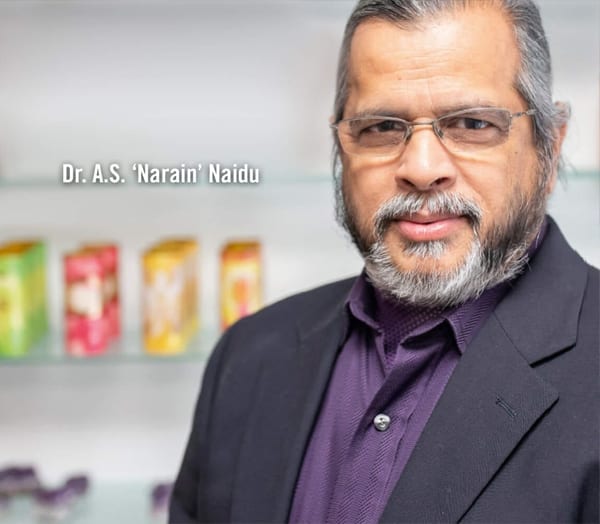 VETERICYN® ALL-IN™ DOG SUPPLEMENT