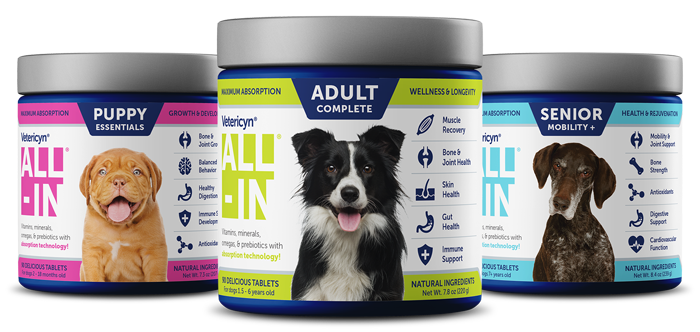 ALL-IN is a complete dog supplement powered by one-of-a-kind absorption technology. It's packed with vitamins, minerals, omegas, and prebiotics – in just the right amounts. And it's clinically proven to be absorbed by your dog. Go ALL-IN® for health like this!
PUPPY, ADULT, &
SENIOR FORMULAS
SAFE, NATURAL
INGREDIENTS
CLINICALLY PROVEN
ABSORPTION
COMPLETE SOURCE OF
VITAMINS & MINERALS

Everything your dog needs… in just the right amount.
ALL-IN® contains a perfectly balanced blend of vitamins, minerals, omega fatty acids, and prebiotics. And it's customized for your dog's life stage.

Promote health at every life stage.
ALL-IN contains essential nutrients your dog needs during every life stage to promote digestive, bone & joint, cardiovascular, mental, skin, cellular, and immune health.
Absorption technology no other pet supplement has.
ALL-IN® uses active transport to move ingredients through the body and deliver them to the cells so they get absorbed. It's so powerful it even helps optimize the absorption of other foods you feed your dog.
Daily Serving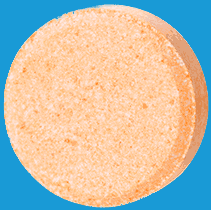 Easy chew tablets that taste great! Nutrients are best absorbed with food. May be fed whole as a treat or crumbled over food.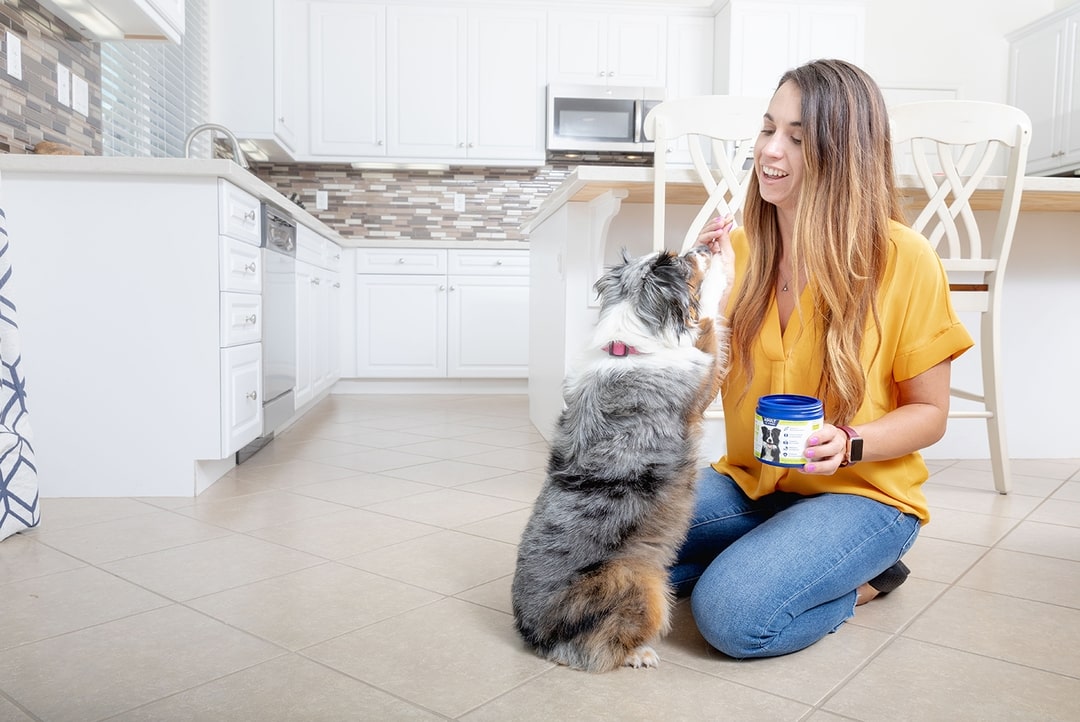 LIFELONG HEALTH FOR YOUR LIFELONG FRIEND.
ALL-IN is the only supplement for dogs that combines age-specific, patented complexes with a protein-based system to transport its vital ingredients throughout the body. This system delivers nutrients directly to your dog's cells to ensure maximum absorption. The result is an all-in-one nutritional supplement that keeps your dog healthy throughout their life.
Puppy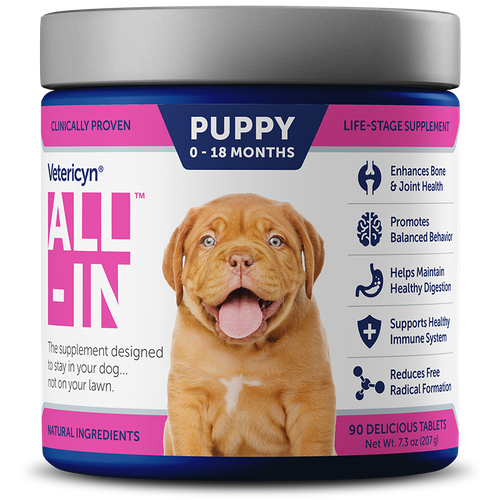 GROWTH & DEVELOPMENT FOR YOUR PUPPY
Promotes antioxidant function & cellular health

Provides factors for bone development & building of connective tissue

Maintains a healthy intestinal tract

Enhances immune system response

Promotes optimum bladder health & function

Helps reduce hyperactivity & promotes relaxation
Adult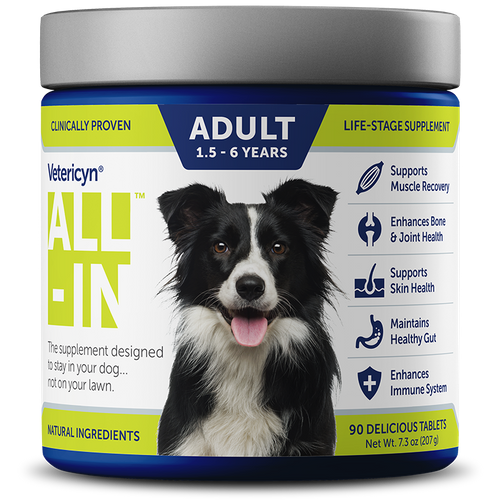 WELLNESS, ENDURANCE, AND LONGEVITY FOR YOUR ADULT DOG
Supports performance, stamina, & endurance

Maintains strong bones & joint mobility

Soothes skin-related issues associated with seasonal allergies

Scavenges free radicals & promotes cellular health

Promotes the body's resistance to pathogens

Contains prebiotics for healthy digestive function
Senior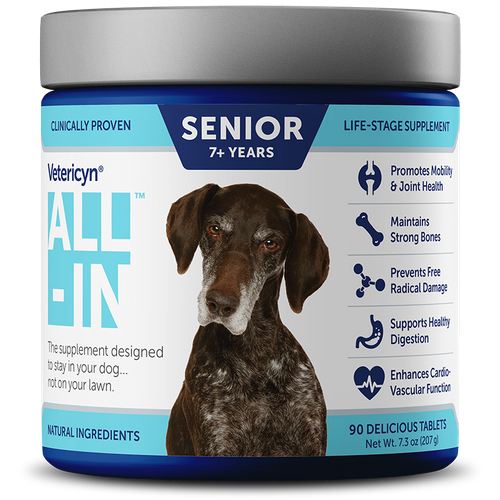 MOBILITY AND REJUVENATION FOR YOUR SENIOR DOG
Provides bone & joint reinforcing factors

Enhances the body's normal repair of connective tissues & joints

Promotes a healthy immune system

Supports cellular health in aging dogs

Helps keep your senior calm & relaxed

Contains prebiotics for healthy digestive function
Dogs and their owners love ALL-IN®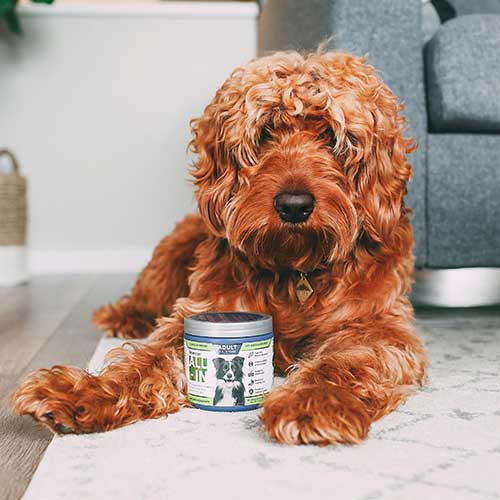 fitz_thedood
"After a soft tissue shoulder injury this summer we have been hesitant to play too hard with Fitz, even after 5 months of doggy rest. With ALL-IN® we have the peace of mind knowing that the supplements are working to help his muscle recovery, performance, joint mobility, stamina and endurance. He's back to being his happy active self! Bring on the frisbee!"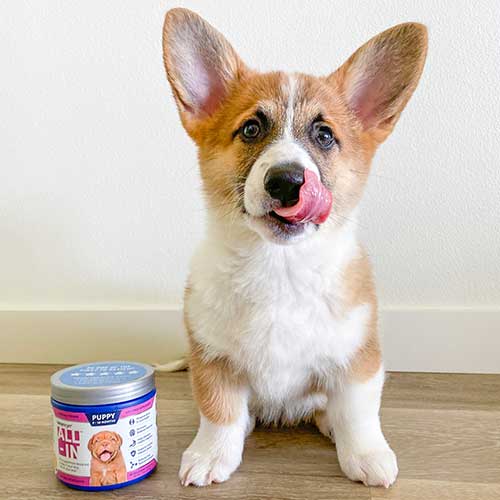 nachocorgidog
"Frito's health is extremely important to us and we strive to provide him with quality products like Vetericyn ALL-IN® supplements.They're formulated with natural ingredients and helps him absorb the proper nutrients, which helps us rest easy knowing that he's growing up strong!!"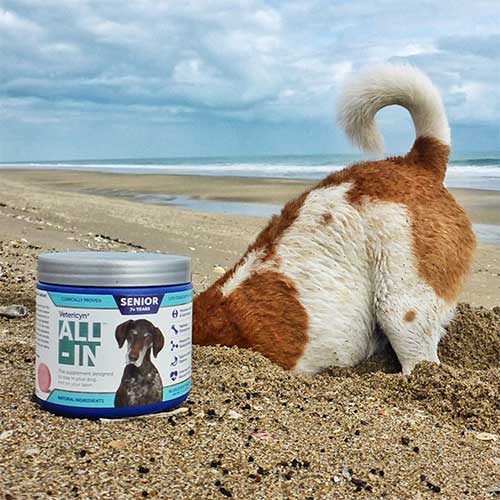 mydogstink
"Since Stink started taking ALL-IN® a little over 2 months ago I have noticed improvement in his muscle recovery, joint movement and endurance. A lot less stiffness after a day at the beach digging for crabs and running like a mad dog. His coat has also gotten really nice shine to it, giving me slight hair envy. People don't believe me when I tell them Stink is 10 years old!"
THE SCIENCE BEHIND IT ALL
INGREDIENTS
See the complete list of ingredients and the benefits they have for your dog.