3 Common German Shepherd Skin Issues
German Shepherds are well-known for their intelligence, confident disposition, and luxurious double coats – a soft inner "guard coat" hidden beneath a glossy outer layer. Although their medium-length fur provides considerable protection, German Shepherds are far more susceptible to uncomfortable skin conditions than many other breeds. Skin conditions are some of the most common German Shepherd health issues.
The average lifespan of German Shepherds is 10 to 12 years (and German Shepherds stop growing around 18 months). So during that time, expect health problems every now and then. If your German Shepherd seems to be scratching more than usual, if you discover lesions, rashes, hair loss, or any other skin problem, it's important to take immediate action. Knowing the three most common causes of German Shepherd skin issues can help reduce the risk of recurrence and potential complications.
Why Do So Many German Shepherds Develop Skin Issues?
The more time you spend with your German Shepherd, the easier it is to pick up on subtle cues of them having a skin issue. When your four-legged companion starts biting at their fur, licking their limbs, or scratching a persistent itch, you might naturally assume a flea treatment, tick check, or bath will alleviate their discomfort. While that's a great place to start, you may not get the immediate results you're hoping for. It's possible that there is a skin condition causing all these symptoms. Said skin condition can also indicate other causes, such as a secondary infection. Many canine researchers believe German Shepherd skin issues are hereditary, meaning they have strong genetic components.1
Which Skin Issues Are Most Likely to Affect German Shepherds?
German Shepherds are susceptible to many of the same health and wellness concerns as their human family members, including allergies. However, you may not realize your German Shepherd has a significant problem with common allergens until the reaction affects their skin. Although allergies can develop at any age, the allergic reactions most likely to trigger German Shepherd skin issues generally appear between the ages of one and three years.2
Of course, it's best to consult a veterinarian any time you have concerns about your canine's overall health and well-being. Until then, you may find it helpful to consider the three most common causes of German Shepherd skin issues.
Hot Spots (Polytraumatic Dermatitis)
Hots Spots (polytraumatic dermatitis) are areas of inflamed, infected skin. Although most often found on the paws, ears, hips, rump, or chest, hot spots can emerge anywhere your dog has been licking or scratching. If you don't catch a hot spot in its earliest stages, your canine can develop painful, oozing lesions that can spread to other areas of their body. If your German Shepherd dog seems uncomfortable, consider examining your pet for the following symptoms:3,4
A swollen, inflamed area of skin that feels warm to the touch
Areas of moist, blistered skin that cause pain or discomfort
Itchy round patches of skin that increase in size
Hair loss or patches of matted fur crusted with discharge
Scarring caused by continuous scratching, licking, or biting inflamed, infected skin
The main triggers for German Shepherd hot spots tend to fall into one of four main categories, allergic reactions (pollen, insect bites), breed-related (genetic disorders), parasites (dust mites, fleas), and pathological (autoimmune, arthritic). Once you know the primary cause of your German Shepherd's hot spots, it's much easier to prevent reoccurrence.
Canine Atopic Dermatitis (CAD)
German Shepherds are also prone to a rather complex medical disorder known as Canine Atopic Dermatitis (CAD), a chronic inflammatory condition comparable to eczema in humans.5 German Shepherds diagnosed with CAD develop uncomfortable symptoms when exposed to specific triggers. The triggers that can cause symptoms to flare include seasonal pollen, human dander, soil fungi, harsh shampoo, and more. German Shepherd's living with CAD may develop any number of the following signs and symptoms:
Red Eyes or patches of raw, irritable skin
Itchy skin, eyes, or paw pads
Recurring ear infections
A "corn chip" aroma from the ears, feet, or hindquarters
Hair loss, skin abrasions, scabs, or signs of infection
Although environmental allergens are often to blame for symptom flares, CAD is also known to have strong genetic components.Current investigations suggest the risk of developing CAD increases by 50% when one or both parents of a German Shepherd have the skin disorder.6
Food Allergies (or Intolerances)
Many German Shepherds have allergic skin reactions to common ingredients used in commercial dog foods and treats. The most common culprits are the animal proteins commonly found in chicken, beef, and eggs. Your canine could also be allergic to grains, dairy, root vegetables, or preservatives. If your vet suspects food allergies, they may suggest an elimination diet or allergy testing to help identify the cause of the following symptoms:7,8
Excessive itching, scratching, hair loss, or a dull coat
Dry, flaky skin or a red underbelly
Vomiting, diarrhea, or loss of appetite
Constant sneezing, wheezing, or chronic ear infections
Watery eyes, nasal congestion, or clogged tear ducts
When beginning an elimination diet, you'll feed your dog with a protein they don't usually eat and a single source of carbohydrates. If your German Shepherd responds well to this very basic diet, you'll re-introduce a new food each week while watching for signs of an allergic reaction.
How Can I Help Soothe My German Shepherd's Sensitive, Reactive Skin?
Although your German Shepherd will try to resolve their discomfort on their own, their efforts often increase the risk of pain, inflammation, and infection. While you'll find many over-the-counter treatments intended to help treat canine skin issues, they're not all the same.
Vetericyn® is leading the at-home animal care market. Whether you're looking for a product to calm an itch, soothe irritation, or reduce the risk of infection, consider how the following Vetericyn® products could help your German Shepherd feel better fast.
Vetericyn Plus® Antimicrobial Hot Spot Spray
Licking, rubbing, biting, and scratching irritable hot spots can prevent healing. Delayed healing increases the risk of infection. Vetericyn Plus® Hot Spot Spray helps calm itchy, reactive skin. Since the product is made without alcohol, antibiotics, or steroids, you can use this spray as often as needed to keep your affected dog's hot spots and skin lesions in check.
Vetericyn Plus® Antimicrobial All Animal Wound and Skin Care
Vetericyn Plus® Antimicrobial Wound and Skin Care helps alleviate pain while cleansing, moisturizing, and reducing the risk of infection. The product is safe for all types of pets, and won't sting, burn, or stain. The advanced hypochlorous technology offers a powerful, non-toxic alternative to steroids and antibiotics and is completely non-toxic, even when ingested.
Vetericyn Foam Care® Medicated Pet Shampoo
To help soothe dermatitis, hot spots, or any other skin issue, consider trying Vetericiyn Foam Care® Medicated Pet Shampoo. This pet-safe, hypoallergenic conditioning shampoo is made with ingredients selected to help boost cell proliferation while restoring the skin's natural defenses. Our medicated foaming shampoo is pH optimized, anti-inflammatory, and compatible with all Vetericyn Plus® products.
Could Vetericyn® Help Resolve Your German Shepherd's Common Skin Issues?
German Shepherds are highly intelligent and remarkably loyal. Although most require only a quick brush and occasional bath, the breed is prone to developing uncomfortable itching, allergic skin reactions, hot spots, and other skin issues that could cause potentially serious infections.
If your canine companion needs fast, effective relief from the discomfort of breed-related skin issues, visit Vetericyn® to browse our selection of innovative products. Vetericyn® products are made without antibiotics or steroids, safe at every stage in life, and recommended by veterinarians worldwide.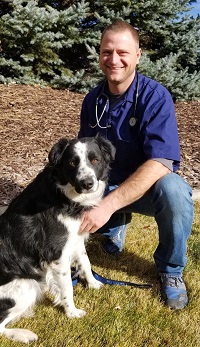 Reviewed by Dan Richardson, Veterinarian
Dan Richardson has been a practicing veterinarian for over 10 years. He specializes in surgery and orthopedics. Dan is originally from rural western Nevada and attended the University of Idaho for undergraduate study and Oregon State University for Veterinary School. The Richardson Family enjoys camping and spending time on the water fishing, paddle boarding, or digging their feet in the sand somewhere warm.
Sources: