3 Golden Retriever Skin Issues and How to Treat Them
So you've noticed your golden retriever scratching. Like a lot. Like a lot a lot. You may wonder, "What's going on? Should I worry?" and, most importantly, "How can I help them?"
Often, aggressive scratching can indicate that your pup suffers from some type of skin issue. Their thick fur can make golden retriever skin issues hard to notice. But once diagnosed, skin issues are highly treatable.
Knowing some of the more common golden retriever skin issues can help you notice specific symptoms, ask your vet useful questions, and ultimately find the best treatment for your beautiful, golden, itchy baby. 
#1 Allergies
Like their humans, golden retrievers can have an allergy to certain foods or irritants in their environment. Dog allergies typically manifest as constant itching, but other clinical signs and symptoms can also occur.1 
Unfortunately, you can't cure dog allergies. But here's the good news: You and your vet can give your pet allergy treatments that decrease the intensity of your pet's allergic reaction, so they can go back to enjoying their life.1 
We can break skin allergies down into two categories: environmental and food.
Environmental Allergies
Environmental allergy (which includes seasonal allergies) can come from inside or outside your home. 
Possible allergens include:1 
Plants or fungus

– Examples of this include grass, pollens, trees, hay, straw, and mold.

Scent-heavy human products

– Examples of this include air fresheners, candles, and cigarette smoke.

Cleaning and hygiene products

– This can encompases everything from your dog's shampoo to the laundry detergent you use on their bedding (or

your

bedding, if your dog takes a "what's mine is yours" approach to life). 
Symptoms of environmental skin allergies can include:1 
Full-body itching, or itching in specific places like the ears and eyes

Runny nose

Watery eyes

Excessive Hair loss
If your dog continues to exhibit any of these symptoms like unnatural golden retriever shedding , consult your vet. Depending on the type of the allergy and the severity of your pet's symptoms, your vet may recommend itch relieving medications, antibiotics, or antifungals.5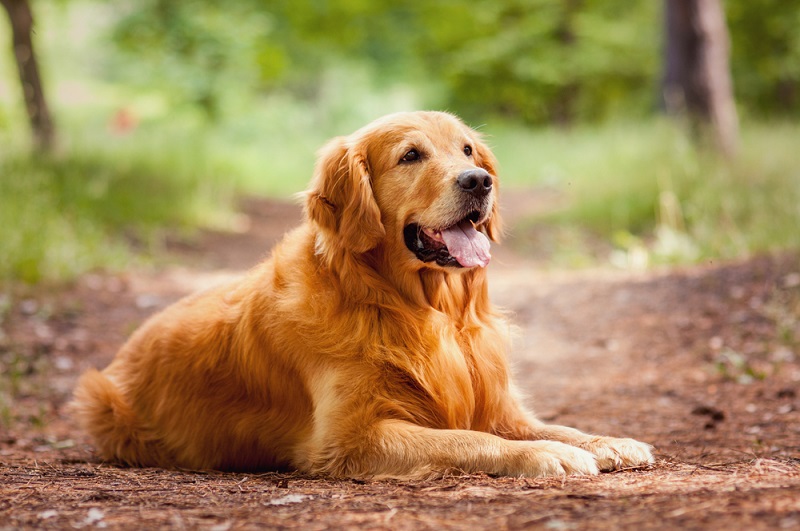 Food Allergies
Humans who suspect they may have an allergic reaction or sensitivity to foods often try cutting a potential allergen out of their diet to see if it eliminates their symptoms. Starting your pet on an elimination diet uses the same principle. 
Over two weeks, you'd slowly switch your dog to a food that uses a different protein than your current dog food, and then continue with that food for eight weeks.1 
If the elimination diet reduces or eliminates your pup's symptoms, your vet will likely conclude your pet has a food allergy. They'll then have your pet take an allergy test to identify potential allergens.2 
Once the vet has identified the guilty allergen, they'll likely recommend some combination of the following:
Cutting or reducing the allergen from your pet's diet

– In addition to switching pet foods, your vet may also recommend restricting your dog's access to people food.

Allergen-specific immunotherapy – In some cases, your vet may try introducing small amounts of the allergen to your dog on a regular schedule to help reduce your dog's sensitivity to their allergen.2

 
The most common allergens for dogs include:2
Beef

Lamb

Fish

Pork

Dairy

Chicken products

Wheat

Soy

Corn
By putting on your allergy detective hat, you can solve the case and help your golden retriever live a much happier life.
#2 Parasites
Your dog can catch a parasite if they live in or travel through a geographic area where that parasite lives.2 Some may even cause golden retriever ear infection and other health issues.
Some potential parasites your golden retriever may encounter that could affect their skin health include:
Treatment for parasites varies by the type of bug, but can include topical treatments, oral treatments, or a combination of both.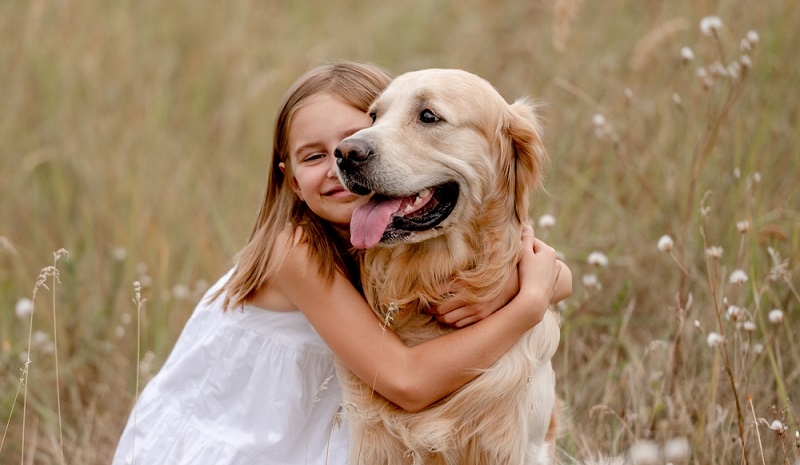 #3 Hot Spots
Patches of swollen and inflamed skin, known as hot spots, can develop in response to allergens. They can also develop when your golden retriever's coat stays wet for too long. A wet coat can create a warm, humid area against the skin that's perfect for hot spots to develop.
Part of diagnosing hot spots involves ruling out what's not causing them. If your dog can't seem to stop itching, your vet may first try to rule out other possible causes by:
Performing flea combing, skin scraping, and cytology – This can help your vet rule out the possibility that fleas, ticks, or other parasites caused your dog's discomfort.2
Suggesting an elimination diet – If your dog's symptoms persist, putting them on an elimination diet can help your vet rule out a food allergy as the cause of their skin issues.2
Once your vet has determined your dog most likely suffers from heat spots, they can provide treatment for various golden retriever health issues, such as antibiotics, antiseptic solutions, steroids, or allergy medications.
In other situations, they may recommend you try one of the following at-home treatments:
Antimicrobial Hot Spot Spray

–

Antimicrobial hot spot spray

works by helping clean, soothe, and relieve the itch for your dog's hot spots. Reducing uncomfortable symptoms caused by the hot spots helps your pet feel better, which in turn can help them stop scratching and biting the area. This gives the spot a chance to heal instead of devolving into a potential bacterial infection. 

Hot Spot Antimicrobial Hydrogel

– This

hot spot antimicrobial hydrogel

sticks to your pet's itchy, irritated skin to provide soothing relief. It can help protect areas of your dogs skin suffering from rashes, sores, burns, or moist canine atopic dermatitis. In addition to helping your pet heal and feel better, antimicrobial hydrogel can also help prevent future hot spots.

Medicated Shampoo

–

Medicated shampoo

can help treat various skin conditions, including hot spots and itchiness.
The right hot spot treatment can help your golden retriever feel like themselves again—and help you relax, knowing your pet's happy and healthy again.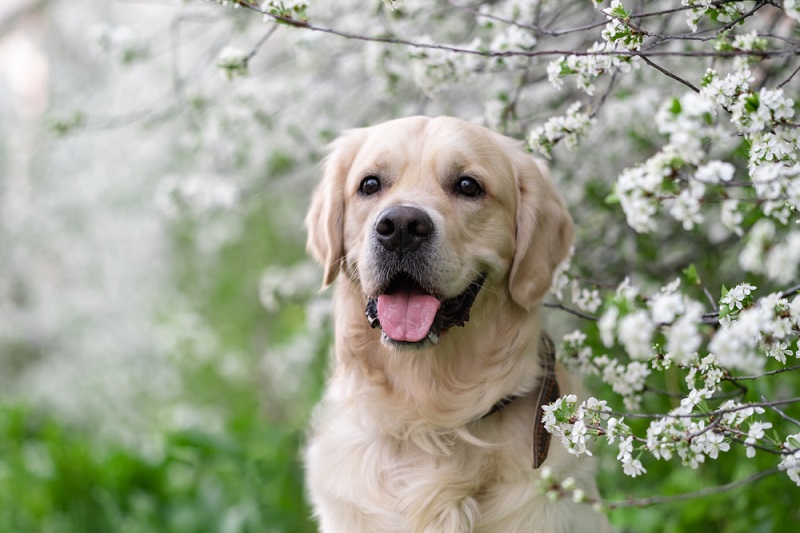 Try Vetericyn For Golden Retriever Skin Issues
If your dog is experiencing allergies, parasites, or hot spots it's critical to provide them with the care necessary. At Vetericyn, we combine science and innovation with our passion for helping animals to create products used and recommended by veterinarians across the world.
Safe for animals at all stages of life, our products avoid ingredients like antibiotics, steroids, iodine, and tea tree oil. Instead, we focus on quality ingredients that help heal your pet, without creating unwanted side effects like stinging, burning, or harming healthy tissue.
You can find Vetericyn products at Amazon, Chewy, and Petco. 
From Antimicrobial Hot Spot Spray to Medicated Shampoo, we're there when you need us—so that you can be there when your pet needs you.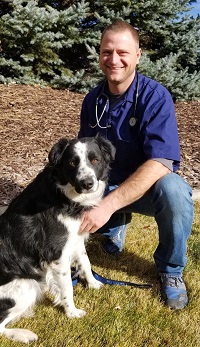 Reviewed by Dan Richardson, Veterinarian
Dan Richardson has been a practicing veterinarian for over 10 years. He specializes in surgery and orthopedics. Dan is originally from rural western Nevada and attended the University of Idaho for undergraduate study and Oregon State University for Veterinary School. The Richardson Family enjoys camping and spending time on the water fishing, paddle boarding, or digging their feet in the sand somewhere warm.
Sources:
Golden Retriever Society.

Golden Retriever Allergies: Causes And Treatments

.

https://goldenretrieversociety.com/allergies/

 

BMC Veterinary Research.

Canine atopic dermatitis: detailed guidelines for diagnosis and allergen identification

.

https://www.ncbi.nlm.nih.gov/pmc/articles/PMC4531508/