4 Ways to Manage Golden Retriever Shedding
We love our golden retrievers—they're incredibly loyal, silly, and delighted with whatever comes their way, whether they're sniffing the local trails or cuddling up with us on the couch for a night of movies and snacks.
They're everywhere you are, even if it's just their fur. That said, piles of their golden mane can create a hairy situation—especially if your work pants get in the way. 
In this article from Vetericyn, we've collected some tips for how to manage golden retriever shedding to keep your dog's coat healthy and your home well-maintained. 
#1 Brush Your Golden Retriever 
For any golden retriever owner, the best way to manage a golden retriever's shedding is to make brushing a part of the weekly routine. Weekly brushing will help you mitigate hairy couches and unsightly pant bottoms and give you an opportunity to bond with your pup.
The American Kennel Club recommends brushing golden retrievers before bath time. Baths typically loosen your dog's hair, and brushing will help mitigate fly-aways post-bath time. That said, you can also opt to brush your dog's hair after their bath, too. 
When brushing your golden retriever, follow these tips:
Start early

– You can begin brushing your golden retriever when they're a puppy to help them get used to the sensation. During their youth, golden retrievers are often bundles of energy. As such, you can start their brushing routine before bedtime when they're more relaxed.

Pay attention to age

– When your dog is a puppy, use a soft brush until their full double coat has grown in. Then, you can start to use a slick shedding-specific brush that can rake their undercoat. 
#2 Use The Right Brushes
To get the most out of brushing and mitigate shedding, you want to make sure that you have the right de-shedding tool or brushes on hand. We recommend:
A large pin brush

–

Most of your brushing on a golden retriever should be done with a pin brush. The wide and sturdy bristles of a pin brush are essential for raking out debris (your golden retriever probably gets into some messes!) and clearing dead hair. The bristles also stimulate your dog's skin to increase oil production and promote a healthier golden retriever coat.

A metal comb with medium or wide teeth

– You'll want to use the comb on areas where your dog might be more sensitive, like behind their ears or on their tail. A comb should also be used in spots where your golden retriever's coat feathers, especially if you're trying to style that puppy for a dog show. 

Thinning scissors

–

Typically, you don't want to trim your golden retriever's coat too much. Nature will do that work for you and you don't want to accidentally take too much off and make your dog uncomfortable. But, for problem areas (usually on a dog's tail or belly), it's okay to use a pair of thinning scissors.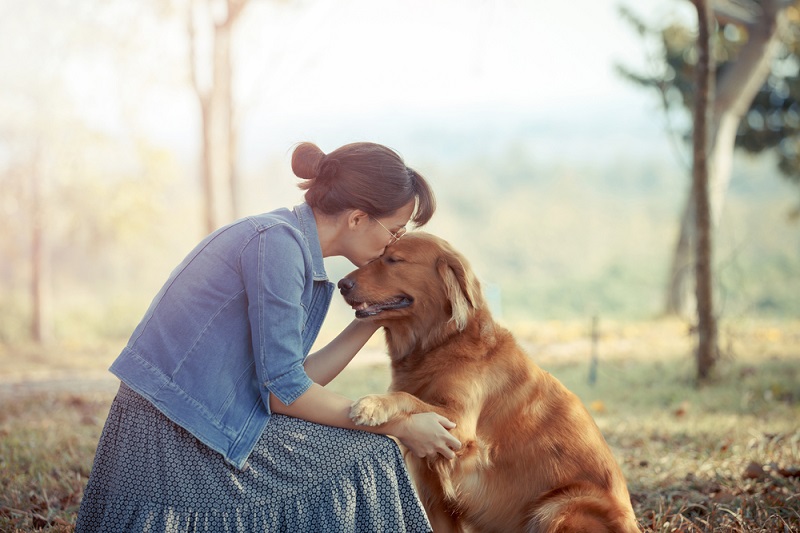 Brushing in the Right Direction
If you don't want to send your golden retriever fleeing from your makeshift doggy salon, make sure that you're brushing correctly. Always brush the entire length of your golden retriever's body and make sure you brush in the direction that the dog's fur naturally grows. 
You'll know you're doing it right when your golden retriever sits still and looks all stately. 
#3 Introduce Bath Time After Brushing
When it comes to managing dog shedding, brushing is only half the battle. After brushing, it's time for your golden retriever to take a bath to remove excess loose fur from their coat. 
Getting a golden retriever into the tub can sometimes be an adventure all on its own. Once they're in the tub, follow these steps:
Step 1: Thoroughly wet your golden retriever

– Remember, golden retrievers have

a lot

of fur. These dogs were bred to fetch ducks from lakes, so they have evolved coats that are highly water resistant. For the best results, you need to soak them right down to the dog's skin. 

Step 2: Use a quality dog shampoo – Always use a shampoo that's specifically formulated for dogs when bathing your golden retriever. Otherwise, you run the risk of irritating your dog's skin or triggering allergies. By keeping your dog's coat shampooed and conditioned, you'll reduce dog shedding and avoid golden retriever health issues. Also, they'll smell nicer after a day spent rolling around in the yard.  
Step 3: Rinse twice

–

Once again, golden retrievers have really thick coats! Remember to rinse thoroughly so that the shampoo doesn't dry up and bother your four-legged friend. 

Step 4: Stand back as they shake all that water off

–

You know it's going to happen. Just go with it. You wouldn't have gotten a golden retriever if you couldn't tolerate a little mess. 

Step 5: Towel them dry

–

For a bit of extra pampering, you might also try a canine blow dryer. The blow dryer you have around the house is probably too hot for a dog's fur, so make sure you're using an appliance designed specifically for dogs. 
Suggestion: Try a Foaming Shampoo
Bath time with a golden retriever can sometimes turn into a wrestling match. While that kind of sounds like fun, there are times when we all wish shampooing the pooch was a little easier. 
Spray-on shampoo like Vetericyn FoamCare® Pet Shampoo can help simplify bath time.
With plant-based ingredients that are hypoallergenic and paraben-free, you can rest assured that you're treating your golden retriever to a healthy coat. And as you now know, healthy coats lead to less shedding. Our FoamCare® Pet Shampoo also rinses out easily—even from a golden retriever's shaggy mane.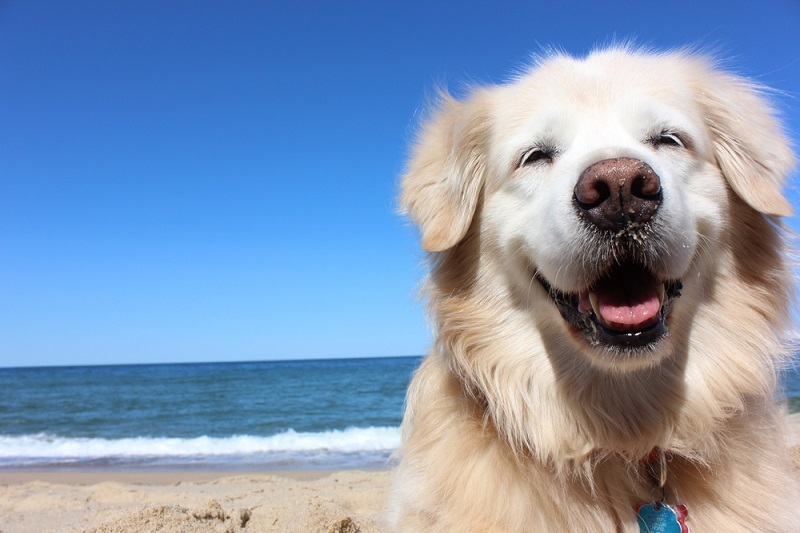 #4 Learn to Love the Dog Bed
While maintaining a brushing and bathing routine will manage shedding, you're never going to be completely free of loose fur. Tumbleweed-like furballs are what you signed up for when you adopted a golden retriever. 
We also know that it can be hard to keep your golden retriever off the furniture and out of your bed. These buddies just want to be around their humans. However, golden retrievers are super smart, love positive reinforcement and, like all dogs, are happy to have their own space. 
By training your golden retriever to sleep in a dog bed (instead of on the furniture), you can keep most of their shedding in a designated area. It's way easier to clean one dog bed than it is to vacuum every surface in the house. 
Why Do Golden Retrievers Shed So Much? 
When mitigating your golden retriever's shedding, it's important to understand what kind of coat your golden retriever has and how that affects their shedding patterns. 
Golden retrievers are double-coated dogs—that's twice the amount of fur or dog hair to be shed as some other breeds of dogs:
Outer coat

– The top layer of the pet hair is rough and water-resistant

Undercoat

– Underneath the top layer sits a thick undercoat of fur that typically sheds during warmer months 
The Life of Furball
As puppies, golden retrievers are born fluffy so that they can keep warm. That snuggly puppy fur will one day become the dog's undercoat. 
At around four months, golden retrievers' adult fur starts to come in. That fur will grow over and through the undercoat and gradually become the dog's outer coat. 
Around this time, golden retrievers also develop their famous "feathered" pieces of fur. Whether or not your golden retriever has feathered pieces on its coat is entirely down to genetics and won't change how much they shed. 
When Do Golden Retrievers Shed? 
Double-coated dogs will shed some fur year-round, but there are two particular times of the year when their shedding is at the most extreme. 
In the spring

– During the spring, your golden retriever will shed their thick, winterized undercoat in order to make way for a lighter weight summer coat. Just in time for allergy season!

In the fall

– Just as summer starts to fade, your golden retriever will get rid of that lighter undercoat in order to replace it with a thicker winter coat. 
Of course, this timeline can change depending on your local climate. The amount shed can also change depending on a golden retriever's exposure to sunlight. That means that dogs who spend a lot of time outdoors will have more pronounced shedding cycles, whereas homebody indoor dogs can end up shedding consistently throughout the year.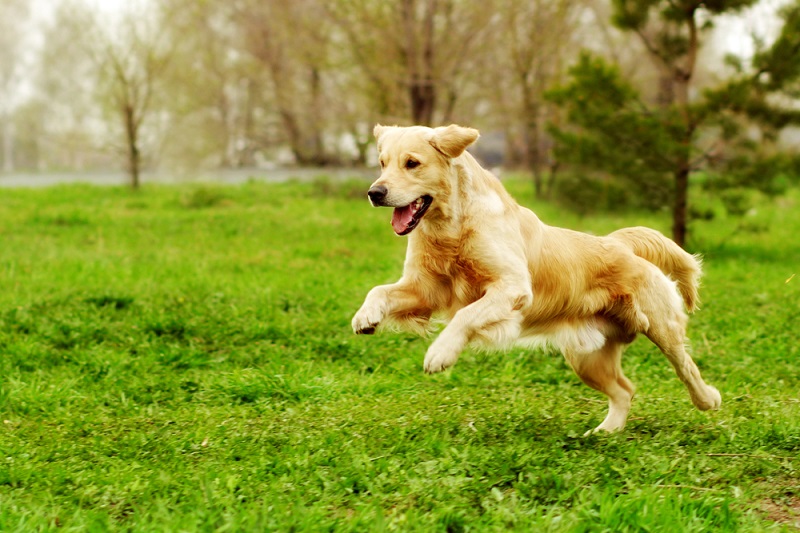 Is Your Golden Retriever Shedding Too Much?
If you notice heavy shedding, especially out of the golden retriever shedding season, or that their fur appears to be thinning, that could be a sign of golden retriever skin issues or any other health concern. As such, consult your veterinarian if you notice irregular pet hair loss.
Healthy and Shiny Fur With Vetericyn
Maybe you've got a shining beauty of a golden retriever that is the envy of the other handlers at the regional dog show. Or maybe you've got a dirt-covered wrecking ball that chases twenty squirrels a day. Either way, you need to manage your golden retriever's shedding and make sure they have the healthiest coat possible. 
Vetericyn FoamCare® Pet Shampoo will help make life a little less hairy. 
The shampoo sprays on, foams instantly, and rinses fast—which makes cleaning up almost as fun as getting dirty. With storefronts on Amazon, Chewy, and Petco, Vetericyn is now easier to find than ever. Sniff out our shampoo and we're sure your golden retriever will thank you.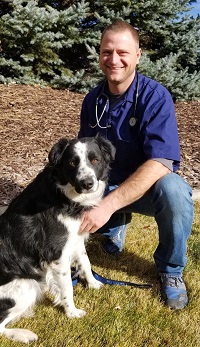 Reviewed by Dan Richardson, Veterinarian
Dan Richardson has been a practicing veterinarian for over 10 years. He specializes in surgery and orthopedics. Dan is originally from rural western Nevada and attended the University of Idaho for undergraduate study and Oregon State University for Veterinary School. The Richardson Family enjoys camping and spending time on the water fishing, paddle boarding, or digging their feet in the sand somewhere warm.
Sources:
American Kennel Club.

How to Groom a Golden Retriever: Keeping Goldens in 14-K Gold Grooming.

https://www.akc.org/expert-advice/health/how-to-groom-golden-retriever/

Golden Retriever Society.

Golden Retriever Coat Care.

https://goldenretrieversociety.com/coat-care/

PetMD.

Why do dogs shed?

https://www.petmd.com/dog/care/why-do-dogs-shed