5 Most Common German Shepherd Health Issues to Be Aware Of
German Shepherds are a popular breed for many reasons. However, this breed does have several common health issues that owners should be aware of. The more extreme conditions are a result of inbreeding, so responsible breeders take special care to trace the genealogy before breeding. The average lifespan of a German Shepherd is 10 to 12 years old, but certain conditions might shorten that. Here is a look at some of the most common types of health problems that German Shepherds have and how to recognize them. 
1. Diabetes
Diabetes is not something that we think of when we think of canine ailments. However, it is not unheard of for German Shepherds to be diagnosed with this health problem. In case you didn't know, diabetes is a condition in which the pancreas does not produce enough insulin to control the body's glucose levels. If a dog's glucose level becomes too high, it can cause serious medical complications, including seizures and can even result in your dog going into a coma.
Some of the symptoms that your dog may exhibit if they have diabetes could include:
Eating more often than usual

Drinking more often

Losing weight for seemingly no reason

Not gaining weight even though they are eating more frequently

Urinating more often

Seems confused

Not as responsive when being called

Sleeps a lot more/ lethargic
If you notice any of these symptoms in your dog, you should schedule an appointment with your vet. If your dog has one or more of these symptoms, it does not necessarily mean that they have diabetes. However, they should be checked out to ensure that they do not have diabetes or another serious illness.
2. Gastric Dilation – Volvulus (GDV)
Some people refer to GDV simply as bloat. However, it is much more serious than the average bloat that humans experience after eating too much. With this condition, a dog's stomach will fill with too much gas and will actually start to twist around. This is an extremely painful experience for your dog and also very dangerous. The condition can sometimes come on very quickly. Some of the symptoms that your dog may experience with GDV include:
Gums are pale or almost white in color

Excessive drooling

Swollen abdomen

Gagging and retching. Trying to vomit but can't

Eating grass

Vomiting
If you think that your dog may have GDV, it is vital that you get them to a vet right away. If this happens on a weekend or some other time when your regular vet is closed, look to see if there is an emergency animal hospital nearby. With these conditions, dogs will start to go downhill very quickly. In order to give them the best chance at survival, treatment must begin quickly. 
If your vet suspects that your dog has GDV, they will:
Examine the stomach area

and look to see if they can visibly see any swelling in your dog's stomach.
Perform an X-Ray

to get a better look and see if the stomach is twisted.
Start an IV of fluids

if they confirm that the dog does, in fact, have GDV. This will not only help to keep them hydrated, but it will also help to keep the dog's blood pressure up.
Perform surgery.

The only way to fix a twisted stomach is to perform a surgery. Depending on what goes on during the surgery, your dog will need a lot of time to recover from such an invasive operation. Sometimes, the vet will choose to sew your dog's stomach in place to ensure that it will not get twisted again.
While your dog is recovering, it is imperative that he or she gets a lot of rest and refrain from physical activity. Your dog should be monitored closely for the first few days. If they start to vomit or show any signs that their health is deteriorating, you should call the vet immediately.
3. Hip Dysplasia
This is a common problem for German Shepherds and other large dog breeds. This is a genetic disorder that usually happens while the German Shepherd puppy is still in the growth stage. The hip socket is more shallow than usual and it causes the hip joint to become loose, which can cause a lot of pain for the dog. Sometimes, hip dysplasia can go unnoticed, but over time, it can cause a dog to develop other problems, such as arthritis and muscular issues.
Some of the most common signs that a dog is experiencing hip dysplasia include:
Limping for seemingly no reason

Hopping when running

Popping sounds coming from the joint

Slow to stand up

Slow to lay down

Difficulty getting on and off beds, couches, and other furniture
If you notice any of these signs and symptoms, it is a good idea to schedule a vet visit for your dog. There are a few different treatment options available for dogs with hip dysplasia, including surgery. Your vet will examine your dog and determine the best course of treatment.
4. Elbow Dysplasia
Elbow Dysplasia is just like hip dysplasia, except for the fact that it affects the elbows and not the hips. The symptoms are also going to be similar. You may notice your dog limping or not wanting to run. Just like with hip dysplasia, surgery is also a treatment option. But sometimes, a vet will try to just manage the pain if the dysplasia is not severe.
5. Cataracts
Sometimes it seems like these dogs grow up so fast. In truth, when German Shepherds stop growing is at 18 months. As German Shepherds age, some have been known to develop cataracts. This is the same eye disorder that humans can get as well. It is pretty easy to tell if your older dog has cataracts as you will be able to see a noticeable white film develop on the lens of their eyeball. If your dog also has diabetes, they're at an increased risk of getting cataracts. 
The white film that is covering your dog's eye will also be blocking out the light from entering the eye. If left untreated, cataracts can cause your older dog to go completely blind in that eye. If you notice an unusual white spot or white film over your dog's eye, you should call your vet as soon as possible.
Another thing to note is that German Shepherd skin issues are fairly common. This breed is prone to yeast dermatitis, moist dermatitis, and allergy dermatitis. Make sure to have these conditions treated by a vet as soon as you spot on your pup.
Having a German Shepherd can be a rewarding experience. They are a playful, protective, and loyal dog breed. As long as you stay vigilant and monitor any unusual symptoms, you should be able to have your playful pooch around for years to come. But it wouldn't hurt to have pet health insurance in case your dog is diagnosed with a disease later on. Check out Vetericyn if there are products that can alleviate the symptoms of any of  these conditions.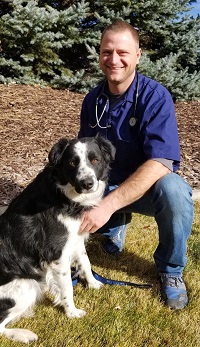 Reviewed by Dan Richardson, Veterinarian
Dan Richardson has been a practicing veterinarian for over 10 years. He specializes in surgery and orthopedics. Dan is originally from rural western Nevada and attended the University of Idaho for undergraduate study and Oregon State University for Veterinary School. The Richardson Family enjoys camping and spending time on the water fishing, paddle boarding, or digging their feet in the sand somewhere warm.
Sources:
 Pet MD. Diabetes Mellitus with Hyperosmolar Coma in Dogs.

https://www.petmd.com/dog/conditions/endocrine/c_dg_diabetes_mellitus_hyperosmolar_coma#:~:text=Because%20of%20the%20excessively%20elevated,to%20depression%2C%20seizures%20and%20coma

 

ACVS. Canine elbow dysplasia.

https://www.acvs.org/small-animal/canine-elbow-dysplasia

Fetch. Cataracts in Dogs.

https://pets.webmd.com/dogs/cataracts-dogs#:~:text=As%20they%20age%2C%20dogs%20develop,substance%20in%20the%20eye's%20lens

 

Pet MD. Hip Dysplasia in Dogs: All-in-One Guide.

https://www.petmd.com/dog/conditions/musculoskeletal/c_dg_hip_dysplasia#:~:text=Hip%20dysplasia%20is%20a%20condition,muscle%20atrophy%2C%20and%20limited%20mobility

PDSA. GDV (Gastric Dilatation Volvulus) in dogs.

https://www.pdsa.org.uk/pet-help-and-advice/pet-health-hub/conditions/gdv-gastric-dilatation-volvulus-in-dogs