Noticed a hot spot on your dog? They're extremely common during the warmer months, when temperatures get human and bugs are on the prowl. Don't let hot spots cramp your summer adventures. With the right treatment and care, your dog will feel better in just a few days.
What are Hot Spots?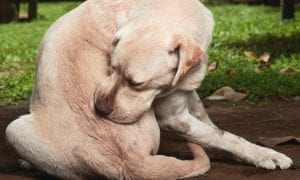 Dog hot spots are areas of infected, inflamed skin that are very uncomfortable for your dog. Often these spots get moist or itchy and can even ooze. Your dog will likely be tempted to lick or chew the area of discomfort, but doing so only makes those hot spots worse.
Hot spots on dogs are caused by a condition called acute moist dermatitis. They are itchy, painful skin lesions that result from constant licking, biting, and scratching of one area. Inflammation causes these spots to become warm, which is how they gained the name "hot spots." Irritants such as bugs and allergens can be the initial cause for your dog's irritation, and excess moisture from rain or pools can sometimes amplify the effects.
How to Treat a Hot Spot on a Dog: