5 Tips for Finding the Best Horse Shampoo
Want to know how grooming your horse helps coat health? As a horse owner, grooming and bathing your horse is important for their mane and coat health and overall wellbeing. But not all equine shampoo is made equal. This is why it's important to find the best one for you and your horse.
Here, we'll share why it's important to find the best equine shampoo and what to look for in your next shampoo.
Why is Your Horse's Shampoo Important?
As a horse owner, you may be confused about how to give your horse a bath properly. It might seem like you could use any shampoo when grooming your horse, but this is actually far from the truth. In fact, horses have sensitive skin, and properly maintaining their coat requires the perfect products.
One of the reasons why you should consider shopping around for the right horse shampoo is because horses have natural oils on their skin that you don't want to disrupt. Just like humans, horses secrete an oily substance called sebum, which helps protect their mane and maintain healthy skin. This sebum is key to maintaining a healthy, glowing coat. Choosing the wrong shampoo can strip these oils and cause more harm than good. In fact, excessive washing and rinsing (especially with the wrong shampoo) can be problematic, possibly leading to a skin condition. This is why it's important to take the extra time to sort through ingredients and find the best shampoo for your horse.
Tips on Finding the Best Horse Shampoo
Now that you understand how important it is to find the right horse shampoo, let's look at some tips to help you find the best one for your next grooming session.
CONSIDER THE INGREDIENT LIST
At Vetericyn, we believe the most important thing to look at when shopping for horse shampoos is the ingredient list. Too many horse shampoos contain ingredients that can cause more harm than good, especially for horses with sensitive skin. Looking at the ingredient list will help you find a natural shampoo formulated for their skin condition needs.
Some of the most common ingredients to look for in your next horse shampoo include:
Keratin
Keratin is a protein and a building block for healthy hair and skin. Many horse shampoos contain keratin the cowboy magic can help revive your horse's beautiful coat.
Natural Oils
A horse's coat contains natural oils that keep them silky and smooth. When you wash them, you strip some of these oils away. Look for a shampoo that has natural oils, such as avocado, sunflower, coconut, or olive oil, that can help revitalize this moisture. Vegetable oils also provide fatty acids that enhance coat shine.

Panthenol
Panthenol is a derivative of Vitamin B5 and helps to lubricate the hair shaft.
Zinc
Zinc is a key ingredient for coat and hoof health. Your horse should be getting enough zinc from a well-balanced diet, but a horse shampoo that contains zinc is just an extra measure of horse care.
Benzalkonium Chloride
Many medicated shampoos will have benzalkonium chloride. Benzalkonium chloride is an antimicrobial agent that can help treat a number of concerns, from rain rot to cuts and scrapes, to other skin conditions.
Think About Your Horse's Needs
The next tip when shopping for the best horse shampoo is to consider your horse's needs. There are many different types of horse shampoo (more on that later), so consider your goals before choosing a shampoo.
For example, if your horse has super sensitive skin, you may want to consider a natural or medicated horse shampoo that is gentler and made with organic ingredients. This is especially helpful if you have a horse that has current skin conditions that you're trying to treat.
If you're getting ready for a show or event, you might want a horse shampoo that's formulated for extra shine and designed to give your horse that glowing coat that we all love. In this case, you might want to consider a show shampoo or a shampoo that is more cosmetic versus therapeutic.
Consider Your Washing and Grooming Schedule
Another consideration when shopping for the best horse shampoo is your grooming schedule. Most horses don't need to be fully bathed very often, so if you're focused on smaller grooming sessions, you'll want to find a horse shampoo that can be used as a spot cleaner, as well. There are also waterless shampoos available that make it easy to groom your horse without having to set up all of the full bathing supplies.
When thinking about your grooming schedule, also think about the time of year and what you hope to accomplish with your horse shampoo. Whether you want to remove dust, pollen, and sweat during the summertime or want to manage shedding and a horse's winter coat in the colder months, choosing the right shampoo for these needs is important.
Do a Test First
Whenever you introduce a new product, whether it's food, treats, or shampoo, to your horse's routine, always do a small test to see how they will react. We recommend testing any new shampoo in a small, inconspicuous area in case your horse reacts poorly to a new shampoo. With this skin test, you can tell whether or not a new horse shampoo will work for your horse.
Do Your Research
At the end of the day, choosing the perfect horse shampoo is a personal decision and depends on your horse and their individual needs. Examine ingredient lists closely, go through a few trials and errors, and do your research to find the perfect one.
Different Kinds of Horse Shampoos
As we mentioned above, there are different kinds of horse shampoos for different occasions. To find the best one, think about your needs.
MEDICATED SHAMPOO
The first, and most popular, type of horse shampoo is a medicated shampoo. These shampoos are designed to help heal cuts, wounds, skin conditions, and other concerns. These antifungal and antibacterial shampoos help control and prevent the growth of common diseases, including rain rot, dry skin, ringworm, or dermatitis.
HYPOALLERGENIC SHAMPOO
Hypoallergenic shampoos are designed for horses that have sensitive skin. These shampoos are pH-balanced for equine skin and are perfect for sensitive horses that have a history of hives or other irritations from shampoo.


DRY HORSE SHAMPOO
If you just need to do a spot clean to take a stain out of your horse's coat or don't want to do a full bath, dry shampoo is perfect. These waterless shampoos don't require a full rinse and can be used quickly and often. Another option for spot cleaning is horse-cleaning wipes.
COLOR SHAMPOO
If you're getting ready for a big show or event, your main priority might be to maintain your horse's beautiful color. There are many different cosmetic shampoos you can use, and they work in different ways. Some are actually dyed to match a horse's coat and can be used to enhance their natural color. Some contain optical brighteners that are absorbed by the hair and reflect light. This makes your horse's coat look brighter and shinier. Lastly, there are color shampoos designed for the white parts of your horse that have a slight blue tint. This blue agent counteracts white in natural light, making it look even whiter.
Conclusion
As you can see, there are many factors that go into choosing the best shampoo for your horse.
First, you should examine the ingredient list of any potential shampoos and make sure that their ingredients are up to par. Look for shampoos that contain moisturizing agents, like olive oil or shea butter, vitamins, and minerals that help with hair health, such as zinc and keratin, and therapeutic ingredients that are made to heal. Both of our equine shampoos are designed to be super gentle on your horse's coat and are designed to nourish their healthy skin and coat.
Next, you should think about what you want to accomplish with the shampoo. Are you trying to treat a fungal disorder, dry skin, ringworm, yeast, or other skin ailments? Are you preparing for a show and want to make sure your horse has the most beautiful coat and tail possible? Is your horse super sensitive to ingredients and requires a hypoallergenic shampoo? Questions like these will help you find the perfect shampoo for your needs.
Lastly, you should always do a test patch to see how your horse's coat and skin react to a new shampoo and do your own research to find the best one. There's nothing better than finding that perfect shampoo that you feel good about using and your horse feels good about receiving! With the perfect horse shampoo, bath time becomes much more fun.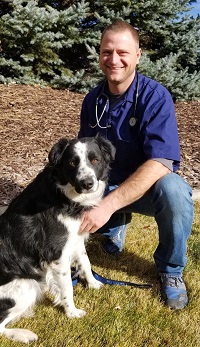 Reviewed by Dan Richardson, Veterinarian
Dan Richardson has been a practicing veterinarian for over 10 years. He specializes in surgery and orthopedics. Dan is originally from rural western Nevada and attended the University of Idaho for undergraduate study and Oregon State University for Veterinary School. The Richardson Family enjoys camping and spending time on the water fishing, paddle boarding, or digging their feet in the sand somewhere warm.