5 Ways You Can Help Your Cat's Seasonal Skin Issues
Even if you're not into skincare, you know that your largest organ demands different treatment in the winter than in the summer. In July, you lather up with sunblock to avoid damaging UV rays, and in January, you notice that your face, elbows, and perhaps the rest of your body are much drier than in the summer. 
These seasonal variations can have wide-ranging consequences. In the winter, when your skin is already dry, you may find you're much more affected by irritants and allergens.
Did you know that the same is true for your cat? 
The changes in season can affect their skin health, too. This guide is designed to help you take care of your cat as seasonal skin conditions arise.
Your Cat's Coat Through the Seasons
While humans' bodies are exposed to the sun in the summer and covered up in the winter, your cat faces a different set of issues. Whether you're the proud pet parent to a hairless sphynx or a furry persian, your cat's skin can still be affected by seasonal change.

You may associate coughing, sneezing, and a runny nose with your own seasonal allergies. Cats, however, often express their allergies through their skin. You may notice your cat's allergic reaction based on any of the following symptoms:
Dry patches

Red spots

Cat acne

Scratching

Excessive grooming including biting and/or the development of bald patches

Discharge around affected areas
These issues may arise seasonally, depending on the presence of environmental allergens.  Some of the issues may be familiar from your own seasonal struggles with allergies:
In the winter, your cat may suffer from dry skin, making her more sensitive to any other irritants.

In the spring, seasonal allergens (including pollen) may trigger rashes, inflammation, and other cat

skin issues.

In summer and autumn, dampness and humidity can lead to mold spores, causing allergic reactions.

When flea populations

rise

in the summertime, your cat may suffer allergic reactions to their bites.
Your cat's individual response to seasonal change will vary based on your climate and his or her individual constitution, but there are several easy tips and tricks that should help you manage any seasonal skin issues that arise.
#1 Combat Airborne Allergens
Just as with human allergies, the best line of defense is a good offense. Seasonal dust, pollen from ragweed and other plants, and mold can all have an effect on your cat's health and well-being. The more allergens that are in the air, the stronger their potential reaction may be. 
In order to help keep your cat's skin calm in the face of season allergies, consider all of the following steps:
Invest in an air filter

Wash linens (bedding, including your pet's) weekly

Vacuum (and use HEPA filters in your vacuum)

Increase ventilation in rooms that might harbor mold (bathroom, laundry room, etc.)
As a bonus, anything you do to help your kitty during the high allergy season might help your allergies, too!
#2 Practice Flea Control
Did you know that one of the most common skin problems with cats is not just flea bites, but flea allergies? 
In warmer weather, your cats may be at risk for flea bites even if they never go outside. If you have a dog who goes outside, or other animals coming into or out of your house, fleas may hitch a ride.
When your cat suffers flea bites, he may not react much. A cat with a flea allergy, however, will have a much stronger response to the flea's saliva and will experience inflammation. The bites will become uncomfortable, causing them to itch. Then, your cat may not just suffer skin irritation but may scratch enough to open sores or remove their own hair. 

To combat fleas and their bites:
Give your cat monthly topical flea and tick medications

Clean and vacuum regularly

Consider a dehumidifier (flea eggs love humidity)

Treat any lesions formed from scratching with topical medications
#3 Treat Hot Spots
Everyone knows that cats aren't the biggest fan of liquids. So how can you soothe your cat's rashes and hot spots if they arise in spite of your best efforts?
If you still have nightmares about the time you locked yourself with Fluffy in the bathroom until you were both soaking wet, rest easy: new advances have made it possible to treat any itchy spots that may arise during allergy season, as well as flush out your cat's eyes and ears.
#4 Focus on the Face, Eyes, and Ears
The exposed skin on your cat's face is often hit the worst by allergies. Have you ever noticed your cat seems to have developed acne around her chin? Cat acne can be a common response to allergens. So can runny eyes and itchy ears. Luckily, treating cat acne and these other issues can be easy to navigate if you have the right products. 

Vetericyn's Feline Antimicrobial Facial Therapy is a vet-approved solution. This antibiotic- and steroid-free solution is completely safe even if ingested. It can help to soothe itchy or irritated skin, clean cat acne, and flush irritants from your kitty's eyes and ears.
#5 Keep Trying!
Try one of these treatment options; try them all. While the best-case scenario would involve identifying the exact cause and then solving the issue, oftentimes the shotgun approach works best. Remember to check with your vet before trying any new treatment on your cat's irritated skin. Doing all of the above and continually testing out new solutions will (hopefully) save your kitty from seasonal skin issues.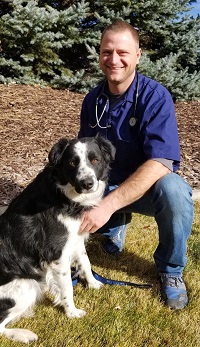 Reviewed by Dan Richardson, Veterinarian
Dan Richardson has been a practicing veterinarian for over 10 years. He specializes in surgery and orthopedics. Dan is originally from rural western Nevada and attended the University of Idaho for undergraduate study and Oregon State University for Veterinary School. The Richardson Family enjoys camping and spending time on the water fishing, paddle boarding, or digging their feet in the sand somewhere warm.
Sources:
VCA hospitals. 

Allergies in cats.

https://vcahospitals.com/know-your-pet/allergies-in-cats

Catster.

Our best tips for dealing with seasonal skin allergies in cats.

https://www.catster.com/lifestyle/cat-allergies-seasonal-skin-allergies-in-cats-tips

The Philadelphia Tribune.

Tips to be fit: Fleas and summer months go together.

https://www.phillytrib.com/news/health/tips-to-be-fit-fleas-and-summer-months-go-together/article_e701a93b-a4a8-5c0f-ba26-d2657b28615b.htm

l