Are Australian Shepherds Smart?
If you're lucky enough to know an Australian Shepherd, you may have been unlucky enough to have been outsmarted by one. (Perhaps without even realizing it!) 
These dogs definitely bring beauty and brains to the table, but what kind of IQ are we talking about here? The actual level of intelligence Australian shepherds reach has been hashed over and debated through the years.
So, what's the consensus? Are Australian Shepherds smart? Let's demystify this dog's intelligence once and for all and give their superior smarts a chance to shine. 
Measuring an Australian Shepherd's Intelligence
Many dog owners have their own beliefs about the hierarchy of dog smarts. While no universal standard has been set, many dog experts look to Stanley Coren's breakdown of dog breeds.1 
This famous canine psychologist penned the book The Intelligence of Dogs, which included his ranking of dog breeds. Coren's test measures the following components for determining intelligence:
Instinctive intelligence

Adaptive intelligence

Work intelligence

Obedience 
According to Coren's standards, the Australian Shepherd ranked (drumroll, please) 42nd among 138 breeds. This ranking may feel lower than expected if you know Australian Shepherds well. However, their intelligence remains above average for dog breeds as a whole.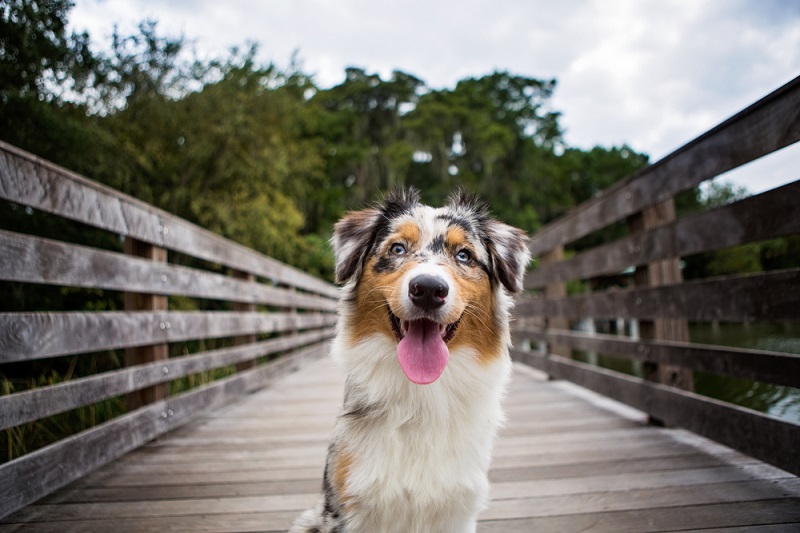 Finding Australian Shepherd's Strengths
While this dog breed may not exceed expectations under Coren's standardized test, they show off their intellectual prowess in other ways. 
Many of Coren's tests involved learning commands with a reward-based system. Australian Shepherds have plenty of intrinsic knowledge, so they may follow their instincts rather than follow orders straight away. 
Australian shepherds often show their smarts in different aspects such as:
Herding

–

Australian Shepherds are known far and wide as a herding breed.2

While some of their peers (such as the Border Collie) lie much higher on Coren's rankings, you can't deny the intelligence this herding dog has. You can often catch Aussies herding small critters, other dogs, and even children.

Guarding

–

Australian Shepherds have energetic, alert personalities and a protective instinct. This combination makes them excellent watchdogs. They're quick to bark when sensing a threat but often won't attack unless provoked. 

Training

–

Australian Shepherds can be very receptive to training when you set strict boundaries early on. Aussies have enough smarts to find loopholes and misbehave, so it's vital to train them well.
Regardless of their ranking, you can set your smart dog up for success by playing to their strengths and recognizing their natural-born talents. 
Entertaining Australian Shepherds
Promote your Aussie's smarts by ensuring they stay adequately stimulated. Australian Shepherds need plenty of exercises to keep mentally sharp. By burning excess energy, they'll feel more at ease when it's time to learn new commands and skills. 
This smart dog loves running and critical thinking. Some dog sports and exercises you can implement include:
Fetch

Daily walks

Hiking

Water play

Agility training

Puzzle toys 
Try implementing at least an hour of exercise into your Australian Shepherd dog's day. By providing your pup with a robust exercise routine and quality bonding time, they'll feel super smart and satisfied in no time.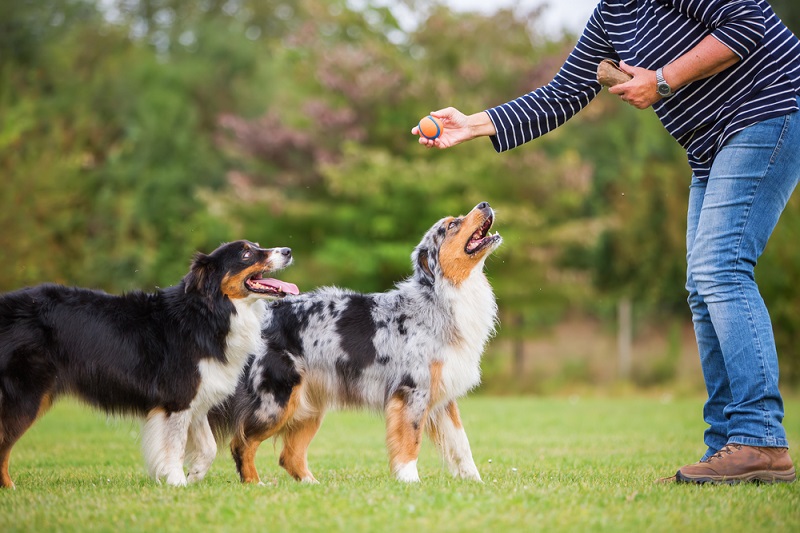 Keeping Your Australian Shepherd Healthy and Happy
Keep your Australian Shepherd at the top of their physical and mental health by going beyond standard exercise and training. 
Round out their well-being by ensuring they're appropriately fueled and nurtured. You may notice their attention levels and general happiness increase dramatically. 
Dog health should be taken seriously by prioritizing the following dog-care components:
Care for their coat

–

Australian Shepherds love to run, meaning they can get dirty within two blinks of the eye. Keep their fur shiny and gorgeous by washing your Aussie with a

cleansing shampoo

. It should be a part of your routine care to wash your Aussie once every month or two. You might also be wondering, "

Do Australian Shepherds shed

?" The answer is yes, Aussies have hair loss and skin issues that can also be managed and treated.

Ensure a well-rounded diet

–

Aussies require plenty of protein3

and healthy fat in their diets to keep them alert and agile. Take it a step further by introducing some dietary supplements into their routine. Try Vetericyn

All-In Dog Supplements

as a way to combat several common Australian Shepherd health issues. 
Combat irritation

–

Australian Shepherds love to rough-house, meaning it's easy for them to experience irritation via allergens. Because of this Australian Shepherd eye problems can occur. Keep their eyes and ears squeaky clean with

antimicrobial gel

to reduce itchiness, inflammation, and other potential issues. 
By keeping your Australian Shepherd's health in check, you're giving your dog the opportunity to explore the world without hesitation. As a result, you may find them more responsive and eager to please. 
Care For Your Aussie with Vetericyn
While you may catch them chasing their tails, Australian Shepherds still prove a very capable and intelligent dog breed. Whether they excel in the home or as a herding dogin the field, you can ensure their well-being with help from Vetericyn. 
Flex your own smarts by opting for dog-approved products that keep your Aussie feeling on top of the world. Between our Foamcare shampoo, wound care, and dietary supplements, you can ensure your dog lives a well-balanced life. 
When you combine all that brainpower with effective products, you'll have a mastermind on your hands in no time.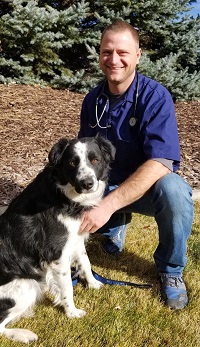 Reviewed by Dan Richardson, Veterinarian
Dan Richardson has been a practicing veterinarian for over 10 years. He specializes in surgery and orthopedics. Dan is originally from rural western Nevada and attended the University of Idaho for undergraduate study and Oregon State University for Veterinary School. The Richardson Family enjoys camping and spending time on the water fishing, paddle boarding, or digging their feet in the sand somewhere warm.

Sources:
Animal Wised.

The List of Smartest Dog Breeds by Stanley Coren.

https://www.animalwised.com/the-list-of-smartest-dog-breeds-by-stanley-coren-2353.html

The Smart Canine.

Are Australian Shepherds Smart – Here's Why They're Intelligent.

https://thesmartcanine.com/dog-breeds/australian-shepherd/smart/

Rover.

Herding up the Best Food for Australian Shepherds. 

https://www.rover.com/blog/best-dog-foods-for-australian-shepherds/