How to Check for Australian Shepherd Eye Problems
Your Australian Shepherd knows how to work hard and play hard. In fact, to your Aussie, work and play mean the same thing. If you were questioning, "are Australian Shepherds smart?" they're both smart and agile herders, but that's not all that makes them stand out.
Their merle coat only pales in comparison to their striking multicolored eyes. 
Unfortunately, Aussie's eyes are also the focus of several health concerns, including cataracts, dysgenesis, and distichiasis. Fortunately, keeping your eyes peeled for common symptoms is one way to bolster your Australian Shepherd's eye health.
Keeping an Eye on Your Aussie's Eye Health
Have you noticed your dog pawing at her face more often? Or a steady stream of tears running from the corner of her eyes? Perhaps she's been squinting, blinking, or winking more than usual (Aussies can be sly, but not that sly). 
If so, your dog may be experiencing Australian Shepherd eye problems.
Once you notice an eye problem, you can sit your dog down (with treats in hand, of course) and perform an at-home eye check:1
Step 1

– Usher your pup into a room that's brightly lit, so you can clearly see your dog's eyes.

Step 2

– Check that their eyes are clear, their irises are bright, and the white area around them is bright, not red.

Step 3

– Notice the size of their pupils. They should be the same size.

Step 4

– If there is discharge, use a damp cotton swab to clean any tears from the corner of their eyes. To do this, gently wipe

away

from the eye, to avoid scratching their cornea.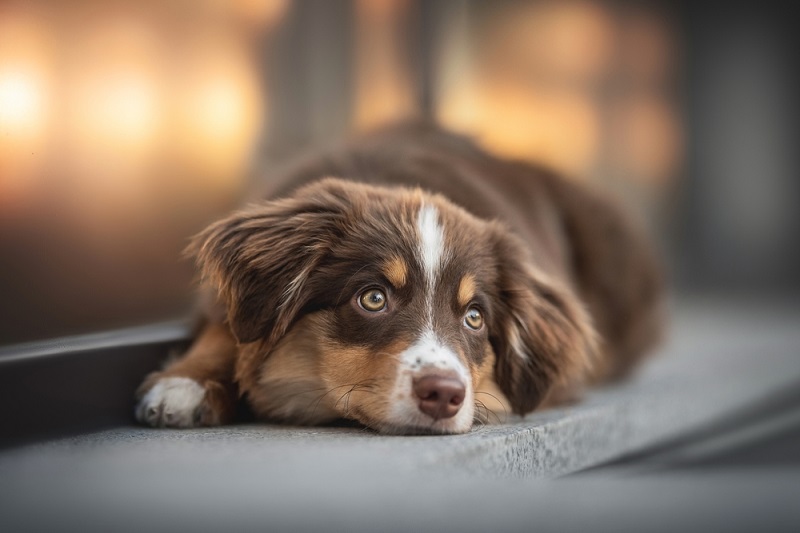 Common Australian Shepherd Eye Problems
Unfortunately, Aussies are susceptible to both environmental and genetic eye problems as a result of their dog breed. If you purchased your companion from a breeder, they'll likely have your dog's family history on hand, which will detail any genetic Australian Shepherd health issues that your dog may inherit. 
That said, whether your dog is from a prestigious sporting line or a family of workers, they're likely to experience an eye problem.2 
#1 Conjunctivitis
Conjunctivitis is characterized by inflammation of the membrane that covers the eye and eyelid. The swelling can be caused by allergens (like pollen), irritants (like dust), or trauma (like a scratch from the neighborhood cat). 
An Aussie with conjunctivitis will likely experience:3
Redness and swelling of the eye

Tears 

Excessive blinking
Fortunately, you can relieve conjunctivitis at home. Vetericyn Plus® Antimicrobial Eye Wash can flush out allergens and irritants and Vetericyn Plus® Antimicrobial Eye Gel may help soothe any lingering irritation. 
If you notice prolonged symptoms, however, it's recommended to visit a veterinarian. 
#2 Cataracts
Many older dogs experience cataracts, a hardening of the eyes' lenses over time. Eventually, this eye disease may prevent light from entering the dog's eyes and may lead to complete vision loss. 
That said, Aussie's are extremely susceptible to hereditary cataracts, even young Australian Shepherds.2
Fortunately, hereditary cataracts can be removed with surgery.3 If you notice that your Aussie has trouble seeing, particularly in the dark or they're displaying ongoing signs of irritation (even after treatment), make an appointment with your veterinarian to diagnose the situation and determine routine care and treatment.
#3 Merle Ocular Dysgenesis
Merle ocular dysgenesis (MOD) is a genetic condition that's the result of merle-to-merle breeding. Aussies with the merle gene may experience:2 
Regular eye inflammation

Cataracts

Retinal dysplasia

Eccentric pupils
The only way to prevent MOD is to ensure that Aussies with the merle gene are not bred together.2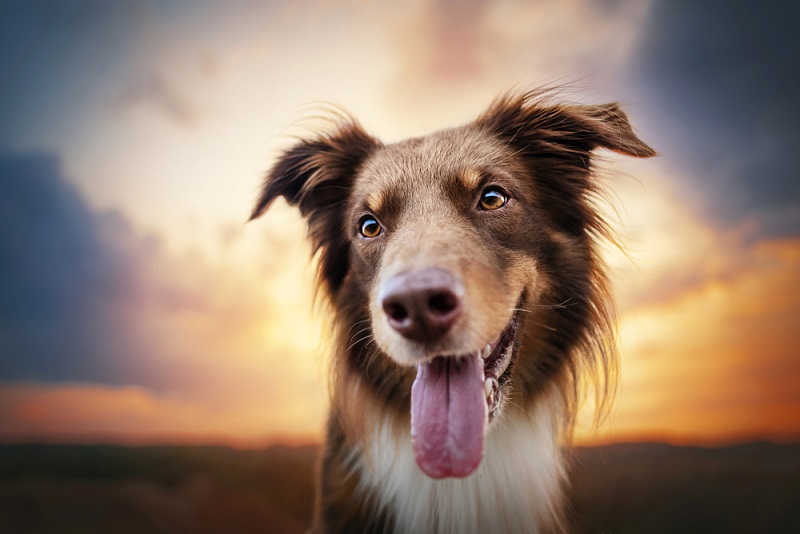 #4 Distichiasis
Sometimes, an Aussie's eyelashes will grow toward their eye, rather than away from it. This condition, known as distichiasis, can occur at any age.2
Distichiasis is often unobtrusive. 
However, if the lashes are too stiff, they can scratch the cornea of your pup's eye. In that case, you may consider surgery to remove the lashes permanently. If surgery is too extreme, consistently plucking the lashes of affected dogs can prevent scratching.4
#5 Collie Eye Anomaly
This genetic condition can be hard to identify because it often doesn't cause any noticeable problems in affected dogs. However, if left untreated, it may result in partial or complete blindness.
Fortunately, collie eye anomaly is largely uncommon—a simple DNA test can be used to determine CEA carriers prior to breeding.2 
Stay Vigilant with Vetericyn
Your Aussie needs sharp vision—how else can they be expected to be a herding dog, chase a ball with lightning speed, and leap over hurdles with incredible precision?
To keep your Aussie's eyes on the prize, enlist Vetericyn.
Available on Amazon, Chewy, and Petco, Vetericyn Plus® Antimicrobial Eye Wash and Vetericyn Plus® Antimicrobial Eye Gel can relieve irritation, remove irritants, and clean tear stains. 
If your Aussie's eye problems persist, be sure to check in with your veterinarian. They can help you determine the cause of the problems and your next steps to ensure your Aussie is healthy from their head to their toes.
Want to learn more about your Australian Shepherd? Check out our dog breed guide to Aussies, learn about Australian Shepherd shedding, and find out whether or not Aussies are smart (spoiler alert: of course they are!)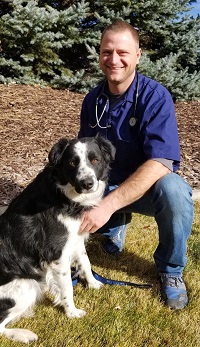 Reviewed by Dan Richardson, Veterinarian
Dan Richardson has been a practicing veterinarian for over 10 years. He specializes in surgery and orthopedics. Dan is originally from rural western Nevada and attended the University of Idaho for undergraduate study and Oregon State University for Veterinary School. The Richardson Family enjoys camping and spending time on the water fishing, paddle boarding, or digging their feet in the sand somewhere warm.

Sources: