Dog Breed Guide: The Australian Shepherd
Australian Shepherds are known to be intelligent, loyal, hard-working…and a little mischievous. They are, dare we say, the perfect mix of sugar and spice. 
This highly intelligent dog breed has risen in popularity as a household pet, though they may be a bit challenging for first-time dog owners, as their high-energy temperaments require lots of mental and physical stimulation. However, for seasoned (and active) pet parents, they can make wonderful companions. 
To determine if an Australian Shepherd puppy is the right fit for you and your household, come along as we explore this unique breed's temperament and care needs. 
Breed History and Origin 
Despite their name, Australian Shepherds are not from Australia. In fact, they originated on ranches and farms in the western United States during the late 19th century.1 
Descendants of Australian Shepherds were likely European herding dogs from the Basque region of the Pyrenees Mountains. These ancestors are thought to have been bred with the Border Collie and other herding dog breeds to create the Australian Shepherd we all know and love. 
These herding dogs were brought to the American West when the need for ranchers—and dog shepherds—increased during the Gold Rush. A golden time for a golden breed, indeed. 
Aussies, as they're fondly known, were bred as working dogs. This working breed is  known for their dedicated work ethic, intelligence, and high energy levels, and can be seen in roles that require lots of physical and mental stamina like:
Search and rescue

Police dogs

Guide dogs

Herding

Athletics
Australian Shepherds were recognized as a breed by the American Kennel Club in 1991, and their smaller counterpart, the Mini Australian Shepherd, was recognized in 2015.1 Although many Aussies are still active workers, they have gained popularity as partners in play for the most energetic of companions and families.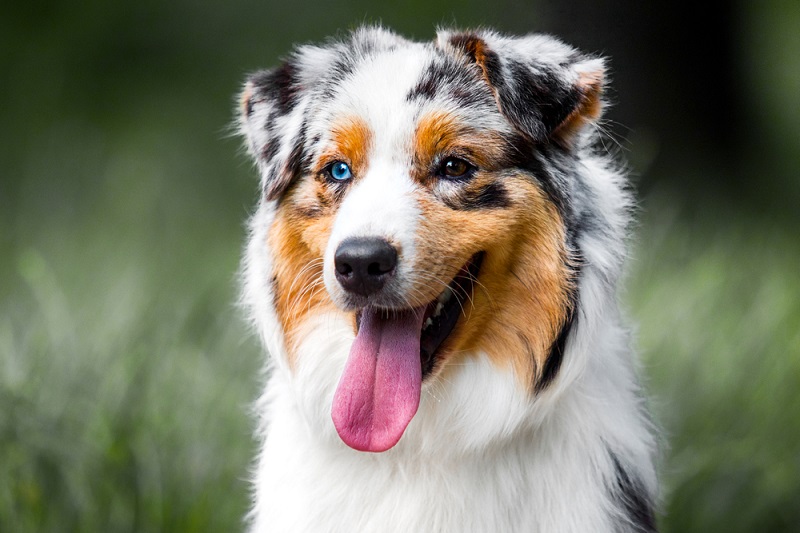 Appearance and Physical Characteristics
With their long, scruffy coats and quick agility, Australian Shepherds are the embodiment of Western ruggedness. Quite fittingly, this breed is also known as "The Cowboy's Dog." Many dog owners appreciate their strapping yet beautiful features.
Colors and Markings 
When it comes to breed characteristics, Australian Shepherds have a medium-heavy coat with slight waves, giving them a fluffy appearance. And their naturally bobbed tails distinguish them from other dog breeds (so you needn't worry about your pal getting lost at the dog park). 
Though they are all the same breed, individual Australian Shepherds may look quite different from other Aussies they meet on the street. Appearances can also be very different between each Australian Shepherd puppy of the same litter. 
All Aussies have soft, long hair, but the color of their coats can vary depending on their genes. While some Australian Shepherds can be multicolored, others' coats may display only one or two colors. 
This breed sheds colors as vibrant as their personality, which may include: 
Black

– All-black Aussies may have tan or copper points or some white markings 

Red

– A rare red or copper Aussie may have tan or copper points or white markings.

Merel

– This genetic color

–

marbling trait can also affect the nose, paws, and face. 

Red Merle

– A marbled red Aussie donned in copper, beige, and white patches.

Blue Merle

– A marbling on black or gray fur with copper, beige, and white patches. 

Red tricolor

– Similar to the Red Merle, but this coat has distinct patterns and tan or white markings only on the muzzle, chest, and neck. 

Black tricolor

– Similar to the Blue Merle, but this Aussie has distinct patterns and tan or white markings only on the muzzle, chest, and neck. 
Are you also wondering, "Do Australian Shepherds shed?" Australian Shepherd shedding occurs frequently and so do skin issues. Learn more about how to treat and prevent them. 
Eyes 
Just like their coats, the eyes of Australian Shepherds vary in color and shade. Aussies are known for having striking and unique eyes, and the most common eye colors are: 
Golden or amber

Speckled

Light blue 

Hazel

Green

Blue

Brown
Australian Shepherds also often have heterochromia, or wall eye, a genetic trait that gives them different colored eyes.2 
This typically happens when the genes of the mother and father are both dominant and conflict with one another, resulting in an expression of both colors. Other Aussies can have multiple colors within the same eye. Just another characteristic that makes these pups adorably unique!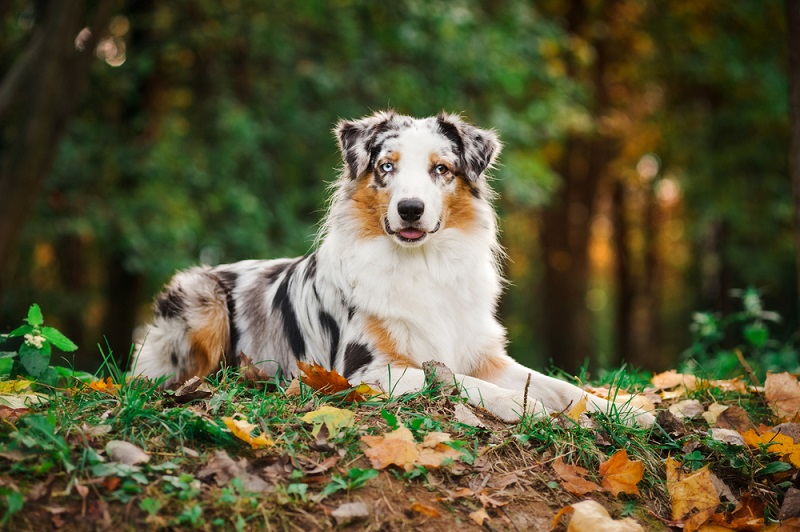 Height and Weight
Standard-sized Australian Shepherds stand anywhere between 18 to 23 inches tall and can weigh between 40 to 65 pounds depending on gender, activity level, and diet.1
Miniature Australian Shepherds can be quite smaller than their larger counterparts, only growing to be 14 to 18 inches tall and weighing approximately 20 to 40 pounds.3
Personality and Temperament
If there's one thing you need to know about an Australian Shepherd, it's this: They are bundles of energy (and joy). That's why you may see this working breed in  roles that require lots of sniffing, searching, running, and herding. 
This energetic breed has strong guardian instincts and may be wary of strangers or unfamiliar dogs, so it's a good idea to socialize them at a young age to reduce any chances of aggression or domineering behavior. 
Your Aussie may even attempt to herd you, animals, or children to fulfill their herding instinct, so it's important to make sure they are properly trained. You might bestow the nickname Shadow to your Aussie as they follow you everywhere you go. 
Australian Shepherd's guardian nature can also make them alert to different noises, making them fantastic watchdogs. However, they do have the tendency to bark more often. Their sensitivity to noise can frighten them around thunderstorms, sirens, or nearby construction. 
Luckily, Australian Shepherds are also eager to please and easy to train. They are known to be extremely playful and interactive and are lovers of any type of activity that entertains them like fetch, tug-o-war, or puzzles. And, a bonus: they love to cuddle. 
Mental and Physical Exercise 
If you have an Australian Shepherd in a house or apartment, you may have to spend a little extra time making sure they're thoroughly entertained, as they can be destructive without enough physical activity or mental stimulation. 
Outside of the confines of four walls, this breed craves exercise—and massively benefits from it. It's recommended that Australian Shepherds receive 1 to 2 houses of activity a day. 
These dog sports and exercises can include:
Running

Hiking

Training

Swimming

Tugging

Searching

Tracking
For Aussies, mental exercise is just as important as physical exercise. So are Australian Shepherds smart? An Australian Shepherd loves to gather information and learn. Introducing a puzzle toy that requires searching or nose work can be a great way to wear out their mind. Regular training or agility sessions may also help exercise their brains. 
Long walks where you allow your Aussie to sniff to their heart's content can also meet the physical and mental stimulation your active pup requires. Incorporating training games or tricks during your walk can also help engage your Australian Shepherd's high intelligence.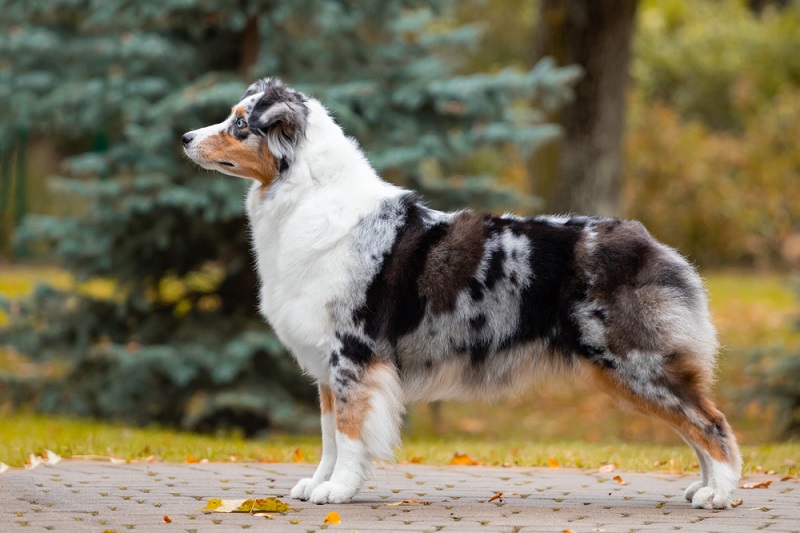 Health and Common Conditions 
While Aussies are generally active and healthy dogs, Australian Shepherd health issues can often occur. If you're looking to invite an Aussie into your family, it's a good idea to set them up with a caring veterinarian and regular health check-ups. 
Common health conditions in Aussies may include:4
Epilepsy

– A neurological disorder that results in recurrent seizures

Cataracts

– An inherited disease that creates cloudiness in the lens of the eye and can cause blindness if left untreated

Hip Dysplasia

– A hip and joint condition that causes pain and limited mobility 

Ear Issues

– Bacteria, yeast, or environmental allergies may cause the ear to get infected if not properly cleaned

Genetic Disorders

– Breeding two merle dogs may cause hearing and vision issues for their offspring. Likewise, breeding bob-tails can result in spinal defects. Make sure you are using a reputable breeder to ensure the health of your pup.
If your Australian Shepherd is experiencing any of these conditions, including Australian Shepherd eye problems or joint problems, it's best to consult with a veterinarian about proper care and treatment to keep your energetic pup healthy and pain-free.
To help prevent ear issues in your Aussie, Vetericyn Plus Antimicrobial Ear Rinse can help proactively keep their ears clean of irritants, bacteria, and allergens. 
Proper Diet
A diet of high-quality protein that is rich in fatty acids can also give your Aussie the nutrients they need to stay strong and healthy. High-protein dog food like salmon sticks or training treats are also a great addition to your dog's diet. (Mmm, we're getting hungry.)
If you're looking to ensure your active pup is getting the nutrients they need, you may consider adding supplements to their dog food that are packed full of minerals, omegas, and prebiotics, like Vetericyn ALL-IN Dog Supplement. These supplements can give your Aussie the key nutrients they need to support their immune system and overall health. 
Nutritional requirements will vary depending on your Aussie's age, activity level, and medical conditions, so it's best to consult your veterinarian on the right food for your dog.
Vetericyn: Shepherding in Wellness for Your Aussie Pup
To keep your high-energy Australian Shepherd healthy and feeling their best, give them the best care in order to thrive. (Even if that means chewing that brand new chew toy to bits and pieces in the span of two hours. Hey, they can't help it!) 
At Vetericyn, we want to support your Australian Shepherd on their wellness journey. We have developed a vet-endorsed line of safe, non-toxic wellness products for your clever pup, available on Amazon, Chewy, and Petco.
And when they're all full and satisfied, give them a great, big cuddle from all of us at Vetericyn.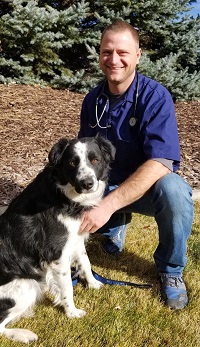 Reviewed by Dan Richardson, Veterinarian
Dan Richardson has been a practicing veterinarian for over 10 years. He specializes in surgery and orthopedics. Dan is originally from rural western Nevada and attended the University of Idaho for undergraduate study and Oregon State University for Veterinary School. The Richardson Family enjoys camping and spending time on the water fishing, paddle boarding, or digging their feet in the sand somewhere warm.
Sources: