Different Types of Dog Wounds: Explained
As a dog owner, you've probably seen your fair share of close calls when it comes to puppy injuries. From knocking glasses off of low tables to tangling themselves in their own leashes, pups seem to find endless ways to create potential risks for themselves.
What can you do when those close calls become actual wounds?
Regardless of how hazard-prone your dog may be, knowing how to identify and treat different types of dog wounds is an important pet-ownership skill. So, read on if you're ready to learn how to identify and treat different types of wounds, as well as how to prevent wounds in the first place.
Common Canine Wounds
Knowing what you're looking at when your pup has been in an accident or a tangle will help you treat the wound and understand what details you may need to pass along to your veterinarian (if you suspect professional treatment is needed).
Regarding any kind of wound management, it's important to take the following steps as soon as you realize your pup is hurt:
Stop any bleeding by applying light pressure with a clean towel or cloth.

Clean and disinfect the wound using Vetericyn Plus(r) Wound & Skin Care 

Use tweezers to remove any foreign objects from the wound, like gravel or debris.

bandage it securely or keep wound clean from dirt and debris.
While these basic steps will help you get through most minor canine injuries, knowing the names and characteristics of common types of wounds is equally essential, especially if the wound is serious and needs veterinary attention. 
Below, we'll explore the most common types of canine wounds. 
Lacerations
Any jagged cut or tear to your dog's skin is considered a laceration. These are among the most common dog injuries.1  Some of the hallmarks of a laceration are:
Superficially torn fur, skin, and fat

Irregular edges

Often accompanied by swelling and bruising

Sometimes contaminated by bacteria and debris
While lacerations can be caused by a number of traumatic events, some of the most common in dogs are:
Stepping on glass or broken objects

Running into an object with a sharp edge

Car-related injury
Many lacerations can be treated at home, but you should call your veterinarian immediately if your dog exhibits any of these signs after injury:
Difficulty breathing

Altered mental state

Uncontrollable bleeding

Debris in wound that cannot be removed

Weakness or inability to support their own weight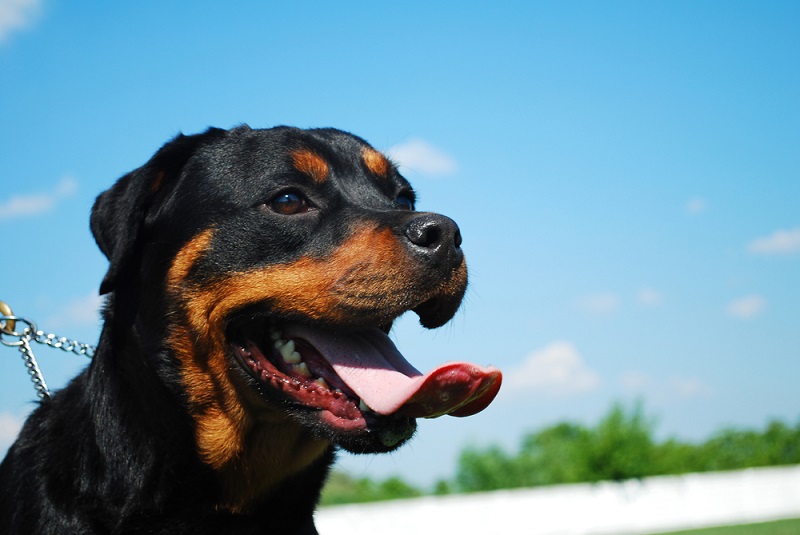 Punctures and Bite Wounds
While lacerations are caused by blunt force impact, cutting, or shearing between skin and object, puncture wounds are caused by the pointy edge of an object piercing your dog's skin. Unlike lacerations, puncture wounds generally appear smaller at the surface, but go deeper into the tissue layer, requiring professional medical attention. One particular type of puncture wound common in dogs is a bite wound.
Because dogs play with their mouths and protect with their mouths, they can often injure each other with a dog bite (whether intentionally or not). Similarly, wild animals, like raccoons, bats, and gophers, might bite your dog while trying to protect themselves. 
Regardless of the source, bite wounds are serious because of a few different factors:
Depth

– Bite wounds can penetrate deep into the tissue layers, leading you to assume the injury is not serious.

Bacterial Infections – Dog bites can contain bacteria like:2

Pasteurella

Streptococcus

Staphylococcus

Moraxella

Corynebacterium
Disease

– Wild animal bites may spread diseases like:
Crushing injury

– Even if the skin isn't broken, there may be a significant crushing injury to organs or tissues, especially if the bite is to the:
If you notice your dog has a bite wound, you should stop the bleeding and contact your veterinarian right away.
Degloving Injuries
Most commonly associated with motor vehicle injuries, degloving injuries can be differentiated from lacerations because they:
Go deeper, resulting in both a loss of skin and variable amounts of tissue

Sometimes involve the separation of skin from the underlying fascia
Degloving wounds should always be treated by a professional because the loss of blood flow to the separated skin and tissue can cause it to begin necrotizing over the following days.3
Gunshot Injuries
If you hunt with your dog, there is always an inherent risk of a gun shot injury and you should be aware of the severity, implications, and be prepared with a field-trauma kit. These include: 
Bleeding

–

The entry wound may be minimal depending on the type of gun involved, but there will be some amount of blood present.

Bullet

– You may be able to see the bullet or bullet fragments in the wound.  Shotguns and centerfire rifles have different projectile characteristics and both can cause lethal trauma.
Because the internal damage to the underlying tissue might be far greater than the external skin wound, it's important that gunshot wounds are examined and treated by an emergency medicine veterinarian.

Pressure Wounds
Also called pressure sores, bedsores, or hygromas, these wounds are most commonly found in sedentary or senior dogs who might lie on hard surfaces for long periods of time without changing positions. Symptoms to look out for include:
Patches of exposed skin, especially on sides, hips, and elbows

Discoloration of the skin to red or purple

Thickening of the exposed skin

Tendency of the dog to lick the site

Seeping, open wound with a foul odor
If you do notice these signs, you can manage the wound by:
Vetericyn: For Safe and Effective Dog Wound Treatments
Understanding how to identify and treat different types of dog wounds and how to cover a dog wound properly can help you ensure a speedy recovery for your four-legged friend. While more severe wounds, like an infected wound, require veterinary attention for wound treatment, most minor wounds can be treated at home with the proper first aid supplies, like the Vetericyn Plus® Antimicrobial All Animal Wound and Skin Care.
With powerful, non-toxic ingredients, the Vetericyn Plus® Antimicrobial All Animal Wound and Skin Care liquid can effectively clean the wound, relieve pain, and moisturize the site to accelerate your dog's healing process. Help your dog get back to play faster, with Vetericyn.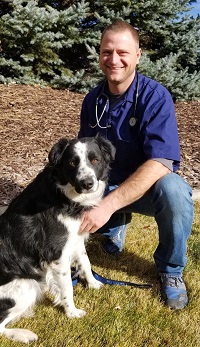 Reviewed by Dan Richardson, Veterinarian
Dan Richardson has been a practicing veterinarian for over 10 years. He specializes in surgery and orthopedics. Dan is originally from rural western Nevada and attended the University of Idaho for undergraduate study and Oregon State University for Veterinary School. The Richardson Family enjoys camping and spending time on the water fishing, paddle boarding, or digging their feet in the sand somewhere warm.
Sources:
 ASPCA.

Top 5 Dog Injuries

.

https://www.aspcapetinsurance.com/resources/top-dog-injuries/

American Family Physician.

Pathogens Associated with Infected Dog and Cat Bites.

https://www.aafp.org/afp/1999/0401/p1923.html#:~:text=The%20most%20common%20pathogen%20was,a%20large%20number%20of%20anaerobes

.

 MAG Online Library.

Degloving Injuries.

 

https://www.magonlinelibrary.com/doi/abs/10.12968/coan.2019.24.2.68