Do Australian Shepherds Shed?
Funnily enough, Australian Shepherds aren't actually Australian. This dog breed was bred in the United States to herd livestock in cold climates—and they have the fluffy coats to prove it. 
While their beautiful, multi-colored coats are certainly attractive to pet parents worldwide, Australian Shepherd shedding occurs quite frequently, meaning you'll have some herding to do yourself—of hairballs, that is.
Fortunately, knowing how to manage Aussie shedding and keeping their coat healthy and clean is just as easy as they are on the eyes.
Australian Shepherds Coat Characteristics
Do Australian Shepherds shed? You betcha. Australian Shepherds were initially bred to herd livestock in colder regions of the world, and to keep themselves warm, Aussies developed a double coat for optimal insulation year-round. 
Australian Shepherd shedding is year-round, too, though you'll notice a surplus of shedding during spring and fall.
That said, these shaggy coats have two layers: The undercoat and the overcoat.1
Australian Shepherd Undercoat
The undercoat is the dog fur that is closest to their skin. It's often dense and short and provides insulation to keep your pup's temperature regulated. 
The thickness of this Australian Shepherd coat depends on the time of the year, as it typically sheds in large tufts or clumps during the spring and fall seasons in anticipation of changing temperatures.
Think of the undercoat during the winter as an insulated, puffy jacket: Its purpose is to capture your Aussie's body heat and keep them snug and comfortable in frigid temperatures. 
During the summer season, the undercoat becomes thinner, allowing the air to circulate near their skin to keep them cool under the hot sun.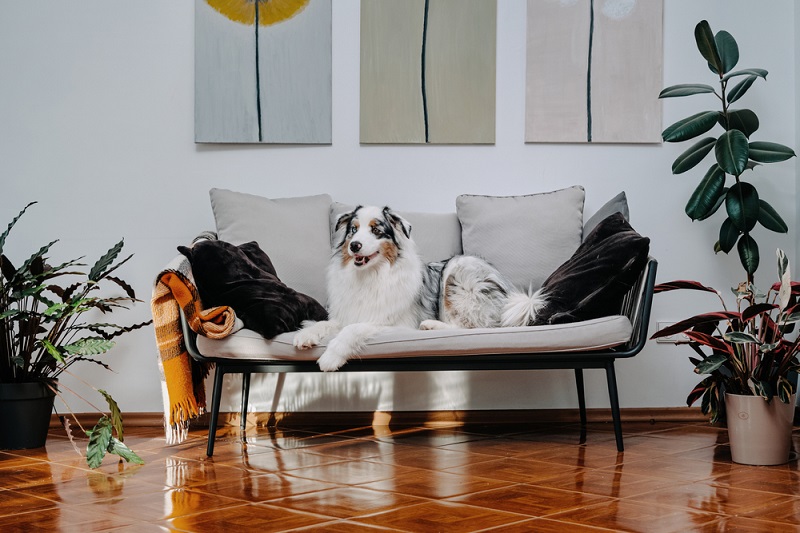 Australian Shepherd Overcoat
The overcoat of the Australian Shepherd is long, silky, and straight. It can be thought of as a rain jacket or trench coat that you put over your cold-weather layers. Essentially, this dog hair acts as a barrier to keep unwanted elements out. 
This upper layer protects the skin of even the most adventurous Aussies—warding off cool winter breezes and repelling water, dirt, and UV rays. 
Throughout the year, it will shed lightly, meaning you'll find plenty of long dog hair on your floors, couches, and beds.
How To Manage Shedding 
The good news for Aussie parents? Aussie shedding is moderate and manageable. Although, you'll certainly find a healthy amount of dog fur gathered in the nooks and crannies of your home.
Fortunately, there are several strategies to reduce your Aussie's hairy decor. 
#1 Clean Your Home Frequently
When your Aussie is heavily shedding during the spring and fall, it may be smart to invest in a vacuum specially designed to remove pet dander and fur. 
Regularly washing your blankets, bed sheets, and other linens your Aussie pup curls up with can also reduce the amount of fur that accumulates around your home.
#2 Train Your Aussie to Stay off the Furniture
Are Australian Shepherds smart? They are and they are also incredibly trainable. If you find yourself overwhelmed with the amount of loose fur that's gathering on your couch cushions and bedding, you might consider training your clever pup to stay off the furniture—at least during heavy shedding months. 
#3 Groom Your Aussie Regularly 
Regular grooming and bathing is the key to managing your dog breed's shedding. The Australian Shepherd coat should be brushed twice a week, first with a slicker or comb to remove excess dirt and debris, and then with an undercoat rake to remove mats and excess hair. 
When it comes to bathing, it's recommended to give your Aussie a relaxing bubble bath one to two times a month. Lathering their coat with hypoallergenic foaming shampoo like Vetericyn FoamCare® Pet Shampoo can keep their skin and fur moisturized and nourished.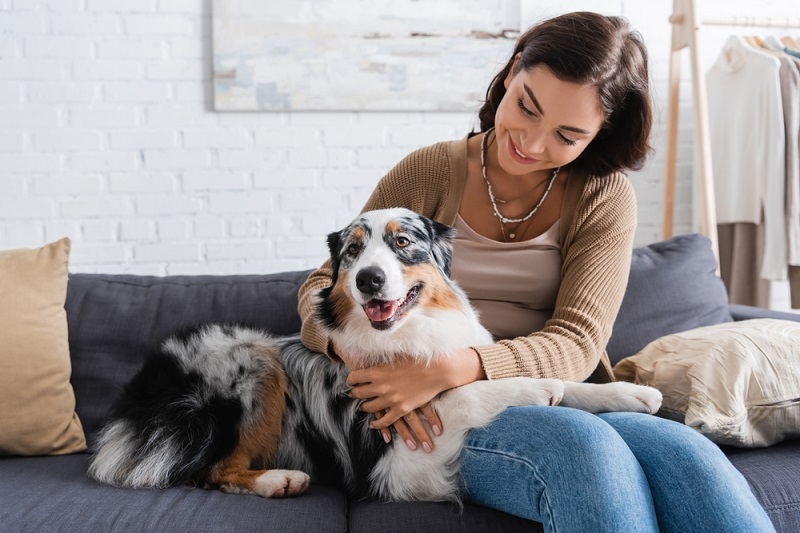 Common Australian Shepherd Skin Issues 
In their lifetime, your Australian Shepherd may experience certain skin conditions that can cause excessive shedding or hair loss. If you notice abnormal hair loss, it may be caused by one of these ailments:2
Atopic dermatitis

– This is a type of skin allergy caused by grass, pollen, or other debris that causes large patches of hair loss on the body.

Food allergies

– Certain types of diets may cause an allergic reaction, causing your dog to scratch obsessively, which may cause them to lose hair in the affected areas. 

Mites or fleas

– The saliva of little insects can cause an allergic reaction, resulting in itching and hair loss. 
If your loyal companion is experiencing any of these conditions, you should consult a veterinarian to determine the best treatment plan. Antimicrobial gels, like Vetericyn® Plus Antimicrobial Hydrogel can also help moisturize the skin and relieve symptoms of skin irritation or dryness.
And for preventative care, dietary supplements that are packed with omegas, like Vetericyn ALL-IN Dog Supplements, can help support healthy skin and shiny coats. 
If you have or are planning on having an Aussie, it is important that you understand not only their skin issues but all Australian Shepherd health issues as well. For example, it is common for Australian Shepherd eye problems to occur, so making sure you are aware of how to treat and prevent these problems is essential.
Maintain a Sleek Coat With Vetericyn
Aussie's double coat means double the fluff—and double the shedding. Fortunately, regular grooming, training, and household cleaning can cut back on the amount of Aussie fur that accumulates throughout your home. Should the shedding become excessive and a cause for concern, you can refer to our guide on how to stop a dog from shedding.
And at Vetericyn, we have plenty of products to maintain your Aussie's radiance and shine.
With storefronts on Amazon, Chewy, and Petco, you can purchase our advanced animal wellness products like Vetericyn ALL-IN Dog Supplement or Vetericyn® Plus Antimicrobial Hydrogel to keep your pup's hair and skin healthy.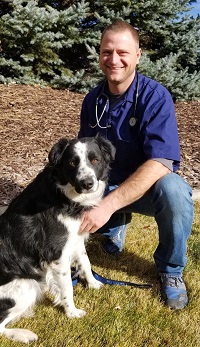 Reviewed by Dan Richardson, Veterinarian
Dan Richardson has been a practicing veterinarian for over 10 years. He specializes in surgery and orthopedics. Dan is originally from rural western Nevada and attended the University of Idaho for undergraduate study and Oregon State University for Veterinary School. The Richardson Family enjoys camping and spending time on the water fishing, paddle boarding, or digging their feet in the sand somewhere warm.
Sources:
Aussie University.

Australian Shepherd Fur Grooming Lessons.

https://aussieuniversity.com/australian-shepherd-fur-grooming-lessons-for-2020

Australian Shepherd Health & Genetics Institute.

An Unpleasant Itch.

https://www.ashgi.org/home-page/genetics-info/immune-mediated-diseases/canine-allergies-an-unpleasant-itch