Dog Breed Guide: The Golden Retriever
The golden retriever is the lovable goofball of the dog world. Because of their naturally happy disposition and friendly way with humans (especially kids), they make for great family pets. For those reasons—and because it looks like they're always grinning—golden retrievers are one of the most popular dog breeds in the world and also one of the most frequently photographed.1 
From commercials to sitcoms, golden retrievers are revered as the quintessential suburban family dog. But is a golden retriever the right dog for you? Read this guide from Vetericyn to learn everything there is to know about one of our favorite dog breeds. 
Golden Retriever Fast Facts
Before we dive into this article like a golden retriever splashing into a pond, here is a quick overview of average golden retriever statistics:2
Height

– 51 to 56 cm for females; 56 to 61 cm for males

Weight

– 55 to 75 pounds

Lifespan

– 10 to 13 years

Coat

– Golden retrievers have fur that runs from straight to wavy. Their coloring can also vary from dark gold to creamy yellow. These differences in the coat are entirely genetic. If you want to know what kind of coat your golden retriever puppy will have, check out its parents. 
A Short History of Golden Retrievers
For years, golden retrievers were said to be descended from Russian circus dogs. While this origin would go a long way to explaining the often entertaining antics of golden retrievers, it's not actually true. 
The first golden retrievers were bred by the Scottish lord Sir Dudley Majoribanks, also known as the Baron of Tweedmouth if we're being formal.3 Majoribanks set out to breed the perfect retriever from his existing collection of dogs, while also selecting puppies with lighter-colored fur. The early golden retriever breeding program included:
Flat coated retriever

Tweed water spaniel (they hailed from the same region of Scotland as Tweedmouth)

Red or Irish setter

Labrador retriever
Although his breeding program began in the 1860s, the golden retriever wasn't officially recognized as its own breed until 1913.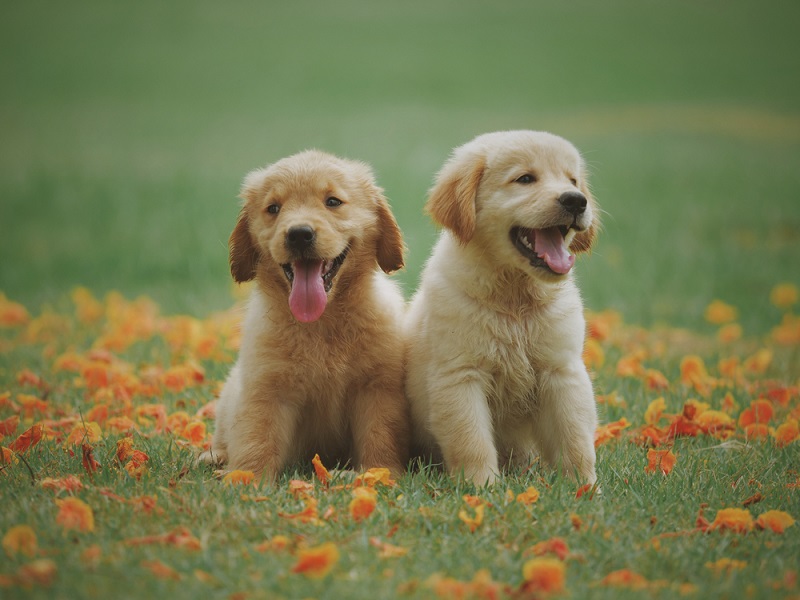 Why Did Lord Tweedmouth Breed Golden Retrievers?
What possessed a Scottish lord to create an entirely new breed of dog? Was life in the House of Commons so dull that he decided to take up dog breeding to pass the time? Not exactly. 
As with the breeding of many dogs bred in the 1800s, the purpose of the golden retriever was to assist in one of the aristocracy's favorite hobbies: hunting. 
Majoribanks wasn't satisfied with the breeds of retrievers that he had access to. They weren't strong or athletic enough, they had trouble locating birds that were shot, and they weren't hardy enough to pursue game into bodies of water. With the golden retriever, Majoribanks eventually solved all those problems. 
And now, thanks to decades of work from Majoribanks, we get to watch YouTube videos of these big galoots chasing around robotic vacuum cleaners. Thank you, Baron Tweedmouth. 
Are They Still Used For Hunting?
Although these days golden retrievers are more commonly found chasing tennis balls, some hunters do still use them as companion dogs. While golden retrievers are happy to fetch you anything you train them to get—and sometimes stuff you wish they hadn't dragged in from the yard—their high-maintenance coats make them less desirable as hunting dogs than their short-haired cousin, the labrador retriever. 
Golden Retriever Characteristics
Golden retrievers are the ideal family dog, but what makes them so uniquely suited for family life? 
Disposition
The original golden retrievers were bred to take commands well and eagerly please their masters, traits which haven't changed in the intervening decades. Golden retrievers just love being around people. They crave attention and positive reinforcement, and they are especially gentle around children. 
Because of their friendly nature and their excitement to make new friends, there's one task that golden retrievers are uniquely unsuited for: guard dogs. Golden retrievers are more likely to greet a burglar with wagging tails than barks and growls. 

Behavior
Golden retrievers are known as a particularly mouthy breed of dog. That can actually mean two things:
They're vocal

– For one, golden retrievers are extremely vocal with their owners. They bark, whine, and sometimes howl, all to get attention and express themselves. Trust us when we say you won't have a hard time teaching your golden retriever how to speak!

They love to chew

– Because of their history as hunting dogs, golden retrievers are also mouthy in the sense that they'll chew anything and generally like to have stuff in their mouths. Expect to have some tree limbs carried in from the backyard. It's smart to always have some bones or other chew toys on hand because, otherwise, golden retrievers are liable to chew up whatever they can find, from sneakers to furniture legs. 
Golden retrievers are also known for their "gentle bite," meaning they're able to carry things in their jaws without damaging them. 
Appearance
A golden retriever's coat is typically light to dark yellow. However, it can also have a reddish tint. And whether your golden retriever has straight hair or wavy hair is a matter of genetics. 
Regardless of your dog's fur type, all golden retrievers have what is known as a double-coat. This double-coat is the reason why golden retrievers tend to shed so much or experience heavy hair loss. 
A double-coat consists of:
The topcoat

– This is your golden retriever's top layer for fur, which is strong, lustrous, and hardy for the winter months. 

The undercoat

–

This is your golden retriever's dense inner layer of fur. The undercoat is thick, water-resistant, and warm.
When a golden retriever's exploratory nature combines with their thick coats, you can often end up with a very dirty dog. To keep your retriever's coat healthy and clean, opt for a plant-based and paraben-free shampoo formula like that found in Vetericyn FoamCare® Pet Shampoo in your dog's routine care.
Diet
If you've ever seen a golden retriever go to town on a stick they found in the yard, you might assume these dogs subsist entirely on tree bark. Golden retrievers have big appetites, though, and making sure they have a healthy diet is crucial to keeping that exuberant energy high and their coats shiny and soft. 
The main ingredient in the golden retriever breed diet should be protein, like beef, chicken, salmon, pork, and lamb. Their food should consist of around 18 to 22% protein and 5 to 8% fat. You'll also want to keep your dog hydrated throughout the day. 
Whether you've got a golden retriever puppy, adult, or senior, the Vetericyn® ALL-IN Dog Supplement will provide your pup with the nutrients they need to zoom around your yard, splash in a lake, or fetch a ball with vigor. Each tablet is packed with safe and all-natural ingredients that ensure your golden retriever is getting the balanced diet they need.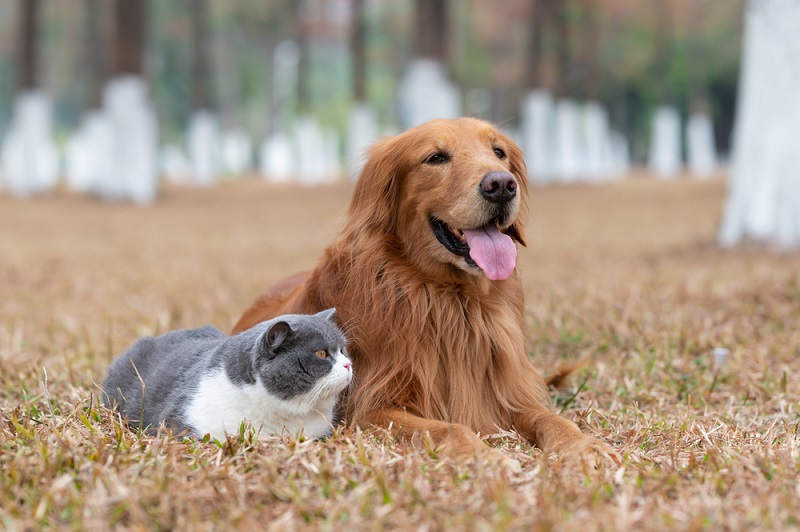 Health Risks
So, what are the common golden retriever health issues? Overall, golden retrievers are a healthy breed of dog. However, various health risks can affect golden retrievers. For early detection, you should watch for symptoms of:
How to Train a Golden Retriever
Don't be fooled by a golden retriever's silly disposition or their status as social butterflies. They are an extremely smart breed of dog and their eager-to-please nature makes them very open to training.4 
Because of their adaptable minds and gentle demeanor, golden retrievers are often used in roles like:
Seeing-eye dog 

Therapy dog 

Lifeguard / rescue dog

Bomb-sniffing dog
While golden retrievers can be very receptive to training, they won't simply "train themselves" as the popular myth goes. Like all dogs, they require structure, attention, and treats. 
They can especially be a handful during their so-called "teenage rebellion" phase, which occurs when they're between 6 to 18 months old. During this time, it's especially important to socialize your golden retriever with playmates and to get them plenty of exercise so they don't adorably tear apart your home. But, don't forget to watch for any behavioral changes as well, since this could be a sign of discomfort or health concern.   

Should You Get a Golden Retriever? 
Golden retrievers are a wonderful breed of dog, but they aren't for every living situation. There are a couple of important questions to ask yourself before committing to a golden retriever. 
Will your golden retriever have space to run?

Golden retrievers require a lot of exercise. They love getting outside and sniffing out adventures. A golden retriever won't thrive without plenty of space to explore. Although a caring owner can make anything work, golden retrievers might not be the best dogs for city dwellers or apartment livers.  

Will your golden retriever receive enough attention?

Golden retrievers love their masters, but that means they require a lot of attention. If you aren't around to hang out with your golden retriever, they can get lonely and depressed. This is why golden retrievers make such good family dogs: If one person is too busy to play, there's always someone else to join in on the fun.
Vetericyn: Everything Your Golden Retriever Needs
As we've learned, golden retrievers are happy, loyal, and adventurous. To keep your good boys and good girls feeling their best, make sure they're getting the nutrients they need with Vetericyn® ALL-IN Dog Supplements. And don't forget to keep that coat shining bright with Vetericyn's line of pet shampoos. 
Support the wellness of your furry best friend with products backed by science—Vetericyn products are readily available on Amazon, Chewy, and Petco.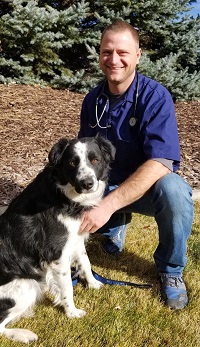 Reviewed by Dan Richardson, Veterinarian
Dan Richardson has been a practicing veterinarian for over 10 years. He specializes in surgery and orthopedics. Dan is originally from rural western Nevada and attended the University of Idaho for undergraduate study and Oregon State University for Veterinary School. The Richardson Family enjoys camping and spending time on the water fishing, paddle boarding, or digging their feet in the sand somewhere warm.
Sources: