Dog Breed Guide: The Husky
If you're on the search for your next DBFF (dog best friend forever), you may have been drawn to huskies for their goofy playfulness, dramatic reactions, and talkative nature. They're also known for their energetic and mischievous personalities that can sometimes get them into a bit of trouble. Despite their tendency to cause a ruckus now and then, these furry rascals have stolen the hearts of many. 
Huskies can make excellent companions, and their friendly personalities and free spirits have made them a popular choice among many dog owners. However, as with any pet, it's important to become acquainted with their needs and characteristics before you commit. For example, this lively dog breed may be best suited for active pet parents with access to lots of outdoor space. 
Before you bring this vivacious breed into your home (or apartment), come along as we explore their rich history and unique care needs. 
The Origin and History of Huskies
What you've heard is true: huskies were born to run. Initially bred for sled dog duty by the Chukchi people of northeastern Asia, huskies made their way to North America through Alaska.1 This athletic breed was brought to the frozen North to compete in competitive sled dog races and assist with transporting supplies and raw materials, like gold, during the Nome Gold Rush. 
Then, during the early 1900s, huskies were made famous by relaying a life-saving medicine to a remote town in Alaska facing a health epidemic attributable to a toxic bacteria.2 In the course of this "serum run," teams of huskies overcame brutal Alaskan weather and became internationally recognized for their persistence and determination.  
After this grand feat, huskies were officially recognized as a breed by the American Kennel Club in 1930.3 
To this day, this hearty dog breed continues to engage in working dog roles that require a great deal of physical stamina, like participating in sled dog races, search-and-rescue, and skijoring (a sport played in the winter, in which a person on skis is pulled by a dog or horse). Their affectionate demeanor and can-do attitudes have also made them a top choice as furry companions to humans. 
The Husky's Appearance and Physical Characteristics
With their compact bodies and a thick coat, it's no wonder that Huskies were chosen to endure  missions through the frozen expanses of Alaska. The breed's polar heritage has linked them to weather-resistant physical traits that allow them to tolerate cold temperatures as low as -60 degrees Fahrenheit easily.4
The Siberian husky and the Alaskan husky is also known for several unique features, including their:  
Fur Coat 
Unless your Siberian husky is trying to make a fashion statement with a stylish winter accessory, you can forgo the doggie jacket. Their fur alone is enough to withstand any type of weather. 
Huskies possess a dense, plush fur coat that can shield them from the elements.5 Their double coat is essentially made of two layers—the undercoat and the top coat. Each serves an important purpose in providing insulation and protection:
Undercoat

– Like your favorite puffy coat, this dense layer of fur provides insulation by capturing your pup's body heat.

Top coat

– This layer acts as a protective shield, warding off rain, snow, dirt, and even the sun's UV rays. 
Do huskies shed? Yes, and their industrious coat should be groomed once a week to stay healthy. Routine care and grooming may need to increase in frequency during shedding season, when the undercoat sheds in large tufts and clumps.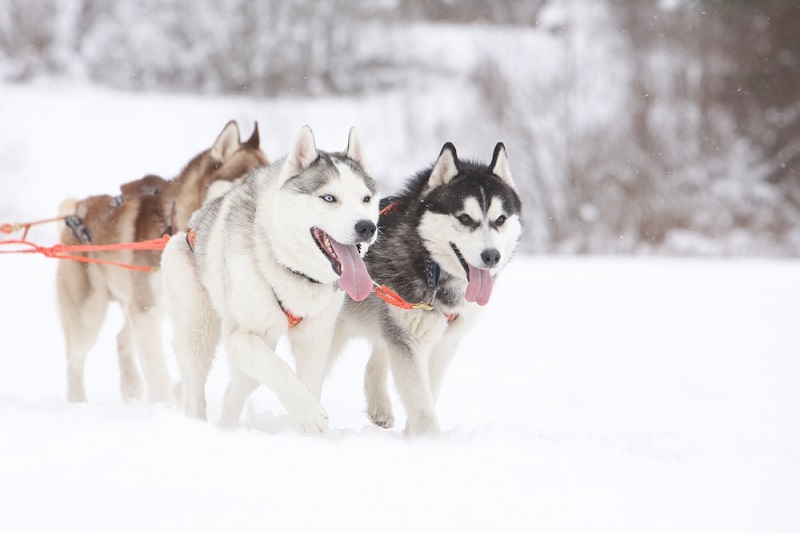 Colors and Markings
Though they are all the same breed, the appearance of individual huskies may look quite different from dog to dog. Each husky has distinct markings and coloring that make their look unique. 
This breed exhibits a rainbow of coat variations, which may include:6
Black

White 

Gray 

Tan 

Brown 

Red or copper
In addition, some Huskies possess rare colorings such as:
Agouti –

Alternating bands of black and tan with a dark mask on the face 

Sable –

Red or copper undercoat with black tips on the hairs
Eyes 
Huskies are well-known for their striking eyes that, much like their many-colored coats, can come in a variety of colors. When it comes to their eyes, a significant range of color variations can occur across individual dogs. Most dogs of this breed display eyes that are shades of brown, gray, green, or even blue.
You may also find an Alaskan husky with a genetic condition called heterochromia, which results in mismatched eyes of different colors due to the lack of melanin pigment in one eye. This can cause one eye (or even part of one eye) to appear light blue or whiteish, while the other eye is often brown.7
Height and Weight
The average Husky stands anywhere between 20 to 24 inches tall and can weigh approximately 35 to 60 pounds depending on their activity level, gender, and diet.8
A Husky's Charming Personality and Temperament 
Huskies' warm personalities and gentle temperaments make them excellent companions to their humans. Instinctively, huskies are social creatures that prefer being in packs. That said, they tend to do well around children, visitors, and other pets.9 However, they can be quite strong-willed, so regular training and exercise are generally recommended to keep their wild habits, like pulling, chewing, and barking, at bay.
Luckily, most Huskies are very intelligent and eager to please, which makes training fairly easy. 
Born runners, Huskies are naturally lively and active dogs. Because Huskies were bred as working dogs, they can be high-energy and require plenty of stimulation. Huskies possess a high prey drive and can chase after neighborhood rabbits, livestock, or even cats and. Therefore, you'll want to closely monitor your furry goofball around small household pets to avoid a catastrophe. 
Huskies are also known as escape artists and can effortlessly scale high fences or dig holes to escape your backyard. Most dogs may attempt to escape to seek mental stimulation and physical activity, so to stop these jailbreaks, regular playtime and exercise is a must. 
And, perhaps most noticeably, huskies are a boisterous breed that loves to talk. They often playfully communicate through their chirps, howls, and barks. However, despite their mighty stature and vocal abilities, huskies generally don't make for great watchdogs due to their friendly nature. 
The Mental and Physical Exercise Needs of Huskies
Without enough mental stimulation and physical exercise, huskies can become extremely mischievous, resulting in destructive behavioral changes like chewing on shoes or digging large holes in your backyard. 
Huskies require significant exercise to prevent them from destroying household objects. On average, one to two hours of exercise is recommended for this high-energy breed. Exercises can include:
Walking with your dog

Running with your dog

Swimming with your dog

Hiking with your dog 

Participating in Dog Sports

Pulling a sled 

Chasing a ball 
If you are in an apartment, you may have to carve out additional time to exercise your rambunctious pup and plan trips to the dog park. In cases where you have limited outdoor space, obedience training or nose work games that appeal to your husky's inquisitive brain and people-pleasing nature are a superb way to engage their clever minds. 
Huskies' Common Health Conditions 
Generally, huskies are known to be fairly healthy dogs that live on average between 12 and 14 years, which is on par with other breeds of their size.10 While huskies are known to have a low predisposition to hereditary diseases, this breed can be prone to several dog health conditions. It's best to schedule regular veterinarian visits and check-ups to keep an eye out for the following conditions: 
Hip Dysplasia – A condition that affects the movement of the hip joint. Affected Siberian huskies may experience significant pain and limited mobility.11
Hypothyroidism – The abnormal thyroid hormone production, resulting in low metabolic rate, weight gain, lethargy, and possible excessive shedding.12

 

Progressive Retinal Atrophy – The retina's deterioration can lead to blindness if not properly treated.13
Cornea Dystrophy – A condition that causes progressive change to the cornea, becoming opaque and resulting in vision loss or pain.14
Uveodermatologic Syndrome – An autoimmune condition affecting the eyes, skin, and nervous system.15
Cataracts – The development of a cloudy mass in the eye which, if left untreated, can result in various husky eye problems, all the way up to loss of vision.16
As you can see, several health conditions could affect your Siberian husky puppy's vision. To proactively protect the health of your husky's eyes, a preventive treatment like Vetericyn Plus Antimicrobial Eye Wash can remove debris and relieve their eyes of irritation and burning.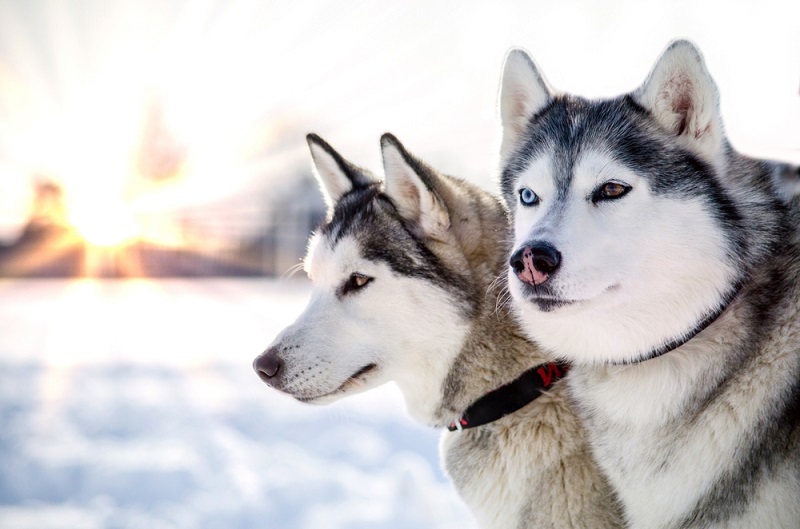 What Huskies Eat
Your Husky's active lifestyle requires a diet that keeps your pup energized and fueled for their next adventure.17 Your dog should be fed a balanced diet high in protein, like chicken, lamb, beef, or rabbit. Huskies are generally not picky eaters, so mixing small pieces of fruits and vegetables can be a terrific way to keep your dog full without the added calories. 
High-protein snacks, like beef sticks, can also be an excellent addition to your pup's diet.
Huskies are prone to obesity if they are overfed and under-exercised.18 So, if your husky is looking a little, well, husky, you may want to talk to your veterinarian to discuss alternative diet plans. 
High-quality dog foods full of prebiotics, minerals, and omegas, like Vetericyn ALL-IN Dog Supplement, are an excellent way to ensure your dog receives the nutrients they need to maintain a healthy weight and support their overall health. 
Support Your Dog's Health with Vetericyn
Nourishing your dog's health is an important task for any dog parent. If you own a husky, you know this high-energy breed requires lots of work—but it's not without its rewards. To keep your exuberant pup at the peak of their health and avoid skin infection and a host of husky skin problems, it's important to provide them with the right care to support their wellness needs.
At Vetericyn, our vet-endorsed line of safe, non-toxic wellness products are designed to nourish and heal your beloved pets. With products available on Amazon, Chewy, and Petco, you're sure to find a product that meets your Husky's unique health needs. 
Your Husky is guaranteed to give you a howl of approval for supporting their health journey with products you can trust.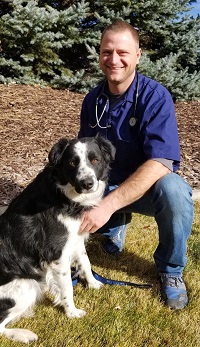 Reviewed by Dan Richardson, Veterinarian
Dan Richardson has been a practicing veterinarian for over 10 years. He specializes in surgery and orthopedics. Dan is originally from rural western Nevada and attended the University of Idaho for undergraduate study and Oregon State University for Veterinary School. The Richardson Family enjoys camping and spending time on the water fishing, paddle boarding, or digging their feet in the sand somewhere warm.
Sources: