Goldendoodle Ear Infections: Treatment & Prevention
Is something up with your Goldendoodle's ear? Underneath their curly coat and droopy ears, Goldendoodles can develop minor Goldendoodle health issues that might have you (and them) scratching your head. Ear infections might seem small, but they're certainly nothing to ignore. Fortunately, there's plenty of information and options for tackling your dog's ear trouble and preventing ear infections.
So, what do you need to know about a Goldendoodle ear infection? 
This guide will cover all the most important topics when it comes to doodle ear infections in this beloved breed. From symptoms to treatments and everything in between, read on to discover the best way to keep those ears clean and infection-free.
Symptoms of Goldendoodle Ear Infections
On a good day, your Goldendoodle should hear you before you even make it to the door. Dogs have an awe-inspiring sense of hearing, and they rely on it to both understand and interpret their surroundings. Minor dog ear infections shouldn't cause any damage to your dog's sense of hearing, but if left untreated, they could suffer from long-term hearing damage.1
Before things get that serious, keep an eye out for symptoms, including:1
Excessive scratching

Strange head movements

Discharge or odor

Redness

Swelling

Scabs
These symptoms are usually pretty apparent but may require you to lift your dog's floppy ear and inspect the area using a flashlight. Your Goldendoodle doesn't need to present all these symptoms to have a chronic ear infection. In fact, just one of these symptoms could be cause for concern.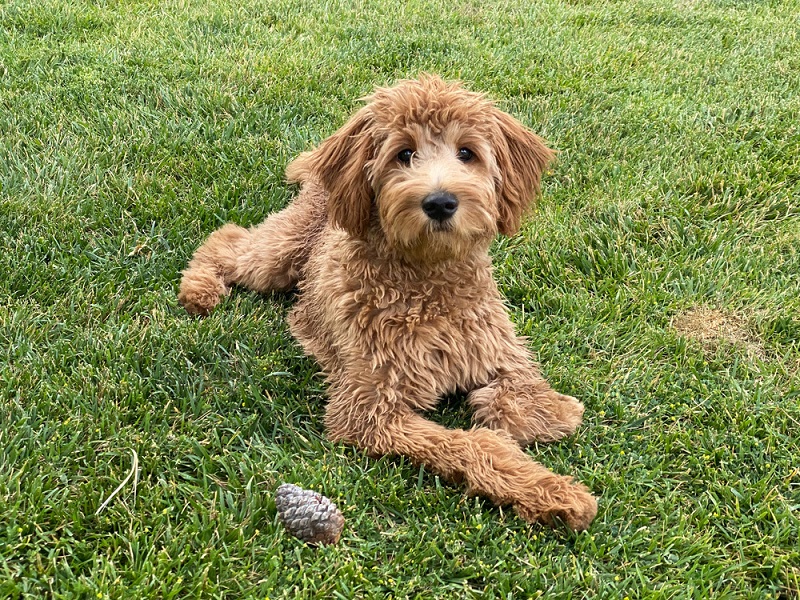 Causes of Goldendoodle Ear Infections
What turns an adorable ear into a haven for bacteria? Well, we certainly can't blame our dogs for getting dirty—even the most pristine Goldendoodle can still develop an infection whether it's in the inner or outer ear.
This propensity is partly because of the shape of Goldendoodle ears. This breed, along with other floppy-eared pups, is more susceptible to ear infections.1 Their L-shaped ear canals and closed ear flaps can allow for moisture and bacteria to thrive inside.
In addition to ear shape, there are a number of common causes of infections, including:
Buildups

– Dogs and humans have this in common—earwax. Yes, these waxy buildups can lead to infection. While earwax is essential for keeping dogs' ears protected and lubricated, too much can cause problems.

Allergies

– Dust, pollen, and even dog food can lead to dog allergies. Goldendoodles aren't necessarily more prone to developing allergies than other breeds, but if you notice recurrent ear infections, it could be the result of an allergic reaction.

Ear mites

– Watch out for these annoying little parasites. Ear mites can infest a dog's ear, leading to severe discomfort and infection. Your dog can contract ear mites nearly anywhere outside—and they are also known to pass from dog to dog. Note that if your Goldendoodle has ear mites, it's likely that the other animals in your home do, too.

Inner ear hair

– In case you haven't noticed, most doodles are pretty hairy—and occasionally, one of those hairs just grows the wrong way. You might not be able to see it, but an ingrown inner ear hair could be the root cause of your dog's ear infection.
Essentially, dog ear infections are the sustained growth of unfriendly bacteria in your dog's ear. No matter what the root cause is, you're going to need to address the symptoms as soon as possible to bring your Goldendoodle some well-deserved relief.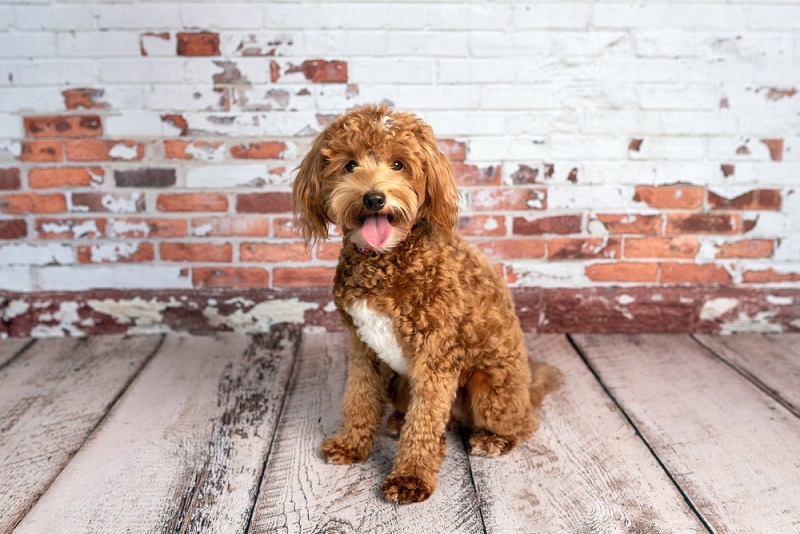 Treatments for Goldendoodle Ear Infections
When you discover an ear infection, it pays to act fast. The sooner you can begin treating the problem, the less chance it has to worsen, and the sooner your Goldendoodle can get back to its normal ball-chasing, tail-wagging routine.
The top tips for treating a Goldendoodle ear infection include:2
Ear wash

– The first step in tackling this ear problem is getting that ear squeaky clean. An

antimicrobial ear rinse

can help remove any foreign material from the ear canal and reduce discomfort. Most importantly, it won't cause any additional pain for your poor pup. It's a safe, effective, and simple way to care for an irritated ear.

Topical medication

– If a wash isn't enough, you can consider adding a topical medication to your treatment plan. In combination with a thorough wash, you should be able to knock out the infection before it gets worse.

Veterinary assistance

– In the case of a persistent or recurring ear infection, it's best to seek veterinary treatment. Your vet can help isolate the root cause of the infection and offer antibiotic treatments to alleviate the most severe chronic ear infections.
Prevention Strategies for Goldendoodle Ear Infections
The best way to help your Goldendoodle avoid any ear discomfort is to stop it before it happens. With proper prevention methods, your doodle and keep their floppy ears may stay infection-free for the long haul.
The most effective prevention methods include:
Consistent monitoring

Regular cleanings

Attention to outdoor environments
If you're cleaning your dog's ears regularly, checking their fur and ears after time outside, and keeping an eye on their behavior, you might never have to worry about an ear infection again.
Vetericyn: Your Partner in Ear Infection Treatment
Today, there's no reason to let your dog's ear infection stick around. After reading this guide, you should feel well-prepared to identify, assess, and treat an ear infection while keeping up with the weekly task of keeping your dog's ears pristine. 
If you're looking for the best tools for doodle health and have questions like, "Do Goldendoodles Shed?", it's time to visit Vetericyn.
From veterinary medicine like ear and eye care to all-natural supplements, we're proud to offer effective pet health products manufactured in the USA to prevent ear infections. Explore our shop or check out our offerings at Chewy, Amazon, and Petco.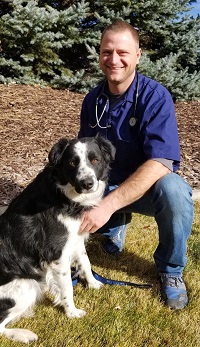 Reviewed by Dan Richardson, Veterinarian
Dan Richardson has been a practicing veterinarian for over 10 years. He specializes in surgery and orthopedics. Dan is originally from rural western Nevada and attended the University of Idaho for undergraduate study and Oregon State University for Veterinary School. The Richardson Family enjoys camping and spending time on the water fishing, paddle boarding, or digging their feet in the sand somewhere warm.
Sources:
AKC.

Dog Ear Infections: Symptoms, Causes, Treatment, and Prevention

.

https://www.akc.org/expert-advice/health/dog-ear-infections/

 

VCA.

Ear Infections in Dogs (Otitis Externa)

.

https://vcahospitals.com/know-your-pet/ear-infections-in-dogs-otitis-externa