Horse Liniment: Unveiling the Secret to Equine Relief
If you've spent much time in a barn, you've probably come across a bottle of horse liniment among the curry combs, brushes, and hoof picks. But is it as useful as experienced old-school ranchers say?
Horse liniment has been around for ages, and it's got a reputation as a cure-all for everything from soothing aches and pains to stimulating blood flow.1
If you're not sure how to make the most of this helpful tool, keep reading as we unveil the secret to equine relief and show you how horse liniment can benefit both hard working horses and their human caretakers. We'll break down the components of liniment, explain its uses, and give you some tips on how to apply it safely and effectively.
What Is Horse Liniment?
Horse liniment is a topical medication that contains naturally soothing ingredients like menthol and herbal extracts. It's massaged into the horse's skin to produce a heating or cooling sensation that can ease pain, reduce inflammation, or stimulate blood flow. Think of it as a spa treatment right in your barn (dim lighting and soothing music optional).
Liniments are used for:
Massaging a horse's muscles
Relieving muscle soreness and swelling from exercise
Soothing joint pain and stiffness
Repelling insects
Promoting circulation
The Long History of Horse Liniment
People have been using liniment to soothe their own sore muscles for centuries. Most likely, they've been using homemade concoctions on hardworking horses for nearly as long.2,3
In the 19th century, horse liniment became even more popular and widely used, especially in America, where working horses were essential for transportation and agriculture. Many brands of horse liniment were developed and marketed, like Sloan's Liniment, S.B. Kitchel's Liniment, and Old English Black Oil.4
Thankfully, horse liniments have come a long way from those early days. Back then, ingredients like laudanum, turpentine, and sulphuric acid were typical. That'll be a no from us, but old-time horse folk swore by these mixtures to treat everything from swelling to sores. They may have been wrong on some of the ingredients, but they were right that cooling treatments massaged into tired muscles can help working horses recover more quickly from hard work.1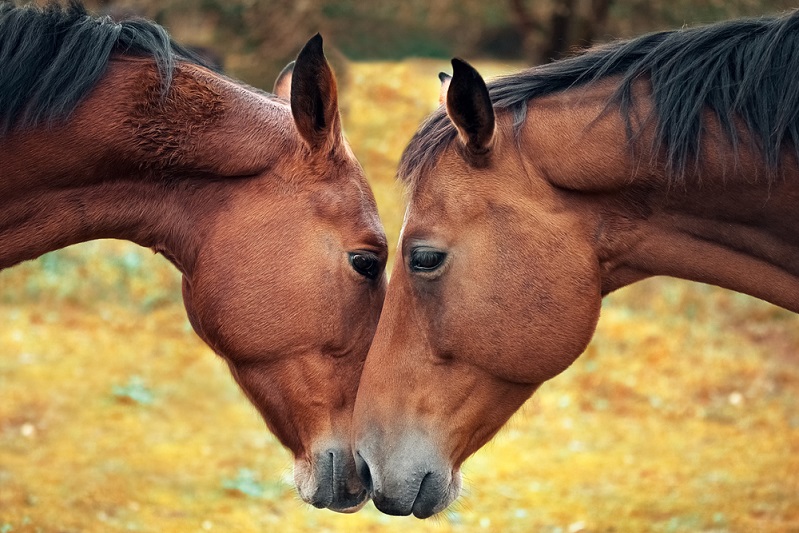 Ingredients in Horse Liniment
There are many formulations of liniments on the market for different purposes. Here are some of the active ingredients you may come across, along with their benefits and cautions:5
Menthol – This is one of the most common ingredients in horse liniment, and it's also found in topical pain relief treatments for humans. It's what provides the familiar cooling sensation in many cough drops and chest rubs. Menthol increases blood flow and reduces pain and inflammation. But it can also cause irritation if used too often, and it shouldn't be applied on any horse cut, open sores, or horse scratches.
Alcohol – Many liniments include alcohol for the cooling sensation it provides as it evaporates.
Witch hazel – This traditional astringent is used in many products for humans as well as horses. You'll find it in toners and aftershaves, where it's used similarly to alcohol for its refreshing cooling effect.
Plant extracts – Compounds extracted from plants have been used for thousands of years to soothe aches and pains. Some that are frequently found in muscle rubs and liniments include arnica, tea tree, calendula, aloe vera, comfrey, rosemary, and lavender. These extracts are believed to have anti-inflammatory, anti-fungal, and anti-bacterial properties.
Capsaicin – Warming liniments often include capsaicin, the substance that gives chili peppers their kick. Capsaicin works by stimulating nerve endings that send pain signals to the brain, which releases endorphins that block the pain. It can help with joint pain, muscle spasms, and soreness after exercise. It can also cause skin irritation, so use it with caution. It's banned by many equestrian sporting associations, so avoid it if your horse is in a competition.6
How to Use Horse Liniment
Horse liniment can provide safe, soothing relief to horses when used properly, but there are different ways to apply trusted liniment depending on your horse's needs, and a few precautions to keep in mind.
Be sure to follow the instructions on the label before using any trusted liniment. Always test new liniments on a small patch of skin first to see how your horse reacts. Leave the liniment on the area for 24 hours, and watch out for signs of a reaction such as:7
Redness
Itching
Swelling
Hair loss
Blisters
If you see any of these reactions, you'll want to switch to a different product.
With these basic safety tips in mind, let's look at how you can put horse liniment to work for you and your horse.
As a Soothing Body Wash
Liniments can be a wonderful way to give your horse a soothing rubdown after a sweaty workout. Aim to do this within an hour after finishing your workout to help cool down the muscles, reduce inflammation, and increase blood flow to tired joints and tissues.1 One thing to note is that there are two types of liniments: Liquid and Gel. Our Vetericyn Liniment is the best of both worlds because it applies like a lotion but melts on contact with body temperature and penetrates the skin like a liquid would.
Make a diluted liniment mixture in a bucket of warm water. When using Vetericyn Liniment, dilute 1 cup per gallon of water.
Sponge the mixture over your horse's body, starting with the legs and working upward. Trainers recommend beginning with the legs to avoid shocking the horse with a major temperature change on the large muscle groups of the chest and body.
Avoid rubbing the solution on the sensitive skin around the muzzle, eyes, and genitals, as liniment can cause irritation in these areas.
No need to rinse—the liniment will provide a gentle cooling sensation as it dries. You can save any leftover wash to use again for your next horse bath.
As a Leg Wrap or Sweat Wrap
One of the most recommended ways to use liniment is on the legs under leg wraps or cellophane wraps. This can help hold heat around those hard-working limbs, providing relief from stiffness, swelling, and joint pain in the tendons and ligaments.
Not all liniments should be used under leg wraps, as they can be too harsh and cause irritation or even blistering.7 Be sure to choose a product that specifies that it can be used under bandages or wraps, such as Vetericyn Equine Liniment.
Wrapping can be done in different ways, so follow these tips to wrap your horse's legs properly:
Wrap after a workout – If your horse has had a particularly intense workout, you can help prevent stiffness by applying liniment and following it with a loose leg wrap.
Prevent swelling with sweat wraps – If your horse experiences significant swelling in the legs, you may want to try a sweat wrap. To create a sweat wrap, apply liniment, wrap with a layer of cellophane, and finish up with a cotton bandage or wrap.
Wrap with care – Consult your vet or a knowledgeable trainer before using wraps. It's important to learn how to wrap properly. Applying wraps too tightly can cause tissue damage.
Use wraps for old injuries – Keep in mind that since wraps hold heat in, they're best for treating old injuries, chronic pain, or to prevent swelling. For a new injury, cooling treatments should be the first step.1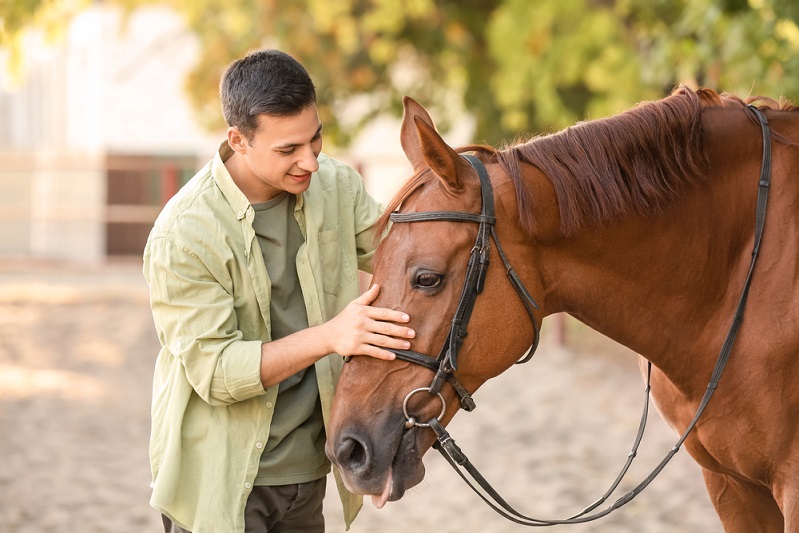 As a Topical Treatment
You can massage liniment gel or liquid liniment directly into muscles and joints that are sore or stiff. This can also help with minor injuries that don't break the skin (such as sprains or strains) and muscle spasms. Here's how to do it:
Apply the liniment over the entire area where you want to increase blood flow or ease soreness. Generally, you can focus on the lower legs below the knee, but you may also wish to massage around the knees and hocks as well as the large muscles of the hindquarters and flanks if your horse has had a hard workout.
Saturate the area with enough liniment to get through the hair and onto the skin.
Massage the liniment into the skin, using smooth, up-and-down motions and gentle pressure. Your horse will let you know what they like—watch for body language like flared nostrils, flattened ears, or stamping hooves to signal that you're applying too much pressure.
If you want to massage the upper body, apply more liniment onto the horse's hindquarters and sides, again making sure to soak through to the skin.
Massage gently along the length of the large muscle groups, allowing the liniment time to penetrate the coat and work its way into the skin.
When to See a Vet
Horse liniment can be a useful tool to help your horse feel more comfortable and relaxed after exercise, but it isn't a substitute for veterinary care. If your horse has a new injury, an open wound, or signs of a more serious condition that isn't going away, you should always consult your vet for diagnosis and treatment.
Give Your Horse a Helping Hand With Vetericyn
A quality horse liniment is a must for any horse owner's first aid kit. It's versatile and easy to use for everything from preventing stiffness to stimulating circulation and relieving pain. Whether you want to give your horse some relief after an intense workout or reduce swelling in a sore joint, horse liniment is the mane event.
Be sure to choose a liniment that includes safe and effective active ingredients, like Vetericyn Equine Liniment. Our unique formulation includes menthol, arnica, vitamin E, and peppermint oil for soothing, cooling relief, and healing. With Vetericyn liniment you'll keep your horse performance ready.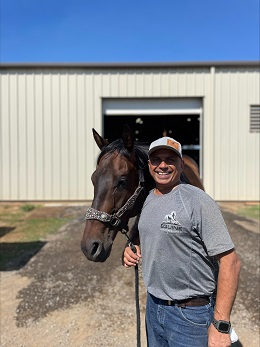 Reviewed by Solomon Benarroch, Veterinarian
Solomon Benarroch DVM has been a practicing veterinarian for over 30 years. His primary focus has been in equine soundness and performance sports medicine. Originally from Winnipeg, Canada he attended college at the Western College of Veterinarian Medicine. And completed an internship at the University of Minnesota. He is the father of three kids and when he isn't working (which is rare), he enjoys traveling, cooking, and spending time with friends and family.

Sources: