How Do I Keep My Dog from Licking Her Wound?
After your pup experiences an injury or medical procedure, you want to do everything you can to help them during the healing process and keep their mood boosted. In addition to applying fresh bandages and antibacterial ointments, you'll likely want to shower your dog with cuddles, belly rubs, and plenty of well-deserved treats. But amidst this love fest, you also want to make sure your dog isn't licking their wounds. 
In order for a dog wound to heal quickly and completely, it needs to be kept clean, dry, and dog saliva-free, making wound-licking off limits for your pup. 
Wondering how to keep a dog from licking a wound? Read on for our must-know tips and tricks. 
How to Prevent Licking
What works for one dog might not work for another. There are many different types of dog wounds, and what's effective for one type of wound, like a hurt paw, might not be as effective for another, like an incision from a spay/neuter surgery. So, consider having a variety of dog lick-stopping methods in your dog health emergency kit. 
Some of the easiest and most economical ways to prevent dog licking wound tendencies are:
Bandages 
Just as some dogs will play with toys all day, some are utterly uninterested in them. Similarly,  some dogs will shred bandages while others won't mind them one bit. 
If your dog's wound is easy to bandage (like a wound on a foreleg as opposed to one on a haunch), you might consider learning how to cover a dog wound with a flexible self-adhesive bandage. Some even come with a bitter coating to discourage your pup from gnawing on it.
E-Collars
If your curious pup is interested in their bandages, you might want to consider an e-collar, commonly known as a dog cone. While your dog may not love wearing them, e-collars are extremely effective at preventing dogs from reaching and licking wounds or bandages. 
Called the Elizabethan Collar (or, more succinctly, e-collar) for its resemblance to the high-necked fashion ruffs worn in the 1500s, they come in a variety of sizes and types:
Traditional plastic

Reinforced fabric

Inflatable
While they're an easy indoor solution, you shouldn't allow your pet to roam outdoors in an e-collar without supervision because the cones can become tangled on objects like tree branches and severely limit your pup's field of vision.
Booties
Paw wounds, especially wounds to the paw pad, can be tricky to keep free from dirt, water, and contaminants. However, booties that strap securely to the ankle and cover the entire paw can be immeasurably helpful if your pup is recovering from a paw injury. 
Booties are available in a wide variety of shapes and materials, so before purchasing one, ask yourself:
Does my dog get her feet wet? Will she need a waterproof or silicon bootie?

Will it be easier to pull on a sock-like bootie or one that straps with velcro?

Does the bootie need to extend up her foreleg or just cover the paw?

Does she need a reinforced or orthopedic sole?
Clothing
Sometimes, a simple t-shirt is all you need to keep your pet comfortable and distracted from a wound. Other times, you need something a little more fitted. Luckily, pet clothing is not just a fashion statement—specialized outfits for your dog can actually keep them from licking their wounds. 
Also called surgical recovery suits or recovery shirts, the variations on this garment are seemingly endless, from:
Soft cotton to waterproof vinyl material

Straps to zippers

Upper body only to underside only

Cone-compatible to wearable alone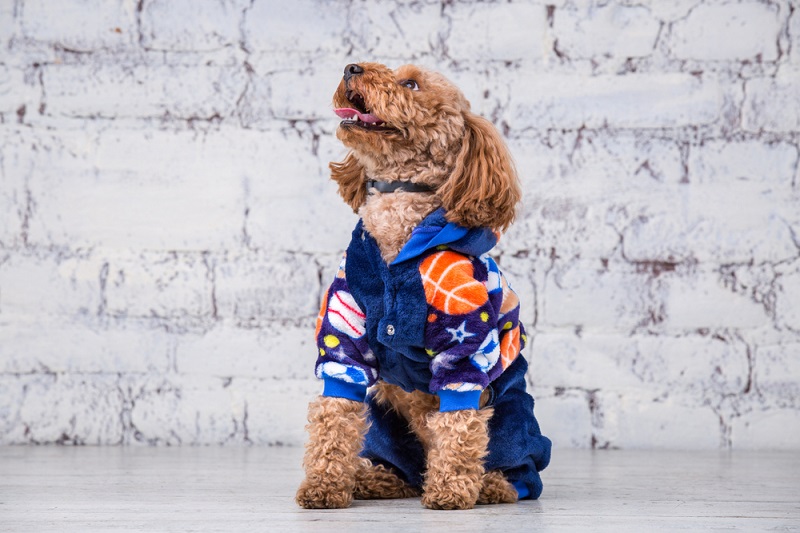 Why Dogs Lick Wounds
A lot of what humans do with their hands, canines do with their tongues. For instance, while we shake hands in greeting, dogs go in for a big slobbery kiss. While we hold a glass of water to drink, dogs lap it up with their tongues.
Similarly, in times of injury when we're worried or hurting, we may rub our hands together, hug ourselves, or examine and attempt to fix the injury. A wounded dog uses her tongue for exactly those same reasons:1
Self-comfort

Distraction from the pain

Cleaning of the wound 
Unfortunately, most dogs will go too far if allowed free access to a wound. In fact, they're likely to:
Tear out sutures or stitches

Increase the size of the wounded area

Introduce bacterial infection2
That's why, as a pet parent, it's incumbent on you to prevent excessive licking so your pet's wounds can heal properly.
Vetericyn: On Your Side And On Your Dog's Wound
At Vetericyn, we know how stressful it can be to help a beloved pet recover from an injury or medical procedure. Fortunately, by using bandages, e-collars, booties, or clothing, you can help keep your dog from licking her wound and excelerate her recovery time. 
If your dog is simply too active or too nervous for a physical barrier between themselves and their wound, you can still help them recover by applying a liquid bandage spray or hot spot spray. The Vetericyn Plus® line of products cleans, soothes, and relieves any wound itching and irritation, deterring your dog from licking her wound. 
This all-natural first aid product sets the stage for wound healing by safely removing dirt, cleansing the site of injury, and moisturizing the area around the wound. A powerful, non-toxic alternative to antibiotics and steroids, Vetericyn Plus® Antimicrobial All Animal Wound and Skin Care is also safe for use around your pet's mouth, eyes, and ears.
If you're helping your dog recover from an injury, keep her mood boosted with love and her wounds clean with Vetericyn.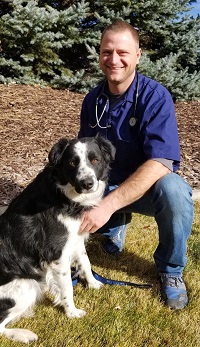 Reviewed by Dan Richardson, Veterinarian
Dan Richardson has been a practicing veterinarian for over 10 years. He specializes in surgery and orthopedics. Dan is originally from rural western Nevada and attended the University of Idaho for undergraduate study and Oregon State University for Veterinary School. The Richardson Family enjoys camping and spending time on the water fishing, paddle boarding, or digging their feet in the sand somewhere warm.
Sources:
 PetMd.

Why Do Dogs Lick Everything?

https://www.petmd.com/dog/behavior/why-do-dogs-lick-everything

American Kennel Club.

Is a Dog's Mouth Cleaner Than a Human's Mouth?

https://www.akc.org/expert-advice/health/is-dogs-mouth-cleaner-than-humans/