How Long do German Shepherds Live?
Charismatic, adorable, loyal, and protective, German Shepherds are arguably the most adorable big dog pets to own. Not only are they smart, their charisma makes them a must have in our homes as they complement our lives perfectly. Like the Labrador Retriever, they are also incredibly smart.
The German Shepherd dog (GSD) is one of the larger dog breeds with multiple excellent qualities. Its average lifespan is 9-13 years, which concurs with the timeline for most dogs. However, a range of factors may affect its livelihood, and it is essential to pay attention to these concerns to prolong their lives.
It has been the second most popular breed in the United States for ten years and is noted for its loyalty, intellect, and courage. When you adopt or buy a German Shepherd, one of your concerns is their lifespan and ways to keep the dog in good health for a lifetime. Let's explore multiple factors that increase the life expectancy of a German Shepherd.
Tips to Improve the Life Expectancy of a German Shepherd
While the average lifespan of a German Shepherd is 9-13 years, you can still prolong your dog's life by practicing good dog habits and prioritizing their physical and psychological wellbeing. Below are some strategies you can use to keep your dog health and happy, hence prolonging its life.
1. Consider Annual Check-ups
One of the great ways to increase this dog breed's natural life is to ensure they get regular annual check-ups for older breeds and twice a year for puppies (as a side note, 18 months is usually when German Shepherds stop growing). Large breeds are highly susceptible to joint and hip issues such as hip dysplasia.
Taking a German Shepherd to the vet allows for prompt identification of potentially fatal German Shepherd health issues. Visually, it is difficult to detect whether a dog is in pain because they may cover up how they are feeling. But aside from injuries, you should also look for other obvious symptoms, like German Shepherd skin issues. The vet will identify specific diseases and conditions before they become fatal.
2.  Keep them Active/Lean
Feeding a German Shepherd with quality food is a sure way to keep them lean and extend their lifetime by approximately 18-24 months. It is essential to feed them appropriate rations while avoiding over-feeding your dog.
A study tracking 48 Labrador retrievers for ten years established that dogs fed 25% less food indicated 18-24 month growth in their life expectancy compared to larger breeds on a regular diet. The sample also experienced numerous health gains such as lower triiodothyronine, triglycerides, insulin, and glucose. A healthy diet for a German Shepherd includes 18-22% protein ranges in low carb, high-quality dog food.
Appropriate dog food portions vary depending on the size and age of the dog. An active grown German Shepherd should consume 1,740 and 2,100 calories daily, while an inactive one should feed 1,272 and 1,540 daily.
3.  Allow them to Exercise
Keeping dogs active is one of the well-researched ways to prolong their lives. Engaging the German Shepherd in at least two hours of exercise per day maintains optimum longevity and health. This breed becomes highly susceptible to hind leg frailty as they grow older. Hence, keeping them engaged to prevent muscle atrophy and maintain strong legs is a priority.
Some of the fun activities to engage the German Shepherd include:
•    Playing Fetch with a toy, ball, or frisbee
•    Creating a customizable obstacle course
•    Taking a walk/hike regularly
These will improve the dog's overall health and keep their mind functioning optimally.
4. Spay or Neuter at the Right Age
Spaying or neutering reduces the likelihood of prostate cancer, testicular cancer, and the risk of developing reproductive system complications. The life expectancy of neutered male dogs increases by 13.8%, while female dogs indicate a 26.3% increase in their natural life.
The male German Shepherd is neutered between 12 and 15 months after they are in an appropriate growth stage. Choosing prior timelines may impose adverse effects on their skeletal development. Female breeds are spayed before five months.
5. Dental Care
Owners/caregivers should brush the teeth of the German Shepherd every day to decrease the occurrence rate of periodontal infections and prolong the life expectancy by 3 to 5 years. Several studies highlight that approximately 90% of dogs above three years have periodontal disorders.
These account for some of the most infectious issues impacting adult dogs. Periodontal disease is an inflammatory condition caused by oral bacteria that targets a dog's jaws. It progresses and may worsen in a short while.
Untreated, periodontal disease can result in tooth loss and additional damage to the German Shepherd's bloodstream, affecting the lungs, kidneys, and heat. This infection may be fatal without proper treatment.
Some techniques to prevent periodontal disease include:
Keep the dog engaged to keep them away from chewing harmful objects

Give the dog safe toys and bones to chew on

Give the dog healthy treats

Feed the German Shepherd dry foods to prevent the build-up of plaque and tartar

Brush the dog's teeth every day using special toothpaste
Health Issues that May Impact the Lifespan of a German Shepherd
While they can live up to 10 to 12 years, there are other factors that affect the German Shepherd lifespan. Smaller breeds have a higher life expectancy than the German Shepherd (and other larger dogs) and are less likely to die from health complications such as cancers. The breed is susceptible to other conditions such as:
Inability to stand

Blood clotting

Multiskeletal disorders

Heart disease

Dental disease

Bloat

Obesity

Otitis externa (ear infection)
A study in the UK identified the inability to stand and musculoskeletal disorders as the leading causes of death among German Shepherds
Final Remarks on German Shepherds
German Shepherds are trainable, lovable, and loyal. Some serve as guides or military dogs, whereas others are good companions. Unfortunately, the German Shepherd breed has a shorter life cycle than other breeds. The average lifespan ranges between 7 and 10 years, which is relatively shorter than smaller dogs. They can quickly become obese. German Shepherds are highly susceptible to musculoskeletal issues.
Larger dogs are more vulnerable to cancer as compared to smaller breeds. Maintaining your German Shepherd on a healthy diet and engaging them in exercise to prolong their life is essential. Additional issues that caregivers/owners should pay attention to include brushing the dog's teeth daily, taking them to the vet for vaccination and other check-ups, seeking veterinary care whenever there's a health problem, and proper hygiene.
Reconsidering the above recommendations will prolong the life of a German Shepherd and give them a happy life. It is essential to provide them with attention and lots of love.
At Vetericyn, we offer products that would help prolog the life of your German Shepherd. These include supplements, wound care, skin care, and eye and ear care products. The products are top tier, tried, and tested. Contact us and embark on a prolonged and enjoyable journey with your pet.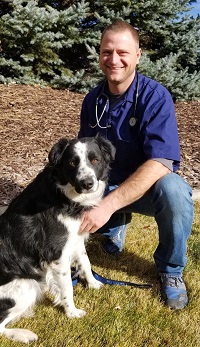 Reviewed by Dan Richardson, Veterinarian
Dan Richardson has been a practicing veterinarian for over 10 years. He specializes in surgery and orthopedics. Dan is originally from rural western Nevada and attended the University of Idaho for undergraduate study and Oregon State University for Veterinary School. The Richardson Family enjoys camping and spending time on the water fishing, paddle boarding, or digging their feet in the sand somewhere warm.
Sources:
PawTracks. 

What to know about the average German Shepherd lifespan.

https://www.pawtracks.com/dogs/german-shepherd-lifespan/

Animal League.

Benefits of Spaying and Neutering your Pets.

https://www.animalleague.org/get-involved/spay-usa/benefits-spaying-or-neutering-pets/

Dog Advisory Council.

How Long Do German Shepherds Live? 5 Signs Your GSD Life Is Ending

. https://dogadvisorycouncil.com/how-long-do-german-shepherds-live/