How Often Should You Bathe a Cat
Bathing and grooming is an essential aspect of your cat's overall health and well-being. 
As a responsible pet owner, you want to ensure that their skin is glowing and coat healthy. But, as you know, most cats aren't fans of bathing, to say the least. Often, they can become aggressive or skittish when you attempt to wrangle them into a cleaning. This can make a cat bath quite tricky for any cat owner.
By making it a routine and starting them early, you can make it a more tolerable experience for both you and your water-fearing friend. 
So, how often should you bathe a cat? Here's what you need to know. 
Cat Bathing 101
Cats naturally see to many of their hair care needs by licking themselves. Their daily fastidious grooming reduces the frequency that they'll need a bath. Cats do a good job of cleaning most debris from their coat, but their self-grooming won't get everything out, nor will it make them smell any nicer.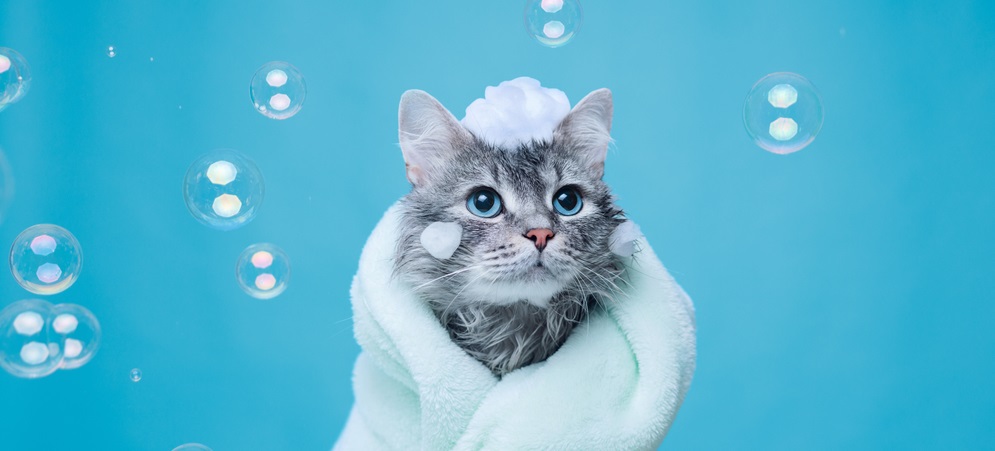 The National Cat Groomers Institute of America recommends a bath once every 4-6 weeks.1 But how often your cat needs to bathe will likely depend on several factors, including: 
Are they an indoor or outdoor cat? Outdoor cats will require more frequent baths compared to an indoor cat. 

What is their coat length and type? Naturally, longer coats need more upkeep. However, a hairless cat will still need a bath every now and then.

How active are they? An active cat will need more regular cleaning. 

Do they have any health issues like ticks, fleas, or other

cat skin problems

?

 

Your kitty may also need more baths if they suffer from

cat skin allergies

. 
Typically, an eye or smell test will tell you whether your cat needs a bath. 
According to VCA Hospitals, "The general condition of your cat's coat and skin are good indicators of its health. A healthy coat should be shiny and smooth and healthy skin should be supple and clear.2"
How To Bathe a Cat
If your cat is in desperate need of a bath, follow these steps to make it a less stressful experience for you and your feline friend:
Tire them out first

– The last thing you want during bath time is a hyperactive, aggressive kitty. Before you get them anywhere near water, you should try to bring down their energy levels with a play session. Allow your cat to tire itself out.

Brush your cat – Regularly brushing your cat is one of the most important ways you can help them with their grooming. This will not only reduce the number of baths your cat needs, but it will also get out much of the debris, dander, and loose hair before they ever get into the tub or sink. The ASPCA recommends one or two brushings per week to help keep a healthy glow to your cat's coat.3

 

Trim their nails

– Paw and nail health are also important facets of a cat's overall health and well-being. Trimming and maintaining their nails will help them with all of their daily activities and save you from potential scratches. 

Prepare your cat and bath

– Gently place cotton balls in your cat's ears to plug them and prevent water from getting in. Put down a rubber mat in the washing area so that your cat doesn't slip.

Gently wash – Cats are naturally fearful of getting wet, but they especially hate being sprayed. So, avoid spraying their face or completely dousing them in the water. Start slowly with their legs, one at a time, so that they can grow accustomed to the unfamiliar experience. If your cat is suffering from a cat abscess or a cat burn, ensure you are extra careful with their skin while washing.
Use a medicated shampoo

– Don't ever use human products on your pets, they may contain chemicals that are safe for us but not for them. Always use a recommended cat shampoo from your veterinarian or local pet store. We recommend Vetericyn FoamCare Pet Shampoo. It makes bath time fast, fun, and frustration-free! FoamCare is a non-irritating, hypoallergenic pet shampoo that deodorizes, conditions, enhances shine, and relieves dry, itchy skin.  

Thoroughly rinse

– After you've massaged the shampoo in, be sure to rinse all of the soap residues out with lukewarm water. 

Dry

– Remove the cotton balls from your cat's ears, and then carefully dry off your cat's face and body using a soft towel. 

Blow-dry

– On the lowest setting, use a blow dryer while gently brushing your cat's fur. This will get them warm, dry, and comfy. 
Grooming Your Cat The Easy Way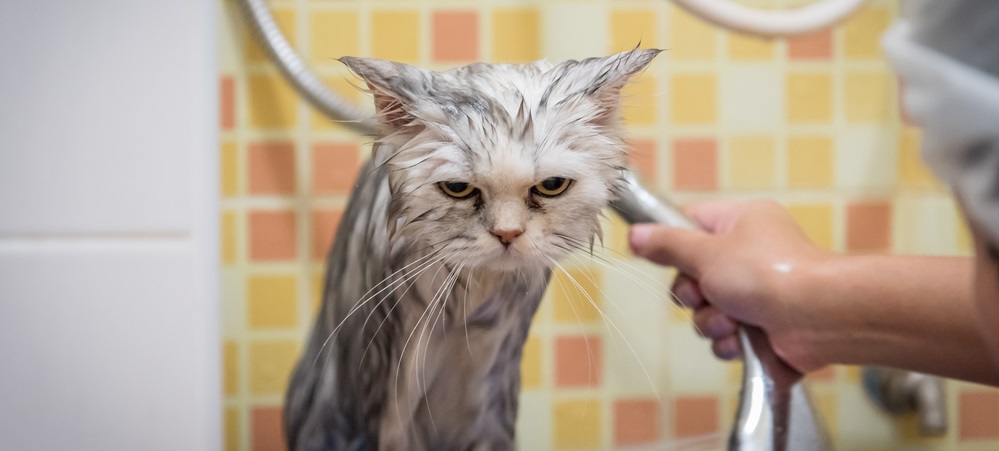 Your cat uses innate grooming techniques to clean itself. By supplementing this with regular brushing, you can reduce the number of baths your cat needs. Still, just to be safe, your cat should probably receive a bath at least once every two months. 
Cat bath time is not always easy, however, with the right tips and tricks, you'll be able to keep your cat's coat shiny and clean. When you bathe your cat, be sure to use a medicated shampoo designed for pets. 
This brings us to Vetericyn FoamCare—a safe, deep clean shampoo and conditioner that makes it easy to clean, heal, and soothe your animal's skin and fur. It's the perfect solution for lustrous and healthy cat fur.  
Looking for more ways to care for your cat or treat cat issues? Check out our guide on How to Heal Cat Burns and How to Treat Conjunctivitis in Cats.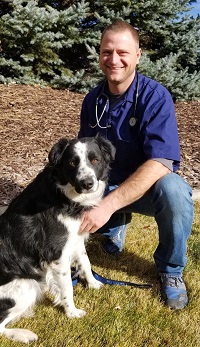 Reviewed by Dan Richardson, Veterinarian
Dan Richardson has been a practicing veterinarian for over 10 years. He specializes in surgery and orthopedics. Dan is originally from rural western Nevada and attended the University of Idaho for undergraduate study and Oregon State University for Veterinary School. The Richardson Family enjoys camping and spending time on the water fishing, paddle boarding, or digging their feet in the sand somewhere warm.
Sources:
National Cat Groomers Institute of America. What is Humane?

https://groomwise.typepad.com/ncgia_national_cat_groome/2011/11/

VCA Hospitals. How to Groom a Cat- Bathing & Brushing.

https://vcahospitals.com/know-your-pet/cat-care/behavior-and-facts/cat-grooming

ASPCA. Cat Grooming Tips.

https://www.aspca.org/pet-care/cat-care/cat-grooming-tips