Our dogs' eyes can compel treats, belly rubs, and endless tennis ball throws. Puppy eyes can be simply irresistible—a fact that's even been scientifically proven.1 But what if eye gunk or tear stains suddenly interrupt your pup's sparkling gaze?
First, give yourself some credit for noticing the issue. Keeping your own eyes open for potential problems is the first step to keeping your canine friend's eyesight healthy and shining.  
The second step is knowing how to clean their eyes at home and when it might be time to contact your local veterinarian. With some helpful tips on how to clean dogs eyes and spotting eye issues, you'll be able to keep your pup's gaze twinkling in the long term. It is also important to know how to tell if a dog has a fever, as eye issues could hint toward a larger issue such as a fever.
Cleaning Dog Eyes 101
Your pup might be perfectly capable of giving you those soulful gazes in spite of any eye discharge, dry eye,  or dog tear stains. However, gently cleaning their eyes at home can help to maintain their hygiene and eye health. 
Before you start, gather a few supplies:
Next, follow these steps:
Keep calm

– Whether it takes a few extra treats or a scratch behind the ear, cleaning your dogs eye becomes less stressful for your pup when they can achieve nirvana. To make it even easier, try to clean their eyes at a time when they're already relaxed and calm, like when they're sleepy after a long walk or at night after a good long pet session.

Wash up – Wet a washcloth or cotton ball with warm water or a spray of the eye wash. Gently hold it over the affected area, being careful not to touch the eyes themselves. This can help to soften any dried discharge or tear stains, allowing you to safely wipe them away.2
Flush out

– Using your

antimicrobial eye wash for dogs

, hold the bottle above each eye, gently opening their eyelids.2

Squeeze drops into the corner of each eye. S

tart at the outside corner and flush toward the inside.

Blink away

– Allow your pooch to blink afterward. This can help flush out unwanted detritus and relieve irritations and allergies alike. 

Provide relief

– After the eye wash, follow up with an

antimicrobial eye gel

for added protection to combat any eye infection or eye problem. A gel can help to lubricate your dog's eyes and soothe itchiness and irritation. 
Take a few minutes to do this every day for your pets eye, and you'll be rewarded with many a tail wag. We can't emphasize enough, however, that serious eye irritation problems should be left to the experts. If you're ever unsure about your dog's condition, ring up your preferred vet.
When Your Dog's Eye Issues Might Require a Vet Visit
From mid-air frisbee catches to the world's fastest zoomies, your dog might have plenty of talents. But that (probably) doesn't include telling you, "Hey, my eyes could use some help." While a regular eye cleaning can help you maintain their health and cleanliness, some eye conditions might require an expert opinion or even medical treatment.
Luckily, your canine companion has plenty of ways to clue you in when something's up in the eye area. 
To identify canine eye trouble, watch for these signs:
Tear stains – A tear stain often appears as a rusty, brownish-colored stain beneath the eyes, and in most cases, you can safely clean them at home.3

But if your dog's tear stains seem to worsen or show up alongside other symptoms, it's a good idea to check with your vet.

Eye drainage – Your dog's eye drainage or "eye gunk" might appear as mucus-like discharge around the edges of their eyes.4

A small amount of clear eye gunk might be a normal result of your dog's eye drainage that you can clean yourself. But if the the drainage appears yellow, green, or excessively thick, it's time to seek an expert opinion.



Redness – If your dog's eyes appear red or swollen, it's a sign to call the vet right away.5

This symptom could be a sign that something is irritating your dog's eyes, such as allergies or an infection. 
Steps to Prevent Future Eye Problems
If your fellow dog owners ask how to clean dog eyes, now you can answer as confidently as your best friend can bark. To maintain your dog's healthy eyesight in the long term, however, it can help to take a few additional steps.
Keep this advice in mind moving forward:
Wash regularly

– Cleaning your dog's eyes at least a few times a week can help you maintain their eye health over time. It's also an excellent way to make sure you examine your pup's eyes often and stay on the lookout for any problems.

Clip and snip – Keeping your dog's nails clipped can help protect their eyes from any pawing or scratching.6

If your dog has long hair that gets in their eyes, keeping it trimmed can also help prevent irritation. If you need help, you can ask your vet or a groomer to clip your dog's nails and snip away those problematic locks.

Keep your car windows closed – While your dog might enjoy smelling all those delicious scents as they lean out your car window, it's better for their eyes to keep the windows rolled up.6

When all that air rushes by your window, all manner of dirt, dust, and bugs can enter your dog's eyes, causing irritation and even lasting eye damage. On the bright side, they'll be closer to you when the window's closed.

Visit your vet

– Even if you become an expert at eye washing, some eye problems can be harder to identify. To help you catch any eye issues you might miss, be sure to take your dog to routine checkups at the vet. 
Keep Your Dog's Eyes Sparkling with Vetericyn
Even if it means you end up spending more on treats because you can't resist the irresistible, the sooner your pooch gets back to those irresistible puppy dog eyes, the better. At Vetericyn, it's our job to help make "sooner" a reality.
Whether you need an eye wash for dogs or a pet shampoo to give your pup a whole-body bath, our non-toxic, veterinarian-approved products are the bark of the dog park. We want nothing but the best for your four-legged buddy—because we know how much they mean to you. Whether you're wondering how to treat mange in dogs, or how to remove a tick from a dog, Vetericyn has got you covered!
As much as it is important to clean your dog's eyes, it is also important to know how to clean dog ears to prevent any infections. 
Visit Vetericyn today and find the animal wellness products you need.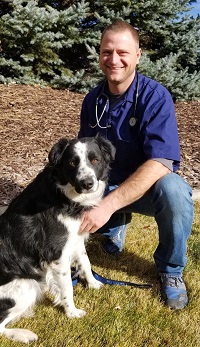 Reviewed by Dan Richardson, Veterinarian
Dan Richardson has been a practicing veterinarian for over 10 years. He specializes in surgery and orthopedics. Dan is originally from rural western Nevada and attended the University of Idaho for undergraduate study and Oregon State University for Veterinary School. The Richardson Family enjoys camping and spending time on the water fishing, paddle boarding, or digging their feet in the sand somewhere warm.
Sources: