It's far from ideal, but dogs—just like humans—have a tendency to bring home some cuts and scrapes from time to time.
Particularly if your pup loves to frolic outdoors, you'll probably see some sort of injury show up in their lifetime. Having the right pet care equipment on hand and knowing how to cover a dog wound properly are both essential for keeping your furry friend safe, regardless of whether or not you ultimately need to take them to the vet.
In this guide, we'll teach you how to assess the nature of your pet's injury, how to bandage their wound, and the steps you can take to fast-track their recovery.
When To Put a Bandage On Your Dog
If your dog brings home an injury, your main concern is how susceptible the affected area is to infection.
Dogs may be prone to infection because of their inherent tendency to roughhouse outside—not to mention, the density of their fur. This means it's imperative to always check your dog for post-play injuries, not just when they exhibit signs of distress.
It's also important to act quickly if your dog brings home an injury. But before you break out the Ace bandages and antiseptics, you'll need to assess three areas to determine how to treat their wound:1 
Injury cause

Injury location

Injury severity
The Cause of the Injury
If your dog's injury occurred beyond your purview, it can be difficult to know how they hurt themselves in the first place. When in doubt, the nature of their wound may be able to give you some clues as to how the injury happened.
There are three main types of wounds typically sustained by dogs:
Scrapes and bruises – Just like a kid coming home from a bike ride with a banged-up knee, scrapes are a relatively innocuous type of dog wound. Abrasions damage the topmost layer of skin, and usually develop some minor swelling or bruising as they heal. Dog scrapes are common and typically occur after playing outside. Though they need to be addressed quickly to prevent infection, this type of injury is the most easily treatable.2
Lacerations

– Lacerations or cuts may be minor, or they may be bleeding, deep, acute, and painful. In either case, the site of the open wound is usually clear-cut. Lacerations can be caused by an encounter with another animal or an inanimate object (e.g. broken glass). A dog with a laceration may require stitches, staples, or even surgery for wound closure. It's also not uncommon for a vet to prescribe your dog medication so they aren't in pain as they heal.

Puncture wounds – A puncture wound refers to any injury that bores through multiple layers of tissue. These wounds can be as minor as a splinter or as serious as a dog bite wound or even a gunshot wound. Even when puncture wounds appear minor or superficial, they can be dangerous and even life-threatening. Your top concern for puncture wounds is tetanus, which can set in if your dog doesn't receive veterinary treatment and wound care immediately.3
The Site of the Injury
The location of your dog's wound is also highly relevant to how vulnerable their injury will be to infection. 
For instance, if your dog limps home with damage to their paw, you'll need to address the issue briskly—particularly if they have a predilection for self-licking and introducing dog saliva to the wound. Dogs often attempt to nurse their wounds with their saliva because it naturally contains chemicals with antibacterial properties.2 However, excessive licking can do more harm than good, spreading more microbes to the affected area.
Similarly, the location of the wound will impact how you should take care of your pup as they heal. In general, the larger the surface area is, the more limited your dog's behavior should be during recovery. Smaller wounds, like minor cuts, can be easier to dress, but you'll need to keep a close eye on them to ensure your dog doesn't fuss with or remove bandages during the recovery process.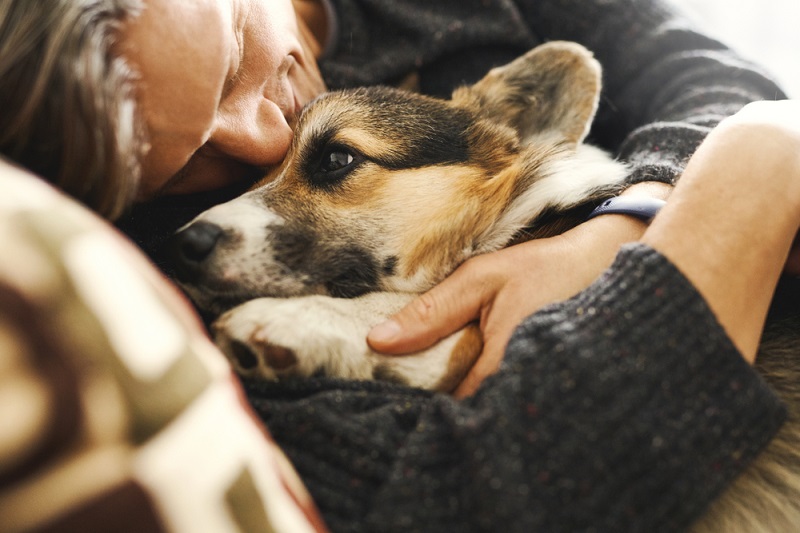 The Severity of the Injury
While you may be able to manage minor bumps and scrapes at home, more severe wounds need to be examined by a professional. If you're not sure how serious the wound is, your best course of action is to observe your dog's behavior.
Your dog is probably in pain if they exhibit:
Barking, growling, yelping, or moaning

Sudden aggressive or self-isolating behavior

Changes in appetite or sleeping habits

Persistent changes in breathing patterns

Limping or difficulty moving

Twitching, shivering, or convulsions

Excessive self-licking4
If an animal you love gets even a minor injury, it's completely understandable if your own anxiety makes it difficult to assess the severity of the wound objectively.
When in doubt, both you and your pup will fare best if you err on the side of caution and take them to the vet for a second opinion. 
How to Dress a Dog Wound
Keeping a safety kit on hand for your pet is just as important as having a stash of band-aids, antiseptics, and Wound Cleanser (have it link to Puracyn?) for the humans in your household.
Ideally, you'll have the following equipment on hand in your medicine cabinet for wound dressing:
Electric clippers

A water-based lubricant

Fresh towels or washcloths
Many pet owners find antimicrobial spray formulas preferable to antibiotic ointment. Ointments require you to rub your dog's wound directly, which can be painful, make infection more likely, and make them less likely to sit still as you dress their wound.
Antimicrobial sprays like the Vetericyn Plus Antimicrobial All Animal Wound and Skin Care Spray are pain-free and easy to administer. They help keep the area clean to aid in reducing chances of infection without causing any further discomfort in the process.
Remember, you'll need the proper wound-dressing tools on hand whether or not your pup ultimately needs veterinary attention. If they sustain a minor bump from outdoor play, you'll need to bandage them up to offset bacterial infection. If you do have to take your dog to the vet, a temporary dressing will help protect their wound while they're en route to the clinic.
How to Apply a Dog Bandage, Step-by-Step
If you've got all your tools at the ready, here's how to get your dog bandaged up and back on their paws again:
Calm them down

– When your dog is in distress, the single most important thing you can do as a pet parent is to remain calm. If your dog is on the smaller side, swaddle them in a blanket to help relax them. For larger dogs, join them on the floor and use a soothing, soft tone of voice to reassure them. If necessary, you may need to use a leash or a muzzle to keep your dog from biting while they're in distress. This way, you can deliver the treatment they need without sustaining an injury yourself.

Shave the site of injury

– Particularly if your dog has long hair, you'll probably need to remove hair from their wound to treat it properly. Wash your own hands first. Then, apply your water-based lubricant to make shaving easier. Exercise extreme caution when using the electric clippers so you do not further damage the surface layer of skin. If you need to, you can also use scissors to clear away hair. If your dog won't sit still during this process, you may need to take them to the vet.

Remove hair and debris

– Once you've removed sufficient hair from the damaged area, use the washcloth and warm water to wipe the site clean, remove any other debris, and prepare it for treatment.

Irrigate with antimicrobial spray

– Liberally apply the antiseptic to the wound to keep microbes and bacteria from propagating.

The best choice

for pups is a non-toxic, moisturizing solution. If possible, avoid steroids and do not use antibiotics unless prescribed by your vet.

Administer a bandage wrap

– You can purchase a wound wrap tailored for dogs online, but if you're in a bind, you may also use a first-aid elastic bandage to dress your dog's wound.
The main purpose of putting a bandage on your dog is to keep your dog from licking their wound and preventing more bacterial growth.
You'll need to remove the bandage 3x per day to reapply their antimicrobial spray and apply a clean bandage. Elastic bandages can be easily washed in the laundry, but be sure to reapply a clean one each time you dress their wound.
Tips For Speeding Up Dog Wound Healing
Dressing your dog's wound adequately can be tricky, but the toughest part can be making sure their bandage stays put for the duration of their recovery.
Here are three things you can do to keep a wound cover intact and heal a dog wound fast:
Don't use small bandages

– While small wound dressings like Band-Aids work well for humans, flimsy bandages don't adhere well to dogs—and they probably won't stay on for long. You'll need to dress even small scrapes and abrasions on your dog with a properly-sized bandage that you can spool around their injury in layers.

Curtail outdoor time

– Bandages tend to get wet or dirty easily. During the week your dog is healing, you may have to curtail their outdoor play to prevent bandages from getting soggy and exposing them to any more bacteria. But that doesn't mean you should skimp on playtime! If you're up for it, fooling around with some squeaky toys or floor play may be just the recipe to keeping their spirits high during recovery.

Consider a collar

– If you've ever gotten an injury yourself, you know how itchy and uncomfortable they can feel as they heal. You can keep your dog from picking at their bandages and itchy wounds with an e-collar. These "cones of shame" help keep your dog from pawing, licking, or gnawing at their wound as it heals.
Lastly, keep a close eye on your dog's injury. If it doesn't seem to be improving within a few days, bring them in for a check-up to confirm they haven't contracted an infection.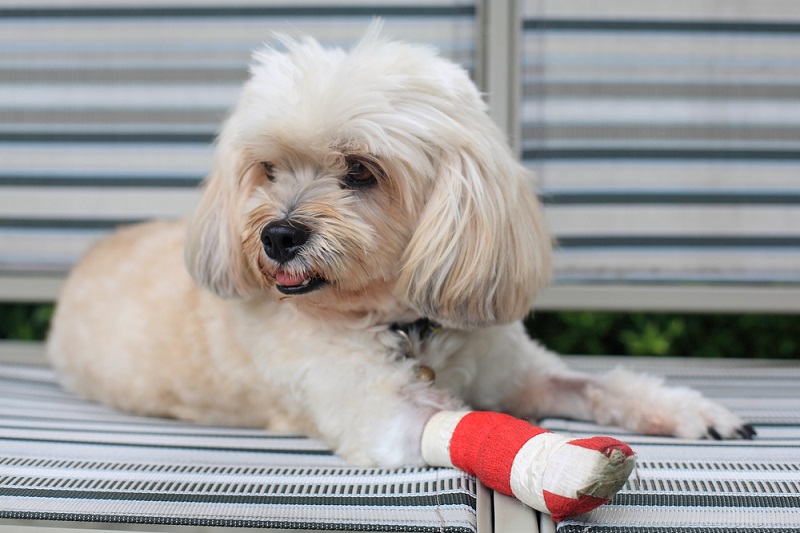 Get Your Pet's First-Aid Kit Ready with Vetericyn
Understanding how to clean a dog wound properly while also identifying and bandaging it is an essential part of being a prepared pet owner. As a result, it's crucial to have the right first-aid supplies on hand. 
Stock up on your animal care essentials with the Vetericyn Plus Antimicrobial All Animal Wound and Skin Care solution. Our formula is:
Non-stinging

Non-toxic

Antimicrobial

Steroid-free
Perfect for pets of all stripes and species, this spray is safe to use around sensitive areas like the eyes, ears, and mouth of your pet. For instructions on how to use our spray and a closer look at all of our veterinarian-backed products, visit Vetericyn today.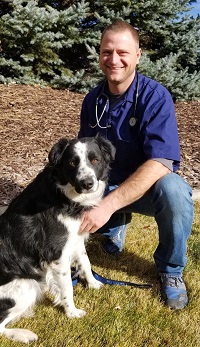 Reviewed by Dan Richardson, Veterinarian
Dan Richardson has been a practicing veterinarian for over 10 years. He specializes in surgery and orthopedics. Dan is originally from rural western Nevada and attended the University of Idaho for undergraduate study and Oregon State University for Veterinary School. The Richardson Family enjoys camping and spending time on the water fishing, paddle boarding, or digging their feet in the sand somewhere warm.
Sources: