How To Prevent Bloat in Dogs
Every pet owner and parent wants to make sure that their furry friends are happy and healthy at all times. Usually, a few treats and 30 minutes of belly rubs is enough to keep them happy (tail wagging included), but keeping them in perfect health requires a more diligent, observant approach. 
Whether it's the dog food or health issues, there are a few reasons why your dog bloats. Bloat is one of the many health issues we need to keep an eye out for, as it can become a medical emergency for our pups if left untreated.
Of course, every pet owner wants their pet to be healthy and happy. In this blog, we'll prepare you for this particular aspect of pet parenthood by covering how to prevent bloat in dogs, as well as the symptoms, risk factors, and treatment options.
Practice Four Simple Preventative Measures for Everyday Care
From observing the signs of constipation in dogs, signs of dog bloat, or even understanding how to treat constipation in dogs, dog gut health is crucial for our furry friends to thrive. Preventive care is important for dog health, and fortunately for pet owners, preventing bloat in dogs overlaps significantly with generally taking good care of your pup, and most practices can easily be incorporated into your daily routine:1
Feed them a healthy diet – To reduce the likelihood of bloat, many veterinarians recommend:2

A combination of dry dog food and wet, canned foods

Calcium-rich meat meal, whether from fish, chicken, lamb, or any other animal

Limited animal fat, especially not in the first four primary ingredients

No citric acid anywhere on the ingredient list

Encourage safe eating habits

– When creating a healthy feeding schedule, try to:

Feed your dog multiple meals each day (two or three) rather than one large feast

Slow their eating using a specific type of food bowl, made with ridges and patterns on the bottom to lengthen meal times

Place their food bowl on the ground rather than on an elevated surface

Provide drinking water alongside meals, but stop them from gulping excessive amounts at one time

Schedule their exercise times appropriately

– If your parents made you wait 45 minutes after eating to go for a swim, this advice will sound familiar. To encourage healthy digestion, create a one-hour window on either side of feeding times where you avoid exercise with your pup.

Consider medical interventions – For large, deep-chested breeds or other dogs with a genetic disposition to bloat, veterinarians can perform a suturing procedure known as gastropexy.3 This surgery is often recommended for high-risk breeds such as Great Dane, St. Bernard, and Standard Poodle because of their tall, narrow chests, so be sure to consult a veterinarian if your dog might be especially susceptible to bloat.4
These prevention tactics address many of the most common behavioral risk factors associated with canine bloat. It also helps to understand the ins and outs of both telltale signs and risk factors to better identify early symptoms of bloat and seek the appropriate medical assistance.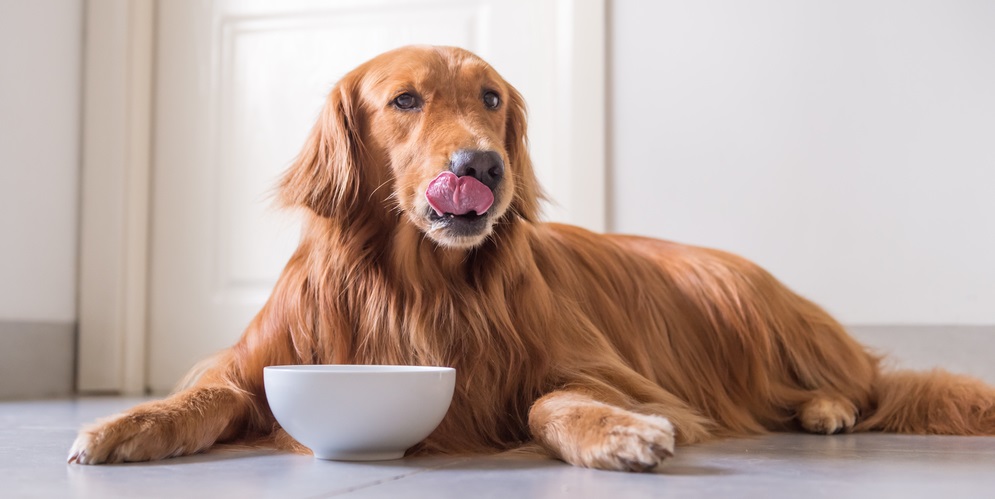 Pay Attention to Signs and Symptoms for Early Identification
Bloat is a common condition that occurs when a dog's stomach begins to fill with fluid, gas, or food. Even in minor cases, this expansion of the stomach leads to increased pressure in the abdominal cavity, which can lead to decreased blood flow to the hind legs and vital organs. As bloat progresses, the stomach wall lining can become damaged and excess pressure on the diaphragm can lead to respiratory distress.
In only a matter of hours, this lack of blood flow can send a dog into a state of shock. In other words, bloat is a medical emergency that requires immediate attention from your veterinarian.
Since it's crucial to catch bloat in the early stages, here are some signs and symptoms for you to watch out for in your canine companion:5
Visible discomfort 

Distress, including pacing, anxiety, and other restless behaviors

Retching or dry-heaving

Enlargement or swelling of the abdomen

Panting, excessive drooling, and pale or discolored gums

Elevated heartbeat and breathing rate

Fainting or falling over
By recognizing these signs of bloat in your dog, you'll be better prepared to take them to a veterinarian before the condition becomes too severe. 
Understand the Risk Factors
While a bloated stomach is dangerous for any dog, certain risk factors leave some animals more susceptible than others. You'll want to pay extra attention to common signs of bloat if your dog exhibits these physical or genetic characteristics:6
Is entering old age

Is male

Has had a relative diagnosed with bloat or GDV

Experiences anxiety, aggression, or hyperactivity

Weighs 100 pounds or more, or is underweight for their breed

Has a deep, narrow chest
Additionally, a 2002 study by a Purdue University Ph.D. candidate found that 30% of bloat cases observed were attributable to the consumption of dry food with fat as one of the four primary ingredients, and 33% were because of dry food with citric acid in it.7
Prepare for Potential Treatment Plans
Because bloat is life threatening, treatment could require serious medical intervention. If your dog is diagnosed with bloat or GDV, a veterinarian might pursue the following:8
Blood tests, X-rays, and other diagnostic tests to assess the damage and check vitals

Intravenous fluids to treat shock

Medicine to treat pain or possible infection

Insertion of a tube or hollow needle to remove gas and release pressure

In most cases, emergency gastropexy surgery to untwist the stomach and suture the organ to the abdominal wall to prevent future GDV
If the condition is caught early enough, treatment can be minimally invasive and may not require a prolonged stay at the veterinary clinic or hospital—that's why it's so important to monitor for symptoms and practice preventative care.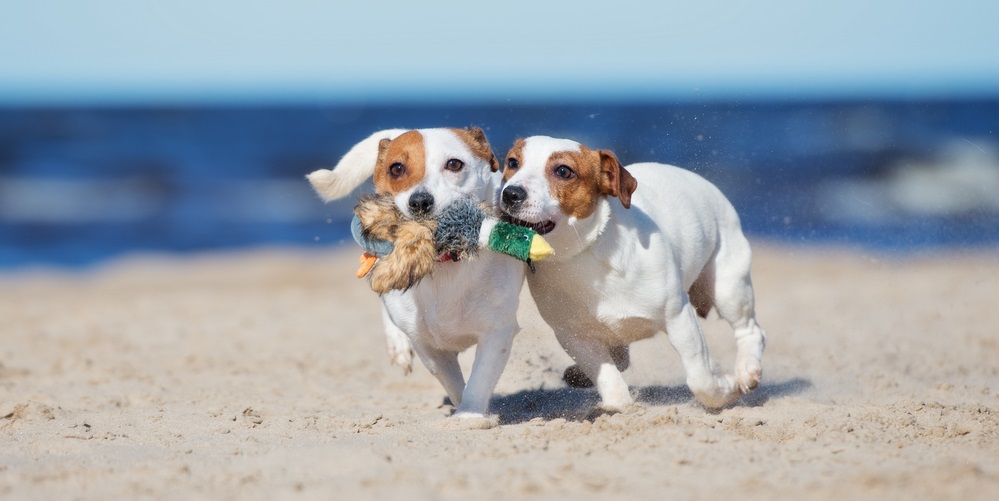 Protect Your Pup's Health, With Help from Vetericyn
Canine bloat is a serious condition, but it can be prevented through diligent everyday care and ongoing observation. A licensed veterinarian will be better able to help you determine a healthy routine and decide if early, preventative gastropexy is right for your breed.
Whether it's paying attention to signs of constipation in dogs or understanding the causes of diarrhea in dogs, it's important to observe your dog's health.
For your pet's health—digestive and otherwise—we offer carefully formulated products to promote animal wellness, such as the Vetericyn® ALL-IN Dog Supplement. Formulated for puppies, adults, and senior dogs, our supplements are loaded with prebiotics and antioxidants to help strengthen canine gut health, prevent digestive issues, and promote an active immune system—in other words, keep that tail wagging for years to come. Visit Vetericyn to learn more about keeping your dog healthy and happy.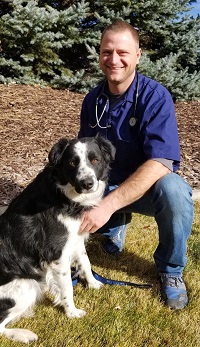 Reviewed by Dan Richardson, Veterinarian
Dan Richardson has been a practicing veterinarian for over 10 years. He specializes in surgery and orthopedics. Dan is originally from rural western Nevada and attended the University of Idaho for undergraduate study and Oregon State University for Veterinary School. The Richardson Family enjoys camping and spending time on the water fishing, paddle boarding, or digging their feet in the sand somewhere warm.
Sources: