How to Properly Clean Your Cat's Eyes
From Cleopatra to Taylor Swift, humans have been trying to replicate their feline friends' fierce eyes for millennia. Makeup trends aside, caring for your (actual) cat's eyes is a lot more involved than nailing that winged eye-liner—especially when it comes to keeping them clean.
As much as cats are known for their meticulous self-grooming routines, their eyes are one thing (well, technically two things) they can't properly clean on their own. It's cute to watch your cat lick their paw to wipe their face, but unfortunately, that method just won't cut it. Your independent kitty might not like it, but it's important to learn how to properly clean your cat's eyes.
Read on to learn how to clean—real—cat eyes (no makeup remover necessary). 
Keep an Eye on the Signs
You know your cat is always judging, we mean watching, you. And it's just as important for you to keep an eye on their eyes. Neglecting to keep them cleaned and cared for can even result in health problems, so keep your eyes peeled. 
What to Look For
If you think you're the only one who can communicate with your kitty through their eyes—think again! Research suggests that cats really do communicate with humans through their eyes. You might understand if your cat is trying to tell you they'd love a nice bowl of milk, but not that they need to have their eyes cleaned. 

To that end, if you notice any of the below, it's probably time to for a bit of eye grooming: 
Discharge

Pawing at the eyes

Excessive blinking

Squinting

Crustiness
Potential Problems
If you notice your cat exhibiting any of the symptoms we just listed, take them to the vet to have them checked out. Though cat eye problems are often mild, they can also be signs of more serious health problems like:
Respiratory Infections 

Conjunctivitis (aka Pink Eye)

Corneal Disorders
If you're starting to panic, don't. Discharge and crustiness isn't always caused by things with scary sounding medical names. In fact, it's often the result of allergens or a simple cold.
Your vet is the only one who can carry out a proper evaluation, so go ahead and start wrangling your cat into the kitty carrier for a trip to the office. Once they've diagnosed the issue, they'll let you know if medical treatment—like antibiotic drops—are necessary. 
If your cat doesn't need a prescription and your vet gives you the green light to clean their eyes at home, you'll need a few key supplies, a game plan, and maybe a scratch-proof suit. 
Supplies 
If you've tried giving your cat a bath, or honestly getting them to do anything they don't want to do, you already know that your stubborn kitty (we know you love them anyways) might not take too kindly to you trying to clean their eyes. 

We can't say we blame them, but you're going to need a few supplies to help you win this battle:
Sterilized water at room temperature (you can boil it to ensure it's free of any microbes)

Cotton balls or a clean cotton washrag

Pet-safe eye rinses 

A soothing agent 

Patience and bravery 
Tips and Tricks
Now that you know what you'll need, the real question is: How are you going to pull this off without sustaining any scratch-related injuries? Take a look at these tips:
Ask For Help

– Cleaning your cat's eyes means all hands on deck. You'll definitely need both of yours, so have someone hold your kitty while you do the dirty (well, cleaning) work.

Catch Your Cat Relaxing

– While there's no

ideal

time to clean your cat's eyes against their will, some moments are definitely better than others. Trying to clean their eyes while they're in the middle of chasing down their favorite toy mouse isn't going to go over well. 

Clean Hands, Clean Supplies, Clean Eyes

– Wash your hands thoroughly before you get anywhere near your cat's eyes, use sterilized water, and clean towels or cottons balls. Use fresh supplies for each eye so you don't spread dirt and germs from one eye to the other. 

Use Non-Irritating Products

– If you're using an eye rinse or ointment, be sure to choose products that won't sting or cause irritation. For example, Vetericyn's

Antimicrobial Eye Wash

and

Ophthalmic Gel

are gentle blends that don't cause discomfort. 

Work From the Inside Out

– Start cleaning at the inner corner of your cat's eye and work your way out to remove dirt, debris, and discharge more effectively. 
Keep Your Cat Eye(s) Looking and Feeling Fierce 
Keeping your cat's eyes clean will ensure there's no bacteria buildup, thus keeping your furry friend in tip-top shape. Your feline friend won't love the process, but even they'll think it's worth it when their eyes are clean, comfortable, and healthy. 
That side-eye they're giving you might be one full of gratitude and love. 
But at the end of the day, if you're noticing something abnormal (or you're not totally confident in your cat eye cleaning capabilities), just hop into your local vet. They can diagnose the problem, show you how to care for their eyes, and allay any fears you might have.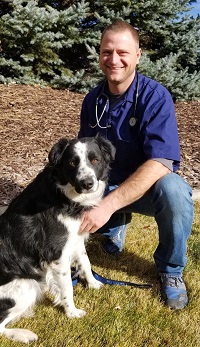 Reviewed by Dan Richardson, Veterinarian
Dan Richardson has been a practicing veterinarian for over 10 years. He specializes in surgery and orthopedics. Dan is originally from rural western Nevada and attended the University of Idaho for undergraduate study and Oregon State University for Veterinary School. The Richardson Family enjoys camping and spending time on the water fishing, paddle boarding, or digging their feet in the sand somewhere warm.
Sources: