How to Remove a Tick from a Dog
Traipsing through the woods, retrieving at the beach, or lounging in the backyard—your dog can pick up a tick just about anywhere1. But what happens when you notice one of these petrifying parasites on your pooch pal?
First off, don't panic—our pet (and pest) experts are here to help.
In this guide, we'll teach you how to remove a tick from a dog, discuss some tick facts, and share our top tips for prevention.   
Removing Ticks: A Step-By-Step Guide
Since you're very likely to encounter one (or more) sometime during your pet parenting days, it's important to know how to remove a tick from a dog. Let's get into the thick of tick removal.
#1 Prepare Your Supplies
First, you'll need to gather a few supplies to safely and cleanly remove ticks from your dogs skin. Your tick removal starter pack should include:
Nitrile or latex gloves

Tweezers 

A

cleaning solution

for post-removal cleansing

Tick disposal tools 

Your pup's favorite treats
A few notes on these supplies:
Dogs can, in fact, develop allergies to natural or synthetic latex. Keep a watchful eye on your dog's skin and watch for post-removal itching if you opt for latex gloves.2

Broad tweezers are preferable to sharp, precise ones when it comes to an effective tick removal tool. Ticks can be very small, but once they latch onto the skin, they cling

very

tightly. A sharp pair of tweezers could sever the ticks head from the ticks body as you pull it out, leaving it behind in the skin. So, you want to make sure that you are choosing the right tick removal tool to remove the entire tick from your dogs body.

Any antimicrobial cleaning solution will do as a tick remover, but prioritize a soothing product for post-bite irritation and itching—

Vetericyn Plus Antimicrobial Hydrogel

is an excellent choice.

Ticks are notoriously hard to kill. We'll cover a few murderous methods in Step #4, but make sure you have your extermination materials on-hand for immediate use after removal from your pets skin.

Your fluffy pupper always deserves treats, but

especially

so after you pluck a parasite out of their skin. 
#2 Subdue Your Dog
You should remove a tick as soon as possible after you spot it, but you can make the removal process significantly easier by subduing your dog before breaking out the tweezers. 
Here are a few ways to relax your dog before you start playing Operation:
Use your settling commands, and begin working as soon as your dog has stay subdued for at least 10 minutes.3

If your dog doesn't know settling commands yet, exercise them hard for 10 to 15 minutes to tire them out. Play fetch, take them for a leashed jog, or strike up a heated tug-of-war session. 

Administer veterinarian-prescribed sleep aids—that you may use during thunderstorms or fireworks—and give the meds ample time to kick in.
Once your pup is relaxed enough to sit relatively still, get to work on that tick.
#3 Remove the Tick
Removing ticks is simple as long as you use the right technique and tick removal device:
Find the tick

– Locate the tick and try to remember the location.

Move the fur

– Use water, hair gel, or a friend to help you hold back your pup's fur.

Tweeze the head

– Try to get the tweezers around the tick's head before pulling firmly.
While this sounds simple, you might have some hangups:
If you can't find the tick, use a brush or comb to sift through the approximate location where you saw it. Once ticks latch onto the skin, they don't tend to switch spots.

If your pup won't sit still long enough to complete the removal, enlist a friend to help hold them steady. Sometimes, it takes a village. 

If you pull out the tick, but still notice a black dot left behind in your pup's skin, take a look at the portion you removed. It's very easy to leave a tick's head behind.
#4 Dispose of the Tick
Ticks are like cockroaches—they're persistent and hardy. Squishing a tick between your fingers won't get the job done. Plus, if you squash a tick with bare hands, you could expose yourself to any diseases it's carrying (yuck).4
Luckily, pest experts have determined a few sure-fire ways to exterminate ticks for good:
Use your fingernails

– With

gloved hands

, place the tick on top of your thumbnail. Using your other hand, crush the tick between your two thumbnails. Immediately dispose of your gloves and wash your hands. Keep in mind that ticks can be fast movers—act fast to keep them from making a meal out of you. 

Use heavy books

– After you remove the tick, drop it into a spare latex or nitrile glove. Place the glove between two heavy books to crush it. You can even sit on the book stack for good measure.

Use alcohol

– If you have some on hand, you can drop the tick into a capful of isopropyl alcohol. But watch closely to make sure the tick doesn't crawl out. 
Timeline for Tick Removal
If you discover a tick on your pup, it's important to take care of the problem as soon as possible. While you may be tempted to finish cooking dinner, wait until you return from the dog park, or hope the tick breaks loose overnight, time is of the essence.
Remember that, even if you remove the tick as soon as you spot it—after subduing your pup enough to tweeze at their skin—the tick could have spent substantial time attached to your dog's skin before you took notice.
Since the timeframe from the first bite to your observation is usually a mystery, the best possible course of action is to make haste. 
Even if it's the middle of Thanksgiving dinner, the Westminster Dog Show, or the Puppy Bowl, the time you take to protect your dog from a tick-borne illness is always well spent.
Why Do Dogs Get Ticks?
If you've discovered a tick somewhere on your body before—after a hike, during a yard work marathon, or even after a shopping spree in the city—then you know just how shiver-inducing these creepy critters can be. 
Dogs pick up ticks the same way humans do—the tick latches onto the host's skin and hangs on with an incredible force as it feeds.1 
However, dogs also tend to—unintentionally, of course—put themselves in ticks' paths more often than humans do. If you've ever explored with your pup off-leash, watching them pile-drive every shrub in search of squirrels will give you a pretty clear picture of how they end up with unwelcome, parasitic hangers-on. Because of this, it is also very important to know how to clean your dog, including how to clean a dog ears, as ticks can burrow in any part of a dog's body. 
Just like it's not your fault if you pick up a tick, your dog isn't to blame either. And, since the only way to avoid them is to stay inside 24/7, humans and their puppers must simply learn to live with the pesky pests.
Are Ticks Dangerous to Dogs?
Ticks are dangerous to most mammals—including dogs and humans. There are a few different tick varieties, but they're all capable of carrying diseases like:4
Rocky Mountain Spotted Fever – A bacterial infection that can be deadly without antibiotic treatment.5
Ehrlichiosis – Characterized by rash, fever, and sometimes intestinal distress, but very treatable with antibiotics.6
Q Fever – Commonplace among grazing animals, like cows, sheep, and goats, Q Fever causes chills, fever, and intestinal distress.7
Lyme Disease – The most recognizable of tick-borne illnesses, Lyme Disease is characterized by fatigue, muscle soreness, and rash. If left untreated, Lyme Disease can spread to the heart, nervous system, and joints.8
Tick-borne illnesses are very common, so pet parents should keep a close eye on their pups for signs of these creepy-crawlies.
Tick Prevention
When it comes to ticks, prevention is the best medicine. Take the following steps to foil any ticks' plans to feast upon your pup:
Keep up with your dog's regular flea, tick, and heartworm prevention medication.

Wash your dog frequently with a

high-quality shampoo

. 

Add a tick check to your regular bath time routine. Regularly examining your dog's skin is also an excellent method for catching potential

hot spots

early.

If your dog has picked up ticks in the past, avoid the areas you predict might be tick-infested. If the areas are unavoidable, leash your dog to keep them from rooting around in tick-filled underbrush.
Tick prevention is simple, and generally not time-consuming. If you're already going to the vet regularly and washing your pup whenever they start to smell, preventing ticks requires only a bit more time and patience.
Vetericyn: Keeping Your Furry Friend Happy and Healthy Since 2009
Learning how to remove a tick from a dog is an inevitable lesson of pet parenthood. And if anyone is capable of being the best pup parent ever, it's you! Plus, you can rest easy knowing you have a team of canine caregivers on your side—the experts at Vetericyn. 
From wound treatment products to pet shampoos, and everything in between, our line of pet-safe products is designed with you and your furry family in mind. In fact, our entire line is safe to ingest, so if your pup is a licker, you can skip the cone after treating them to a spa-level care experience. From answering the question of how to tell if a dog has a fever to how to clean a dogs eyes, our products provide a safe treatment for any of your pet owner queries. If you're also wondering how to treat mange in dogs, we've got you covered!
Whether you're dealing with a nasty tick or a routine bath, Vetericyn has your back—and your dog's back, too! Check out our full line of products today.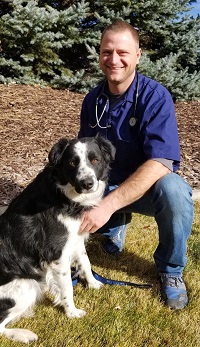 Reviewed by Dan Richardson, Veterinarian
Dan Richardson has been a practicing veterinarian for over 10 years. He specializes in surgery and orthopedics. Dan is originally from rural western Nevada and attended the University of Idaho for undergraduate study and Oregon State University for Veterinary School. The Richardson Family enjoys camping and spending time on the water fishing, paddle boarding, or digging their feet in the sand somewhere warm.
Sources: