How to Tell if a Dog Has a Fever
You may be able to tell when your partner or child has a fever, but do you know how to tell if a dog has a fever?
Whether you're new to pet parenthood or a seasoned pro, it's always a good idea to brush up on your basic pet care skills—and identifying a fever is one of them. 
In this guide, we'll teach you how you can identify a dog fever, discuss why dogs get fevers, and show you ways you can help your pup cope with that feverish "blah" feeling. Before you know it, you'll be able to sniff out a fever as well as a cartoon bloodhound can follow a perp's trail! 
Do Dogs Get Fevers?
Dogs do get fevers, but it's important to note that their baseline body temperature is generally higher than a human's.
While a normal human body temperature lies between 97 to 96°F, a dogs temperature hovers in the 99 to 102°F range. 
Plus, some pooches (just like some humans) run hot. If cuddling with your pup leaves you sweaty, your dog doesn't necessarily have a fever. Dogs' thick coats are excellent insulators, and if your dog doesn't show any other symptoms of a fever, a little toastiness is nothing to worry about. 
How Will I Know If My Dog Has a Fever?
Let's break down a few ways you can determine whether your pup is running a temperature.
Look for Tell-Tale Signs
A common symptom that can help you identify a fever is the nose test—if your dogs nose is wet and cold, they don't have a fever. But, if their nose is dry and warm, they could be feverish. 
While the nose test is helpful, it's not always a sure-fire way to identify a fever. If you've been playing fetch for an hour and your pup's nose is warm and dry, they probably just need a few gulps of cool water from the water bowl to return to normal.
If your pupper's snout doesn't pass muster, confirm a fever by looking for these other common signs:1
Warmer-than-normal ears

Bloodshot eyes

Shivering

Low appetite

Coughing

Heaving or vomiting

Fatigue and lethargy
Take Their Temperature
Luckily, there's a tool that can quickly tell you if your dog has a fever—a canine thermometer. 
If you don't currently have a pet thermometer to take your dogs body temperature, you should pick one up. A digital thermometer is relatively inexpensive, and they make an excellent addition to your furry friend's first aid kit.
There are two kinds of canine thermometers, and they each have benefits and drawbacks:1
Rectal thermometers

– For a less-than-pleasant (but informative) bonding experience, look no further than the rectal thermometer. While you may have to hold your pet down to take their temperature, this tool provides results within 60 seconds. Don't forget to use a neutral lubricant, like petroleum jelly or baby oil before taking your pets temperature.

Ear thermometers – While they come at a slightly higher price tag, ear thermometers can be significantly more comfortable for your pets. An ear thermometer measures the infrared heat released from your pet's eardrum, providing a reading quickly and painlessly—no lubricant required. Before using ear thermometers, it is helpful to know how to clean dog ears to make sure that the thermometer can be inserted safely.
Visit the Vet 
If your dog is inconsistently showing dog fever symptoms, and you don't have a pet thermometer at home, it's time to visit the vet. Depending on the severity of your dog's discomfort and symptoms, you may want to consider an emergency vet just incase there might be another underlying cause.
If your pup is behaving relatively normally, and they only occasionally show signs that something might be wrong, you can opt for an appointment a few days out. 
If My Dog Has a Fever, Is Something Else Wrong?
Fevers usually indicate another underlying problem, so pay close attention to your doggo to determine if they're experiencing something more serious. A fever may be an indication of:
Infection
Fevers and infections often go hand in hand.2 Why?
In mammals, the brain will often turn up the thermostat to help kill any bacteria or viruses that are inhabiting the body.3 Since cells thrive, multiply, and move under normal temperature conditions, a temperature increase can prevent virus and bacteria cells from operating at an optimal level. 
If your dog has a fever, look for signs of the following:
Skin infections and hot spots

– Use a brush or your clean hands to feel for inflamed, wet, or swollen skin on your pup. If you discover a skin malady, apply a

soothing antimicrobial treatment

, and schedule an appointment with your vet.

Ear and eye infections

– If your pup is scratching at their ears more often than normal, or their eye boogers are more gooey, runny, or discolored lately, they could be experiencing an ear or eye infection. Visit your vet for a course of antibiotics and clean the areas with a

high-quality shampoo

. 

Nail or paw infections

– Pups are hard on their paws—imagine the potentially-painful things you'd step on every day without shoes and socks! Check your dog's nails and foot pads for punctures, bleeding, or pus, and apply a

wound wash

if needed.

Internal infections

– If your dog is lethargic, if their bowel schedule changes, or if they're in pain while walking, sitting, or standing up, they may be suffering from an internal infection. Visit your vet right away if you suspect something below the surface. 
Respiratory Illness
Like humans, dogs can also come down with a cold every now and then. A variety of bacteria and viruses can cause respiratory illnesses in dogs, including:3
Canine influenza virus

Respiratory coronavirus

Distemper virus

Canine herpes virus

Bordetella

bacteria

Mycoplasma

bacteria

Canine pneumovirus 
If your dog has a cough, fatigue, runny nose, or a lack of appetite, schedule an appointment with your vet. While some respiratory illnesses go away on their own, others can be treated with a course of antibiotics to speed up the healing process. 
Poisoning
In a worst-case scenario, your dog may have ingested something toxic that's wreaking havoc on their body. If you don't kennel your pup while you leave the house, they're prone to eating anything they can find, or you live in a wooded area with unknown plants, they could have gotten into something nasty. 
If you suspect that your pet ingested a poisonous substance, contact your vet and the Pet Poison Helpline right away. 
In the meantime, consider whether your dog could have come across any of the following toxins:1
Antifreeze

Human medications, like:5

Sleeping pills

Vitamins

Painkillers

Cold and flu medications

Xylitol, an artificial sweetener found in many diet products

Toxic plants, like:6

Hydrangeas

Azaleas

Rhododendrons

Ivy

Begonias

Tulips

Lilies
If you suspect poison-related fever, take action right away. 
How Can I Help My Dog Cope?
Once you've confirmed that your dog has a fever and visited your vet for a diagnosis, there's nothing left to do but wait for the illness to pass. However, there are a few ways you can comfort your pup as they heal. 
Hydrate, Hydrate, Hydrate!
Hydration is crucial to illness recovery for humans and dogs. Make sure that your pet stays hydrated as they recover, especially if they've had a fever for multiple days. 
If your lethargic pup isn't walking by their water bowl very frequently, you can amp up their hydration with a few simple tricks:
Make hydration treats

– Follow the instructions on a package of unflavored gelatin, combine the mixture with unflavored Pedialyte, add a few dashes of beef or chicken bouillon, and chill the mixture in silicone ice cube trays in the fridge until they solidify. Hydration never tasted so good!

Give treats at the water bowl

– Reward your pup with a treat every time they visit their bowl to encourage future visits.

Concoct kibble soup

– Add a cup of warm water to your pet's wet or dry food, let the mixture sit for a few minutes, and stir the contents of the bowl to make a soup-like substance. This can make for an easy way to up your pup's water intake at mealtimes. 
Revamp Their Safe Space
If your dog is lounging through their recovery, amp up their comfort level by making their safe space as cozy as possible. Consider adding the following to their bed for optimal snuggly-ness:
Extra pillows

Fuzzy blankets or flannel sheets

A heating pad or a hot water bottle (covered in a towel to protect their skin)

Their favorite stuffed toys
If your pup isn't a regular cuddler, this is the perfect time to cozy up and comfort them. After all, you're their favorite person.
Encourage Exercise
To maintain good digestion, encourage hydration, and prevent restlessness, try to maintain as much of your regular exercise schedule as possible. 
Whether you opt for a few rounds of fetch, a short walk around the block, a light training session, or a less-rousing-than-usual game of tug-of-war, keeping your pupper even slightly active throughout their recovery can help them feel a little less blue.
Medicate with Prescription Medication or OTC Supplements
If your vet prescribes a course of antibiotics, a few doses of fever reducer, or a painkiller, keep your pup medicated diligently. 
Set reminders on your phone to give them their meds or add the pills to their bowl at mealtimes so you don't skimp on the schedule. 
Plus, a few over-the-counter products can boost your pup's energy level and potentially help them recover more quickly. Consider incorporating a probiotic or a supplement for overall health to support their healing efforts.
Protect Your Pet with Vetericyn's Pet-Safe Formulas
While learning how to tell if a dog has a fever isn't always straightforward, your efforts to monitor and protect your pup's wellness are worth every moment spent. 
At Vetericyn, we know just how scary it can be when your fuzzy friend is under the weather. That's why we've crafted the safest pet wellness products on the market—to give you peace of mind and to provide your pet with the health support they deserve. Vetericyn offers numerous tools to answer your pet health questions, including how to treat mange in dogs.
Whether your pup has a fever, your cat's eyes are acting up, or your livestock need some TLC, you can find the perfect, pet-safe antidote in our extensive wellness inventory. If you're also wondering how to remove a tick from a dog or how to clean dog eyes, Vetericyn has got you covered!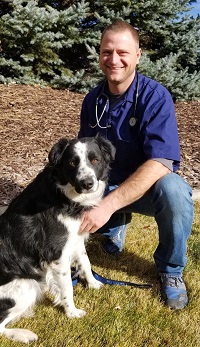 Reviewed by Dan Richardson, Veterinarian
Dan Richardson has been a practicing veterinarian for over 10 years. He specializes in surgery and orthopedics. Dan is originally from rural western Nevada and attended the University of Idaho for undergraduate study and Oregon State University for Veterinary School. The Richardson Family enjoys camping and spending time on the water fishing, paddle boarding, or digging their feet in the sand somewhere warm.
Sources: