How to Treat a Horse with Thrush: A Comprehensive Guide
In general, horses are considered to be a relatively healthy animal. As Americans, we even have a phrase where we jokingly brag about how healthy we are compared to our equine companions. While the general public may believe that being "as healthy as a horse," is simply casual banter, the reality is that every horse owner knows that the health of a horse is all about the work you put in. 
While it is no fault of the public that they hold a misguided opinion about equine health, care for a horse is no joking matter. To keep a horse healthy requires a devoted and caring daily routine. Founded on diligence and a desire to become knowledgeable about equine health, every horse owner must take it upon themselves to put proper horse care into regular practice. 
Occasionally certain equine ailments cause consternation for even the most seasoned horse owner. One such equine health issue is Thrush on horse hooves. While Thrush may not be completely uncommon, it is slightly misunderstood, and oddly fickle about which horses catch it and why. While the conditional causes may be debatable, the underlying issue, and how to treat it are fairly straightforward. This comprehensive guide of how to treat a horse with Thrush will offer you the necessary guidance you need to administer the best possible care for your horse with Thrush.
What Is Thrush?
Thrush is a bacterial infection that affects horse hooves. More specifically, Thrush attacks the soft tissue area in between the heel and the walls of the hoof known as the frog. According to Practical Horseman, the frog tissue is located on the sole of the foot and extends from the front of the hoof to the rear in a triangle or "V" shape. 
While commonly attributed to being a bacterial infection, Thrush isn't always caused by bacteria. While Thrush itself is a bacterial infection, all sorts of different fungi, microbes, and bacteria can contribute to a horse developing thrush. Essentially, Thrush is a bacteria growth within the hoof as the result of a growing microbial infection present in the underlying skin tissue of the frog.
What are horse Thrush symptoms?
The Merck Veterinary manual states that thrush develops gradually, and as a result, your horse may not show symptoms right away. Typically, Thrush develops over time due to any number of foot issues which cause the frog to recess and atrophy while simultaneously causing the heel of the hoof to take on more weight and pressure than it should. 
As the frog tissue continues to recess, it grows weak from lack of use, allowing the tissues to deteriorate and thus inviting microbial infestation and eventual infection. As it is left to fester and grow undetected, your horse will begin to show symptoms of lameness and an inability to use the affected hoof tissue. If you notice your horse is favoring his foot, Thrush is usually one of the first ailments to check for.
Thrush can be very painful for horses as the frog's tissue becomes inflamed and overrun with bacteria. Typically Thrush is characterized by a thick black discharge that smells like rotten dairy. This foul odor and thick discharge occur because the bacteria are actually fermenting within the frog's tissue. 
How Is Thrush Treated?
Here is the comprehensive method for treating Thrush based on the guidelines set forth by the VCA Hospital:
1) Remove the thrush infection – This will require a safe, clean environment where you can keep the horse calm. Removal of the infection may be painful for the horse, so having an assistant on hand would be beneficial.
To remove the infection, pare down the tissue until there is no more sign of debris. Once you have removed the Thrush, spray thoroughly with a thrush treatment. The thrush treatment should be reapplied daily.
2) Trim The Horse's Foot – To ensure that the Thrush will not return, the horse's hoof must be properly manicured. Trim the foot so that the horse's weight can be evenly distributed along the hoof's surface, as this will encourage the frog to grow back healthy and strong.
3) Check the Progress Daily – Whether or not you choose to bandage, the hoof is dependent on how severe the Thrush was. If it was a mild case, then it is best to leave the hoof uncovered as exposure to air will help the frog heal. Spray with an antimicrobial solution to prevent the resurgence of the infection.
How To Prevent Thrush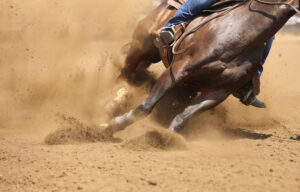 Preventing Thrush is just as important as treating it. The Horse Equine Health Care asserts that exercise is one of the best ways to prevent Thrush in horses as movement encourages the frog to flush itself out. Additionally, proper and healthy hoof care is paramount to preventing Thrush as a misshapen hoof can cause a healthy frog to become compromised. Finally, keeping your horse in clean, dry conditions and washing it with equine shampoo will help to limit the potential for a severe thrush outbreak.  
Thrush may seem like a daunting obstacle, but with the proper care, you can easily aid in your horse's recovery. A trusted topical thrush product is the best method for fighting infections and for preventing their spread. Thrush is just one of many equine infections that can be stifled with a trusted and proven product. 
If you feel that your horse's Thrush has become too advanced to care for by yourself, do not hesitate to call your vet. Your horse's care and well being are of the utmost importance, and ensuring the best possible care is the top priority. Thrush is a relatively common occurrence in horses, but with this comprehensive thrush treatment guide, it only has to be a one-time occurrence for you. For more resources on treating other hoof conditions such as a horse hoof abscess, explore our extensive horse care products and guides.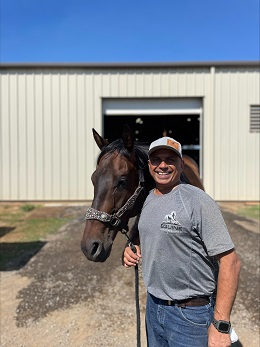 Reviewed by Solomon Benarroch, Veterinarian
Solomon Benarroch DVM has been a practicing veterinarian for over 30 years. His primary focus has been in equine soundness and performance sports medicine. Originally from Winnipeg, Canada he attended college at the Western College of Veterinarian Medicine. And completed an internship at the University of Minnesota. He is the father of three kids and when he isn't working (which is rare), he enjoys traveling, cooking, and spending time with friends and family.

Sources: