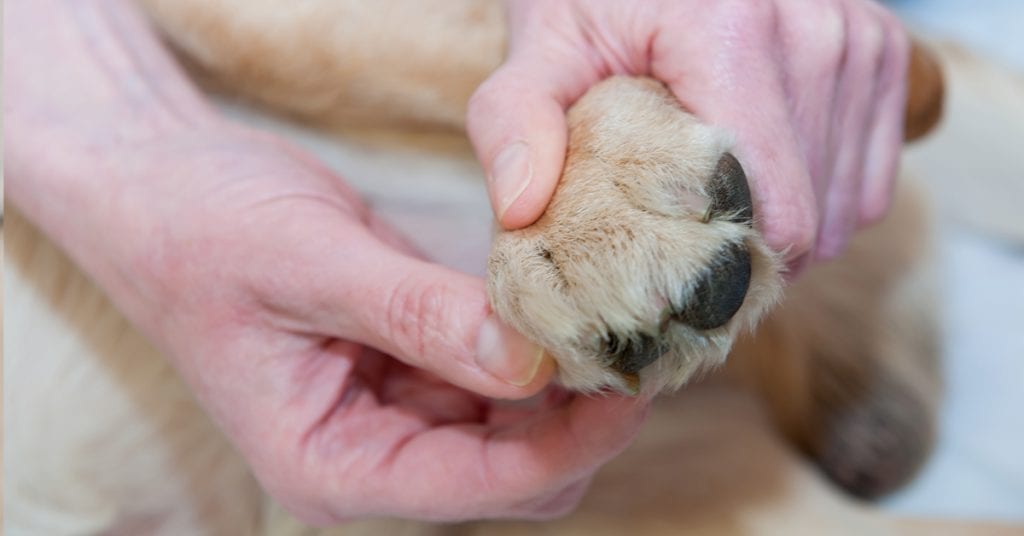 Proper Paw Care: How to Treat and Prevent Cracked Dog Paws
Whether the temperatures are bitterly cold or blistering hot, walking on the ground without proper protection and preventative care can be extremely damaging to your pet's paws. It's important to remember that your pet's paws require regular care just like your skin, feet and hands do.
HOW TO CARE FOR YOUR PET'S PAWS:
Keep Paws Groomed:
Grooming isn't just for skin and fur – your pet's paws need it as well! Providing proper grooming will help to prevent injuries or discomfort, and keep your pets paws feeling their best. Grooming activities are also a good way for you to bond with your pet and spend some quality time together.

1. Keep Nails Trimmed
Dog's nails shouldn't touch the ground when they walk, so if you hear a lot of clicking or scratching, it's a sign that your dog's nails are in need of a trim. For more information about trimming your dog's nails, read this blog on grooming tips.
2. Trim Hair Between Paw Pads
The hair between the pads on your pet's paws can get matted and painful, so make sure to brush it out and keep it trimmed to the same height as their paw pads.
3. Do Regular Paw Checks
Debris like small rocks can often get stuck between your pets paw pads, so it's important to check them regularly and clean out between paw pads. In most cases, debris can be removed with a set of tweezers.
4. Moisturize and Massage
Not only will your pet love you for giving their paws a special spa day, but they'll also feel better because moisturized paws are softer and less prone to injury or cracking. Massaging will help improve circulation to the paws as well. Try rubbing gently between paw pads and in a circular motion with your thumb on the back of the paw.
Prepare Their Paws for the Outdoors
When temperatures become extreme – whether hot or cold – it's important to provide protection for your pet's paws. Too much exposure to hot or cold ground can cause your pet's paws to crack or blister, so preventative care and limited exposure will be a necessity for paw care.

1. Ease Into Outdoor Exercise
If your pet spends most of their time indoors, their paws will be less used to rough ground and more prone to injury. Start off slowly by bringing them outdoors for short periods of time and gradually increasing play or walk time to help their paws adjust to the environment and become more durable.
2. Protect Dog Paws in Winter
When the temperatures drop and snow falls, you should limit the time your dog's paws are in snow or begin using boots to protect their paws from the cold, sharp ice, rock salt, and other harmful substances. If you choose not to use boots, make sure to thoroughly wipe down your pet's paws and check between paws to remove any residual ice and salt, as both can lead to cracking. Your pet may also be prone to licking their paws, which can be dangerous if they ingest any chemicals used to dissolve snow.
3. Protect Dog Paws in Summer
Similarly, during the hottest months you will need to pay extra attention to your pet's paws. Hot pavement and dirt can lead your dog's paw pads to crack, burn or blister. Limit time spent on pavement or dirt, or even hot beach sand during these days and make sure to moisturize your pet's paws regularly. A good way to check whether the ground is too hot is to place your palm on the ground for five seconds. If the temperature is too hot to keep your hand there for the full five seconds, it's too warm for your pet's paws.
Practice First-Aid for Paws
If you do notice cracked dog paws, don't fret, you can help them at home with the right products and care. As with any injury, if symptoms worsen or appear severe, contact your veterinarian for treatment advice.

1. Watch for Excessive Licking and Chewing
If you notice your dog repeatedly licking or chewing their paws, it could be a sign of an injury or irritant. Make sure to do a paw check, clearing out any debris and wiping down paws with antimicrobial hydrogel to soothe irritation and help promote healing. If the licking or chewing continues, contact your veterinarian for further treatment advice.
2. Apply First-Aid to Cuts or Cracked Paws
If you notice cut or cracked dog paws, you'll need to rinse off the affected area with a wound care solution to clear away irritants. Afterwards, apply an antimicrobial hydrogel to soothe the area and promote healing. You should also bandage the area to prevent any further injury to the paws.
At-home paw care should be a part of your regular pet care routine, just as exercise and grooming should be. For more tips on at-home pet care, check out this blog with pet care habits you can keep up at home.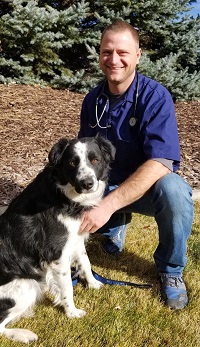 Reviewed by Dan Richardson, Veterinarian
Dan Richardson has been a practicing veterinarian for over 10 years. He specializes in surgery and orthopedics. Dan is originally from rural western Nevada and attended the University of Idaho for undergraduate study and Oregon State University for Veterinary School. The Richardson Family enjoys camping and spending time on the water fishing, paddle boarding, or digging their feet in the sand somewhere warm.