How to Treat Mange in Dogs
When healthy, our canine companions' soft, silky coats can rival our most luxurious cashmere scarves and fleece blankets. But if you notice patchy fur or irritated skin when cuddling up with your pooch—or if they just can't seem to stop scratching—these could be signs your dog is suffering from mange.
What can you do to return your dog's coat to its healthy, fluffy state? 
Using some effective treatments and care, you can restore your dog's comfort, alleviate symptoms, and say goodbye to this pesky skin condition. Plus, with some knowledge of what causes this problem and tips on how to prevent it, you and your dog can look forward to a mange-free future.
Step 1: Identify Your Dog's Condition
For your dog to fetch the ball, you first have to throw it. In the same way, the first step in treating mange is to understand the cause and know how to spot this condition.
Dog mange is caused by tiny mites in your dog's skin and fur.1 There are two different kinds of mites that could cause your dog's skin problems:
Sarcoptic Mange – This form of mange is caused by a contagious parasite that usually comes from other affected dogs or animals.2
Demodectic Mange – This mite is a natural part of your dog's skin biome, meaning they're even found on perfectly healthy dogs.1
Both a sarcoptic mange mite and demodectic mitecan multiply and cause skin problems for the infected dog. If left untreated, the infection symptoms of either type can include the following clinical signs:
Excess scratching

– Does your dog have an itch they just can't seem to satisfy? Most dogs enjoy a good scratch every now and then, but if you're noticing your pup constantly clawing, experiencing some intense itching and scratching, or even biting, it may be a sign of mange.

Sores and scales

– All of that the excess scratching may lead to further irritation in the form of crusty skin, skin scraping, scaling, or even sores.

Rashes and irritation

– As mites multiply and bite your dog's skin, they may cause reddish rashes below your dog's fur. 

Thin or patchy fur

– The loss of fur is the symptom most commonly associated with mange. If your dog is suffering from hair loss, you should seek treatment immediately.
In the most severe cases of mange, dogs have exhibited inflamed lymph nodes and a thickening of the skin. However, this is more common in stray dogs or those that have been living outside for an extended period.1
Treatments for Mange
If you suspect your dog has mange, your first stop should be your local vet's office. Veterinarians can examine skin samples under a microscope for any bacterial infection that may hint to a skin infection. This will help them diagnose mange and prescribe the proper treatment for your pooch.
If you're already dealing with mange, there are some crucial ways you can help your dog alleviate this microscopic mite, including:
Skin relief treatment

– While dealing with the larger mange problem, it's important to provide your pooch with some relief for their irritated skin. An

antimicrobial skin and wound care

product can reduce pain and inflammation while encouraging healing.

Medicated baths

– Give your dog the total spa treatment with a vet-approved medicated shampoo. They'll likely need several treatments over multiple weeks to remove any trace of unwanted mites.

Topical and oral medication

– Your vet may prescribe spot treatments or compounds to eliminate mange-causing mites. For extreme cases, oral medications may be prescribed in tandem with topical treatments. Be sure to heed all your vet's advice about dosage and application in order to effectively treat the mite infection.
Tips on Keeping Your Canine's Coat Mange-Free
If you're looking at your patchy puppy and wondering, "how did this happen," don't be too hard on yourself. Sarcoptic mange mites are highly contagious and easily transmittable between animals, meaning they could contract this form of mange from nearly anywhere.
On the other hand, demodectic mange may be the result of an internal health issue or poor diet.
So, to avoid mange, do your best to:
Provide nutritious and balanced meals

Keep your dog in a clean and safe environment

Schedule regular vet visits

Clean your dog regularly with

high-quality pet shampoo
Likewise, it is important to know how to clean dog ears and other parts of the skin effectively in order to prevent infections. Of course, even the most protected pets can still get mange. Sarcoptic mites and demodectic mites are persistent, so if your preventative measures don't work, take action quickly to minimize your dog's discomfort. 
Fight Back Against Mange with Vetericyn
Mange can be a major pain for pets, and no owner wants to see their dog suffer. Fortunately, knowing how to treat mange in dogs can ensure your precious pup gets back to playing and snuggling like their old self in no time. 
And for a fast way to jump-start your mange treatment, look to Vetericyn.
For more than a decade, we've worked to formulate quality products that prioritize health and wellness for pets. When mange strikes, you can look to our line of shampoos, skin care products, and hot spot treatments to bring fast relief. Visit Vetericyn today to discover exactly what your dog needs. If you're also wondering how to clean dog eyes or how to remove a tick from a dog, we've got you covered! Vetericyn has the tools and resources to help you treat your pup and make sure that they live a happy, healthy life, whether it's wondering how to tell if a dog has a fever and wanting to find the appropriate remedy, or washing your dog thoroughly to prevent any illnesses.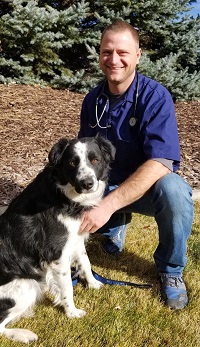 Reviewed by Dan Richardson, Veterinarian
Dan Richardson has been a practicing veterinarian for over 10 years. He specializes in surgery and orthopedics. Dan is originally from rural western Nevada and attended the University of Idaho for undergraduate study and Oregon State University for Veterinary School. The Richardson Family enjoys camping and spending time on the water fishing, paddle boarding, or digging their feet in the sand somewhere warm.
Sources:
American Kennel Club.

Mange in Dogs: What You Need to Know.

https://www.akc.org/expert-advice/health/mange-what-you-need-to-know/

VCA Hospitals.

Sarcoptic Mange in Dogs

.

https://vcahospitals.com/know-your-pet/mange-sarcoptic-in-dogs