How to Treat Mastitis in Goats
Mastitis refers to the inflammation of the udders.1 
If you've dealt with mastitis in your goat herd, you know that the results can range from a decrease in your animals' wellbeing to a decrease in your revenue, resulting in a major headache for all involved parties.
Usually, if you detect mastitis early enough, you can treat it with antibiotics or steroids. The key is knowing what to look for.
Read on to learn more about mastitis in goats, how to treat it, and how to prevent it in the first place!
What Causes Mastitis in Goats?
Unfortunately, there are numerous causes of mastitis in goats including:
Physical Injury

Stress

Bacteria 

Viruses
The most common cause of mastitis is bacteria. When bacteria enter the animal's udder, it can cause a mastitis infection.
 Common bacterial causes of mastitis in sheep and goats are:
Pasteurella sp.

Coliforms like

E. Coli 
Only laboratory analysis can confirm which bacteria is the root issue. However, hygienic housing and milking practices as well as proper animal management and care go a long way towards preventing bacterial mastitis in the first place.
Other Causes of Mastitis
There are two more types of mastitis in goats that you should be aware of:
Viral Mastitis

–

With viral mastitis, a lentivirus or caprine arthritis encephalitis virus (CAEV) targets the goat's udders, creating what is known as a "hard udder." This viral mastitis results in significant reduced milk production and a firm infected udder with skin that is loose from swelling.

Mastitis Due to Teat Damage – The end of the teat may become damaged due to over milking, badly maintained milking machinery, rough removal of the clusters, teats caught on bramble or wire, and teat biting. This damage allows bacteria to easily enter the teat canal and develop into a mastitis infection.2

How Can I Identify Mastitis in Goats? 
Depending on the type, it can be challenging to determine if your goats are suffering from mastitis. 
Mastitis in goats can either be:
Clinical

 – With clinical mastitis, you can diagnose based on easily observable symptoms such as clots or serum in milk and swollen, hot, or tender udders.

Subclinical – A veterinarian can diagnose subclinical mastitis through tests such as the California Mastitis Test (CMT). Alternatively, they could test the number of inflammatory cells in the milk or culture the milk in a laboratory.1

  
We can further break down clinical mastitis into acute systemic mastitis and chronic mastitis. With acute mastitis, look for symptoms such as:  
Fever above 105° F

Accelerated pulse

Lethargic movements

Depression

Loss of appetite

Swollen mammary gland

Hard mammary gland

Reddish mammary gland

Hot mammary gland

Sensitive mammary gland

Watery and yellowish milk

Flakey, clotting milk 
Chronic mastitis is unfortunately both persistent and incurable. Look for signs such as:
Hard lumps in the udders

Agalactia, or a lack of milk3

 
If you see any of these symptoms, it's time for a visit from the vet.
In contrast, subclinical mastitis is a major concern because of how difficult it is to detect and because, in severe cases, mastitis can be fatal. There is no swelling or perceivable changes in the milk with subclinical mastitis, which is why it is so difficult to detect.
Subclinical mastitis can also develop into clinical mastitis, in which case it becomes diagnosable without testing.3
Diagnose of Mastitis in Goats
A vet will diagnose mastitis based on the clinical signs discussed above as well as the history of the herd as a whole. The most reliable test for diagnosis is a microbiological culture, which can determine the cause of the infection through only one milk sample.
The Enzyme-Linked ImmunoSorbent Assay (ELISA) test can also diagnose infections in dairy goats; however, the most common tests are the somatic cell count (SCC) and the California Mastitis Test.3
#1 The Somatic Cell Count (SCC)
The somatic cell count refers to the number of body cells, mostly immune cells called leukocytes, in a milk sample. The SCC is measured in cells/ML and can be determined at: 
The gland level of the udder

The individual animal level

The entire herd level
Milk samples will always have small amounts of immune cells, especially as an animal ages. But as the number of these immune cells increases, so does the likelihood that there is mastitis infection.
Unfortunately, the causal relationship between SCC and mastitis infection is more complicated in goats because noninfectious factors like the stage of lactation can affect SCC levels.2 As a result, the somatic cell count test alone is less accurate at detecting mastitis in goats.
#2 The California Mastitis Test (CMT) 
This test uses the reaction between the CMT reagent and the genetic material of the sample's somatic cells. More somatic cells mean a higher CMT score. The California Mastitis Test uses the following scale to make a diagnosis after the test is completed:
N = Negative

T = Trace Signs of Subclinical Mastitis

1 = Subclinical Mastitis

2 = Serious Mastitis Infection

3 = Serious Mastitis Infection
How to Heal Mastitis in Goats
Your treatment protocol for mastitis in goats will be based on the microbiological milk culture.
Potential treatments include:
Dry-off Treatment

– Treatment during the dry-off period can cure subclinical mastitis and control somatic cell counting. Dry off the affected parts of the udder and apply a commercially made intramammary infusion of two percent chlorhexidine solution twice every 24-hours for five to ten days. It's important not to discontinue treatment prematurely.

Antibiotics – In some cases, antibiotics can cure mastitis in goats; however, the efficacy varies between animals and depends on the severity of the mastitis.3 You can use injectable or intramammary antibiotics, but no antibiotics are labeled to treat mastitis in sheep or goats. Your use of these antibiotics will be extra-label. That means antibiotic therapy must be done under the supervision of a veterinarian who can provide you with a written order for the extra-label usage.1

 

Corticosteroids

–

Corticosteroids also will be prescribed in some cases. They can reduce the swelling of the mammary gland, especially if you use them early on before the disease progresses further. 

Ointments – You may also use ointments designed to treat mastitis in dairy cows through intramammary infusions, but keep an eye out for tissue irritation.3

   

Supportive Care

– If the mastitis is severe, your animals might also require additional supportive care.
As your goats heal, remember to research and follow proper drug withdrawal procedures to ensure no contaminated meat or milk enter the food chain by accident.1 We recommend testing the milk of treated animals to ensure proper withdrawal.3 

How to Prevent Mastitis in Goats
Ideally, you'll prevent mastitis before the problem arises. However, mastitis in goats also may have a genetic component because the somatic cell count could be a heritable trait. 
Most of the time, however, mastitis in goats is the result of environmental factors such as:
Milking procedures

Management and care

Poor hygiene4
To prevent mastitis in your goats, you can address these environmental factors by adapting your livestock management practices.
Milking Procedures
It's crucial that you emphasize hygiene with your milking procedures. Consider the following strategies:
Milking Practices – Ensure your milking practices and utensils are hygienic.3
Drying Off

– Follow proper drying off and milking procedures.

Restriction

– Limit feed and water to lower milk production if necessary.
Medical Procedures
Medical procedures can both prevent and treat mastitis in goats. Utilize mastitis treatment practices such as:
Teat Dipping – Dip your goats' teats in Vetericyn Antimicrobial Utility Spray and Hydrogel 4
Intramammary Therapy – Utilize antibiotics using an intramammary infusion into the mammary gland during dry-off.5

 

Vetericyn® Antimicrobial Utility Gel

– Use an antimicrobial hydrogel to protect your goats' udders after milking.

Foot Infections –

Prevent footrot and foot scald, which are associated with mastitis.

Testing Practices

– Test for tuberculosis, caprine arthritis encephalitis, brucellosis, and leptospirosis.

Wound Care

– Utilize proper wound care and drain abscesses correctly.

Isolation

–

Isolate infected goats from their herd to prevent transmission of the bacteria that causes mastitis.
Management Procedures
Proper management procedures will help prevent mastitis and keep your herd healthy. Consider tactics such as:
Animal Purchases

–

Only buy goats from trusted sellers.

Stress

–

Minimize stress for your herd.

Dehorning – Dehorn your dairy goats to prevent accidents and injury.3
Udder Checks

–

Palpate the udders before breeding and only use healthy animals for breeding and milking.

Pen Management

–

Ensure that your goats' pens are always clean and dry.4

 

Bedding Hygiene

– Remove and disinfect bedding from the kidding pens daily.

Culling

–

Cull chronically infected animals so they can't infect the herd.3fs are always clean and dr
With these best practices, you can prevent most cases of mastitis in your goats!
Choose Vetericyn To Heal Your Livestock
Mastitis in goats can be a serious problem that risks both your revenue and the health of your herd. Luckily, it is usually both preventable and treatable.
Vetericyn knows that the health of your herd is vital. That's why we offer advanced animal wellness products like our multi-use Vetericyn® Antimicrobial Utility Spray and Hydrogel formulas. These sprays are safe for all animals and recommended and used by veterinarians worldwide.
Check out our Blog on Vetericyn to learn more about maintaining the health of your livestock. Whether that by chicken wound care or naval infections, we've got you covered! Keep your herd healthy with Vetericyn.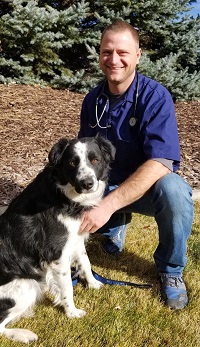 Reviewed by Dan Richardson, Veterinarian
Dan Richardson has been a practicing veterinarian for over 10 years. He specializes in surgery and orthopedics. Dan is originally from rural western Nevada and attended the University of Idaho for undergraduate study and Oregon State University for Veterinary School. The Richardson Family enjoys camping and spending time on the water fishing, paddle boarding, or digging their feet in the sand somewhere warm.
Sources: