9 Most Common Husky Health Problems
If you're a husky owner, you're already familiar with their dramatic howls and playful personality—and just how easily these goofballs can wiggle their way into your heart. And if you're considering adopting a Siberian husky for the first time, these traits may be among the top reasons you want to make this charming breed part of your family. 
To help your pet live the longest, happiest life possible, it's necessary to know which pet health problems this delightful dog is prone to. While not all huskies may deal with these conditions, knowing the possibilities can help you catch any symptoms early on.
Whether you're debating taking a husky home or you're already living with one, we'll discuss the most common husky health problems so you'll know what to look for on your pup's genetic report, what symptoms to keep your eyes open for, and what issues to screen for regularly.
General Qualities of a Happy, Healthy Husky
Before we dive into the husky health problems and symptoms you might spot, it can help to know how a thriving, healthy Siberian husky behaves. Brought to Alaska by a Russian fur trader in 1908, huskies are bred to sled.1 This accounts for two of their primary personality traits:
Active

– Huskies can run for hours and hours without tiring. And they crave letting that energy out. Huskies need a home with lots of stimulation and room to frolic, and they would hate being cooped up all day without any enrichment or playtime.

Social

– Huskies were designed to cooperate in teams, so they're naturally friendly and talkative (and, as husky owners know, sometimes a bit

too

talkative). Because of their social nature, they can also experience separation anxiety. And, despite their resemblance to wolves, these pups are so trusting that they can be useless as guard dogs.
Huskies can also be stubborn and independent and become hyperactive and destructive if bored.2 It wouldn't be unusual to find a bored husky tearing up furniture, digging holes, and trying to escape.
Huskies are on the larger side of mid-sized dogs, ranging between 20 to 22 inches tall and 35 to 50 pounds for females and 21 to 23.5 inches tall and 45 to 60 pounds for males. Their lifespans are typically between twelve and fourteen years.
Now that you know how a husky might act when healthy, let's take a look at the common health issues they might face so you can identify when something's amiss.
Common Husky Eye Problems
Among the most common health problems huskies face, several involve their eyes. 
Annual visits to a veterinary ophthalmologist are recommended after a dog's first year, but owners can learn to look for common husky eye problems and can treat some symptoms with an eye wash or antimicrobial gel.
#1 Juvenile Cataracts
Identified by cloudiness in the eyes, cataracts are caused by the buildup of a protein that can harden, deform, or block the lens.3
Both dogs and humans can develop cataracts later in life, but some huskies may inherit genes that cause them to develop cataracts as early as six to eighteen months.4 Cataracts can be surgically treated.
#2 Corneal Dystrophy
Another inherited affliction common in huskies, corneal dystrophy occurs when an opacity forms on the cornea, or outside, of the eye.5 However, this condition is painless, and doesn't require treatment unless it progresses to ulceration, which could affect your husky puppy's vision. 
#3 Other Eye Problems
Less common but serious eye conditions that huskies may face include:
Progressive Retinal Atrophy – Less than 1% of huskies, predominantly male, are thought to inherit this disease with no known treatment.6>/sup>

The retina degenerates over time, leading first to blindness at night and eventually during the day. If you notice your husky seems to stumble around at night or bump into objects, it could be an early sign.

Glaucoma – A pressure that builds inside the eye, glaucoma can be a painful condition.7

Untreated, the eye can bulge, resulting in blindness and eye loss. Early symptoms include watery eyes, blue corneas, and redness around the whites. 

Pannus – In this condition, part of the cornea becomes inflamed, darkens with exposure to ultraviolet light (like the sun), and scars over. Pannus can also lead to blindness if untreated. Fortunately, topical medications can help in many occurrences.8
Common Internal Health Issues
Two of the other most common husky health problems are internal disorders, but there are still external signs you can watch for. They include:
#4 Hip Dysplasia
Hip dysplasia causes a malformed hip joint that fits together too loosely. This can lead to arthritis and a dog that limps and has difficulty sitting, standing, or squatting. 
If detected early enough, this condition can be surgically treated, but once it advances to arthritis, treatment is limited to pain mitigation. 
You can keep an eye out for this condition with regular hip evaluations at your veterinarian clinic, and even dogs without hip dysplasia can benefit from supplements to ensure healthy joints.
#5 Hypothyroidism
When the thyroid system fails to produce enough thyroid hormone—a health problem called hypothyroidism—the metabolism slows.9 Huskies may become sluggish, gain weight, experience hair loss or develop a coarse coat, develop dry skin, and exhibit behavioral changes such as fearfulness or aggression. 
Luckily, this disease is easily treated with thyroid supplements.

#6 Other Internal Problems
Less common internal health issues that husky owners should still look out for include:10 
Epilepsy

– Primary or idiopathic epilepsy (meaning seizures not caused by metabolic issues, brain tumors, stroke, or trauma) is an inherited health problem that usually manifests between six months and three years of age. It requires lifelong medication and regular bloodwork.

Cancer

– Unlike some breeds, older huskies are not prone to any particular type of cancer, but they may be more likely to develop cancer in the natural course of their longer lifespans.

Laryngeal paralysis

– Paralyzed vocal cords move into the airway rather than to the side when a dog breathes, resulting in loud breathing and sometimes respiratory difficulty and collapse. Medication and surgery can treat but not cure, health issue.

Hypertension

– Also called high blood pressure, hypertension may appear on its own or as the consequence of another disease. At worst, it can cause blindness and stroke, but it is a health issue that is treatable with medicine. 

Heart disease

– Huskies may face a range of heart issues, from structural problems with the dividing walls or vessels to issues with valve functions or the electrical signals that trigger the heartbeat. Your veterinarian should regularly check for heart murmurs, but symptoms an owner can look out for include sluggishness or fainting, cough, and a swollen belly.

Inflammatory bowel disease

– When the intestines are mistakenly invaded by immune system cells, it causes the lining to thicken and impairs the ability to absorb nutrients, leading to diarrhea.
Common Husky Skin Problems
Huskies are known for their beautiful double-coated fur—and for having a lot of it. But do huskies shed? So much, in fact, that husky owners need to apply a rake-style brush to their thick, medium-length double coats at least twice a week.
Underneath all that fur, however, you'll want to keep an eye out for a few common husky skin problems and conditions.
In some cases, husky owners can use a medicated shampoo to help prevent some of these common husky skin problems and a spray or gel if a dog develops wounds or hotspots.
#7 Pemphigus Foliaceus
This auto-immune disease occurs when a pup's immune system attacks its own skin cells—specifically the connective tissue between them.11 Skin crusts and hair loss form, usually on the top of the nose and inside the ear flaps, but sometimes on footpads and toenails. This can open the door to bacteria to cause secondary infections. 
There is no cure, but the condition can be treated. Sunlight exacerbates the problem, so affected huskies can benefit from a zinc-free sunscreen applied to the infected or prone areas.
#8 Uveodermatologic Syndrome
This auto-immune disease targets the cells that provide pigment to the skin and inside of the eyes.12 It can cause pain or blindness, and the skin around the nose and lips may change from dark to light. Sunlight makes this problem worse. Symptoms you might notice first include light sensitivity, or squinting when your dog is in bright light. This condition is often treated with medications to subdue the immune system.13
#9 Zinc-responsive Dermatosis
When a dog is not getting enough zinc, either from a poor diet or a problem absorbing nutrients, they can develop red, bald, crusty or scaly, and sometimes oozing skin around their mouths, eyes, or ears.14 They may also get lesions on their foot pads or nose. In many cases, treatment is a simple matter of adding more zinc to your dog's diet, as prescribed by a vet.

Give Common Concerns Uncommon Care with Vetericyn
Amiable, energetic huskies have what it takes to become your best friend. And you'll want to return the favor by keeping them as healthy as possible.
Vetericyn founder Bob Burlingame knows the feeling: he developed our line of animal wellness products to care for his own dogs and horses. A little over ten years later, our little brand of non-toxic products made in the USA is available on Amazon, Chewy, and Petco.
You can enhance your husky's health with our ALL-IN supplements, keep them nice and clean with our foaming shampoos, and treat many common conditions with our wound care, skin care, and eye and ear care products.
While some of the conditions huskies face are genetic, and there's no substitute for regular checkups with the vet, staying informed and treating your husky with the best care available can help make sure your pooch stays part of your family for a long time to come.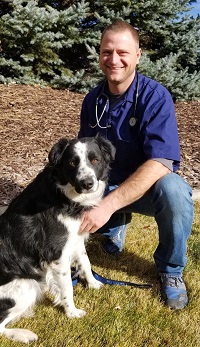 Reviewed by Dan Richardson, Veterinarian
Dan Richardson has been a practicing veterinarian for over 10 years. He specializes in surgery and orthopedics. Dan is originally from rural western Nevada and attended the University of Idaho for undergraduate study and Oregon State University for Veterinary School. The Richardson Family enjoys camping and spending time on the water fishing, paddle boarding, or digging their feet in the sand somewhere warm.
Sources: