Mouth Ulcers in Cats: Everything You Need to Know
So, you've got a furry feline friend with a mouth ulcer. Talk about Mee-ouch!  
Rinsing the mouth out with salt-water? Sure, that can be effective for humans. But for cats? Have fun getting Mr. Scruffles to agree to that!
Wanting the best for our pets is in every pet owner's desire, yet it's common practice for many owners to miss the signs and indicators that a pet is in pain or that something is wrong. With no direct line of communication, felines depend on their owners to observe changes in behavior that indicate a potential illness.
Mouth Ulcers in Cats: Everything You Need to Know
One common source of discomfort in cats (that can often go unnoticed) is mouth ulcers. Let's face it, owners are not on the constant lookout for oral and dental abrasions in their cat's mouth. More likely they are looking to administer tummy-rubs and a whole lot of love.
But do not fret, fellow feline companions, for there are ways to identify, treat, and prevent mouth ulcers from developing. After this guide, you'll have the know-how to get your cat back to feeling purr-fect. 
Let's dive into all there is to know to keep your cat's mouth free of these painful ulcers and how to identify the signs of a kitty in pain.
Cat Mouth Ulcers | An Overview
Mouth ulcers are never fun to deal with, and they certainly are no fun for your pet! No owner likes to see their pet in pain, and as a responsible pet owner, it's part of the job description to do something about it.
Mouth ulcers—otherwise known as canker sores—are not only extremely painful to the cat, but can also become more inflamed, increasing the risk of a more serious oral infection if left untreated.  

But what can one do to prevent these nasty sores from occurring? And how can one ensure the best oral care for their cat?
To answer these questions and more, let's first identify what exactly these canker sores are.
Mouth Ulcers or Canker Sores | What Are They
In its simplest form, mouth ulcers are painful wounds on the insides of the cheeks, gums, tongue, and even the lower throat that can impact the cat's ability to swallow and produce vocal deliverance as they become inflamed. In extreme cases, these sores prevent eating and can further lead to immune problems later on in life. Infections also become part of the equation when the cut mixes with bacteria and no treatment is administered.
Some signs to look for with regards to mouth sores include:
Redness and irritation in areas of the mouth

White or yellow coloration on the gums

Painful vocalizations from the cat

Stoppage of food intake altogether

Vomiting
See below for specific behavioral changes that go beyond these telltale signs.
What Causes Mouth Ulcers in Cats?
A lot of factors can contribute to the accumulation of mouth ulcers in cats. Often, poor oral hygiene is a major contributor. The buildup of plaque and bacteria over the surface of the teeth can result in painful inflammation in the areas around the throat and mouth. 
Other factors have been found to result in these ulcers, including:
Malnutrition

Metabolic deficiencies

Defective immune response

Foreign infections

Acidic foods
If you're unsure which one is the cause, be sure to eliminate each possibility one at a time.
How Can I Protect My Cat?
It's always smart to seek help from a primary care veterinarian when a cat's symptoms progress. Regularly check your cat's teeth and oral cavity for signs of abrasions, cuts, or lesions. If excessive meowing occurs for no obvious reason, make sure there's no underlying issue that is causing the discomfort and contact your veterinarian. 
A change in the cat's diet may also help to deter these sores from accumulating and serve as a cat mouth ulcers treatment. Make sure to check the nutrition label on each brand of food to ensure your cat is getting the necessary vitamins and minerals. Also be sure their food is not causing an allergic allergic reaction in your cat, such as severe inflammation of the mouth or other potential problems.

Regular teeth brushing is recommended to decrease the chance of these sores from accumulating in the cat's oral cavity. If brushing your cat's teeth becomes a bothersome chore, try incorporating plaque-fighting and teeth-cleaning treats and substitutes into the cat's diet. 
Be sure to tend to your cat's mouth ulcers frequently to prevent them from experiencing severe inflammation or bacterial infections. If an infection arises, your veterinarian will likely prescribe antibiotics and anti-inflammatory medications to treat the condition. 
Mouth And Stomach Ulcers: What's the Difference?
Ulcers can vary in symptoms depending on their location and prevalence within the body. They can emerge in numerous locations of the body but are most commonly found within the mouth or along the stomach lining. 
Mouth ulcers, as mentioned previously, manifest themselves on the inside of a host's mouth, especially on the tissue on the lips and gums. They are usually a result of poor dental hygiene and go away after a few days. However, they impact the first digestion process of chewing food, which can lead to less food-intake and further health complications down the road. 
Stomach ulcers, also called "peptic ulcers," accumulate within the digestive tract near the stomach and small intestine. They are caused by stomach acid rising and damaging the insides of the stomach or intestine. These ones are more difficult to identify since they aren't readily visible to the owner. 
Some signs to be aware of for identifying stomach ulcers include:
Refusal of food or treats

Gas releases (burping)

Weight loss

Vomiting

Bloody stools
As you can see, some of the symptoms will appear similar. If you can't find any mouth sores and your cat is acting strange, the best option is always to contact your local veterinarian to provide treatment or medication.
Notice the Signs of Distress
When your loyal feline companion isn't feeling well, it's important to be able to recognize the warning signs of a distressed kitty in pain. Excessive meowing can mean a variety of things, though it is likely a sign of distress that your cat isn't well and should be checked for arising illnesses by certified professionals. 
Cats' meows are truly remarkable. They can mean all sorts of things from "pet me human" to "more food please!" But sometimes excessive meowing can be a cause for alarm. Meows carry a lot of meaning and sometimes that meaning can be something along the lines of "help human! I'm in pain!" 
With no real way for cats to verbally convey meaning to us, these cries for help can sometimes go unnoticed by the owner, leaving a cat neglected and in immense pain. 
What are other ways cats communicate discomfort to us?
Excessive nasal discharge

Excessive bad breath

Unhealthy matted hair coat
Some behavioral changes may include:
Meowing Frequently

– As stated previously, cats' meows carry a great deal of meaning. If these meows persist irregularly, it is likely your kitty is trying to tell you that something is wrong or that it's in need of something. 

Loss of Appetite

– Injuries of the mouth can cause a great deal of discomfort especially when it comes to eating and consuming kibble. If the cat moans or cries out when eating or refuses to eat altogether, it may be a sign that they're in pain or there is something about the brand of food that isn't sitting well with their digestive system. Try switching up the bag or ask your vet about potential underlying issues. 

Peeing and Pooping Outside the Litter Box

– One very effective means of getting information across that something is wrong for cats is to deliberately go to the bathroom where they know they shouldn't. Even if your kitty is a seasoned vet when it comes to using the litter box, don't become agitated if one day a pile of

number-2

appears next to or around the litter box. It may be your cat's attempt at signaling to you that something isn't quite right.  

Hostility Towards Petting

– Outright aggression in response to petting may be a sign of distress in cats. Sudden animosity with regards to regular cuddle sessions might be a sign the cat is in pain and is trying to convey that message to its owner. 
Whatever the case may be, one should always be on the lookout for unusual changes in the cat's behavior, as they may be indicators of an underlying health–related issue. 

Recognizing Mouth Ulcers Early
Cats are inquisitive and curious creatures that require a surplus amount of love and affection day-to-day. When our pets aren't feeling up to par and are in pain, it is the job of the pet owner to ensure the pet gets all the necessary care they need to get back to tip-top shape. 
Mouth ulcers are a particularly painful nuisance. They can affect your cat's ability to consume and digest food—which then impacts their overall quality of life. That's why it's important to recognize the signs of a distressed cat in pain early. To catch ulcers early, make sure you recognize if your cat is acting strange or has inflamed gums, cuts or lesions on their mouth tissue, or an increase in saliva. To relieve any discomfort, try topical products, such as our own Antimicrobial Facial Therapy. 
So, fellow cat lovers, be aware of this importance. Cats are man's second–best friend after all and should be treated with the utmost care and love they deserve.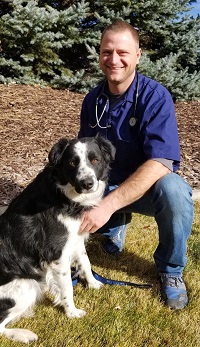 Reviewed by Dan Richardson, Veterinarian
Dan Richardson has been a practicing veterinarian for over 10 years. He specializes in surgery and orthopedics. Dan is originally from rural western Nevada and attended the University of Idaho for undergraduate study and Oregon State University for Veterinary School. The Richardson Family enjoys camping and spending time on the water fishing, paddle boarding, or digging their feet in the sand somewhere warm.
Sources: