Preventing Bumblefoot in Chickens: Everything You Need to Know
Chickens are lively and resilient and are often a welcome addition to any home, farm, or ranch with space and resources to house them. While chickens are mostly self-sufficient creatures, they are not immune to a unique set of physical and medical complications. One such medical complication that nearly every chicken owner encounters at some point is bumblefoot. 
What is Bumblefoot?
Bumblefoot, also known as pododermatitis, is a common type of foot infection found in chickens kept as pets or livestock. While bumblefoot on chickens is easily treatable, it's severity can range in scope, and it must be addressed with urgency and care. 
While bumblefoot begins on the surface, it can quickly spread to muscle and bone tissue, and if left untreated, the infection can lead to death.   
Most commonly, bumblefoot on chickens is caused by a staph infection. The bacteria staphylococcus is prevalent inside a backyard chicken coop, as most coops are messy and filled with excrement. For the most part, bumblefoot is easily preventable and simply requires dedication and proper care. 
Find out how to keep your chickens healthy and free of bumblefoot with our comprehensive guide below. 
Common Signs and Symptoms of Bumblefoot
As the name would suggest, bumblefoot affects the feet, which can make it difficult to spot. Typically, early symptoms of bumblefoot are limping or hopping, wherein your chicken will be visibly favoring one foot. If you notice a swollen foot or inflamed tissue on their leg, this could be an indication that a staph infection is present. An inflamed wound can also be pointing to a deeper issue. It is important to take notice of any changes in the physical behavior of your chickens, as this will be the first sign of a problem.
Bumblefoot manifests itself in the form of a nasty welt or boil on the surface of the skin. Sometimes bumblefoot is caused by a piece of debris like a splinter, and when this is the case, the piece of debris will need to come out. The boil on the surface of the skin will be filled with pus and will likely require draining. Sometimes the infected area can harden or become a black scab, which indicates that the infection is getting worse. 
Bumblefoot can mimic other leg and foot issues, so it is vital to check out the problem up close. The early warning signs of bumblefoot are hard puffy scabs that may look like small blisters. Bumblefoot tends to become aggravated rather quickly, so if you suspect bumblefoot, it is crucial to take action immediately.
Best Methods of Prevention
Avian veterinarians will be the first to tell you that the best way to manage bumblefoot is through prevention. Preventative measures like cleanliness, keen observation, and good dietary habits are just a few of the steps you can take to limit your chickens' exposure to this nasty infection. 

A Clean Coop
The coop is the epicenter of bumblefoot prevention. A clean coop reduces the risk of infection by eliminating the growth of bacteria. While it is impossible to keep a chicken coop pristine, there are measures you can take to ensure a baseline level of cleanliness. For example, your chicken coop should be kept clean of fecal matter. The more that feces is allowed to collect, the higher the risk of bacterial growth. When your chickens step in their feces, bacteria can grow on the skin, which can easily lead to bumblefoot. 
A Comfortable Environment
Another good practice for keeping up the coop is to address and maintain the surface your chickens walk on. Any uneven or splintered surfaces pose a threat to a chicken's feet as they can easily become cut and infected by debris. Sand is an excellent alternative to traditional coop filling like straw or pine chips. Whereas straw and pine chips are abrasive, sand is soft and comforting for chicken feet. Additionally, sand has the added benefit of being a natural defense against bacteria growth and it does not flood or retain water the way chips or straw would. 
Regular Check-Ups and Observation
The best method to prevent bumblefoot in your chickens is to check on their feet regularly. Often bumblefoot will not set in unless an abrasion or infection is not treated correctly. As such, proactive check-ups are a crucial piece in the puzzle of preventing bumblefoot. In the same manner, watch your chickens when they are out of the coop. Any struggle to walk, such as a limp or a hop, should be an indication that there is a foot issue that can lead to staph. Do not wait for bumblefoot to take hold; be proactive in checking your chicken's feet. 
Diet Matters
Chickens are omnivores, and they have a bad reputation for being scavengers. While wild chickens may need to make do with what they can find, your chicken needs a healthy diet. Diet is pivotal for ensuring that your chickens maintain their health as the nutrients they ingest contributes to the development of their feathers and skin. Additionally, maintaining a healthy diet will keep your chickens lean so as to prevent health complications from being overweight. 
Exercise is Key
Overweight chickens are especially susceptible to bumblefoot. Any excess weight a chicken carries increases the pressure and strain placed on the feet. When the feet have to work harder to support additional body weight, your chicken becomes a high-risk candidate for bruising and swelling. Any foot strain increases the likelihood of infections like bumblefoot, so keep your chickens lean! 
Don't Forget the Grooming
Your chickens need to be groomed. Molting is a common practice amongst chickens in captivity, but the process is much easier when you take a proactive approach. Feathers discarded in the coop can be potential hazards for your chickens as the quills of their feathers pose the same threat of foot punctures as a splinter. Overgrown toenails can easily become infected if a piece of debris becomes lodged in between the nail and the skin. Trimming your chicken's talons is another excellent grooming practice that will help keep your chickens safe and infection-free. 
Keeping the Peace
Believe it or not, fighting among your chickens is more common than you think. While minor altercations that establish the pecking order within your coop should be monitored, this prevention tip is more about the risk of severe fighting. When chickens fight, they use their feet, and as such, an altercation with a fellow roost mate increases the risk of foot injuries. As a chicken owner, it is best to prevent this behavior which can lead to increased risk of bumblefoot, pecking sores, and cuts on the feet due to fighting are one of the biggest culprits. 

Avoid Heights
One of the biggest mistakes a chicken owner makes is building the roost too high off the ground inside of the coop. Bumblefoot is predominantly caused by recurring force and excess pressure to the foot. As a result, activities like jumping down from a roost that is too high places your chicken at a higher risk of a foot injury. Foot injuries, especially those caused by impact, pose a more significant threat to chickens than common skin issues. When the bone is injured, there is a higher risk of infection spreading past the skin and into the bone itself. Best practices for building a roost is to keep the roost less than 18 inches off the floor of the coop. The smaller the distance between the perch and the coop floor, the less impact your chickens' feet will have to endure.
Bumblefoot Treatment in Chickens
If your chicken contracts bumblefoot, it is best to call an avian veterinarian. Due to its infectious nature, bumblefoot needs to be treated with an antimicrobial, and sometimes with antibiotics. Often bumblefoot needs to be addressed by a vet who can cut away the infected area in a minor surgical procedure, and in dire cases, amputation of the foot may be required. 
If you suspect your chicken has contracted bumblefoot, isolate that chicken from the flock and use a poultry antimicrobial on the infected wound. Staphylococcus is a contagious bacteria that is contracted through skin to skin contact. The last thing you want is an outbreak of skin infection in your coop, so keep your bumblefoot-infected chickens quarantined until they receive the help they need.  
There is an at-home surgical method that can be used without veterinary supervision, though this route is not recommended. Whenever you are dealing with an infection, especially one that affects a sensitive area like the feet, it is a job best left to professionals. Furthermore, whenever you perform any medical procedures on an open wound without the trained eye of a medical professional, you run the risk of aggravating the problem instead of solving it. Best to play it safe and call in a veterinary professional. For short-term treatment, antimicrobial solutions are an excellent way to keep bacteria from growing in and around the open wound.
Whether you rely on your chickens for company or sustenance, your chickens depend on you for their health and well-being. Bumblefoot is a problem that is both easily identifiable and preventable. There is no shame if your chicken contracts bumblefoot, you cannot control everything. However, the above list of preventative measures will help you, and your chickens, to steer clear of the most common causes of bumblefoot.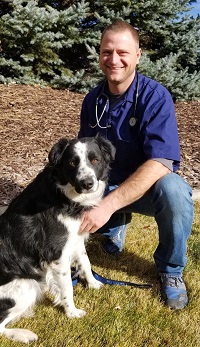 Reviewed by Dan Richardson, Veterinarian
Dan Richardson has been a practicing veterinarian for over 10 years. He specializes in surgery and orthopedics. Dan is originally from rural western Nevada and attended the University of Idaho for undergraduate study and Oregon State University for Veterinary School. The Richardson Family enjoys camping and spending time on the water fishing, paddle boarding, or digging their feet in the sand somewhere warm.
Sources: