Signs and Symptoms of Bumblefoot in Chickens
Whether you're new to owning chickens or you're a regular coop enthusiast, bumblefoot or ulcerative pododermatitis is a problem you are sure to encounter. While the range of severity for bumblefoot is broad in scope, the symptoms and treatments are relatively standard. Especially if you are new to chickens or if you are afraid your chicken may have contracted bumblefoot, this article from Vetericyn about the signs and symptoms of bumblefoot will help you learn how to keep your chicken healthy!
The Onset of Symptoms
When dealing with bumblefoot in chickens, correctly identifying the problem is a crucial part of treatment. There are many foot issues that chickens can suffer from, and each one has a unique course of treatment. As noted previously, bumblefoot is a staph infection, and as such, antibiotics, or poultry antimicrobial sprays are a common part of treatment. 
Before any medical action can be taken, you must first correctly identify that the issue is, in fact, pododermatitis. Here are a few of the initial symptoms that point to bumblefoot being the source of foot pain for your chicken:
A wound or abrasion on the bottom of the chickens foot

Something caught underneath a claw/toenail

Rough, red skin in between the toes

Mild inflammation or swelling of the leg or affected area
Mild inflammation or swelling of the leg or affected area
More often than not, you will need to carefully inspect your chicken to identify bumble foot. Getting up close and personal with your chicken may be commonplace, but remember, their claws can be sharp, and your chicken is in pain. Be delicate when you closely inspect their feet for redness or swelling and examine the condition of their skin. 

Do not wait for symptoms to get worse. Any of the indicators above should be taken as confirmation that your chicken is suffering from bumblefoot, and you should call in professional help from an avian veterinarian. Even if you are unsure after a closer look at your chickens foot, it is better to err on the side of caution as untreated bumblefoot can be fatal.
The Developing Stages of Bumblefoot
Chickens are hard to keep track of, especially if you have a lot of them, so don't beat yourself up too much if you don't catch bumblefoot right away. There are developing stages of bumblefoot, and as it becomes more serious, the symptoms become more severe and debilitating. You may not notice the initial onset of symptoms, but the progression of bumblefoot or ulcerative pododermatitis is hard to ignore. Here are some of the symptoms your chicken will exhibit as bumblefoot becomes more severe:
Limping or Hopping 
This symptom is a dead give away that something is wrong with your chicken's foot. In the case of bumblefoot, by the time your chicken is limping, the bumblefoot has already become severe case. Limping is caused by pain, and the pain of bumblefoot becomes overwhelming once infection sets in. If your chicken is limping, it's time to start acting quickly and call your poultry vet.
Hardened Abscess/Boils – These protrusions on the skin usually accompany limping/hopping, so chances are you will not see one without the other. An abscess or boil is either an indication of a foreign object stuck in the skin (i.e., a splinter), or it is an indication that the bacterial infection is growing underneath the skin tissue. A soft abscess filled with pus is typically the skin reacting to growing bumblefoot infection, whereas a hard abscess is an indication that there is something stuck underneath the skin which the body is trying to push out. 

The severity, and stage, in which you catch the bumblefoot, will determine what kind of treatment your chicken will need. For mild cases of bumblefoot, soaking the birds foot in a solution of Epsom salt and warm water is enough to draw out the bacterial infection and heal the open bumblefoot lesions. For more severe cases, like when the wound develops an abscess, bumblefoot surgery by a veterinarian may be necessary to remove the dead tissue.  
Taking Action
Your familiarity and experience with past cases of bumble foot will help determine the choice you make in how to treat bumblefoot of your chicken. For example, if you have dealt with a few cases of mild bumblefoot in the past, then you may be knowledgeable on how to proceed without the help of an avian vet. It is important to note that once a chicken contracts bumblefoot, the likelihood of that chicken contracting it again is exponentially higher. As a chicken owner, a good poultry care spray should be your first line of defense against bacteria when treating bumblefoot.
If you find that your chickens are continually contracting bumblefoot, then it may be time to look into preventative measures. Remember, things like weight, diet, and environment all play a role in preventing bumblefoot. Examine your chicken coop to ensure that the area is clean from fecal debris and that the roost is not too high off the ground. The most common type of bacteria that causes infection in pododermatitis is staphylococcus, a bacteria that thrives in a dirty chicken coop. For the health of your chicken, it is pivotal that the roost, and coop, are comfortable and clean.
 Visit Amazon, Petco, Chewy to shop your favorite Vetericyn products today!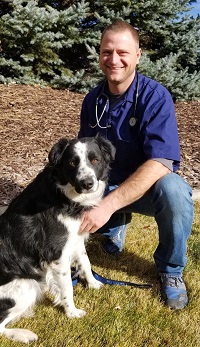 Reviewed by Dan Richardson, Veterinarian
Dan Richardson has been a practicing veterinarian for over 10 years. He specializes in surgery and orthopedics. Dan is originally from rural western Nevada and attended the University of Idaho for undergraduate study and Oregon State University for Veterinary School. The Richardson Family enjoys camping and spending time on the water fishing, paddle boarding, or digging their feet in the sand somewhere warm.
Sources: