Treating Cat Acne: A Helpful Guide
So you noticed some black spots on your cat's chin, and after some investigating, you learned about the phenomenon called feline acne. That's right: it's not just people who suffer from pesky blemishes on their facial areas. Your furry friend's pimpled face is proof.
However, the blemishes on cats' faces can be caused by a number of issues. And even when feline acne is the correct diagnosis, it's not adolescent hormones that are at play. Before you begin treating your cat's acne, it's important to rule out other issues. 
This guide is designed to help you understand how cat acne is diagnosed, what causes it, and how to treat cat acne so your kitty's face can go back to normal.
Cat Acne 101
Cat acne is defined as small dots or pustules that appear on your cat's skin. The telltales signs of acne are spots that:
Look like blackheads

Collect around the mouth and chin

Create the appearance of a "dirty chin"

Sometimes progress, and begin to look more like pustules or zits

In extreme cases, are accompanied by hair loss, or can cause your cat to scratch his or her chin excessively, creating lesions
If your cat has small black spots between his or her hair follicles, it's easy to run a Google search and assume you've diagnosed the correct problem: cat acne. However, before you proceed with treatment, be sure to work with your veterinarian to rule out other causes for those little black spots. The following conditions can look similar to acne's telltale black bumps:
Flea dirt

Mites

Fungal or bacterial infections
Flea dirt, in particular, is characterized by small, peppery spots in your cat's fur. If fleas are the true culprit behind your cat's black spots and itching, you'll need to treat more than your cat—your entire home could be affected. Check out our guide on Feline Acne vs Flea Dirt to learn more about the differences.
While cat acne is not caused by fleas, it can have several origins. Mites and fungal infections can both look like cat acne and cause it. Let's take a look.
The Causes of Cat Acne
Unfortunately for pet owners, there is no one definite root cause of feline acne. There are a number of factors that may affect the way your cat's skin produces oil and functions as a barrier against potential pathogens. We'll go over some of the potential causes for cat acne, including:
Grooming habits

Allergies and environment

Emotional distress

Other diseases
Abnormal Grooming
Does your kitty regularly groom themself? If old age, emotional distress, or other factors have led to decreased grooming, it could be a factor in your cat's acne. With a lack of grooming, your cat's sebaceous glands may produce too much oil. At the same time, overgrooming can also disrupt these glands.

What are sebaceous glands? They're small glands in the skin that secrete sebum, an oil that lubricates the skin and hair. They are present in the skin of all mammals. In cats and in people, most of these glands are on the face. 
When your cat's grooming patterns are off, it results in clogged hair follicles filled with sebum, leading to the appearance of blackheads. 
Environmental Factors
Some veterinarians have traced cat acne to environmental factors. Possible allergens and irritants include:
Plastic Bowls

– Your kitty sticks their chin in the same food dish day after day, and it could be contributing to their acne. While some believe that cats are allergic to their plastic bowls, others believe that the bacterial buildup on these bowls is what clogs pores. Either way, switching to a metal or ceramic bowl—and washing it frequently—might help. 

Pollen and Seasonal Irritants – Just like humans, cats are prone to seasonal skin issues as a result of allergies. Ragweed and other pollen-producing plants may affect your pet. While humans react to irritants with coughing and sneezing, cats' skin is their main protective barrier. As a result, that's where signs of allergies often show up. 
Dust and Mold

– Again, just like their pet parents, cats can have a sensitivity to dust, mold, and other household debris. Keeping your home clean and regularly laundering any fabrics can help to eliminate environmental irritants.
In persistent cases of cat acne, be sure to check with your vet for underlying allergies. In addition, if you already know your cat has allergies, don't be surprised if they develop acne, too. If a cat's skin is already inflamed, the sebum glands are more likely to malfunction. 
Emotional Causes
As previously noted, abnormal grooming can affect your cat's sebum production and cause acne. Emotional distress, including stress and depression, can lead to excessive or inadequate grooming.
As you know, your animal companion doesn't let it show when they're stressed. In addition to looking for skin problems, keep an eye on any changes in the following areas:
Changes in grooming habits

Changes in eating habits

Marking outside the litterbox

Increased "talking"/meowing

Decreased energy

Aggressiveness towards people and/or animals
If your cat's behavior has changed alongside their facial fur, it's a sign that there might be an emotional issue at play. Be sure to consult your veterinarian and take steps to treat not just the symptom, but also the cause.
Disease and Infection
Finally, feline acne can present as a secondary symptom of another illness or infection.
Is your cat a top-notch mouser? That means they might be at risk for picking up mites from their rodent prey. Mites live in your cat's hair follicles, affecting the production of sebum and causing itching in the process.
In addition, cat acne can be a symptom of an underlying bacterial, fungal, or viral infection.
Cat Acne Complications
Cat acne may look harmless, but it could be a sign of a deeper issue. That's why it's important to carefully observe your cat, as well as consult with your veterinarian about their overall health.

If left untreated, cat acne can lead to other conditions. In particular, if your cat's chin or face is itchy, they may resort to scratching to try and soothe the hot spot. If your cat abrades or punctures their skin, it may open a lesion and eventually lead to a bacterial infection. 
To avoid this outcome, take steps to soothe your cat's acne as soon as it appears, even if you can't get to your veterinarian right away. 
Treating Feline Acne
There are a number of methods for treating cat acne. Depending on how severe your cat's acne is, as well as the root causes, you might try any and all of the following methods.
Eliminate Environmental Irritants
As you now know, environmental irritants—including dust, pollen, mold spores, and even plastic—may increase your cat's risk for acne. In order to keep your cat's skin as happy as possible, clean thoroughly to help manage environmental irritants.
In addition, avoid aerosols, sprays, and other scents that may cause an allergic reaction. These include: 
Perfumes

Colognes

Hairspray

Aerosol cleaning products

Essential oils

Potpourri

Incense and smudge sticks
As with human allergy testing, it can be difficult to pinpoint the precise origin of a reaction. However, keeping your home clean and scent-free might help your cat's skin to calm down and stop displaying signs of acne.
Clean the Affected Area
If your cat's acne is due to an infection, you might want to give their chin a clean. Even if it's not infected, cleaning the affected area can help to soothe the irritation as well as encourage sebum glands to resume normal oil production to keep the problem from becoming more severe. 
We all know that cats don't enjoy bathing. Instead of dunking your furry friend in a bath, try spot cleaning. A medicated wipe can help you to clean your cat's face without the fuss of water.
Vetericyn Plus's Feline Antimicrobial Facial Therapy is specially formulated to treat common cat skin issues that occur on cats' faces, including feline acne. This non-toxic and alcohol-free spray is easy to apply to your cat's face, flushing out pores and cleaning acne.
If you have an elderly cat who is unable to groom themself effectively, you might want to begin cleaning their face after every meal.
Note: You should not use any products intended to treat human acne. Cats' skin has a different balance of oils, and some substances that are safe on human skin may be toxic to kitties.
Soothe Sore Spots
While you're treating your cat's acne, you'll want to do everything possible to keep them from scratching at their chin and running the risk of developing a secondary infection. That's why it's essential to soothe the affected areas, which may be itchy and irritated. Possible methods for soothing your cat's acne include:

Warm Compresses – Try touching a hot washcloth to the affected area to soothe inflammation. 
Natural Remedies

– Cucumber pulp, aloe, and green tea can all soothe human skin, and anecdotal evidence suggests that the same is true for cats.

A Veterinarian-Endorsed Soothing Gel

– A topical treatment or gel is a great way to treat your cat's skin problems. Vetericyn Plus's

Antimicrobial Hydrogel

is used to combat a wide range of skin conditions including bacterial and fungal infection, yeast, and viral infections. The gel formula easily adheres to your pet's skin, delivering soothing effects exactly where they're needed.
Managing Your Cat's Skincare
If you ever had acne as a teenager—or as an adult!—the very sight of your cat's acne might bring back bad memories. Luckily, there are many methods for treating feline chin acne effectively. With persistence and know-how, you'll have your kitty's skin clear in no time. 
If you find that your cat is acne-prone, continue to consult with your veterinarian to manage the symptoms as they arise, ruling out any other causes. 
Sources: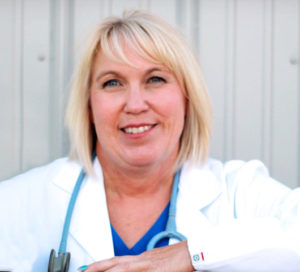 Dr. Melinda J. Mayfield-Davis, DVM, WCHP-AH, brings over 20 years of experience in veterinary medicine.  She is the Technical Services Veterinarian with Innovacyn, Inc., parent company of Vetericyn Animal Wellness. She received her DVM from Oklahoma State University and now resides in Southeast Kansas with her husband, two children, four dogs, and six horses. Prior to working with Innovacyn, Dr. Mayfield owned and operated the Animal Care Center in Columbus, KS.