What Are the Causes of Diarrhea in Dogs?
Everyone thinks their dog is the cutest canine in the world. The eyes! The paws! The way he wags his tail when you come home from work! There's a whole lot to love about dogs, but every pet parent knows that with great cuteness comes even greater responsibility.
Sometimes dogs are messy. Like us, they can run into digestive issues from time to time. Whether it's trying to learn how to treat constipation in dogs, how to treat dog flatulence, or how to treat diarrhea, as a dog owner you want to do anything possible for them. If you've found yourself dealing with dog diarrhea, read on to learn more about potential causes of diarrhea in dogs, as well as possible treatments and information about recovery and prevention.
#1 Your Dog May Have Eaten Something They Shouldn't Have
Dogs love putting their noses where they don't belong. Oftentimes, this is harmless enough, but in some cases, eating the wrong thing is a common cause of and can lead to diarrhea:1
Garbage or rotten food

– Veterinarians call this "garbage toxicosis" or "garbage gut," but most of us just call it "gross." Either way, spoiled food can often cause canine digestive problems. 

Poisonous or toxic substances

– This includes run-of-the-mill poisons, like bleach, household cleaners, and fertilizers, but it also includes a number of foods that are toxic to pets but safe for us: chocolate, garlic, caffeine, grapes, xylitol, and more.

Foods they're allergic to or don't tolerate well

– A common cause of dog diarrhea can be a food allergy.

Every pup's stomach is different. Like humans, they may not be able to eat certain ingredients or may have a food allergy. If this seems to be the case, swap out your current food brand for another. Any new food should be introduced slowly, as a sudden dietary change can also cause digestion problems. You can also avoid giving them other foods besides dog food to rule out the cause. 

Household objects

– If your dog loves to pick up and play with socks, toys, or any other foreign object they find lying around, there's always a risk that they'll swallow it and develop digestive problems.
Some dogs will also develop diarrhea as a response to medications like antibiotics. This doesn't mean you should immediately discontinue the use of prescribed medication, but it does mean you should touch base with your veterinarian to identify the best plan moving forward. Either way, keeping an eye out for how your dog reacts to certain things can quickly help you find a solution, whether it's changing their dog food or seeking immediate care. 
Eating the wrong food may also cause common symptoms besides diarrhea like bloating, constipation, or gas. It's also important to understand the signs of constipation in dogs or how to prevent bloat in dogs to ease them of the uncomfortable feelings.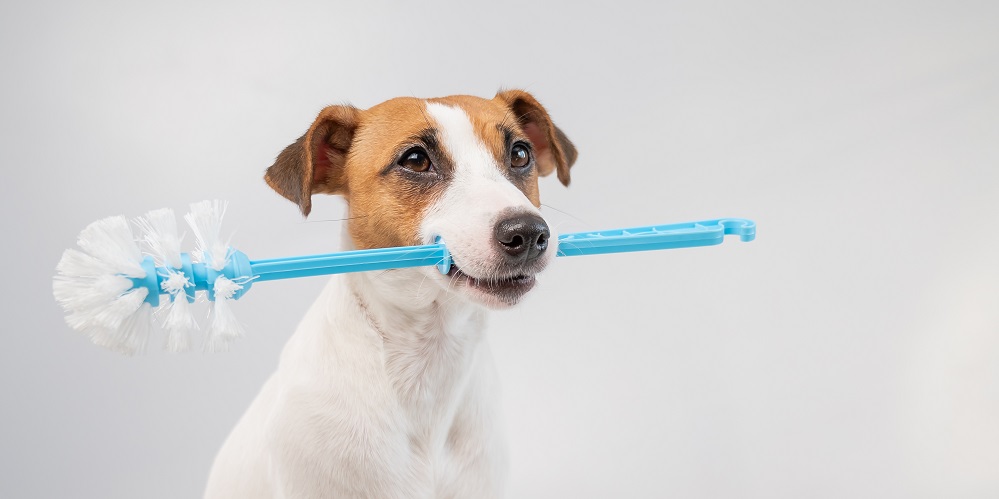 #2 Your Dog May Be Sick or Infected
Dogs fall ill just like humans. As with humans, there are a number of health conditions that can lead to diarrhea, including:2
Parasites

– Diarrhea can be a symptom of an intestinal parasite. Parasitic organisms like hookworms, coccidia, and giardia mostly affect dogs with already compromised immune function, whether puppies or full-grown adult dogs.

Viral infections

– Parvovirus, distemper, and coronavirus commonly infect dogs and can lead to digestive issues. 

Bacterial infections

– Like in humans, salmonella can cause diarrhea among other symptoms. There's a good chance your pup's salmonella or other bacterial infection is a result of eating out of the garbage.

Illnesses

– Several canine afflictions have diarrhea on the list of symptoms: liver disease, colitis, and cancer, to name a few.
#3 Your Dog May Be Stressed or in Distress
As far as diarrhea is concerned, humans and canines really aren't so different—highly stressful situations can bring about digestive troubles, including:
Increased periods of alone time

Changes in environment, like moving to a new home or adding another pet to the family

Traumatic, frightening experiences

Sudden changes in routine, feeding, or exercise
When Should I Worry About My Dog's Diarrhea?
Canine diarrhea can be gross and messy, but sometimes it's also seriously concerning. There are several types of dog diarrhea, and some are more dangerous than others.
So when does runny poop indicate a trip to the vet's office?1
When it lasts a long time

– If you try your usual solutions and the diarrhea persists, it's time to consult a professional. Some pet owners wait only a few days while others will try a number of home remedies and diet changes before going to see a vet—it depends on how concerning the diarrhea seems and your pet's overall health.

When your pup has other symptoms

– Clinical signs such as fever, vomiting, bloody stool, muscle weakness, and lethargy all indicate a more serious health concern. Dehydration alongside diarrhea is another common indication that your pup needs some medical help.

When your dog is taking concurrent medications

– Complications with antibiotics or other medications should be addressed sooner rather than later. If your dog has an underlying health condition or is currently undergoing treatment, diarrhea may be an escalated health concern.
If you notice signs such as vomiting or bloody stool, it's important to seek professional, emergency care.
How Do I Treat My Dog's Diarrhea?
Fortunately, most cases of dog diarrhea can be treated with at-home remedies and attention to diet and exercise. According to a 2017 study conducted in the UK, just 37% of diarrhea cases in Labrador Retrievers resulted in a trip to the veterinary clinic.2 Either way, keeping up with dog health is important for your furry friend. 
If your dog isn't showing more serious symptoms, then you might want to try some of these treatments yourself:1
Fasting for 12 to 24 hours for healthy adult dogs (but not necessarily for puppies, senior dogs, or small dogs with low reserves of body fat)

Providing plenty of water (or even unflavored Pedialyte) to stave off dehydration

Serving simple foods like skinless chicken, white rice, eggs, plain yogurt, or pumpkin puree from a can

Feeding a supplement like the

Vetericyn® ALL-IN Dog Supplement

to promote digestion, a strong immune system, and better full-body health
Should your dog require a trip to the vet, you can expect some of the following medical procedures to first assess the cause and severity of diarrhea and then to treat it:
Tests for parasites like giardia, roundworm, or hookworm

Intravenous fluids to provide hydration and electrolytes

Bloodwork to assess your dog's overall health and nutrition

Scans to check for blockages, inflammation, or cancer

Prescription antibiotics and anti-inflammatory medications
Support Your Dog's Digestive Health With Vetericyn Supplements
It isn't always easy to figure out what causes diarrhea in dogs—spoiled food, parasites, food intolerance, or even stress? By understanding the most common causes (and major causes for concern), you'll be well equipped to deal with your dog's diarrhea, beyond just clean-up duty. 
At Vetericyn, we know what it means to care about the animals in your life, and we bring this commitment to health into all of our specialized wellness products. When it comes to preventing diarrhea and promoting gut health, our Vetericyn® ALL-IN Dog Supplement could be right for you and your canine.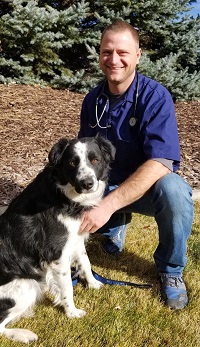 Reviewed by Dan Richardson, Veterinarian
Dan Richardson has been a practicing veterinarian for over 10 years. He specializes in surgery and orthopedics. Dan is originally from rural western Nevada and attended the University of Idaho for undergraduate study and Oregon State University for Veterinary School. The Richardson Family enjoys camping and spending time on the water fishing, paddle boarding, or digging their feet in the sand somewhere warm.
Sources:
American Kennel Club.

A Survival Guide for Dog Diarrhea.

https://www.akc.org/expert-advice/health/doggie-diarrhea/

 

Preventative Veterinary Medicine.

Incidence rates and risk factor analyses for owner reported vomiting and diarrhoea in Labrador Retrievers – findings from the Dogslife Cohort.

https://www.ncbi.nlm.nih.gov/pmc/articles/PMC5424887/