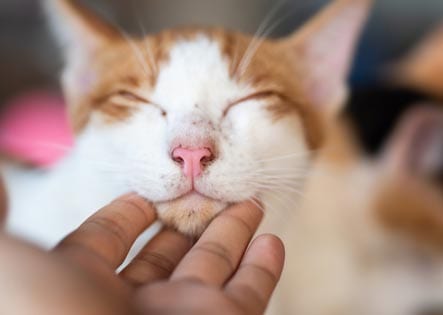 Cat Acne – It Isn't Just for Teenagers
Cat acne might feel more like a cat-tastrophe for your feline friend. While cats are known for their neatness and self-cleaning tendencies, they're still vulnerable to skin issues, including ones all-too-familiar to human teenagers.
Yes, cat acne is real. But, it's not like the pubescent human acne you're probably thinking about. This acne is specific to felines and can't be treated by popping pimples or switching to a new face wash. 
Cat acne is known as follicular keratinization and can affect male or female cats from any breed. If your cat is dealing with a pesky case of acne, or you're looking for preventative methods to stop the problem before it happens, this is the article for you.
Here's what you should know about feline breakouts.
What Does Cat Acne Look Like?
Learn to spot the problem quickly, because cat acne can worsen if untreated. Cat acne often occurs on the cat's chin and lips but can occur anywhere on your cat's body. Many cases are mild and often require no treatment. However, other cases may be more severe, resulting in swelling, tenderness, and hair loss.
Cat acne may look different from case to case, but the most common visual elements include:
Discoloration

– When feline acne first begins to form, it is frequently mistaken for dirt. You may be inclined to try and wipe it off or simply ignore it, assuming that your cat will take care of it themselves. If your cat is lucky, this may be the end of their acne issues, otherwise, it may erupt into a full-blown pimple.

Blackheads

– Blackheads or comedones are small black bumps caused by clogged hair follicles. If you notice a dark

,

bumpy texture on your cat's skin, you're most likely dealing with blackheads.

Pustules

– Commonly referred to as pimples, pustules occur when comedones become infected by bacteria. Pustules are typically full of yellowish fluid and cause reddish bumps on the skin's surface. If you notice pustules developing on your cat, be careful how you handle them, as they may be painful to the touch.

Swelling or inflammation

– Sometimes

,

cat acne does not take the form of individual lesions but may result in general swelling or inflammation in a specific area. In these cases—particularly around the mouth—you may notice severe redness as well.
What Causes Cat Acne?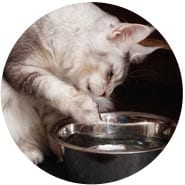 The cause of cat acne is often thought to be follicular hyperkeratosis, a big word for bad hair follicles. Keratin is a protein located in the outer layer of your cat's skin. When too much keratin is produced, it can cause hair follicles to become plugged and results in acne.
There are several possible causes for this phenomenon, including:
Cat Dishes

– Feline acne can also be related to allergies or trauma. When cats rub their face and chin on things, it can cause damage to their skin and hair. Plastic food and water dishes may also contribute to the problem, if the plastic is scratched

,

it can damage the cat's skin. Plastic can also be difficult to clean and may harbor bacteria.

Seborrhea oleosa

– Known as 'oily seborrhea,' this particular type of skin disorder is caused by the sebaceous gland producing excessive sebum. Sebum is a necessary part of healthy skin for cats and humans alike, protecting the dermal layer and lubricating the skin. In this case, it is working overtime, causing too much oil and, subsequently, clogged pores leading to feline acne.

Allergies

– Cats are susceptible to allergies just the same as humans, and frequently they have similar triggers for their allergic reactions. Things like

,

fleas, certain foods, and airborne dander and pollen, can cause your cat to cough, sneeze, and even develop skin issues like feline acne.

Stress

– Most cat owners are aware of their cat's sensitivities. As smart, intuitive animals, cats are prone to bouts of stress or anxiety due to environmental factors. A move, a trip to the vet, or unfamiliar people in their space may cause them to have a full-on stress-related episode. This can include skin breakouts as well as the more expected behavioral effects.

Hormonal imbalance

– Much in the same way that some humans are prone to hormonal acne, so are cats. Cats affected by a hormonal imbalance may be more prone to chronic acne.

Poor grooming

– Most cats love to clean themselves, but as they get older, some senior cats have difficulty reaching certain areas. If your cat's acne develops well into their golden years, there's a good chance it's related to their less-thorough grooming habits.
With most situationally caused acne, proper treatment and preventative care can stop flare-ups from occurring. Unfortunately, cats with allergies or hormone imbalances may have a more difficult time stopping breakouts from happening regularly. If left untreated, it may develop into more severe cat wounds.
How Feline Acne is Diagnosed
The clinical signs of cat acne are usually hard to miss, making it fairly easy for non-professionals to spot the issue. Still, it can be worthwhile to consult your veterinarian whenever you notice a change in your cat's physical or behavioral health.
In the case of feline acne, veterinarian's use a variety of testing to properly diagnose the problem, including:
Medical history

– If your cat has dealt with feline chin acne in the past, medical history can help make a quick and simple diagnosis. Additionally, if previous tests have indicated a likelihood of developing skin issues, these details may be included in your cat's medical history.

Skin scrapings

– By taking a small sample of your cat's skin, vets can run several tests to develop an accurate picture of your cat's skin issue. Skin scrapings are typically very minorly invasive, so your pet shouldn't be too shaken up by the ordeal.

Cytology

– Also known as cell biology, this method of diagnosis involves taking a blood sample for testing. This is mostly done to ensure your pet is not dealing with a more severe illness.
It's in your cat's best interest to receive a professional opinion. Not only can a vet provide the relief of knowing exactly what's going on with your pet, but they may also give detailed treatment options or point you in the direction of helpful resources. 
Feline Acne Prevention
When it comes to cat acne, it pays to be proactive. If you've never dealt with it or your cat is just getting over their last break out, there are a few ways to help prevent future flare-ups.
Consider the following preventative measures and feel free to consult with your veterinarian for more ideas if you find these aren't working for you:
New bowls

– If your cat uses plastic food or water bowls, try switching them out for ceramic or stainless steel bowls. These materials are known to be less irritable and cause less opportunity for scratching and bacteria growth. Plus, your cat might appreciate the decor change.

Allergy relief

 – While you can't stop the wind from blowing pollen or grass, you

can

do things to control allergens in your home. Consider buying an air purifier and dusting regularly to decrease dander in the air. You can also consider switching your pet to a hypoallergenic diet before your cat has a serious breakout. The minor things you do to lessen the chance of an allergic reaction can have major effects on your cat's overall well-being

.

Grooming assistance

– Improved hygiene is one way of preventing bacterial infection. If you notice your senior cat dealing with some skin issues, you may have to figure out a way to give them a helping hand with their cleaning duties. This can mean regular brushing and occasional baths to keep your cat feeling and looking fresh well into their double digits.
Like most health matters, thinking ahead can save you headaches later on. If you notice minor skin irritation on your cat or witness the occasional coughing or sneezing fit, it's worthwhile to follow through on these precautions. 
How to Treat Cat Acne
Chances are, if you're looking to learn about cat chin acne, you've already got a break out on your hands. If it's too late to prevent, there are some ways to bring fast relief to your cat's skin problems.
Warm Compress
Before you run out to the local pet supply store, you may have a way to treat your cat's acne already in your home.
Warm compresses applied to the area can help reduce swelling and offer relief, but many cats will object to this approach. While it may be near impossible to get your cat to remain still for a long enough period of time for the compress to work, there are a few tricks for using this method, including: 
Be fast

 – Speedy hands may be the solution to get the compress on your kitty. By picking them up and quickly applying the compress before they know what's happening, you may avoid a serious struggle. As always, be gentle and watch out for claws.

Wait until they're asleep

– Cats are always taking naps, so the best time to place your compact may be when your furry friend is all tuckered out. There's less chance of resistance if your cat is still half-asleep.
With the compress applied, the irritated skin should loosen up, providing some relief for your cat and assisting in the healing process. If you have the inclination to press on or pop any of the pimples or blackheads, resist the urge. Popping the lesions can cause further irritation and worsen the condition. Picking at cat acne frequently leads to infection and additional pain for your feline friend, so avoid it at all costs.
Clean The Affected Area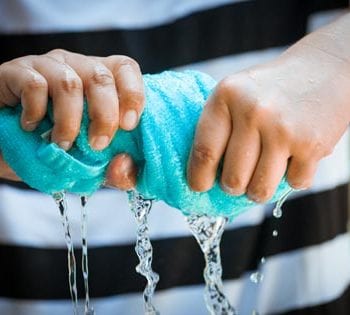 For this option, it's important to have a delicate touch. If your cat's acne has become infected with bacteria, one of the best treatment options involves cleaning the area.
To provide proper cleaning without frightening your cat, follow these tips:
Bring treats

– You're likely going to be getting directly into your cat's face, so it can help to bring something to help calm them. By feeding your cat treats as you clean the affected areas, you can turn the entire ordeal into a (partially) positive experience. Your cat may not look forward to cleanings, but they will at least enjoy the consolation prize for sitting through it.

Allow for breaks

– Causing more stress for your cat could mean creating more acne problems in the future. If you feel your cat tensing up or hissing, it could be necessary to take a break and return to the cleaning later.
Cats may react to many topical treatments that dogs seem to tolerate well. For this reason, it is important to use a safe, non-sensitizing treatment, such as Vetericyn Plus® Feline Antimicrobial Facial Therapy. Flush and clean the area well and gently pat dry.
Apply Topical Treatment
Apply Vetericyn Plus Antimicrobial Hydrogel 2-4 times daily to help promote healing. Long-haired cats may require some trimming around the affected area to allow optimal treatment.
Always consult your veterinarian for severe cases of cat acne, or for those which do not respond to at-home treatment.
If you find your cat is suffering from a case of acne, don't panic. With proper care, you can help your pet keep their chin up and in tip-top condition. Vetericyn offers the wound and skin care products you need to care for all the pets in your life.
Combat Cat Acne with Vetericyn
Cat acne is typically only a superficial issue with no relationship to serious health issues. That said, it can still be an uncomfortable nuisance for your cat, making pets and scratches a lot less fun for everybody. If you're ready to commit to giving your cat healthy, clear skin, there's nowhere better to start than at Vetericyn.
We're committed to bringing you the products to keep your cat looking great and feeling even better, with formulas designed by our own in-house veterinarian, Dr. Melinda J. Mayfield-Davis.
Dr. Melinda J. Mayfield-Davis, DVM, WCHP-AH, brings over 20 years of experience in veterinary medicine. She is the Technical Services Veterinarian with Innovacyn, Inc., the parent company of Vetericyn Animal Wellness. She received her DVM from Oklahoma State University and now resides in Southeast Kansas with her husband, two children, four dogs, and six horses. Prior to working with Innovacyn, Dr. Mayfield owned and operated the Animal Care Center in Columbus, KS.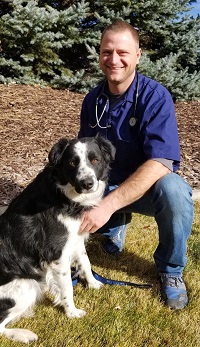 Reviewed by Dan Richardson, Veterinarian
Dan Richardson has been a practicing veterinarian for over 10 years. He specializes in surgery and orthopedics. Dan is originally from rural western Nevada and attended the University of Idaho for undergraduate study and Oregon State University for Veterinary School. The Richardson Family enjoys camping and spending time on the water fishing, paddle boarding, or digging their feet in the sand somewhere warm.
Sources:
VCA Hospitals.

Chin Acne in Cats.

https://vcahospitals.com/know-your-pet/chin-acne-in-cats

 

PetMd.

Cat Acne.

https://www.petmd.com/cat/conditions/skin/c_ct_acne

 

Daily Paws.

Cat Acne: Why It Pops Up and What You Can Do About It

.

https://www.dailypaws.com/cats-kittens/health-care/cat-conditions/cat-acne