What is Prolapse Vent in Chickens?
Prolapse vent in chickens is an avian anomaly wherein a hen's vent or cloaca is inverted and pushed to the outside of the body. Often characterized by a collection of red tissue hanging out of the hen's posterior, prolapse vent is easily treatable. There are circumstances where complications can arise, and the situation can become severe, but when found and treated in the early stages, most hens make a full recovery. 
Chickens with prolapse vent can turn into a scary endeavor, especially if you have never encountered it before. This article will help you become a little more comfortable with a topic that, while difficult to stomach, is easier to deal with than you might think. Below you'll find out everything you need to know about prolapse vent so you can keep your chickens healthy and happy. 
Causes of Prolapse Vent in Chickens
There are many causes for prolapse vent in chickens, and while each case is unique, below are some of the most common causes:
The Egg Effect 
Laying eggs is one of the most common causes of vent prolapse in chickens. Also called a "blowout," prolapse vent is common in hens that begin laying eggs too early in life. Similarly, if a hen tries to pass a large egg, a blowout can be the result. Prolapse vent should be closely monitored in hens when they first begin laying eggs and when they age, as these are times when they're most susceptible.
Obesity
 Overweight hens are at greater risk for prolapsed oviduct due to their inability to rise up as they lay an egg. If a hen is too obese to support her body weight, she may exert too much strain while passing an egg, culminating in a prolapsed vent. It is advised to avoid breeds that have a predisposition toward obesity, and diet should be closely monitored along with exercise as methods of weight control.
Dietary Deficiencies
Calcium is an important part of the egg-laying process. If your hen is deficient in vitamins and minerals, specifically calcium, it can negatively impact the egg-laying process resulting in a blowout. Hens, especially those who lay eggs regularly, need to be given dietary supplements in addition to nutrient-rich foods. 
Intestinal Trouble
A build-up of stool is another major factor for prolapse vent. If your hen becomes impacted and is unable to pass stool, the effort to force out fecal matter can easily cause the cloaca to become exposed. Keeping a chicken coop clean is the best practice for encouraging your hens to have regular bowel movements.
Signs and Symptoms of Prolapse Vent in Chickens
As with most avian issues, there will be general symptoms of pain and suffering that should catch your attention. The following is a good list of general behavioral warning signs you should watch for in your hen's daily activity:
lack of appetite, unwillingness to eat

self-isolation, unwillingness to socialize

lethargy and lack of energy

huddling while puffing out feathers
When it comes to Vent Prolapse, there is no sign more telling than the visible protrusion of a hen's distended oviduct falling through her vent. Vent Prolapse, also commonly referred to as "blowout," tends to be visibly graphic and is not easily overlooked. 

Your hen will be in noticeable pain and may be hesitant to move around. Additionally, your hen will be skittish and quick to avoid contact due to the sensitive nature of this painful issue. Prolapse Vent looks as if your hen's insides are falling out of her. 
There is no mistaking in a prolapse vent, and once you see it, there will be no question that you have a serious issue on your hands. The tissue will be red and puffy, and it will look as if your hen has evacuated some of her internal tissues. 
Treatments for Prolapse Vent
There are several treatments for prolapse vent, and it should be noted that veterinary care is always a good option. If you are unsure of what you are doing, or how to handle a medical situation with your hen, seek the proper professional medical care. Below are the steps you can and should take on your own.
Separate and Isolate
One of the most important measures you can take for the safety of your hen is to remove her from the flock. Cases of prolapse vent are especially alarming to your other chickens, and it may trigger the flock to attack your wounded bird. When one hen has been visibly injured, the instinct of the others is to attack the injured hen to establish a pecking order. Not only will the attacked bird receive pecking sores, but their condition can quickly worsen and even lead to death.
Additionally, the dangling tissue may be a temptation for other backyard chickens to peck at and further aggravate the exposed tissue. This can lead to the disembowelment of your hen or, at the very least, cause painful complications that will need additional medical attention. In extreme instances, backyard chickens have been known to cannibalize hens who suffer from prolapse vent.
Even after you take the necessary steps to treat the prolapse, you should still keep your hen separated for a day or two. With prolapse vent, the risk of re-injury is always possible, and it is most commonly re-aggravated within the first 48 hours. It should be noted that once your hen suffers from prolapse vent, they are at high risk for recurrent prolapse vent episodes.
Home Care is Easier Than You Think
As daunting as it may look, prolapse vent is one of the easier chicken issues to deal with yourself at home.If you are ever in doubt, call an avian vet. For those who wish to care for their hen themselves, here is a quick synopsis of how to treat the condition: 
1) Remove your chicken from the coop – as discussed earlier, your chicken needs to be isolated. Additionally, the quiet and calming nature of a separate environment will help your chicken to feel more at ease during the process.
2) Clean your hen and the affected area – Cleanliness is of the utmost importance when treating prolapse vent. As you know from reading about what causes prolapse vent, this condition is often accompanied by fecal matter or egg debris. Any debris or material clinging to the affected tissue or surrounding area should be washed off. 
The best way to clean your hen is to fill a basin with warm water. Soak the lower half of your hen in the warm water to clean the protrusion. The warm water has an added benefit of loosening the tissue, which will make the next steps easier for you. 

3) Apply a poultry antimicrobial– For the most part, prolapse vents do not become infected. If you fear that the area is infected, stop the home care, and call a vet. If there is no visible sign of infection, then a topical antimicrobial is the best solution for sanitation. Spray a small amount of antimicrobial solution onto the prolapsed vent to eliminate bacteria.
4) Put the vent back into place – This step will require two people. If you do not have anyone to help you during this part of the process, lay your hen on her back and loosely wrap her head and upper body with a towel. This will keep your hen calm while allowing you to put the vent back into place.
Put on latex gloves and prepare for re-insertion. Using a water-based lubricant, gently massage the tissue back inside the vent and into place. The tissue should respond with easy, delicate touching; do not press too hard. If the tissue is not going back in easily, then the case has become too complicated, and you will need to call an avian vet. 
5) Prevent Egg Production – Once you have successfully reinserted the cloaca, your hen must be isolated and monitored. It is important to keep your hen in an environment that suppresses the natural desire to lay eggs. Limit your hen's exposure to light (less than 12 hours per day) and keep her in a smaller than normal enclosure. The limited exposure to light and limited space will help fight her instincts and prevent her from laying eggs too soon post-injury.  
Prevention
Unfortunately, there is not too much that can be done to prevent prolapse vent, as it occurs on a case-by-case basis. While there is no hard and fast rule to prevent prolapse vent, there is a consensus that keeping hens from becoming overweight is a good way to prevent prolapse vent. 
Additionally, preventing your hens from laying too many eggs, or laying eggs too early in life, are good measures to take as a precaution. Remember, constant healthcare maintenance is the best way to keep unpredictable health issues like prolapse vent at bay. 
Prolapse vent tends to look more serious than it is. One of the most important things to remember when dealing with a hen suffering from a prolapsed vent is to remain calm. Take the action you are comfortable taking and do as much for the safety and well-being of your hen as you can. For circumstances that seem too daunting, an avian veterinarian is an excellent resource for medical care. Always arm yourself with information and surround yourself with the best possible help so you can make an informed and appropriate decision for the well-being of your hen.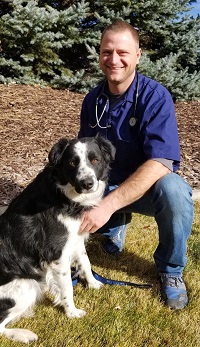 Reviewed by Dan Richardson, Veterinarian
Dan Richardson has been a practicing veterinarian for over 10 years. He specializes in surgery and orthopedics. Dan is originally from rural western Nevada and attended the University of Idaho for undergraduate study and Oregon State University for Veterinary School. The Richardson Family enjoys camping and spending time on the water fishing, paddle boarding, or digging their feet in the sand somewhere warm.
Sources: