What's the Best Cat Hot Spot Treatment?
Whether you share your home with a plushy Persian, a refined British Shorthair, or the fluffy beast that is the Maine Coon, you expect your cat to look and feel a certain way—typically, adorable and soft. That's why the appearance of red sores on your cat or the loss of fur can cause concern and distress. In fact, these signs may indicate your cat is suffering from a hot spot. 
What exactly are cat hot spots and what can you do to treat it? 
In this article, we'll discuss how this painful skin infection can occur and how you can provide the best cat hot spot treatment possible. That way, your furry friend can get back to feeling and looking like the cat's meow.
What Are Hot Spots?
Hot spots, also known as acute moist dermatitis, are red, infected patches of skin that result from excessive scratching, licking, or biting of the area. 
Aside from redness, other signs your cat may have a hot spot include:  
Hair loss or discolored fur around the affected area

Damaged skin that's warm to the touch

Round lesions that ooze pus or have scabbed over 

How to Treat Your Cat's Hot Spots 
Once you've detected a hot spot on your cat, you can begin the process of treatment and healing by following our step-by-step guide. 
Step 1: Trim the Fur Around the Affected Area 
To effectively treat your cat's hot spot, you'll need to be able to see the extent of the damage, access the area, and allow air to circulate. This means you'll need to trim or shave the fur around the hot spot. 
Due to the sensitivity and soreness of this area, trimming the fur may be a painful (not to mention, confusing) experience for your feline friend. For help, contact a professional pet groomer who's equipped with the proper tools and effective cat calming techniques. 
Your vet can also provide assistance with trimming, as well as help to determine the underlying cause of your cat's hot spots. 
Step 2: Clean the Affected Area 
Like any wound, a hot spot needs to be thoroughly cleaned to remove any bacteria and prevent further infection. Vetericyn's Antimicrobial All Animal Wound and Skin Care liquid, provides a safe, non-toxic way to cleanse the wound without damaging healthy tissue or causing additional irritation. 
Step 3: Apply a Topical Ointment 
Topical ointments and gels can be applied to the affected area to treat the infection, promote faster healing, and provide pain relief. If your cat's infection has spread to deeper layers of the skin, your veterinarian may also prescribe a course of oral antibiotics. 
Step 4: Address the Underlying Cause 
By treating your cat's hot spot, you only scratch the surface of the issue. For an effective treatment that works to prevent future hot spots, you need to determine why your cat was excessively biting, scratching, or licking at their skin in the first place, and resolve that underlying issue. 
Common Causes of Hot Spots in Cats
Although cats are notorious groomers, hot spots aren't caused by run-of-the-mill self-grooming. Rather, hot spots in cats develop when extreme itchiness, irritation, or pain cause your cat to lick their fur more than usual, or even resort to excessively scratching or biting the area in an attempt to find relief. 
What causes this cat scratch fever?  
Below are the most common reasons why cats may excessively scratch themselves:
Parasitic infestation

– Bites from fleas, ants, mites, or other pesky insects can cause irritation and inflammation of your cat's skin. If you believe a parasite is the underlying cause of your cat's itchiness, ask your veterinarian about appropriate treatment options. 

Food allergies

– Like humans, cats can develop food allergies. In fact, your cat may experience irritation from eating beef, fish, chicken, dairy, or grain-based foods. To determine whether a food allergy is the culprit behind your cat's excessive itchiness, your veterinarian can perform a food trial diet, which involves feeding your cat a specialized diet to identify the offending allergen. 

Environmental allergies

– Excessive itchiness may be a reaction to environmental allergens, such as pollen or mold. If this is the case, try to keep your cat's most frequented areas as clean as possible. However, allergies may also be caused by household irritants such as the cleaning products you use around your cat's litter box, or the laundry detergent you wash their favorite blanket with. 

Infection

– An underlying infection, such as an ear infection or ringworm infection, may cause increased itchiness and irritation around that area of your cat's skin.

Lack of proper grooming

– When cats, particularly those with long or dense hair, aren't regularly brushed, they may develop knotted and tangled matts of fur. Aside from being extremely itchy, these matts also create a dark, moist environment between the fur and the skin that allow bacteria to fester.

Psychological factors

– Your cat may obsessively lick a spot on their body out of boredom. That's right: sometimes hot spots are less about scratching a physical itch and more about scratching a

mental

itch. If this is the case for your cat, try to introduce new forms of mental stimulation, such as hiding treats in a puzzle toy or creating a kitty obstacle course out of cardboard boxes. 

For Long-Lasting Relief and Life-Long Care, Choose Vetericyn 
Hot spots are a painful condition that not only affect the way your cat looks, but also the way they feel. Fortunately, as the caretaker of your fluffy feline friend, you can provide much-needed relief at the first sign of a hot spot by following our step-by-step treatment process, and choosing a trusted, non-toxic solution such as Vetericyn's Antimicrobial Hydrogel. 
As a leader in at-home animal care, Vetericyn uses cutting-edge technology to provide animal lovers like you with non-irritating pet care products that work to soothe pain, fight bacterial infections, and promote fast, effective healing. Are you noticing similar symptoms in your dog? We've got you covered! Check out our latest blogs on how to identify an infected hot spot on dogs and what causes hot spots on dogs. 
Help keep your cat feeling purr-fect in their skin and fur, with Vetericyn.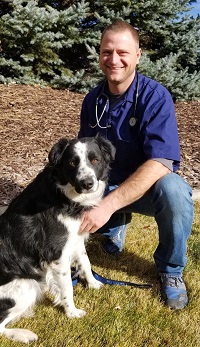 Reviewed by Dan Richardson, Veterinarian
Dan Richardson has been a practicing veterinarian for over 10 years. He specializes in surgery and orthopedics. Dan is originally from rural western Nevada and attended the University of Idaho for undergraduate study and Oregon State University for Veterinary School. The Richardson Family enjoys camping and spending time on the water fishing, paddle boarding, or digging their feet in the sand somewhere warm.
Sources:
Fetch by WebMD.

Cat Grooming: Brushing, Bathing, Nail Clipping, and More.

https://pets.webmd.com/cats/guide/cat-grooming#1

 

PetSmart.

Does My Cat Have a Food Allergy?

https://www.petsmart.com/learning-center/cat-care/does-my-cat-have-a-food-allergy/A0152.html?fdid=cat

 

Vetericyn.

Innovation at the Molecular Level.

https://vetericyn.com/our-technology/