When Do German Shepherds Stop Growing?
When you adopt a German Shepherd as a puppy, you bring home this tiny, cute, cuddly, bundle of fur that fits in your hands. He or she amazes you with adorableness and it seems as if "Aww" became the puppy's name.
Fast-forward by a year and you probably wonder if your dog decided to grow at the 98th percentile. After two years of owning a German Shepherd from puppyhood to the not so terrible twos, you probably consistently ask yourself, "When will this dog stop growing?"
The short answer is German Shepherds reach their full growth at about three years of age. The five-pound puppy you brought home will become a full-grown dog of about 90 pounds. Essentially, she or he will grow to the size of a teenager in weight, but about 26 inches in length. Of course, that's measured as the dog stands.
When the dog jumps up to greet you, you'll probably come close to looking each other in the eyes. You chose one of the largest dog breeds in the world.
Large Breed Doesn't Mean Unhealthy
As long as you feed the dog healthy food and walk it each day, your German Shepherds will remain lithe and physically fit.
While these dogs reach physical maturity at three years of age, they typically have a median life expectancy of about ten years. That's in human years. In dog years, that's about 66 years old.
Many German Shepherds live longer than that. Your puppy might grow up to live until the age of 12 or 13, which equates to 77 to 82 years old. You will get many years of love from this breed of dog.
While every dog differs, in general, female German Shepherds reach the age of full maturity before the males do. A female German Shepherd typically grows to two inches shorter than the male and a weight of about 70 pounds. All in all, German Shepherd growth is divided into seven stages.
The Stages of Growth: Newborn to Adulthood
Perhaps you got to visit with the puppies when they were firstborn. That tiny phase of newborn puppyhood doesn't last long. Enjoy it while you can.
Newborn Stage
Your GSD puppy will remain a newborn for just two weeks. They gain weight quickly in their early days. Each day, your puppy will gain between 2.29 to 3.35 ounces (65 to 95 grams). As a newborn, your German Shepherd probably weighs around four pounds. The puppy eats and sleeps but doesn't do much else.
Childhood and Teen Years All in One Year
Most people think of a dog's rapid growth as a childhood phase. When you calculate the median age of a dog's growth in human years, overall it comes out to about seven years of dog life to one year of human.
That's averaged out though. In a dog's first year of life, it ages equivalent to 15 years for a human. That means that in its first year of life, the dog goes through childhood, pre-teen or tween years, and half of its teen years.
That's pretty rapid growth. They gain weight and height accordingly. At the end of one year, the dog typically weighs about 49 to 50 pounds. The German Shepherd will nearly reach its full height by this time, too.
Let's break it down by months how your German Shepherd moves through childhood to teen years in one year.
Transitional Stage
Veterinarians refer to every few weeks, then months as a different growth phase of early development. They call the two weeks to four weeks period transitional stage. T four weeks the typical female weighs between 4.5 to 8 pounds and stands three to six inches tall. The males may weigh between 5.5 and 9 pounds and stand four to six inches in height. When it comes to maturity stage for training, you can start even at the transitional stage, especially when you use positive reinforcement. 
Socialization Stage
The socialization stage lasts through their third month. In the middle of this phase, the German  Shepherd puppy usually experiences a growth spurt. By the end of the three months, your GSD puppy will measure about 10 to 11 inches in height. Females will weigh between 11 and 17 pounds, males will weigh between 22 and 30 pounds.
Juvenile Stage
Try not to think of your German Shepherd pup as a juvenile delinquent as they pass through this period from three to six months. At four months, your furry friend reaches the halfway point of height and weight.
At the end of their fourth month, your puppy becomes a man or woman-dog. At this point of German Shepherd development, it reaches sexual maturity.
At six months, the German Shepherd exits the juvenile stage. By now, you're probably saying, "When will my German Shepherd stop growing?" Well, he or she has reached about 70 percent of the final growth.
Your male German Shepherd exits this phase weighing between 49 and 57 pounds and at a height of 16 to 18 inches, but your female puppy will weigh between 44 and 49 pounds and attain a height of 15 to 17 inches.
Adolescent Stage
The adolescent stage ranges from six months to two years. At the end of one year though, your puppy becomes a dog. At one year of age, he or she enters adulthood. At this point, the female German Shepherd weighs between 60 to 64 pounds and has a height of 20 to 22 inches. The male German Shepherds weighs between 71 and 71 pounds and has a height of 22 to 24 inches. Your German Shepherd dog's growth slows down at this point and moves into year two of life.
End of Adult Growth Stage
When do German Shepherds stop growing? Some German Shepherds reach physical maturity at the age of two years, but most continue to grow until they reach the end of their third year.
If you have a male German Shepherd, he'll probably weigh 79 to 88 pounds and grow to a height of 24 to 26 inches. Female German Shepherds typically reach a height of 22 to 24 inches and weigh between 66 to 70 pounds. As long as their diet is stable, the adult German Shepherd dog should relatively stay the same weight for the rest of their lives. 
Genetics Plays a Large Part
 Like a human, your dog will grow to a smaller or larger size based on its genetics. To get an idea of how large your dog will grow, meet the parents. Tracing the genealogy can also help determine what are the potential German Shepherd health issues (even German Shepherd skin issues) to know your pup might have down the road.
Regardless on the stage of growth, always make sure your German Shepherd pup is healthy. At Vetericyn, we have wellness products that can help keep your pup healthy and happy.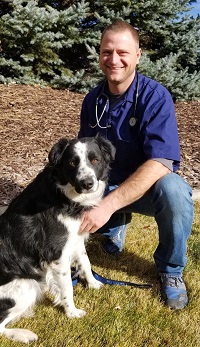 Reviewed by Dan Richardson, Veterinarian
Dan Richardson has been a practicing veterinarian for over 10 years. He specializes in surgery and orthopedics. Dan is originally from rural western Nevada and attended the University of Idaho for undergraduate study and Oregon State University for Veterinary School. The Richardson Family enjoys camping and spending time on the water fishing, paddle boarding, or digging their feet in the sand somewhere warm.
Sources:
All Shepherds. When do German Shepherds stop growing.

https://www.allshepherd.com/when-do-german-shepherds-stop-growing/

 

All Things Dog. Large dog breeds.

https://www.allthingsdogs.com/large-dog-breeds/

Blitz Results. Dog Years ⇔ Human Years | Calculator, Age Chart and Converter.

https://www.blitzresults.com/en/dog-years/

German Shepherd Love Club. What Age Do German Shepherds Die.

https://www.clubgermanshepherd.com/what-age-do-german-shepherds-die/

World of Dogz. When Do German Shepherds Stop Growing? GSD Growth Chart.

https://worldofdogz.com/when-do-german-shepherds-stop-growing/