Vetericyn Scholarships
2021 scholarship submissions are closed. We are no longer accepting applications.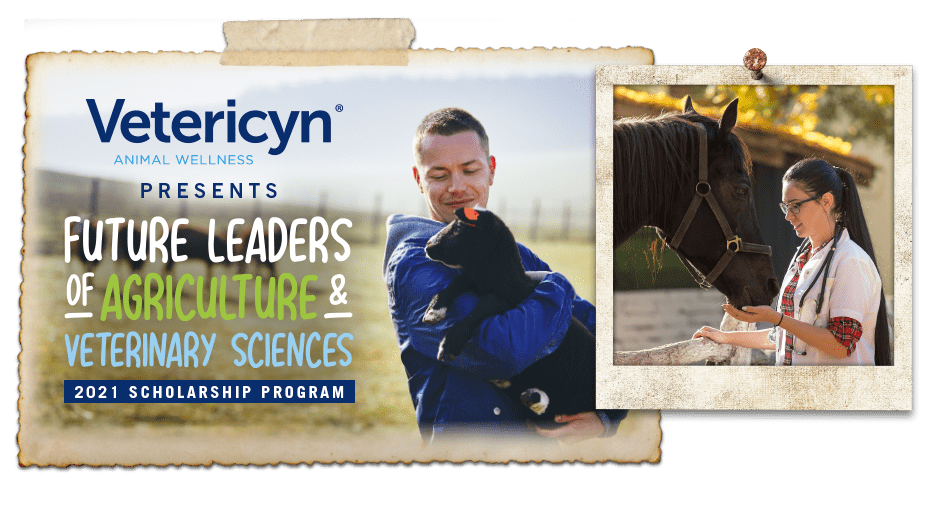 We're excited to announce Vetericyn's 2021 Future Leaders of Agriculture & Veterinary Sciences Scholarship!  We will be awarding one $2,000 scholarship and one $1,000 scholarship to graduating high school seniors to help in their pursuit of higher education in the field of agriculture, including animal health and food science.
Application Requirements
Please read carefully.  All entries are reviewed prior to judging, and those that do not adhere to the rules will not be considered.  No late entries will be accepted.
Conditions of Eligibility
Applicants must be graduating high school seniors with plans to enroll in a 2 or 4 year university, vocational, trade or technical school in an agricultural or veterinary discipline.
Proof of enrollment as a full-time student in Fall 2021 will be required.
Students must have an overall GPA of at least 3.0.
Applicants must be US citizens.
Applicants must have demonstrated a commitment to agriculture through classes, internships and/or life experiences.
Submissions will open February 15th, 2021 and close on May 15th, 2021.
Judging
Judging will be conducted by a panel of Vetericyn employees.
Scoring is based on originality, clarity, meaningful content, critical thinking, and grammar.
All information sources must be properly cited.
Answers must be your original work and grammatically correct with proper spelling.
Applicants must adhere to all scholarship rules to prevent disqualification.
Vetericyn's internal auditor will tabulate the results and declare the winner. All decisions are final.
Winner will be notified and announced by July 30th, 2021.
Winner will need to complete a final scholarship form verifying contact and personal information.
Administrative/Award Guidelines:
Winner must begin studies within one year of High School graduation or they may be required to forfeit the award in the absence of extenuating circumstances.
Winner must be enrolling or enrolled as a full-time student at any vocational, trade, 2-year or 4-year college.
Scholarship funds will be forwarded after Vetericyn receives written proof of enrollment from a college registrar. At that time, the winner's check will be made payable to both the winner and the college.
Check will be mailed to the address provided by the winner.
Funds are to be used only for tuition, room and board, or book and educational supply expenses.
All scholarship entries become the exclusive property of Vetericyn and will not be returned.
Winners agree to provide Vetericyn with a photo and brief bio that can be used to promote the scholarship program.
How To Enter
Entries must include a cover page that lists: Name, address, phone number, email address. Please type your initials in the top right-hand corner of each page of the essays.
Only one submission per student. Email entries are preferred.
Email entries as a PDF document to customerservice@innovacyn.com
If you do not have access to email, you may mail a printed copy on 8 1/2 x 11 paper to: Vetericyn Animal Wellness, Attn: Scholarship Committee, 3546 N. Riverside Ave., Rialto, CA 92377
All entries must be emailed or postmarked by 11:59 pm PST on May 15, 2021. Entries emailed or postmarked after will not be valid.
Scholarship Questions
Please answer the following questions as directed:
Formatting: All submissions must be set up as an 8 1/2 x 11 document using Times New Roman or Arial font at 12 pt. and single spaced with 1" margins. Please add your initials to the top right-hand corner of each page. Please include word count after each question. For confidentiality in judging, please DO NOT include any personal identification (name, address, phone, signature, photo, etc.) in your essay. Please, NO PHOTOS.
Question 1 – short answer (must be 75-200 words):
What is a life experience that has helped shaped your commitment to seeking a career in agriculture or veterinary science?
Question 2 – long answer (must be 500-700 words):

With the debate around climate change happening in the world today, argue a position on the issue. Choosing one discipline of agriculture or veterinary science, how do you believe initiatives around climate change will impact your area of interest?
Note
Vetericyn Animal Wellness (Innovacyn, Inc.) has the ultimate authority to amend any of the above rules to ensure fairness in awarding scholarships. Any questions regarding the scholarships should be addressed via email or in writing to the addresses mentioned above.