7 Signs of Dehydration in Horses & How to Prevent It
When you're getting through a tough workout, you know how important it is to keep your water bottle handy and take frequent breaks to rehydrate. Adequate hydration is equally important for your horse.
Dehydration in horses occurs when a horse loses more electrolytes and water than it takes in, through excessive sweating, low water intake, fever, or diarrhea.
If not addressed quickly, dehydration can lead to complications like colic, shock, or even kidney failure. Especially in hot weather, it's essential for horse owners to learn the signs of dehydration and take action quickly when they occur. In this article, we'll cover the early signs of dehydration, along with some tips on how to keep your faithful steed hydrated and healthy this summer.
7 Signs of Dehydration in Horses
Signs of dehydration in horses can be subtle. Any time you're working your horse in warm weather or for extended periods, watch for:
Lethargy or depression – Does your normally enthusiastic horse seem sluggish, dull, or unusually tired? In hot weather or after excessive sweating, this can be a sign of dehydration.
Dry or red mucous membrane – Check the tissues inside your horse's nose, mouth, and eyelids. A healthy mucous membrane should appear moist and pink. The horse's gum should not feel sticky or tacky to the touch. Sticky, dry, or red membranes are a sign of irritation, possibly from dehydration.
Loss of appetite – Horse people know that a happy horse is a hungry horse. If you stop for a break and your horse shows no interest in grazing, this is often a warning sign of dehydration.
Excessive or limited sweating – If your companionhas worked up a horse sweat that foams, drips, or spreads onto the rump, neck, and back, they are losing a significant amount of fluids. Be sure to provide frequent water breaks. On the other hand, if your horse is not sweating when they should be, this can be a sign of dehydration or other health problems. A horse that can't cool itself by sweating is in immediate danger of overheating.1
High heart rate – A horse's normal heart rate should be between 28 and 44 beats per minute (BPM). A heart rate over 60 BPM can be a sign of dehydration or impending heat stress.2
High temperature – Healthy body temperature for a horse should be between 99 and 100 degrees. This can climb to 106 during a workout, but it shouldn't stay elevated for long once the horse is resting.2
Dark urine – Dark yellow urine is a classic sign of dehydration. It can also be a sign of other illnesses that affect the kidneys, so contact your vet if the color doesn't return to normal once your horse is rehydrated.3
These signs are easier to recognize if you're familiar with your horse's vitals under normal conditions. Make it a habit to check your horse's gum, eyelids, heart rate, and temperature regularly so you can react quickly if anything is out of the ordinary.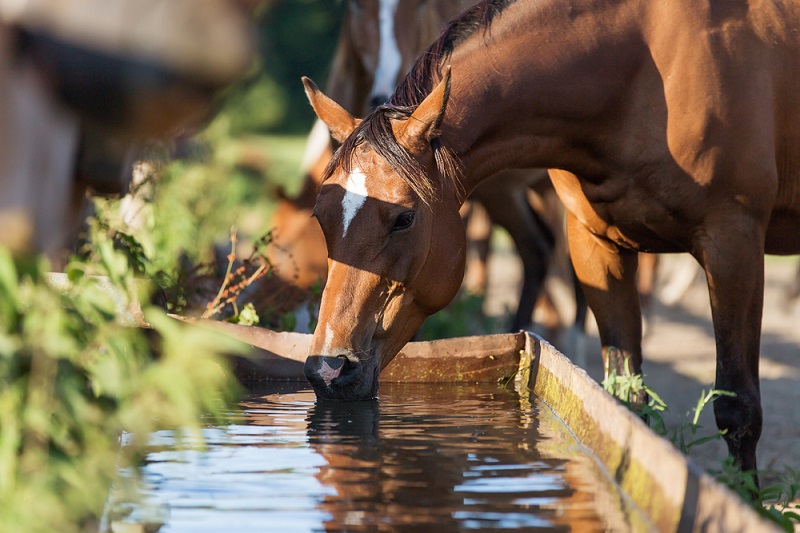 How to Check for Dehydration
There are two simple tests you can do anytime you're worried you might have a dehydrated horse:
Capillary refill time test – Press a fingertip to your horse's gums, hold for a few seconds, and release. The gums should return to their normal pink color within one to two seconds. If it takes longer, it means your horse's capillary veins aren't refilling normally. This can be a sign of several problems, including dehydration.4
Skin tent test – Pinch a small fold of skin on your horse's neck and watch what happens when you let go. Well-hydrated skin will snap back quickly. Dehydrated skin will hold the "tent" shape for several seconds, then sink slowly into place.5
Tips for Preventing Dehydration in Your Horse
Fortunately, it's easy to prevent dehydration with a little extra horse care and attention. Follow these tips to make sure your horse keeps cool when the mercury rises:
Avoid overexertion – When the temperatures climb, don't work your horse too hard or for long periods in the middle of the day. Watch carefully for signs that your horse is exercising past their fitness level, such as heavy breathing and lethargy. Take frequent rests in the shade. Provide free access to water during breaks.
Monitor water intake – A healthy horse loses anywhere between 2 to 4 gallons of water an hour when exercising. They need to drink 18 gallons of water a day or more in hot weather to replace all that lost fluid, so be sure to keep those water troughs clean and full.6
Give a cooling rubdown – Reduce fluid loss by helping your horse cool down without sweating. Add about one ounce of horse liniment to one quart of cool water. Use a towel or sponge to apply to your horse's body, beginning with the legs and working your way up to the flanks, horse's neck, and
back.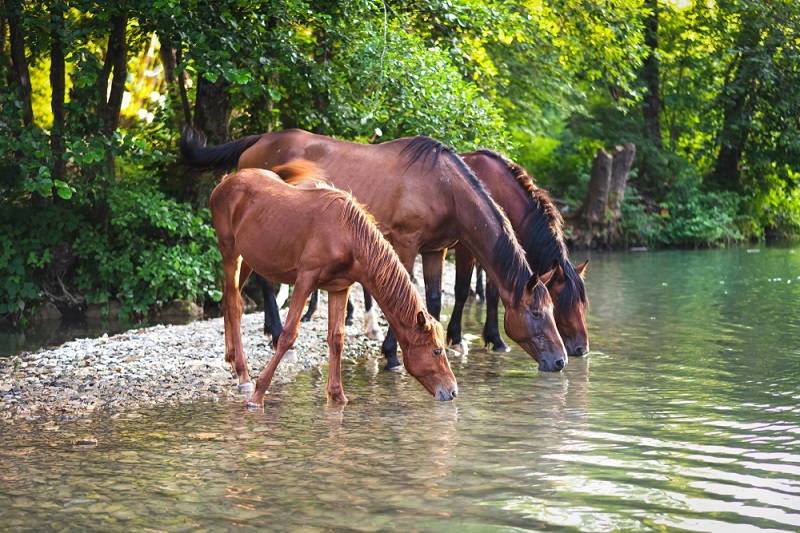 Keep Your Horse Comfortable No Matter the Weather With Vetericyn
If you catch horse dehydration early, it's a problem that only requires a cool drink, shade, and a little rest to overcome. However, untreated dehydration can easily lead to serious problems like colic and heatstroke. Always let your horse take frequent breaks when working in warm conditions, and make sure clean, fresh water is available at all times.
For more help maintaining your horse's health in hot weather—and all year round—choose Vetericyn equine care products.
Our products are carefully formulated to provide relief from common ailments like rashes, summer sores in horses, infections, and more, without irritating your horse's sensitive skin. You can find Vetericyn on Amazon, Tractor Supply, and at your local animal supply store. Keep Vetericyn close by, and corral any summertime skin problems before they start.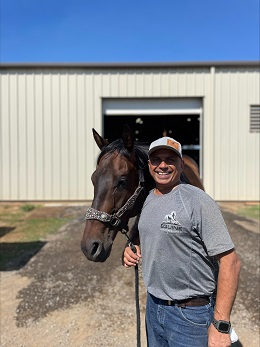 Reviewed by Solomon Benarroch, Veterinarian
Solomon Benarroch DVM has been a practicing veterinarian for over 30 years. His primary focus has been in equine soundness and performance sports medicine. Originally from Winnipeg, Canada he attended college at the Western College of Veterinarian Medicine. And completed an internship at the University of Minnesota. He is the father of three kids and when he isn't working (which is rare), he enjoys traveling, cooking, and spending time with friends and family.
Sources: