Thanks to their good-natured temperaments, fierce sense of loyalty, and unique appearance, huskies make for excellent pet companions for a range of homes, from large families to couples and singles. 
But when bringing home a new husky pup, it's important to understand what caring for their specific breed entails. With huskies, a common question a prospective dog owner is, do huskies shed? 
The answer is yes. In fact, huskies shed quite a lot. But by properly caring for your husky's coat, you can easily keep the shedding to a minimum and your home free of excess dog hair. Here we'll discuss how much huskies shed, why do huskies shed, why they are such big shedders, and how you can maintain the icoinic husky coat.
Managing Regular Husky Shedding 
Huskies were originally bred in cold climates, originating in the frigid surroundings of Siberia, and later brought to chilly Alaska in the early 1900s.1 For this reason, they grow a double coat: a shaggy topcoat and a thick undercoat. 
Understandably, the Siberian husky and the Alaskan husky are especially prone to regular shedding at any time of year, but you can expect major twice-yearly sheds commonly referred to as "blowing their coat."2 These major Siberian husky shedding periods can vary but often occur at the following times:3
During the summer

During the winter
Fortunately, managing your husky's coat as well as regular and seasonal shedding requires minimal work. It's also good for your dog's skin and fur health and good for your home. You can get a handle on your husky's shedding season by:
Brushing regularly – Brushing your pup's fur at least once, but preferably two to three times per week is one of the top tips for managing their shedding schedule.4

Using a wide-toothed comb with round teeth, as opposed to a bristle brush, is the best way to make sure their undercoat receives the same treatment as their topcoat and prevent matting. Be sure to take your husky outside for brushing to prevent loose hair from creating fluffy tumbleweeds throughout your home.

Bathing regularly – You only need to bathe your husky puppy a few times a year to loosen up the thick undercoat and keep tabs on their shedding.5

Avoid overbathing and use products like

Vetericyn's Foam Care Pet Shampoo

with fur-friendly ingredients. Doing so can ensure that you avoid stripping their skin and fur of natural oils that keep each healthy. 

Monitoring diet – Your pup's diet is crucial to promoting full-body health and managing their shedding cycles.6

Be sure to feed your furry friend a diet rich in omega-3 and 6 fatty acids. Avoiding dog food formulas that contain common husky allergy risks, like potatoes, peas, and poultry, is essential to avoiding skin irritants that can exacerbate shedding. As a husky owner, you can boost their diet with omega-3 and 6 supplements in liquid or chewable forms.
Using a deshedder (a special grooming tool for removing loose hair) sparingly during summer and winter heavy shedding periods can help tease out loose fur and make brushing a simple, stress-free task. 

Managing Extra or Excessive Shedding
Your husky pup will experience the most drastic shedding during winter cold weather and summer shedding periods. But there are a number of conditions and factors that can contribute to heavier hair loss the rest of the year. Depending on the condition, extra shedding may be a temporary or ongoing concern.
The good news is, managing these conditions is generally just as easy as managing their regular shedding. Here are some common conditions that can affect the husky coat:
Mites – Tiny parasitic pets like mites can cause skin irritation and itchiness that can intensify regular and seasonal shedding.7
Medical conditions – If your pup is shedding more fur than normal, it could be a sign of an underlying medical condition, so keep an eye out for sudden changes to their personality or disposition.8

 

Altered routines – Although huskies are generally well-mannered and easygoing, sudden changes to any dog's routine (or yours) can result in irregular heavy shedding.9

For example, big changes to their environment and schedule, like moving or starting a new doggy care, can lead to small or large variations in your dog's shedding patterns. Fortunately, these are rarely serious and often temporary. 
A number of common husky health problems and other husky skin problems can also lead to excessive shedding.10 Skin allergies often prompt itching, scratching, or overgrooming that can result in extra hair loss all over the body. A topical, antimicrobial skin ointment may help relieve the itch, reduce irritation, and promote quicker healing. 
Don't hesitate to schedule an appointment with your veterinarian if you suspect that your husky's shedding more than usual because of illness, allergies, or mites. Your vet will likely suggest skin or food tests to determine if an allergic reaction is the cause and suggest treatments like immunotherapy injections, medications, or dietary changes to resolve the issue. 
Pamper Your Pet's Fur with Vetericyn
While some shedding is normal for most dogs, excessive shedding can be bothersome for you and your pet. Fortunately, you can find the relief you deserve by shopping Vetericyn's animal wellness products, now available from Amazon, Chewy, and Petco.  
From our revolutionary FoamCare shampoos for all fur types to ointments for treating irritated skin, wounds, and hotspots, our products are endorsed by vets from all over the world. In addition, our products are rigorously tested to ensure safety and satisfaction and are backed by our 100% guarantee. 
Isn't it time your pet got a little pampering? Shop Vetericyn today.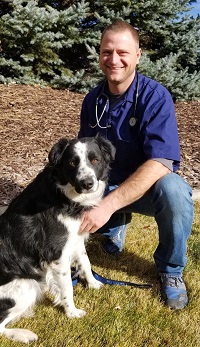 Reviewed by Dan Richardson, Veterinarian
Dan Richardson has been a practicing veterinarian for over 10 years. He specializes in surgery and orthopedics. Dan is originally from rural western Nevada and attended the University of Idaho for undergraduate study and Oregon State University for Veterinary School. The Richardson Family enjoys camping and spending time on the water fishing, paddle boarding, or digging their feet in the sand somewhere warm.
Sources: