Dog Breed Guide: The French Bulldog
Small, adorable, and even-tempered—it's no wonder the French bulldog (a.k.a. Frenchie) is the second most popular small dog breed in the world.1 These dogs are popular with city dwellers and families alike. Visually these pups have all the adorable trademarks of a bulldog, from the scrunchy nose to their extra folds, but they're also sturdy and compact. 
If you're looking for a companion for long walks, cuddles, and playtime, a Frenchie may be your new perfect friend for life. But before you start picking out names (and matching holiday sweaters), it can help to learn a little bit more about this unique breed and what sets them apart from the pack. 
A History of the French Bulldog 
What do English lacemakers have to do with this bull-headed breed? 
Turns out, quite a lot.
Contrary to their names, French bulldogs actually originated in England. During the Industrial Revolution, lacemakers moved in masses to France and brought with them the smaller, less-desirable English bulldogs that had been rejected from both shows and competitions.2  
Soon, opinions changed and these small dogs were being bred for all the things that originally made them undesirable. Specifically, breeders valued their small size, large ears, and flat snout.
Factory workers, working women, and socialites all found the charm of these small dogs irresistible. Because they were so compact and low-cost, French bulldogs were ideal companions that didn't take up too much space (or eat up too much food). 
From there, the French bulldog's popularity grew and was soon turning heads amongst the Paris elites, appearing in the impressionist paintings of Henri de Toulouse-Lautrec and others.2
As their popularity grew in Europe and the UK, it's no surprise that soon these little dogs were stealing hearts across the pond as well. American tourists were soon bringing French bulldogs back with them, and it's even recorded that a French bulldog was aboard the Titanic.
Americans were the first to create a French Bulldog Club and formalize their characteristics, officially dubbing their wide ears as the breed's signature "bat-ears." A true citizen of the world, the French Bulldog originated in England, gained fame in France, and has become nothing short of an American obsession.3  
History Holding Strong
All of the things that led to the French Bulldog becoming so popular in the early 1900s are also what have kept folks all over the world seeking out this breed for centuries:

Compact size

Even temperament 

Round face 

Bat-ears 

Alert disposition 
Since their big come-up in the Industrial Revolution, there's no shortage of famous Frenchies:

Russia's Grand Duchess Tatiana Romanov had a beloved French bulldog named Ortipo (who has been sculpted from quartz and bejeweled by Fabergé

).3

Dwane "The Rock" Johnsons' tough exterior belies a big-hearted love for his Frenchies, named Hobbs and Brutus.4


Frenchies have even conquered the smaller silver screen. Just take a look at Brigitte, the four-legged star who played Stella Pritchett, the beloved French bulldog of Jay Pritchett, patriarch of

Modern Family. 
It's true, Frenchies have been winning hearts and finding forever homes all over the world for the past few hundred years.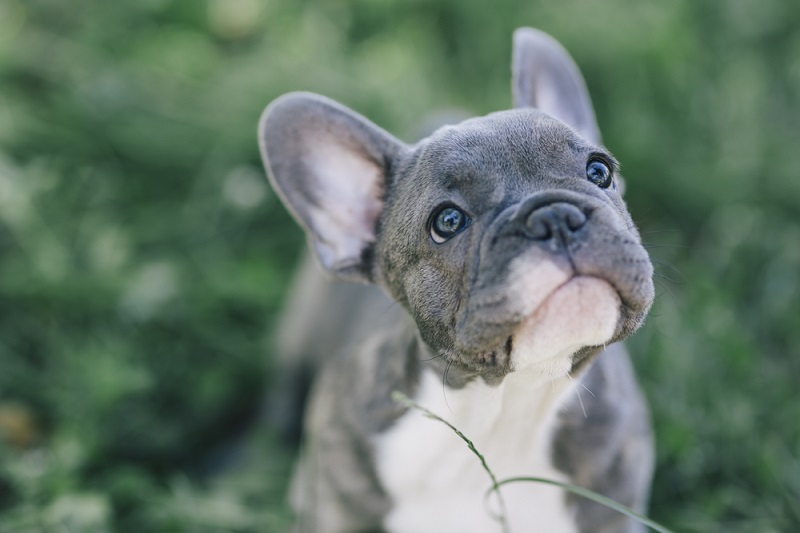 The French Bulldog's Characteristics
From penthouses to farmlands, the French bulldog can be found loving life in all different places. But what makes these little dogs so versatile? Let's take a closer look. 
Disposition
This even-tempered dog has even been dubbed "the apartment dog" as they're small in size and relaxed by nature. Although some can be high energy and extremely outgoing, generally these dogs are easy to train as they're excited to learn and looking to please. 
These small dogs are not known for their aggression, making them a perfect choice for families or crowded communities. Though they're known for seeking affirmation and attention (aren't we all?), the French Bulldog does not need a constant outpouring of positive reinforcement.
The French bulldog is known for being intuitive as well as stubborn, making them easy to train. However, this can make them prone to anxiety, depression, and separation anxiety. 
Now that you know more about French bulldogs' temperament and features you might be wondering, do French bulldogs shed? This dog breed is considered low-shedders making them a perfect fit for your family. 
Behavior
Just like people, the personality and behavior of the French bulldog can depend on genetics, training, and circumstance. However, most are generally:5 
Eager to learn 

Easy to train 

Good with kids/families 

Not prone to barking 

Playful (sometimes stubborn)
These small dogs are well-loved around the world as they're wonderful for:

Single people 

Families 

Couples 
They also don't require much exercise or outdoor time and are known for getting along well with other dogs and animals. 
Diet
While some French bulldogs have high energy and others are a bit more relaxed, they all need a well-rounded diet consisting of variety and nutrients that are easy to digest:6 
Lean proteins

–

Four-legged friends need plenty of fuel to power their fuzzy antics throughout the day. Specifically, French bulldogs need lean animal proteins made from muscle meat. To ensure they're getting the highest quality fuel, remember to check the ingredients list of any dog food product. Avoid dog foods that list "byproducts" as an ingredient—this can indicate that the food is highly processed food and may not have as much nutritional value for your pup.



Complex carbohydrates

–

It's important to incorporate complex carbohydrates into a French bulldog's diet—complex carbohydrates can help stabilize blood sugar levels. Brown rice, potatoes, and other vegetables are delicious and healthy complex carbs your dog will love. 

Healthy fats

– Just like humans, French bulldogs need healthy fats. Look for a food or supplement that offers healthy options such as omega fatty acids, like fish. 

Vitamins and minerals

–

Not only will a French bulldog feel their best when receiving the necessary vitamins and minerals, but they'll also look their best. Getting a wide range of vegetables helps keep their coat shiny and soft. 
Because French bulldogs are prone to obesity, high-quality dog food is recommended. It's also important to monitor their calorie intake as well as their weight. Although treats are delicious and Frenchies will attempt backflips for them, just make sure they're enjoyed in moderation.7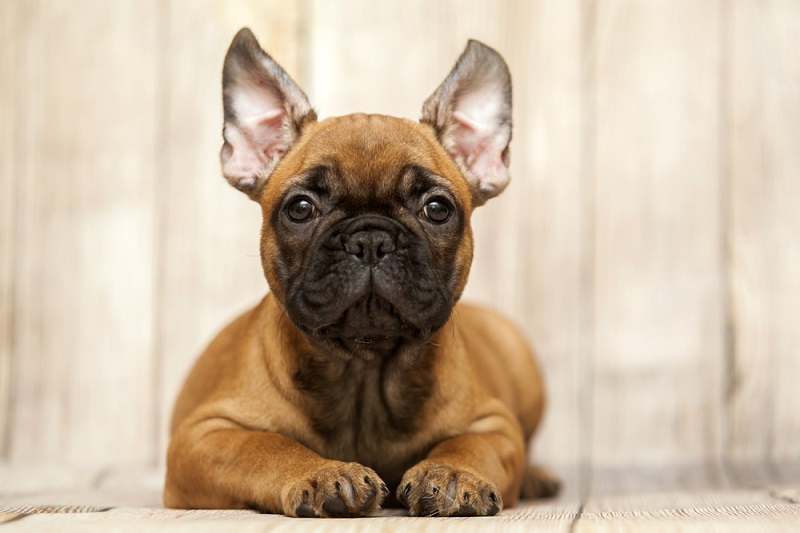 Health Risks for the French Bulldog
French Bulldogs are a unique breed and therefore come with unique French bulldog health issues. 
Other common health risks for the French bulldogs are:8
Water risks – Due to their dense body mass, small structure, and stout nose, French bulldogs may struggle to keep afloat in the water. In fact, veterinary professionals recommend that the French bulldog should never be left unattended near water.7

Ear Infections

–

Because this breed has very narrow ear canals, French bulldog ear infection issues may occur. Those famous ears are also known for excess wax production. Keeping your Frenchie's ears clean and clear can help reduce the chance of infection. An

antimicrobial ear rinse

can also help you steer clear of this issue. 

Diarrhea –

Sensitive stomachs are also common in French bulldogs. Frenchie parents should always provide their pets with a healthy diet to keep their tummies in tip-top shape for snacks, treats, and belly rubs. Giving them a

dietary supplement

can also help keep their digestion on track. 

Conjunctivitis

–

Because of their short snouts, round faces, and genetics, this breed is particularly susceptible to conjunctivitis (a.k.a. pink eye). Conjunctivitis can be caused by bacterial and viral infections as well as general allergies. Treating a French bulldog's eyes with

an antimicrobial gel

is a smart way to help prevent and relieve this common eye issue. 

Skin problems – The French bulldog is commonly susceptible to skin issues, including French bulldog skin bumps, skin fold dermatitis, and pyoderma (bacterial skin infection). Skin fold dermatitis causes itching, biting, redness and sores. It tends to happen around the folds of skin on a French bulldog's muzzle and face. It can also appear in their armpits, necks, and crotches. Pyoderma can result from a scratch or wound that becomes infected and is common in dogs with skin folds. One way to prevent and treat both skin issues is to keep their fur clean and dry, use a

ph-balanced, hypoallergenic shampoo

, and treat wounds and sores with a

healing spray

. 

Breathing problems

– Because the French bulldog has a short snout, they're at high risk for upper respiratory tract infections, and most French bulldogs will suffer from this at least once because they are high risk and it is contagious. Symptoms include nasal congestion, coughing, and tiredness. If you believe your French bulldog suffers from a URT infection, touch base with their healthcare provider as quickly as possible. 
French Bulldogs & Vetericyn: A Perfect Pairing for Your Pup
From their humble beginnings as work companions to gracing the laps of royalty and celebrities, it's no wonder this little dog has become one of the most popular breeds in the world. Their even temperament and fast intelligence, not to mention their loyalty and affection, are truly what set this small dog breed apart—and, of course, their bat-like ears, round faces, and squat, sturdy bodies. 
If you think a French Bulldog is right for you, or if you're just looking to help the one you already have to live a better, healthier life, then make sure to check out Vetericyn's full line of products, easily available on Amazon, Chewy, and Petco.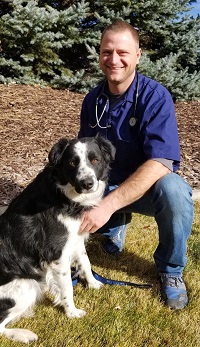 Reviewed by Dan Richardson, Veterinarian
Dan Richardson has been a practicing veterinarian for over 10 years. He specializes in surgery and orthopedics. Dan is originally from rural western Nevada and attended the University of Idaho for undergraduate study and Oregon State University for Veterinary School. The Richardson Family enjoys camping and spending time on the water fishing, paddle boarding, or digging their feet in the sand somewhere warm.
Sources: