Dog Breed Guide: The Goldendoodle
"Doodle" dog breeds have become all the rage in recent years. From Labradoodles to Sheepadoodles, throw a purebred Poodle in the mix, and you've got yourself a teddy bear come alive—and a forever friend and family pet, too. 
Of all the Doodle varieties, there is one Goldendoodle to rule them all: the Goldendoodle! Perfectly named, don't you think?
They're widely beloved for their friendly, eager-to-please personality and playful spirits. Their fluffy-curly Goldendoodle coat makes them all the more adorable, too, helping skyrocket Goldendoodles to a place of peak canine popularity.1
Golden Origins
The Goldendoodle is a cross between a Poodle and a Golden Retriever. Attracted by Poodles' minimal shedding and Golden Retrievers' friendly temperament, dog breeders began combining the two with great success.
Likely inspired by the high demand for the Labradoodle, Goldendoodles cemented a high-standing status, becoming all the rage in the 1990s. The date of the Goldendoodle's emergence is unknown, but it follows in the wake of the hybrid dog craze of the latter half of the twentieth century.
And with a Goldendoodle boom, dog breeders soon began experimenting with variations on the common variety. The result was a wide range of sizes, and today, you can find them roaming the streets in four different Goldendoodle size categories: petite, mini, medium, and standard.2
Goldendoodle Appearance
Though the name "Goldendoodle" alone gives an idea of this dog's appearance, not one Goldendoodle is exactly like another. However, all Doodles share a few core traits.
Goldendoodles are famous for their shaggy curly fur in that toasty golden hue, boasting hypoallergenic qualities and less shedding. In truth, Goldendoodles do shed less, but they aren't necessarily hypoallergenic. So, those with dog allergies should note that they may still have some kind of reaction. And, despite the name, Goldendoodles' fur can come in all sorts of other colors:
Rusty light brown

Chocolate brown

All black

All white

A Mix of multiple (usually white and another color)
They're all unified by their same textured Goldendoodle coat, but even this texture has some variability. You could have a Doodle as curly as a Poodle or one with loose, beachy wavy coat.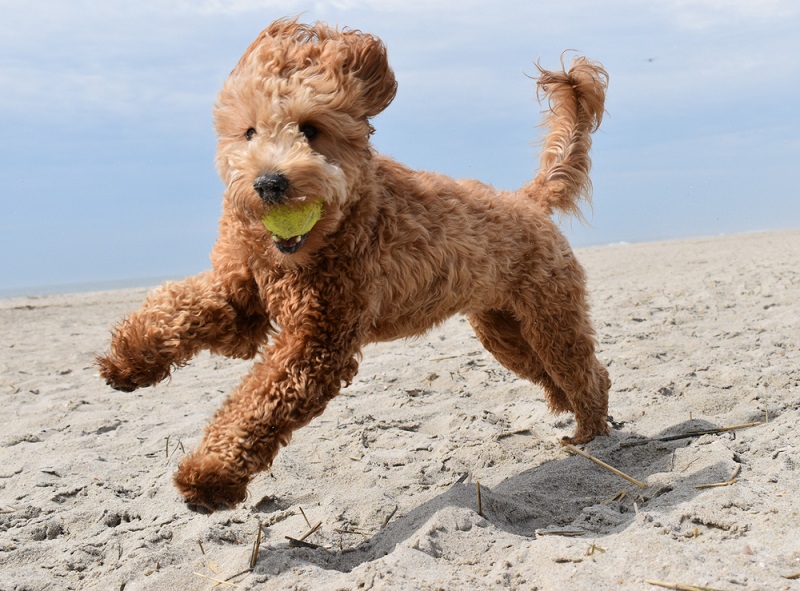 Goldendoodle Personality
Goldendoodles are known for their happy, outgoing personality. They're a great family pet and companion dog, especially with any energetic, play-ready kids in the house. As a highly social breed, they love to stick around and keep you company. So it's important to remember to give your mini Goldendoodle some much-appreciated time and attention, no matter your daily lifestyle. 
Some of that care could also be given while you both are on the move. Goldendoodles are more energetic than the average dog; they will love any exercise or outdoor activities you do with them.3 This eagerness might also mean some long walks or runs are in store for you and your Doodle!
Goldendoodle Health & What to Look Out For
Just like all dogs, Goldendoodles and other hybrid dog has the chance of developing health issues. Thankfully, Goldendoodles are a relatively worry-free breed regarding health, but their mixed lineage may present some chances of genetic disease susceptibility.4
Genetic Health Conditions
Doodles are still susceptible to their parents' ailments, should they have any. Because the parent breed of Goldendoodles are a given, it's safest to stay informed of genetic Goldendoodle health issues that can affect both Poodles and Golden Retrievers. Below are a few to watch out for:
Hip dysplasia –  Hip dysplasia is a genetic disease common in many different dog breeds and animal species, in which their hip joints aren't aligned properly and cause painful movement and weight-bearing.5

Look out for any limping, loss of mobility, or reluctance toward play in your normally excitable Goldendoodle. If the problem persists, seek out X-rays to confirm if the hip joint is proving problematic.

Sebaceous Adenitis – Sebaceous Adenitis is a rather uncommon skin condition caused by an inflammatory reaction against skin glands. It's unfortunately prevalent in Poodles. This causes hair loss and dry skin, usually by a dog's young adulthood or middle age. For any standard Goldendoodle, Common symptoms to look out for are thankfully easy to spot: bald patches, brittle fur, and scaly skin patches.6
Subvalvular Aortic Stenosis – Common to larger dogs (so, more likely for standard-size Goldendoodles), Subvalvular Aortic Stenosis occurs when the heart's exit valve is too small. This makes it difficult and eventually impossible to support full blood circulation. If you find your Goldendoodle puppy fainting or experiencing extreme fatigue, take them to the vet to check for a diagnosable murmur.7
Eye diseases – Goldendoodles are unfortunately vulnerable to a variety of eye diseases—such as retinal atrophy, cataracts, and glaucoma—that can all lead to total vision loss. Retinal atrophy causes eye cell degeneration;8 cataracts obscure the eye's lens;9 glaucoma damages the optic nerve.10

For many of these conditions, night blindness is the first sign, so pay extra attention once the sun goes down.
Regular veterinary check-ups are important in monitoring your Goldendoodle's physical health at any age. Make sure to request testing, particularly on your Goldendoodle's eyes, hips, and heart, in particular.
Providing At-Home Care
For the sake of your Goldendoodle's well-being, it can also be both safe and helpful to stock up on supplies to help out these most common ailments of theirs. 
Using a pet-safe eyewash solution like the Vetericyn Plus Eye Wash is a great and gentle way to minimize harmful symptoms. Our eye wash clears your Goldendoodle's eyes from otherwise painful irritants and keeps their eyes hydrated and bacteria-free.
For Goldendoodle's skin afflictions, a moisturizing agent makes it easy to soothe irritation and prevent the further spread of dry patches. Vetericyn's Antimicrobial Hydrogel helps protect the wound (or otherwise affected skin) and is super compatible with active dogs—perfect for your super playful Goldendoodle.
Goldendoodle Diet
For an active designer breed like the Goldendoodle, it's essential they're eating the right foods to sustain their play and give them ample energy and health. 
Macronutrients
Prioritize the following in your Doodle's diet to best support their health and lifestyle:
High protein

– Top-quality meats like beef, chicken, lamb, and turkey support your Goldendoodle throughout their growth, as well as ensure their happiness and activity.

High fat  – Fat is crucial to a Goldendoodle's diet, as they aid in keeping joints and skin smooth and moisturized—meaning no creaky, painful hips or surface eye afflictions.11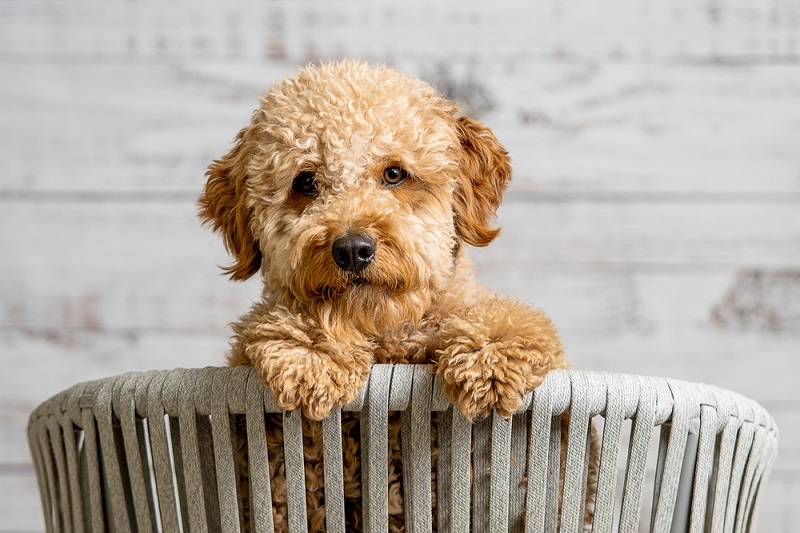 Supplements
Supplementing your dog's regular feedings is an efficient, no-stress way to ensure your Doodle is getting all that they need and more. 
Try a supplement that is specific to your dog's size and age needs. Depending on the Doodle, they might need supplements for age-specific issues (like the genetic conditions listed above) or just for overall nutritional support from genuine, natural vitamins and minerals. Vetericyn's All-In supplements offer immune support for your canine at any age, targeting Doodle concerns like joint pain, cellular health, and hyperactivity.
Feeding Regularity
Depending on your Goldendoodle's size, from petite to standard, they will need to be fed different amounts per day, with heavier dogs needing more calories regularly. For any dog owner, It's always best to consult with your veterinarian, but read below for a general guide for the amount of daily food:11
Standard-size Doodles should get 3 to 5 cups of food

Medium-size Doodles should get 2 to 4 cups of food

Miniature-size Doodles should get 1 to 2 cups of food

Petite-size Doodles should get 1 to 1.5 cups of food
The typical ruling is that a Goldendoodle should receive one cup of food per 15 pounds of their weight.12 If your Goldendoodle might still be growing, this is a number that should change, so be sure to closely monitor their weight and make sure they aren't losing or gaining it too fast.
Goldendoodle Grooming Needs
Since Goldendoodles' coats are specific to each dog, and fur texture and density vary, there is no single recommended grooming practice for your beloved Doodle. 
With curlier Goldendoodles, regular trims are necessary to prevent matting and other tangles that can irritate the skin beneath their fur follicles. With fur that curls more loosely (a shag or wave, for example), make sure to give your Goldendoodle a regular brushing all along its Goldendoodle coat to remove excess shedding and promote strong, shiny fur. 
An added grooming concern is caring for Goldendoodles' ears—periodic ear checks go a long way in preventing Goldendoodle ear infections in those floppy listeners of theirs.
Vetericyn: The Gold Standard for Your Goldendoodle
To keep your oh-so-lovable Goldendoodle the happiest and healthiest they can be, they need the best available all-around care available. 
We at Vetericyn make sure to provide the best-around care for your furry friend, both inside and out. We can take care of their nutritional health with Vetericyn® ALL-IN Dog Supplements and keep their skin and fur fluffy and soft with our specialized collection of pet shampoos and hydrogels. 
All our products are endorsed and used by veterinarians around the globe, so you know you're in the market for quality animal wellness when you're shopping with Vetericyn. And now, shopping with Vetericyn is even easier: all Vetericyn products can be found on Amazon, Chewy, and Petco online markets.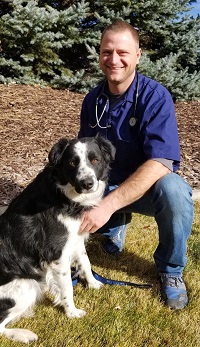 Reviewed by Dan Richardson, Veterinarian
Dan Richardson has been a practicing veterinarian for over 10 years. He specializes in surgery and orthopedics. Dan is originally from rural western Nevada and attended the University of Idaho for undergraduate study and Oregon State University for Veterinary School. The Richardson Family enjoys camping and spending time on the water fishing, paddle boarding, or digging their feet in the sand somewhere warm.
Sources: