Tackling Girth Itch: A Comprehensive Guide for Horse Owners
As any experienced horse owner knows, horses can have a nearly endless variety of skin problems, from summer sores to sweet itch. Another in the long line of itchy, uncomfortable complaints is girth itch, or equine ringworm.
Like many other skin conditions in horses, girth itch often starts with skin irritation caused by dirty, poorly-fitted tack.
If left untreated, that minor inflammation can quickly lead to the fungal infection commonly known as girth itch. Its medical name is dermatophytosis, and it can cause redness, itching, scaling, crusting, hair loss, and painful sores. Fortunately, most cases of girth itch are easy to prevent and treat with proper tack hygiene and skin care. Read on for all the dirt on what causes girth itch and how to protect your horse from the fungus among us.
What Is Girth Itch?
Girth itch isn't just an itch. It's actually an infection caused by a type of fungus known as a dermatophyte. The dermatophytes that cause girth itch are closely related to ringworm, and the lesions often have the characteristic circular appearance of ringworm.
Girth itch often starts where the saddle girth rubs on the thin skin behind the elbow joint. Over time, this friction can irritate the skin and create a sore, just like a blister from a shoe that doesn't fit well. The warm, moist environment of the horse's "armpit," combined with an open wound, creates the perfect home for fungus to thrive.
Dermatophytes live in the soil, and they can easily spread from horse to horse through dirty tack or grooming supplies. Factors that can increase this risk include:
Improperly fitted tack – A saddle that slips out of place and puts too much pressure on the girth, a cinch that is too tight, or a girth that rides up into the axilla (armpit) can all create excess friction on the skin.
Poor hygiene – A dirty, sweaty girth can harbor bacteria and fungi that can then infect irritated skin. Girth itch is contagious, so sharing tack between horses without disinfecting can spread the fungus to other horses.
Moisture – Wet weather, humidity, and horse sweat can all make the skin more prone to fungal infections.
Weak immune system – Young horses that haven't yet built up a strong immune system and immunocompromised horses are most at risk of contracting girth itch that spreads beyond the axilla.1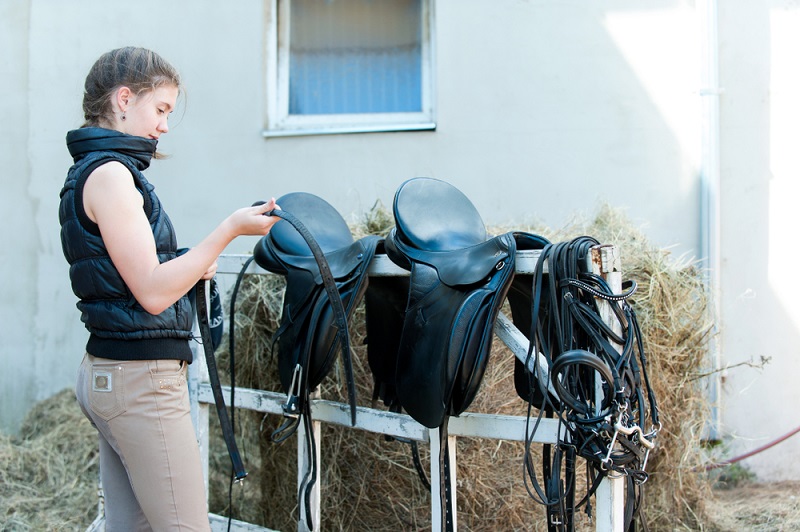 Signs and Symptoms of Girth Itch
Girth itch can vary in appearance and severity, depending on how long it has been present and how much it has spread. Some of the symptoms of girth itch are:2
Broken hairs and hair loss – The first sign of girth itch is often a patch of short, broken hairs or hairless skin behind the elbow. This signals that your tack is causing friction and the fit should be corrected immediately. Some horses can develop open sores very quickly from badly-fitting tack, so act quickly when you see early signs of irritation.
Redness and scaling – You will often see red, inflamed, dry, scaly, or flaky skin before open sores develop.
Raised bumps or papules – The most obvious sign of girth itch that many horse owners notice is a patch of small, circular bumps in an area where tack rubs, such as the shoulders or axilla. These may be actual bumps in the skin, or patches of hair standing up against the grain, creating a bumpy appearance.
Crusting – Circular patches of yellowish or brownish crusts will often form over the irritated area. These crusts may fall off, leaving an oozy, moist, circular patch of sensitive skin.
Itching – Despite the name, girth itch is not always itchy. However, if you notice that your horse seems unusually itchy around the armpit area, check for a developing skin problem.
You may also notice behavioral changes like shying, bucking, or refusing to move when you try to saddle up or mount. These can all be signs that your horse is experiencing discomfort caused by their tack.
How to Treat Girth Itch
If you see any symptoms of girth itch, it's essential to begin treatment as soon as possible. The infection will clear up more quickly the earlier you catch it—meaning you'll be back in the saddle again sooner.
Many treatments for girth itch are easy to do at home. At the first signs of girth itch, be sure to:
Rest your horse – Any time you see redness or irritation on your horse's sensitive skin caused by tack, you should take a break from riding. Even if the skin condition is in the early stages and doesn't appear to be causing discomfort, sores can develop quickly with continued friction. Once the horse's skin is damaged, recovery can take weeks or months.3 It's better to take a break and prevent the irritation from becoming more severe. (Your horse will thank you.)
Isolate the infected horse – The fungus that causes girth itch is highly contagious, so keep the infected horse separate from others until the infection is cleared. Don't share tack or grooming supplies between horses if you can avoid it. If you must share supplies, disinfect thoroughly with a bleach solution.
Use a medicated shampoo – For the first week, bathe your horse daily with a gentle medicated shampoo formulated for horses. After the first week, cut back to bathing twice a week until the horse's skin has healed. Vets recommend letting medicated shampoos soak into the skin for 15 minutes before rinsing.4
Flush out lesions – If it doesn't cause too much discomfort, try to gently remove crusts from the skin (the dead skin cells are a food source for fungus).5 A horse-safe wound care spray can help soften the skin and remove crusted skin painlessly.
Protect the area – After cleaning the affected area, apply a protective product like Vetericyn Plus Antimicrobial Hydrogel that adheres to the skin and creates a barrier against dirt and pathogens.
When to Consult Your Veterinarian
Wondering how to treat fungal infection in horses? For more severe infections, or if the fungal or bacterial infection doesn't seem to be healing after a few weeks, you'll want to consult your veterinarian. They will take a skin sample and confirm the diagnosis of girth itch or equine ring worm.
Many skin condition types have a similar appearance, including:2
Staphylococcal infections
Occult sarcoids (a type of skin cancer)
Bacterial folliculitis
Once the diagnosis is confirmed, your vet may prescribe oral or topical antifungal medications to kill the fungus and stop its spread. More serious cases of girth itch can also involve secondary infections that require antibiotics to fully heal. Your vet can advise you on how to treat any underlying conditions and prevent the bacterial or fungal infection from coming back.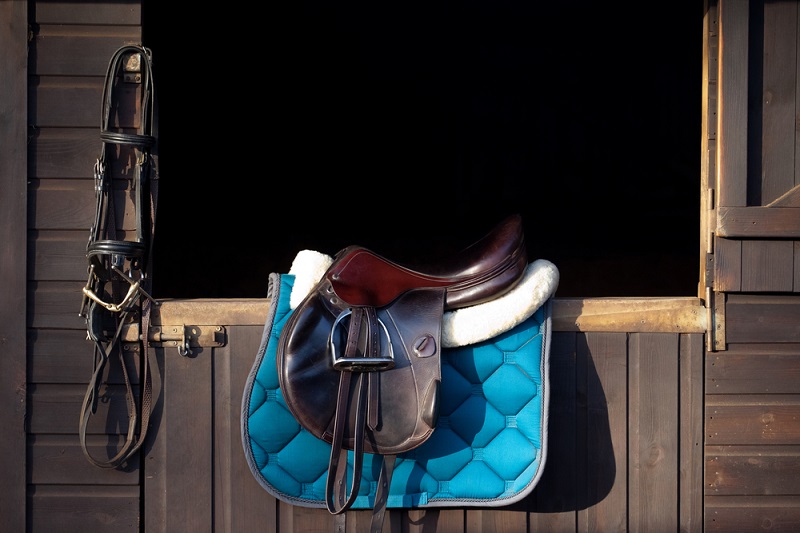 Preventing Girth Itch
The most effective way to protect your horse from girth itch is simply to prevent it in the first place. Luckily, girth itch is almost always avoidable as long as you follow a few simple best practices every time you ride:
Clean your tack thoroughly – Clean and disinfect your saddle, pads, girth, and other tack after every use. Use soap and water, bleach, or a fungicidal solution. Rinse well, and let dry completely before storing it or using it again. Don't share tack or supplies with other horses, as this is a common way that girth itch and other skin diseases spread.
Check your fit – Make sure your saddle fits properly. You shouldn't need to cinch the girth tight to prevent the saddle from slipping. Always pull your horse's forelegs forward after saddling to be sure the girth isn't pinching the axillary skin.
Dry your horse – Leaving sweat on the skin is a common cause of skin irritation, leaving the skin more prone to infections like equine ringworm. Remove sweat with a sponge or hose, followed by a scraper or brush to dry. Don't put your horse away until they're fully dry.
Check your horse's skin frequently – Girth itch can be caught in the early stages if you're alert for patches of broken hair or reddened skin. Be especially watchful in humid weather, when you're riding frequently, or any time your horse has been sweating more than usual.
Replace worn tack regularly – Rough, worn, or dirty saddle pads, girths, and other tack can cause unnecessary skin irritation, so inspect your tack regularly and replace it as needed.
Try different girth materials and fits – Many modern girths are cut to give more clearance around the elbow area, so shop around for the best fit for your horse. Different materials like neoprene, fleece, leather, or cord may suit some horses better than others.
For Healthy Horse Skin, Trust Vetericyn
The best way to protect your horse from a painful bout of girth itch? Make sure skin and tack are clean and dry before you saddle up, and always wash off sweat and dry your horse's coat afterward.
To keep your horse's skin clean, cool, and comfortable, make sure you have Vetericyn equine care products on hand.
From gentle medicated shampoo that calms the skin and fights infectious microbes, to soothing, cooling liniment for tired joints and muscles, we have everything your horse needs to stay in top condition. Best of all, our products fight harmful pathogens without antibiotics—so you don't need to worry about overuse or testing positive during competition.
Find Vetericyn on Amazon, Tractor Supply, or your local animal supply store today.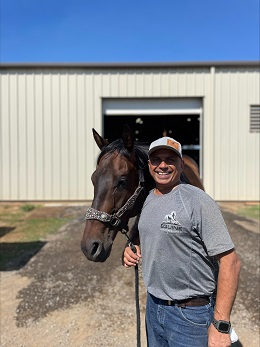 Reviewed by Solomon Benarroch, Veterinarian
Solomon Benarroch DVM has been a practicing veterinarian for over 30 years. His primary focus has been in equine soundness and performance sports medicine. Originally from Winnipeg, Canada he attended college at the Western College of Veterinarian Medicine. And completed an internship at the University of Minnesota. He is the father of three kids and when he isn't working (which is rare), he enjoys traveling, cooking, and spending time with friends and family.

Sources: