Dealing with Horse Kicks: Prevention and Treatment
We admire horses for the strength and agility packed into their four powerful legs. But those long limbs aren't just for speed—they're also a dangerous defense mechanism. Horse kicks can shatter bones, destroy tissue, and even be fatal.
So, how do we spend time with our equine companions while minimizing the risk of horse kick injuries?
Understanding the causes of kicking is the best way to protect yourself, your horse, and others from harm. In this article, we'll explore what motivates the horse kick and outline some proactive steps to handle this risky behavior.
5 Causes of Kicking
Horses kick for a variety of reasons, depending on the situation and their state of mind.
Here are 5 common causes of kicking and situations that can trigger this reaction.
#1 The Defensive Kick
Kicking is hard-wired in the equine brain as the best way to protect themselves and their herd from threats. It's an instinctive response that's likely to occur when the horse is:
Cornered
Startled
Trapped
Fearful
#2 The Dominance Kick
Horses use kicking as a way to assert herd hierarchy and tell herd mates who's boss or to tell other horses to stay away from food, a foal, or a mate. Dominance kicking is a learned behavior, and it requires training to correct. An aggressive horse is dangerous, so call in an experienced trainer if the behavior is out of control.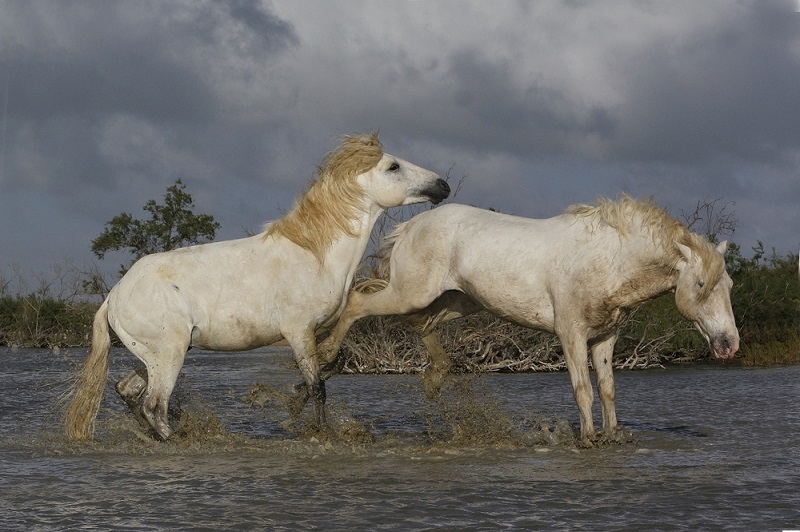 #3 The Playful Kick
Sometimes kicking is simply a sign of energy to spare. Your horse might kick, gallop, and buck as you release her into the pasture or when she sees you bringing out the grain bucket. Play kicking isn't a behavior to train out. Instead, use extra caution in situations where you know your horse will be excited.
#4 The Discomfort Kick
Horses often kick when they are in pain or discomfort. In this case, you'll need to address the cause of the discomfort, not the kicking.
Common causes of discomfort kicking include:
Colic
Biting flies
Being pinched by tack
Poor grooming and dirt build-up causing itching and irritation
Regular grooming with a soothing medicated shampoo for horses can address many causes of itchy, irritated skin.
#5 The Frustration Kick
Frustrated horses often show their impatience or moodiness with a kick. You'll often see frustration kicks at mealtime, when waiting to turn out to pasture, etc.
Unless it escalates into dominance kicking, as the horse owner, it's best to address the cause of the frustration instead of trying to train out the behavior.
Safety Precautions and Prevention
Horse kicks are dangerous not only for everyone around the horse, but also for the horse itself.
A horse kick carries about 2,000 pounds of force.1 This can cause anything from bruising to severe fractures or even cardiac arrest in the victim. If the kick meets a solid obstacle like a wall, it can easily break bones in the horses hooves.
The following tips will help with kick prevention and minimize the risk to yourself and others:
Wear a helmet – A kick to the head can easily result in skull fractures, paralysis, and death. A helmet is essential safety gear when working with your horse, even if you're only practicing groundwork.2
Never stand behind the horse – When you need to be near your horse's hindquarters for grooming or hoof trimming, always position yourself to the side. Don't approach from your horse's blind spots. Even the gentlest horse can kick out of fear when startled.
Watch body language carefully – Pinned ears, flicking tail, and a cocked hind hoof are all your horse's way of saying back off. While it's important to train your horse to respect you, it's also essential not to push them when they are signaling fear or aggression.
Focus on training – Regular groundwork practice helps your horse learn that you're the boss and that they need to respect your personal space.
Be aware – Learn the situations that tend to result in kicking, such as grooming, turnout, mealtimes, meeting other horses, trailering, etc. Watch where you stand at these times. When releasing the horse, bring them around to face you before unclipping the leadline, then step back quickly.
What to Do if Your Horse Gets Kicked
If you have more than one horse, it's likely you'll have to deal with an equine kick injury at some point. When you see an injury or suspect that a horse was kicked, follow these steps to treat the damage:2
Assess the damage. If the horse is in pain, bleeding heavily, or showing signs of shock such as elevated heart rate and low temperature, call your veterinarian immediately.
Kicks don't always break the skin. Even without an open wound, there's likely to be deep tissue damage. Apply cold water to the affected area to reduce swelling. If a large, fluid-filled hematoma develops, contact your vet.
For minor open wounds, clean and flush with an antimicrobial wound care spray twice daily.
Kicks often result in a puncture wound. These wounds appear minor, but can harbor pockets of bacteria beneath the skin. Observe the wound carefully for signs of infection such as heat, discharge, and odor. Contact your vet if you see any of these signs.
For soreness and bruising around the site of an equine kick without an open wound present, you can massage the area gently with a cooling liniment to encourage circulation and reduce swelling.
Kick Infections to the Curb With Vetericyn
Horse kicks are a fact of life in the equine world. They range from minor scrapes and bruises to serious injuries. Knowing how to assess, treat, and prevent kick injuries can help keep you and your four-legged friends safe.
Whether you need to clean a wound, reduce inflammation, or soothe sore muscles, Vetericyn has the products you need.
Our equine care line is created to be safe, non-toxic, and effective. And our advanced hypochlorous technology kills microbes without antibiotics and prevent fungal infections like horse thrush and conditions like horse dermatitis, so you can rest assured your horse will feel better fast.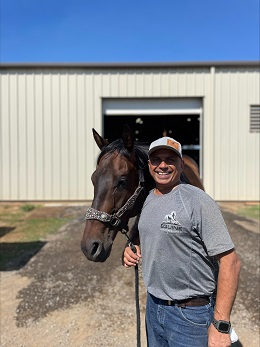 Reviewed by Solomon Benarroch, Veterinarian
Solomon Benarroch DVM has been a practicing veterinarian for over 30 years. His primary focus has been in equine soundness and performance sports medicine. Originally from Winnipeg, Canada he attended college at the Western College of Veterinarian Medicine. And completed an internship at the University of Minnesota. He is the father of three kids and when he isn't working (which is rare), he enjoys traveling, cooking, and spending time with friends and family.
Sources:
Horse Factbook. How hard can a horse kick? https://www.horsefactbook.com/trivia/how-hard-do-horses-kick/
Horse and Hound. Dealing with kick injuries. https://www.horseandhound.co.uk/horse-care/vet-advice/dealing-with-kick-injuries-2-34080
Equus. Why Horses Kick. https://equusmagazine.com/behavior/why-horses-kick-8294/