How to Care For Your Goldendoodle's Eyes
Known for their friendly demeanor, high intelligence, and low-shedding coats, Goldendoodles are the golden child of household pets. One of the reasons many are so charmed by Goldendoodles is their unique appearance: This curly-coated breed pulls people in with their sweet faces and long eyelashes that accentuate their sparkling, soulful eyes. 
However, many Goldendoodle owners must be aware that the very traits that first attracted them to their loyal companion may also be linked to potential Goldendoodle health issues. Goldendoodles may experience higher instances of eye-related problems due to their long eyelashes and facial fur, which can attract bacteria or cause irritation. 
Let's take a closer look at some of the potential conditions that could impact the health of Goldendoodle eyes and explore a few helpful tips on how to maintain their hygiene.
Keep An Eye Out for Potential Issues
Despite all your best efforts to pamper and protect your Goldendoodle, eye issues are common and something that your pup is likely to endure. But don't be alarmed. Early detection is always the best prevention. 
That said, we've outlined the most common eye problems that your mini Goldendoodle may experience so you can keep your eyes peeled for potential issues.
Note: Many of the symptoms exhibited by eye conditions affecting Goldendoodles are very much alike. To avoid more serious health problems and ensure a proper diagnosis, it may be best to take your Goldendoodle to see your veterinarian if they exhibit any of these symptoms. 
#1 Eye Infections
Infections may occur if your Goldendoodle's eyes are exposed to debris, viruses, or different types of bacteria or fungi.1 Your Goldendoodle's golden locks may pick up extra dirt or foreign bodies that can move quickly into their eyes and cause irritation. Infections may also be caused by their own long hair that can get trapped in their eyes or tear ducts, leading to infection if not removed. 
If your pup has an infection, they will most likely exhibit symptoms like redness in or around the eye, inflammation of the eye, or tear duct discharge, that is:2
Your companion may also attempt to tell you they're experiencing discomfort by holding their eye closed or regularly pawing at their face.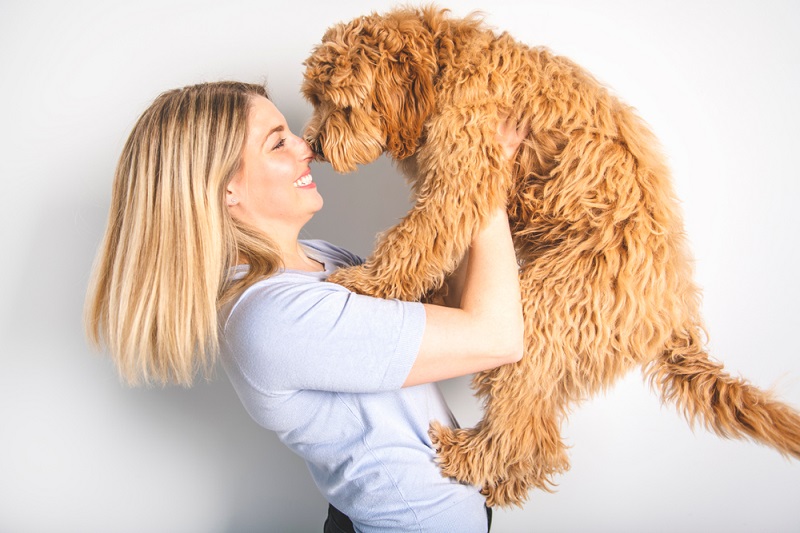 Eye Infection Treatment
While eye infections vary case by case and may clear up on their own, it's best to consult your vet if you notice that your Goldendoodle puppy is experiencing discomfort. Depending on the severity and cause of your pup's infection, your vet may prescribe the following:1
Antibiotics

Eye drops

Oral medication
In more severe cases, like in situations where the tear ducts are blocked, or there is an injury to the cornea, your vet may recommend surgery. 
For at-home treatment, you can wash your Goldendoodle's eyes using an antimicrobial eye wash to relieve irritation. Regular trimming by a vet or groomer may also help reduce infections caused by rogue hairs or debris that attach themselves to your pup's eyelashes. 
#2 Eye Allergies
Just like us, your doodle puppy can experience "allergic conjunctivitis," or, put more simply, seasonal allergies that affect the eyes. The long strands around their face have the tendency to attract allergens like pollen, mold, and dust, which can irritate those soulful puppy eyes.
If your Goldendoodle is experiencing allergies, their eyes may become:3 
Red 

Watery

Inflamed

Goopy

Dry
Unlike eye infections, which tend to only affect one eye, this condition commonly affects both. When your Doodle experiences allergic conjunctivitis, they may also blink excessively to remove debris from their eyes.
Eye Allergy Treatment
Standard Goldendoodle eyes should be regularly cleaned to avoid irritation from allergens. Routinely using an eye wash to gently clean the eyes and remove any debris or irritants can reduce the symptoms of seasonal allergies for your pup. 
Antimicrobial ophthalmic gels can also be used to relieve your pup's discomfort and itching.
Although your Goldendoodle's wavy head of hair is the source of many "oohs and aahs" from passing strangers, it can also be the source of allergens that irritate your pup's eyes. It's important to regularly trim the hair around your companion's eyes to reduce the risk of irritation. 
A licensed vet or professional groomer can help cut the hair using specialized de-shedding tools and clippers. 
More serious treatment for allergies may include topical antihistamines or anti-inflammatories, like eye drops, to help relieve itching and inflammation.4 In more severe cases, the vet may prescribe steroids to your Goldendoodle puppy in the form of injectables or oral medication to reduce discomfort.4 However, keep in mind that steroids have a myriad of side effects, such as:5 
Increased thirst

Hunger

Nausea

Loss of energy
So, it's essential to consult with your veterinarian before you make a treatment decision.  
#3 Tear Staining
The eyes of Goldendoodles are pretty susceptible to tear staining, a problem that, as you've probably guessed, stains the hair under your Goldendoodle's eyes a shade of red or brown. This isn't your Goldendoodle's attempt to add a little flair to their hair—staining is actually caused by excessive tear production and can indicate more severe health issues. 
Typical causes of tear staining include:
Ingrown eyelashes

High stress

Yeast infections (indicated by brown staining)6
Bacterial infections (caused by porphyrins or iron-rich molecules)7
Narrow or obstructed tear ducts (a common trait of domesticated dogs)8

Poor-quality diet

Teething in puppies
Tear Staining Treatment
Home remedies for tear staining include regular cleaning and tear stain remover products, like an antimicrobial eye wash, to remove discoloration and reduce the number of bacteria on your Goldendoodle's coat. Other solutions include: 
Assessing the quality of your pup's food

Avoiding any type of fillers or additives

Prioritizing high-protein, low-carbohydrate products
It's also important to pay attention to other factors like stress, which can trigger inflammatory responses.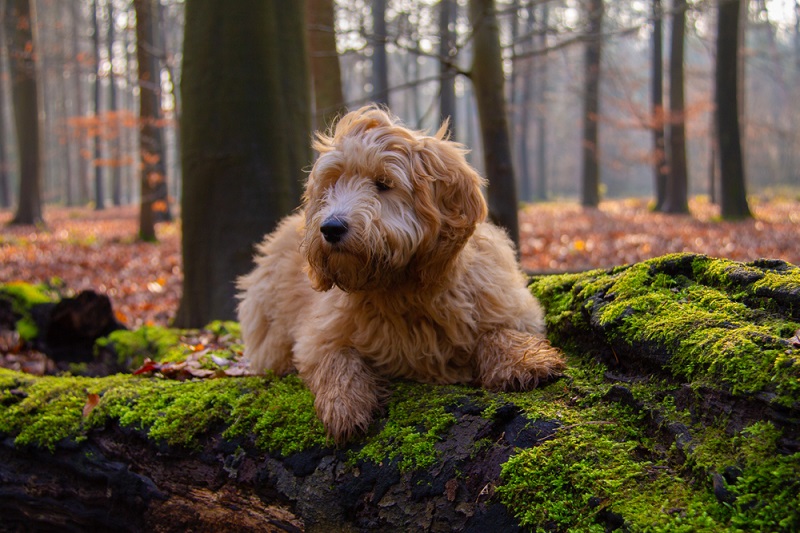 #4 Dry Eye
While tear-staining is caused by the overproduction of tears, dry eye is a condition that does the opposite. Dry eye is an auto-immune response that reduces your pup's ability to produce tears and keep their eyes lubricated.9 
Although dry eye isn't a direct result of long lashes, it can cause serious problems to your Goldendoodle's eyes, like ulcers or infections. 
To spot dry eye in your dog, look for a yellow discharge resembling mucus.10 Other signs will be red and inflamed eyes that your Goldendoodle has difficulty keeping open. 
Dry Eye Treatment
Because dry eye is a more severe condition that requires diagnosis by a veterinarian, it's recommended that you make an appointment at your vet's office as soon as you begin noticing symptoms. 
Your vet can conduct a Schirmer Tear Test to determine if your Goldendoodles eyes are producing enough tears to keep them lubricated.11
While dry eye cannot be fully cured, your vet can recommend treatments to help relieve painful symptoms for your mini Goldendoodle companion. Medications, like cyclosporine and tacrolimus, that help stimulate natural tear production are typically prescribed.12 Eye drops and ointments containing antibiotics may also be used if your Goldendoodle is experiencing bacterial overgrowth as a result of this condition.13
#5 Distichiasis
Disti–what? Although this condition may sound complicated, it's actually relatively simple. Distichiasis occurs when extra eyelashes grow in abnormal locations or in irregular directions that irritate the cornea.15 This condition is rather common in Golden Retrievers and, thus, by genetic association, can occur in Goldendoodles as well.
If left untreated, distichiasis can cause chronic eye pain or corneal injury.4 It may be challenging to identify the individual culprit in your Goldendoodle's luscious forest of lashes, so look out for the following symptoms to help identify this problem: 
Inflammation

Redness

Eye discharge 

Watery eyes 

Repetitive blinking or closing of the eye

Cornea scratches or ulcers (may appear blue, darkened, or shiny)

Noticeable extra or ingrown eyelashes 
Distichiasis Treatment 
For mild cases, you can use an eye gel to provide relief to your pup's watery eyes or inflamed cornea. 
Other treatments of distichiasis can include the regular removal of troublesome eyelashes by your vet. However, this method is not always recommended as it may result in thicker hairs growing back, causing more injury to the eye. 
In substitute for this treatment, ophthalmic lubricants may be used to coat the lashes, lessening their damage to the cornea.14 However, if serious enough, your veterinarian may recommend permanent eyelash removal to prevent hair regrowth.15
Protect Your Goldendoodle's Eyes with Vetericyn Preventative Care
While standard Goldendoodle eyes are susceptible to a variety of different problems, knowing what symptoms to look out for and the various treatment options is the first step to safeguarding your Goldendoodle's eye health and wellness. 
At Vetericyn, we want your Goldendoodle to always feel taken care of, whether they're experiencing a small bout of allergic conjunctivitis from running through a field of flowers or confronting a more severe case of distichiasis. 
Next time you look at your Goldendoodle's bashful eyes, you can rest assured that Vetericyn is here to keep them healthy and shining where we can answer questions like, "do Goldendoodles shed?" We have developed a vet-endorsed line of Vetericyn Plus eye care products to add to your Goldendoodle's eye care routine, alongside regular trimming and washing. Explore our shop or check out our offerings at Chewy, Amazon, and Petco. 
Your best friend deserves Vetericyn, the golden standard in pet care.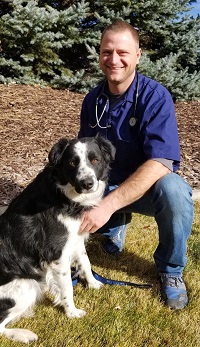 Reviewed by Dan Richardson, Veterinarian
Dan Richardson has been a practicing veterinarian for over 10 years. He specializes in surgery and orthopedics. Dan is originally from rural western Nevada and attended the University of Idaho for undergraduate study and Oregon State University for Veterinary School. The Richardson Family enjoys camping and spending time on the water fishing, paddle boarding, or digging their feet in the sand somewhere warm.
Sources: